The turnip, along with her cousin the rutabaga, is an underappreciated root vegetable in the cabbage family. Winter turnips (the most common cultivar is Purple Top White Globe) can have a sharp, almost radishy flavor, but this mellows out and sweetens when you cook them.
In this recipe, turnips and apples are are cut into similar-size wedges and roasted simply with garlic and thyme. Just like cabbage and apples, turnips and apples are natural flavor friends. High heat roasting caramelizes and concentrates the flavors of each – even my kids happily ate turnips prepared this way!
This combo cries out to be a fall or winter side-dish for pork. I served it with a mustard crusted pork tenderloin as shown below.
A few tips:
Spring turnips tend to be much smaller and milder than their winter counterparts. They are usually sold bunched with the tops on, as opposed to winter turnips which are sold trimmed.
If you are purchasing the turnips and apples, try to get ones that are similar in size. If you are harvesting your own, cut your turnips into halves, quarters, or wedges to adjust the size. The important thing is that the turnip and apple pieces are about the same size when they go in the oven.
Use parchment paper to ease clean up. The apple, in particular, has enough sugar that it will stick badly to unlined sheet pans. I buy my parchment paper from local restaurant supply companies or Business Costco in commercial packs of 1000 sheets, which makes it very affordable (about 2.5 cents per half-sheet) to use parchment every time I use a sheet pan to bake or roast anything. This option online looks similar to what I buy locally. This option is unbleached and therefore prettier!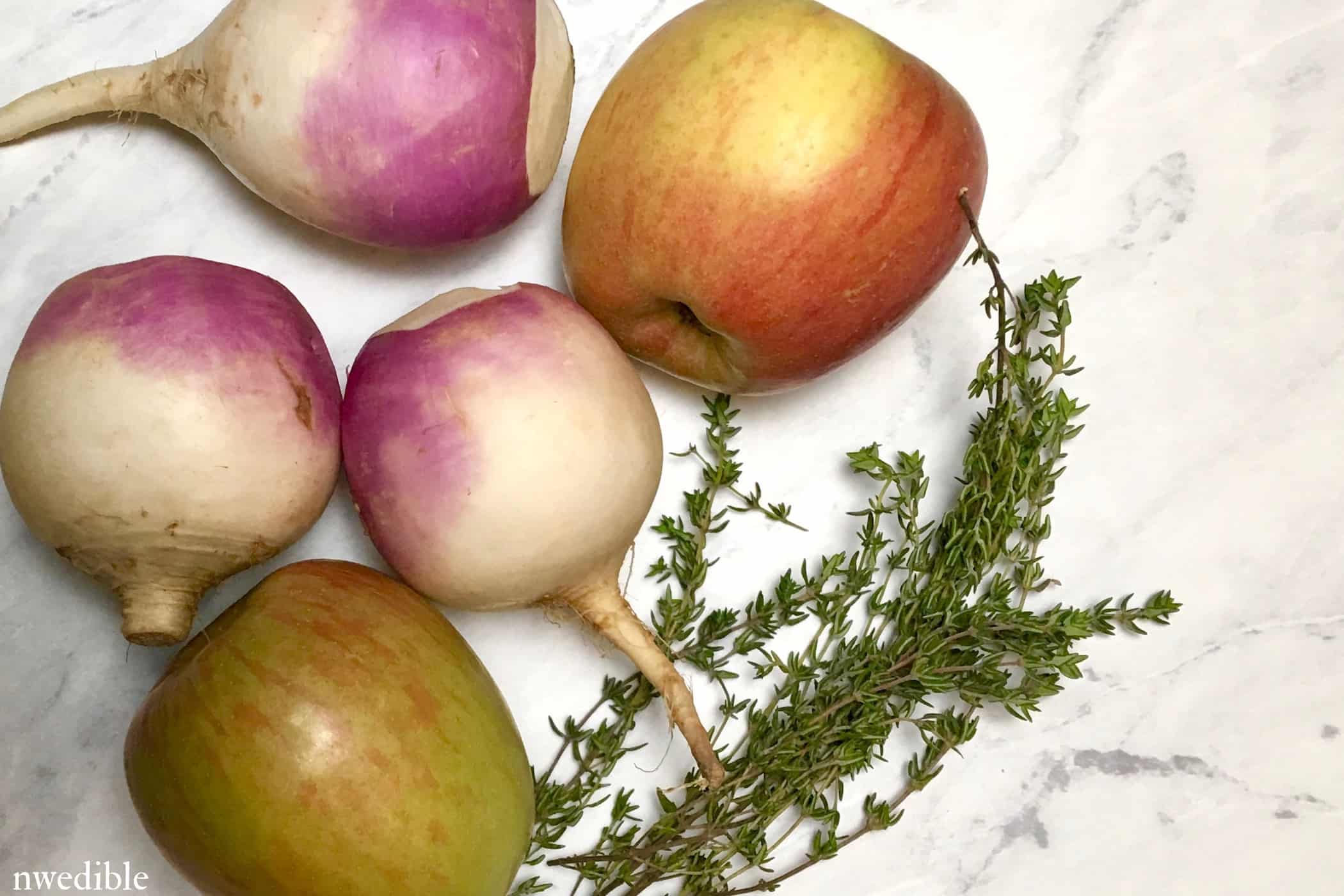 Fresh thyme, garlic and high heat are the only additions these turnips and apples need.
Everything is tossed together with olive oil and seasoned with salt and pepper.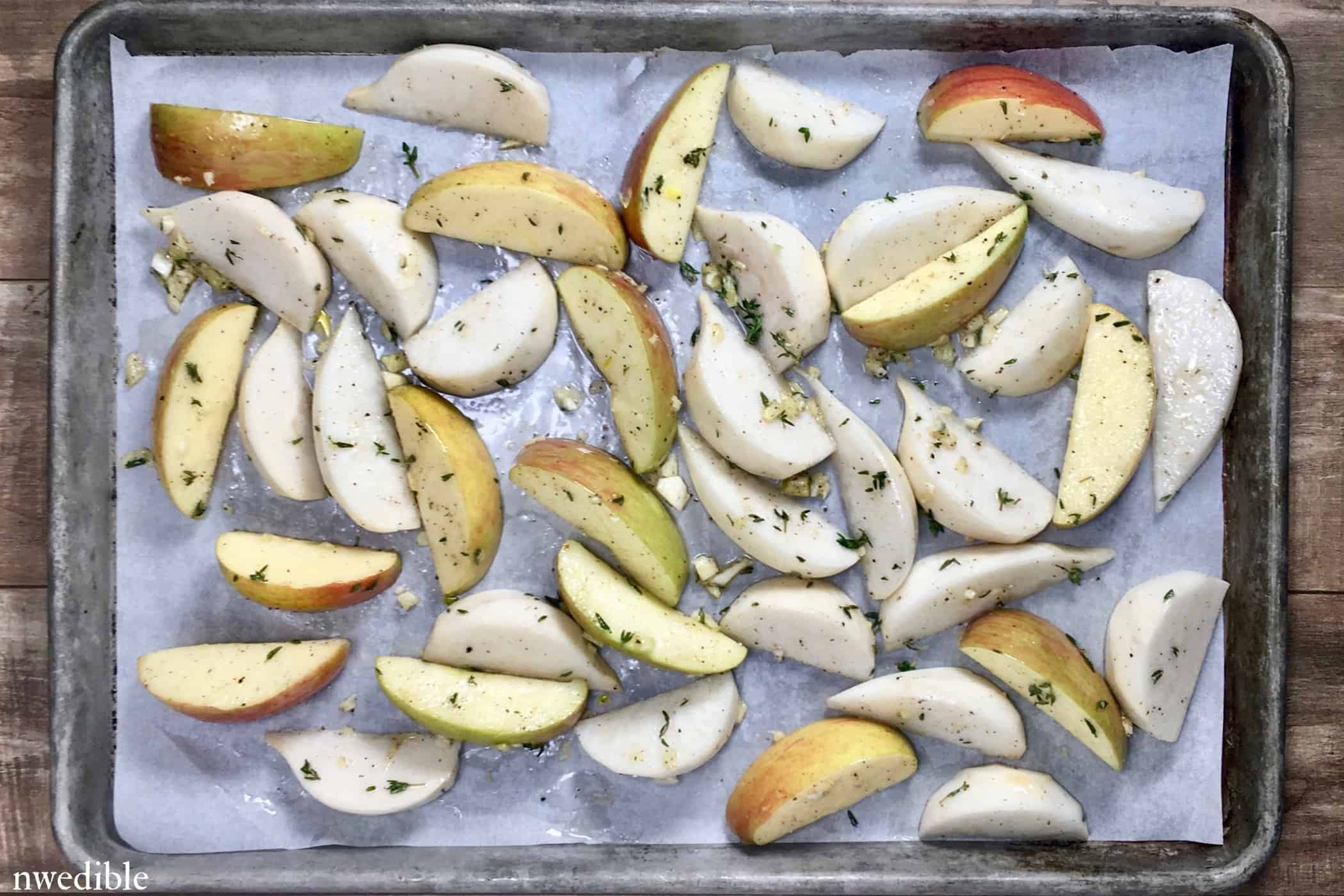 Wedges have a lot of surface area in contact with the pan, so they brown better than cubes or chunks.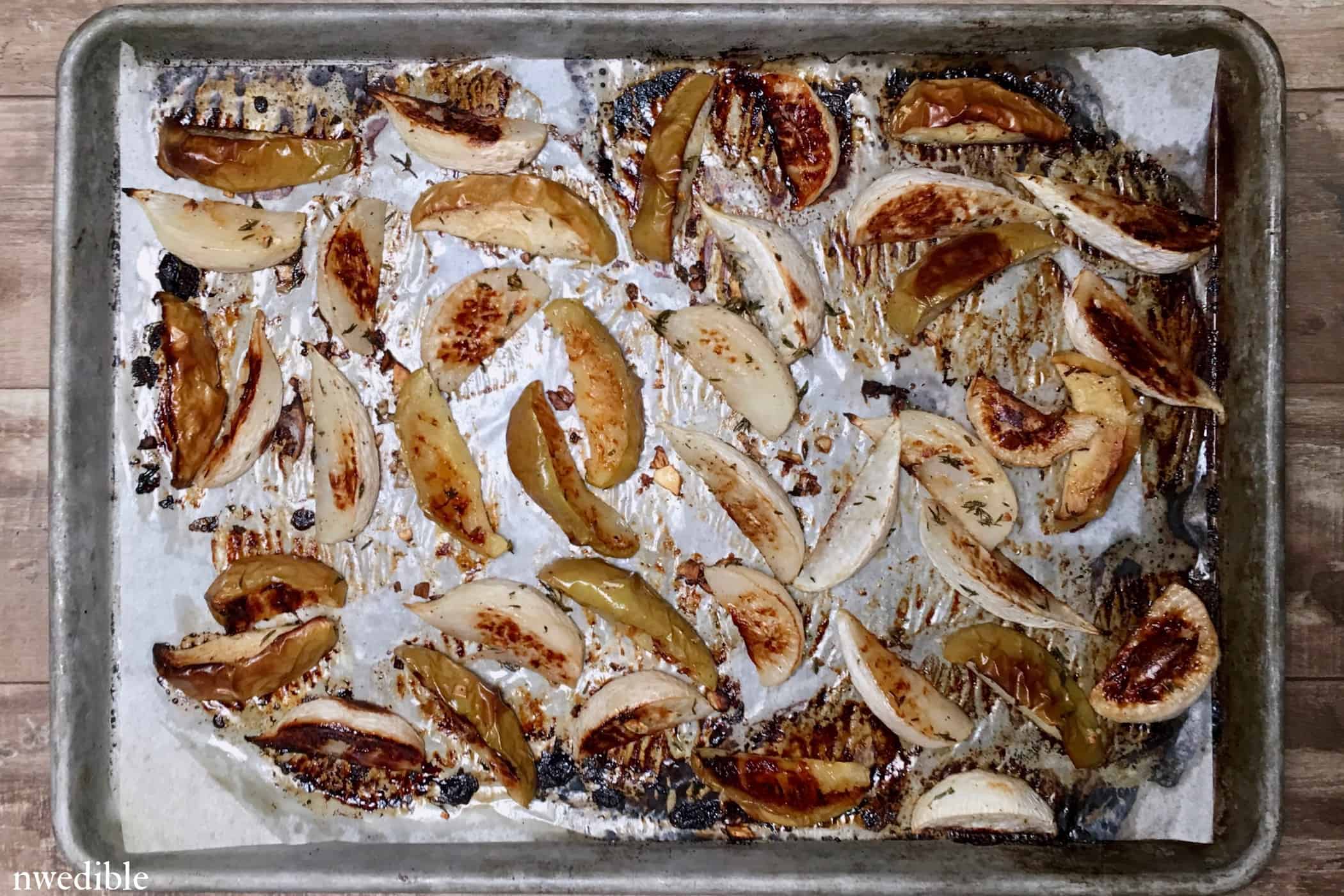 For best results, turn wedges once, halfway through roasting, to get that caramelization love going on both sides of your wedges.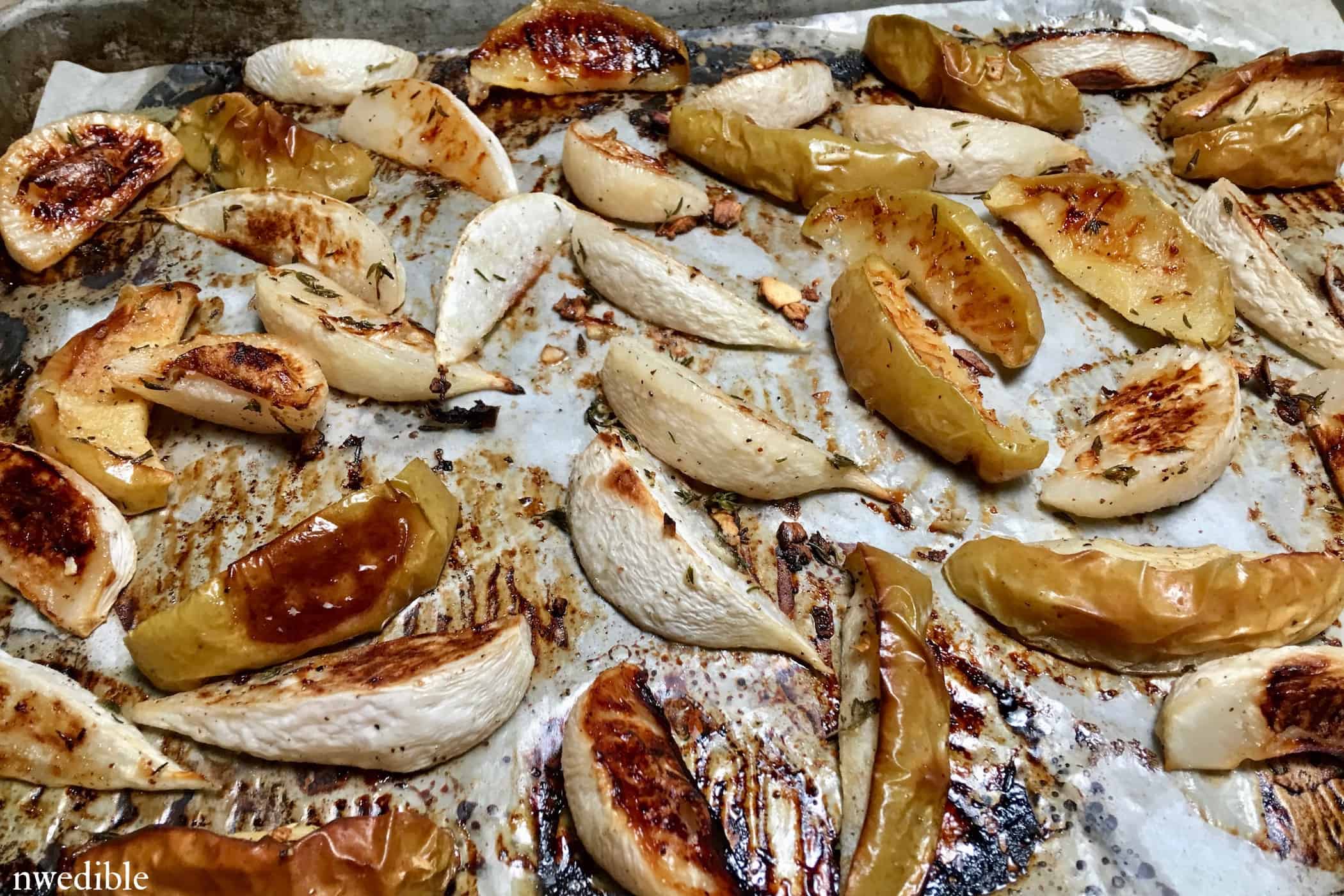 Without parchment on the pan, all those tasty caramelized apple and turnip sugars would make it hard to remove the wedges.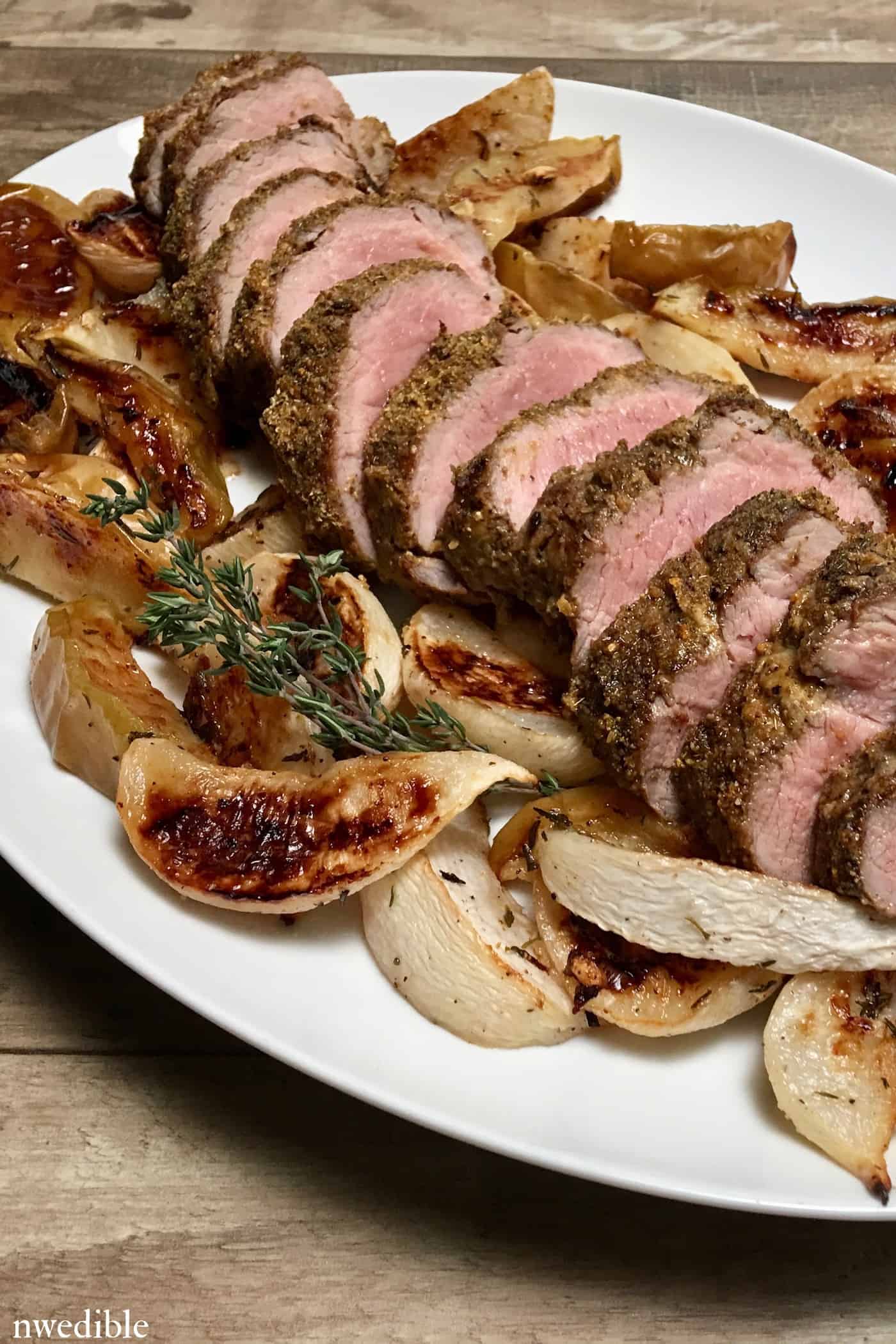 These caramelized turnip and apple wedges were the perfect side for this mustard crusted pork tenderloin. They would also be great with easy maple-cider pork chops, or a simple roast chicken.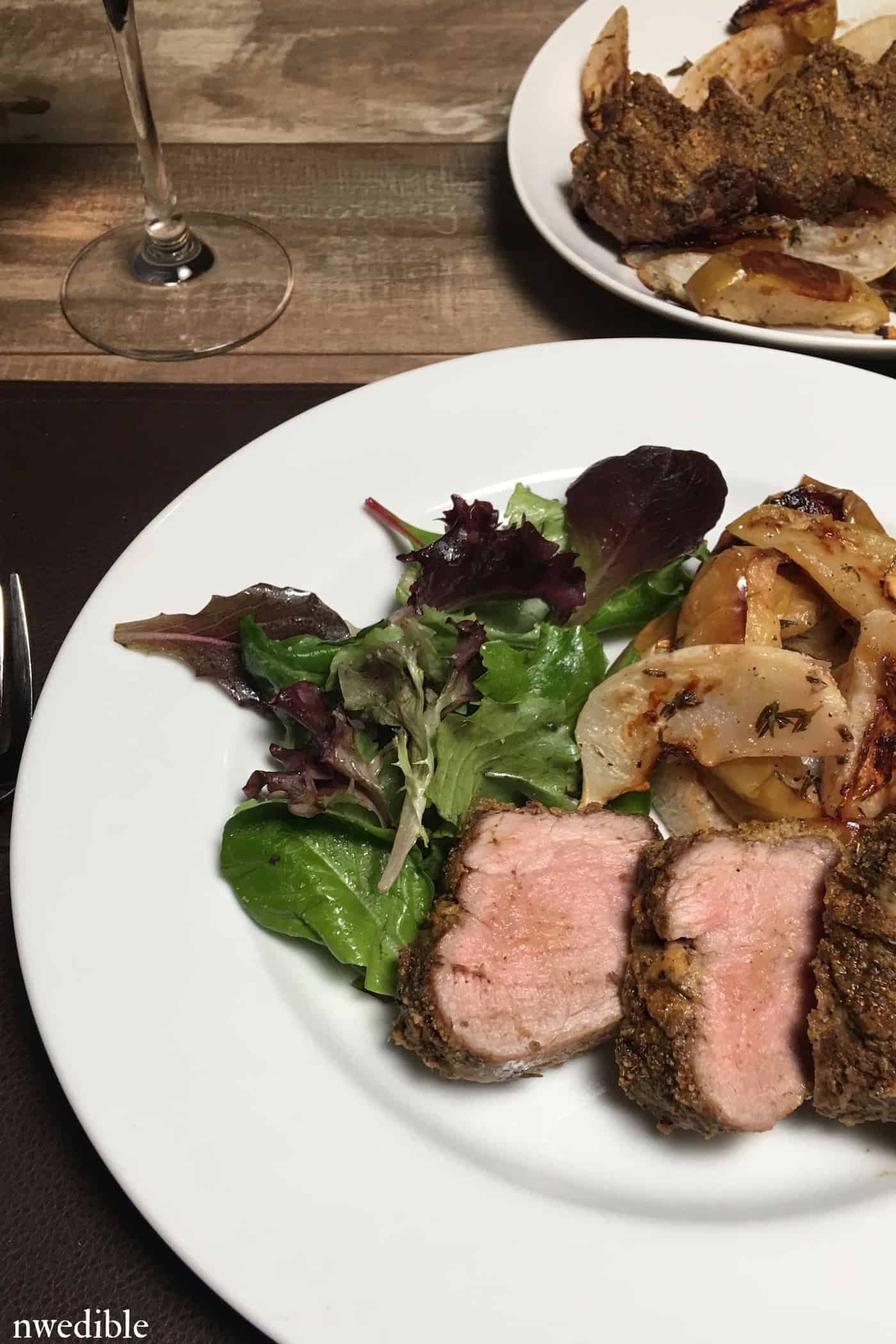 Do you cook (or grow?!) turnips?
Caramelized Turnips and Apples with Thyme
Yield 4 servings
High-heat roasting caramelises apple and turnip wedges, turning them into the perfect side dish for fall or winter meals.
Ingredients
2 tablespoons olive oil
2 cloves garlic, peeled and minced
2 teaspoons fresh thyme
1 pound turnips (3 medium turnips)
1 pound apples (2 large apples)
Kosher salt
Freshly ground black pepper
Instructions
Adjust oven rack to the center position and preheat oven to 450 degrees. Line a sheet pan with parchment.
Add the olive oil, garlic, and thyme to a medium bowl.
Peel and trim the turnips, and cut each into chunky wedges. Halve, core and slice the apple into wedges about the same size as the turnip wedges. Add the turnip and apple to the bowl with the oil. Add salt and pepper to taste, and toss everything together very well so the turnips and apples are evenly coated with oil and seasoning.
Tip the turnip, apple, and any residual oil onto the sheet pan in a single layer. Roast for 25-35 minutes, or until the turnips are tender throughout, and nicely caramelized and brown. After 15 minutes, check the wedges and flip any that are already deeply brown on the bottom.
Remove from oven and serve right away. 
Notes
Note: I used Fuji apples here, which were lovely and roasted to sweet, soft wedges which still held together. For a firmer roasted apple, use a Granny Smith or similar tart, baking-type of apple. 
Courses Side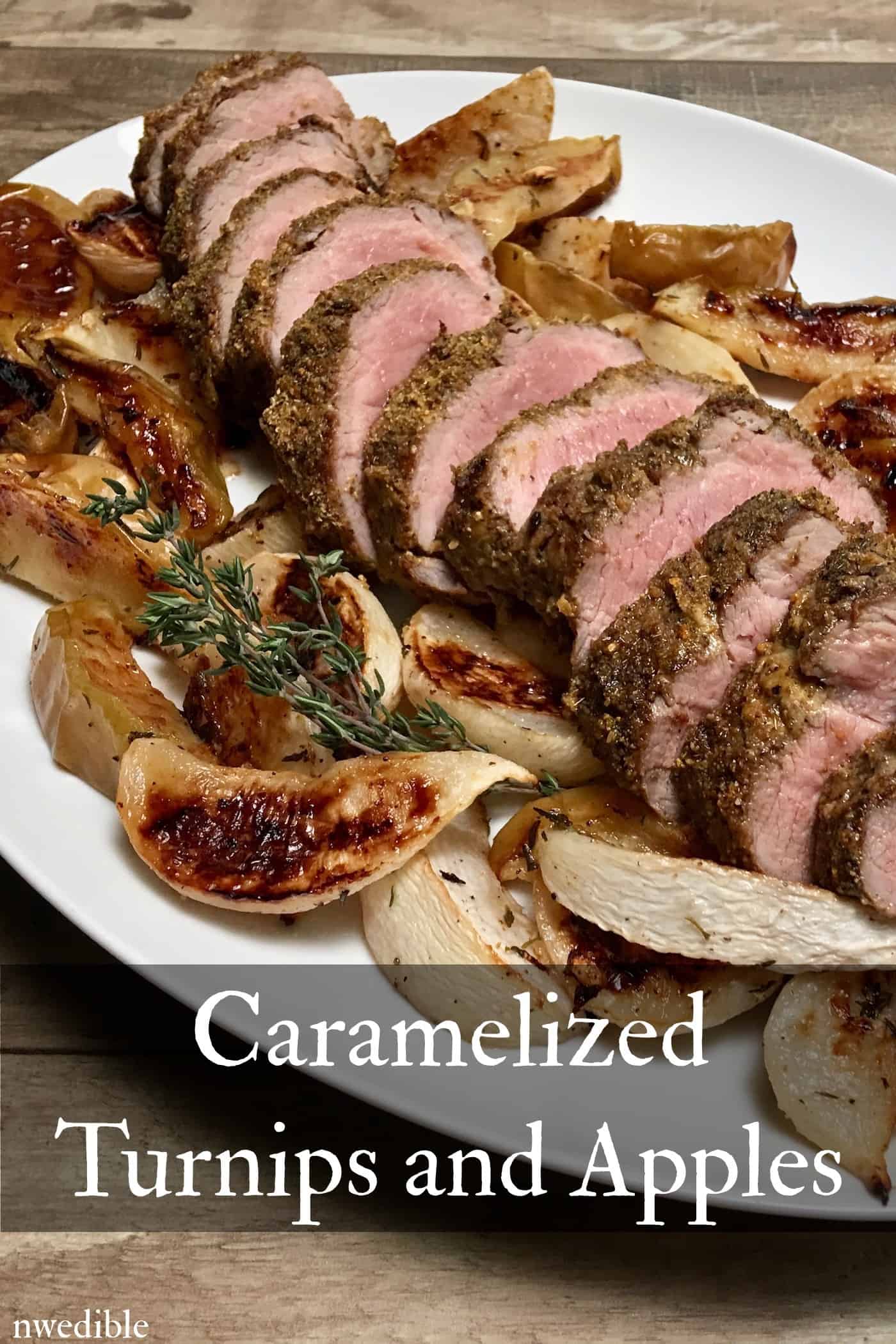 26