Some urban homesteading families have the inclination and skill to go beyond gleaning and gathering and put their meat on the table – literally – through hunting and fishing. Anisa Schell's family is one, and today I am thrilled to share her recipe for Wild Game Jerky. 
Anisa blogs at Lazy Homesteader and gets dirt under her nails alongside her husband, three kiddos, chickens and urban bees. Follow her on Facebook or subscribe to her blog to see more hunting, canning, gardening and chicken keeping on her homestead in Denver, Colorado. Thank you Anisa for this great post. Now when am I gonna get some of that Elk Jerky I've been hearing so much about?…
---
by Anisa Schell, Lazy Homesteader
Mmmm…jerky! This light-weight, protein-packed snack has been around for hundreds of years.  It's the ultimate in wild game preservation. Native American hunters carried it, cowboys gnawed on it while out of the range, modern day backpackers keep some stashed in their packs.  Even that dystopian heroine, Katniss Everdeen, carried some in her survival bag in The Hunger Games.
You know that if the zombie apocalypse hits, you'll want some too. Whether it's post-apocalyptic America or the old west, the best jerky is not made from beef, but from wild game.
Oh-Boy-O-What?
Jerky is the art and science of slicing meat thinly, curing it with salt or sugar and then drying it. The method we use for making jerky at home hasn't changed much in the last few hundred years.
However, because they are in the business of preventing foodborne illness, the USDA has recommended some changes to ancient jerky-making methods, including precooking the meat in boiling marinade. Our family feels safe skipping this step because we know the source of our meat and that it is safe and clean because we've processed it ourselves.
We use venison for our jerky because it is very lean, so there is virtually no fat to go rancid. We store the finished jerky in a non-air-tight container, because botulism grows in anaerobic environments.  Having said all that, proceed at your own risk.
Some people grind their meat and then reform it into strips, but I much prefer jerky made from whole meat strips. We use a dehydrator to dry it and as a personal preference, we slice the venison with the grain instead of across it so that the jerky is a bit tougher.  My husband, the hunter, likes to take a hunk and gnaw at it for a while.  Of course, if you like your jerky more chewable, slicing across the grain will produce more tender strips.
The key to jerky flavor is using quality meat and, of course, the marinade.  The meat we use is usually from the front quarter of the animal.  Sometimes it's oddly shaped pieces of muscle that we don't really want for a steak.  The one thing we don't use is meat that should be thrown out.  Anything that was blood-shot is trash, it's not good for jerky or anything else.  "Garbage In, Garbage Out," as they say.
We also use high quality ingredients in our marinade.  We use gluten-free soy sauce so that we can share our jerky with friends who have gluten allergies and we buy fresh spices before making a batch. Because you are relying on the salt to help preserve the meat, don't use reduced sodium soy sauce.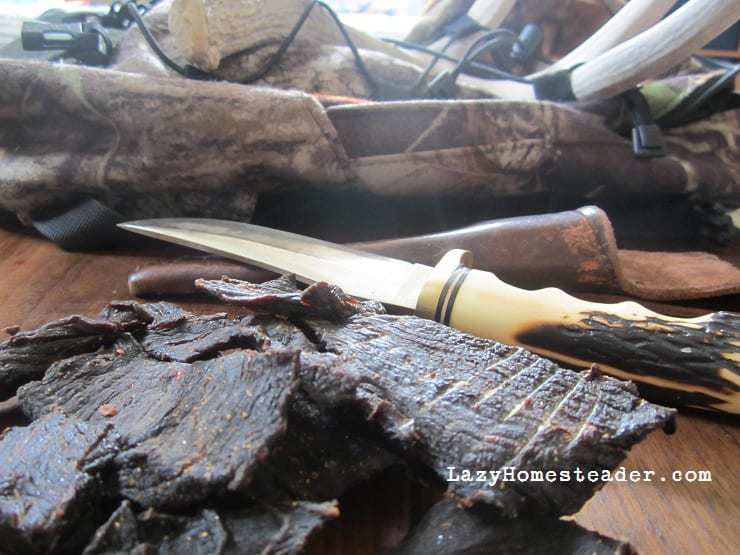 Wild Elk or Venison Jerky
This recipe for wild game jerky was passed to me from my mother-in-law.  Her dad and brothers (and sons) are avid hunters, yet for some reason all the women in their family "do not like game meat."  But even the most staunch Bambi-lovin' anti-hunters will cross picket lines for this elk jerky (I've seen it happen, friends).  It is important to note that this recipe is intended for venison or elk only, not beef.
Wild Jerky Marinade
For every 1 pound of meat, you will need:
4 tbsp. soy sauce
4 tbsp. Worcestershire sauce
1 tbsp. ketchup
¼ tsp. black pepper
1 large or 2 small fresh garlic cloves, pressed or ¼ tsp. garlic powder
¼ tsp. onion powder
¾ tsp kosher salt
red pepper flakes to taste
Method
Using a sharp knife, slice your elk or venison into ¼-inch pieces.  If you want softer jerky, slice it across the grain (it helps if it is still partially frozen), or if you like chewier jerky, slice it with the grain (it will need to be totally defrosted for this).
In a large bowl or pan combine the marinade and cover the meat.  Cover the pan with foil and place it in the fridge overnight or up to 24 hours, stirring it occasionally to make sure all the meat stays covered by the marinade.
Drain the marinade from the meat and discard.  Place the jerky slices on dehydrator trays so that they are not touching.  Set the dehydrator to 155° and dehydrate for about 6-12 hours.
Check the jerky periodically to see that it does not get over-dried.  It is done when it is completely dry yet still pliable, not crumbly.  It should be stored in a paper bag (not in an air-tight container) and eaten within a month.  Note that we dry the jerky slightly longer so that it keeps better and is harder to chew.  Nom nom nom.
---
Everyone loves jerky.  You know what else everyone loves?  Safe food preservation!  Not dying of botulism! Please note that the USDA recommends cooking your jerky to 160° before drying it and the addition of sodium nitrite to kill microorganisms and/or pathogens.  If this method is not used, the jerky must be kept in the refrigerator and consumed within one month.  Fats or oils in dried meat can turn rancid and jerky should not be smoked without the addition of sodium nitrite to prevent botulism.  The recipe above is safe based solely upon the author's experience, use at your own risk.  It is not intended as a method for making jerky out of beef, turkey, fish or meats other than wild venison or elk. Be smart: you assume all liability for the safety and suitability of your jerky.
88