Ducklings have basically taken over my life.
Our story starts about two weeks ago, when we find one of our female Ancona ducks killed and, separately, a freshly hatched baby duckling hanging out under the other broody female.
The next day, new mama duck Minkie takes the single duckling on a grand tour of the yard, quacking all the way. This is all very adorable, but we hear peeping coming from the nest so shoo Minkie and her duckling back to the nest, so mama can watch the rest of her flock.
We assume at this point we don't see the other ducklings because they are not yet old enough to leave the nest.
Over the course of the day, Minkie becomes increasingly agitated. Basically, she's pacing and quacking like crazy. She's not sitting on her nest – she's trying to leave. And she's noisy as hell.
All day she does this, leaving the nest, leaving the pen, running around, quacking, returning to the nest and making a terrible racket. We hear lots of peeping, but again, there is only the one duckling trying to follow her. We think maybe she is trying to draw predators away from the nest and her small ducklings.
Nope.
It turns out Minkie is losing her shit because 5 of her 6 hatched ducklings had fallen into a hidden crawlspace air vent. She's desperately calling them to follow her, but they can't come – they are trapped.
This was just one of those crazy situations where there was a vent under a bump out of our house that happened to have a 1-inch gap between the bottom of the bump out and the top of the vent and that vent just happened to be right next to the nest Minkie made.
I discover this vent when my own mama instinct is telling me that it's just weird for the baby ducklings to be peeping but not following their mom for this long. Eventually I do a low crawl through a duck-sized hole in hardware cloth into Minkie's nest to try to get a visual on the ducklings. (Minkie did not like this at all.)
With my head in the dirt, I can see the vent, and I call to Nick, "Hey, I think the ducklings might be trapped in here!"
My husband (God, I love this guy) sticks his head down, and goes into Total Man Go Mode.
"Get me the hacksaw!" he demands, laying in the dirt. He then proceeds to hacksaw the vent apart enough to stick his phone into a small hole to do duckling search and rescue.

Once he's confirmed 5 ducklings are trapped, he hacksaws the vent apart enough for me to slip my arm in the hole and extract the ducklings.
At this point Minkie really calms down, and we have something like a calm, happy duck family. But there are 6 eggs still in the nest. My neighbor, who has a lot of experience with birds, comes over and says, "what about the rest of them?" so we set up an emergency Shell C-Section hospital for the remaining eggs.
2 eggs have pipped but have not progressed, 2 are alive but non-pipped, 1 is developed but dead in the shell and 1 never undeveloped at all.
We help the 4 living ducklings out of their shell, which is a slow and delicate process, and then I monitor them all night long like it's the Duckling NICU.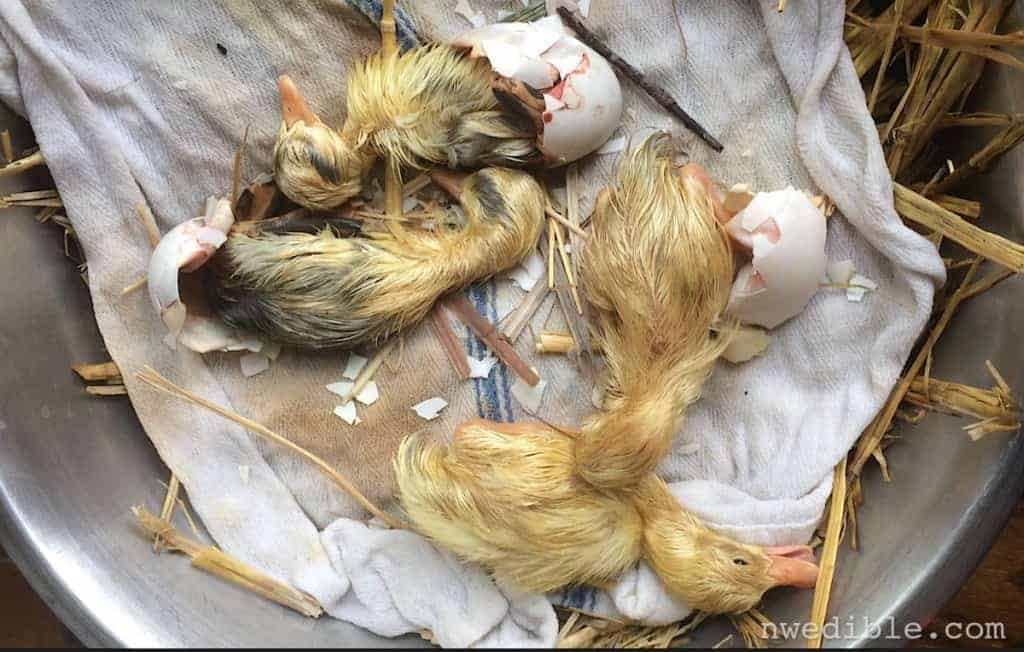 After all the ducklings dry off and recover, it's clear that one is obviously weak and physically deformed and cannot hold its head up to eat or drink or coordinate its leg movements. That one doesn't make it, but the other three do and we luuuuuuv them.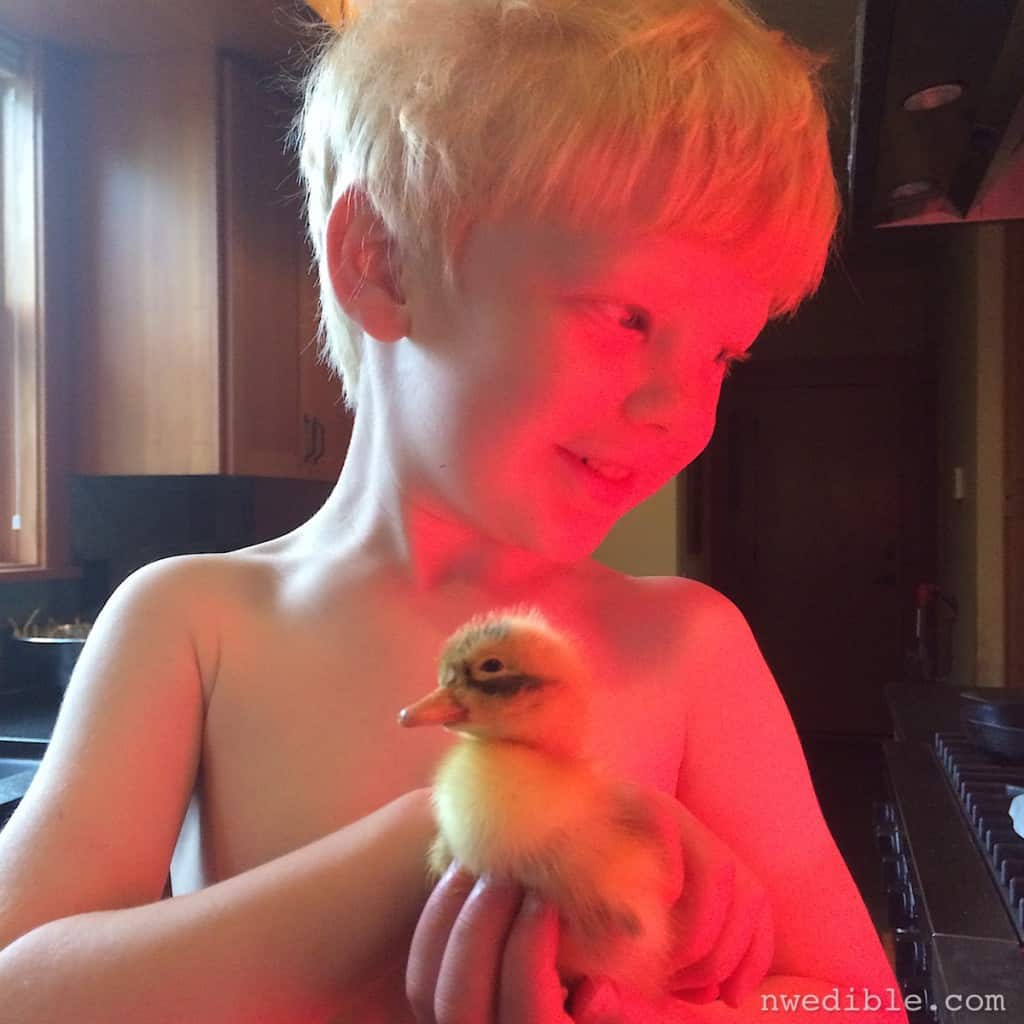 After some suggestions from the Facebook community, I add the three NICU duckies to the rest of the flock, and they are adopted and cared for right away. No problems. Minkie is now the proud mama of 9 fluffy duckies.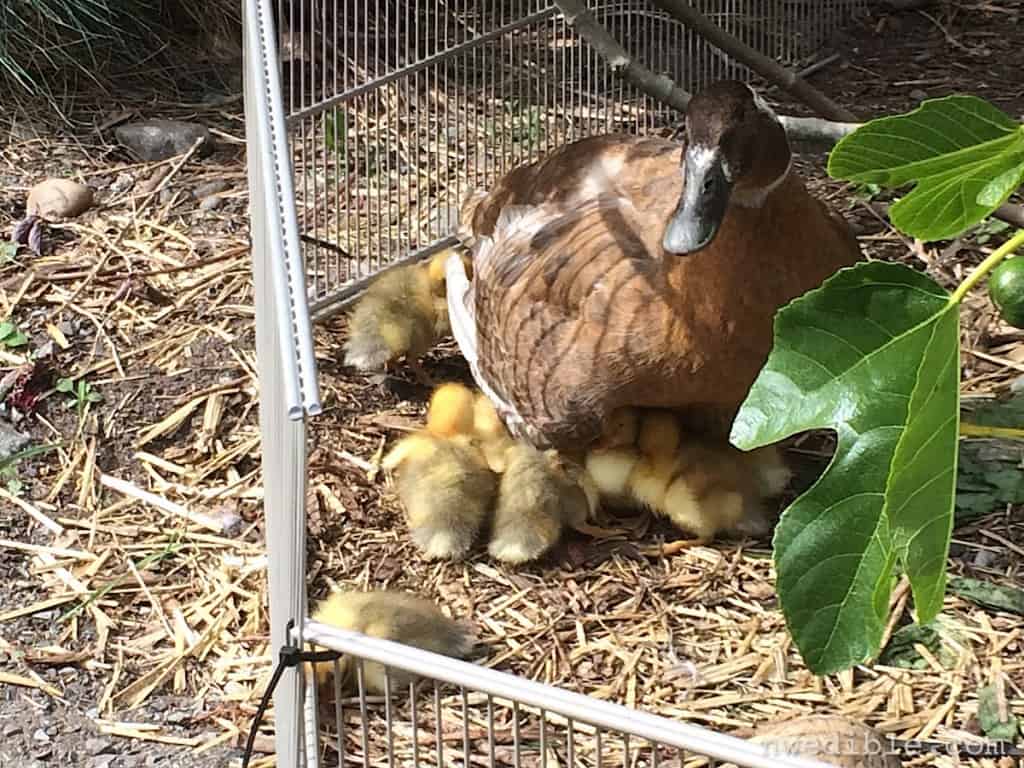 Everything seemed to be going swimmingly until yesterday, when we found my absolute favorite duckling – the spunky little black one – laying outside, unable to move.
We brought him inside and set up a hospital brooder because he didn't look good. He couldn't walk, his head was lolling over to one side and he had periodic tremors. But damnit, this was my favorite duck. I wasn't giving up on him without a fight.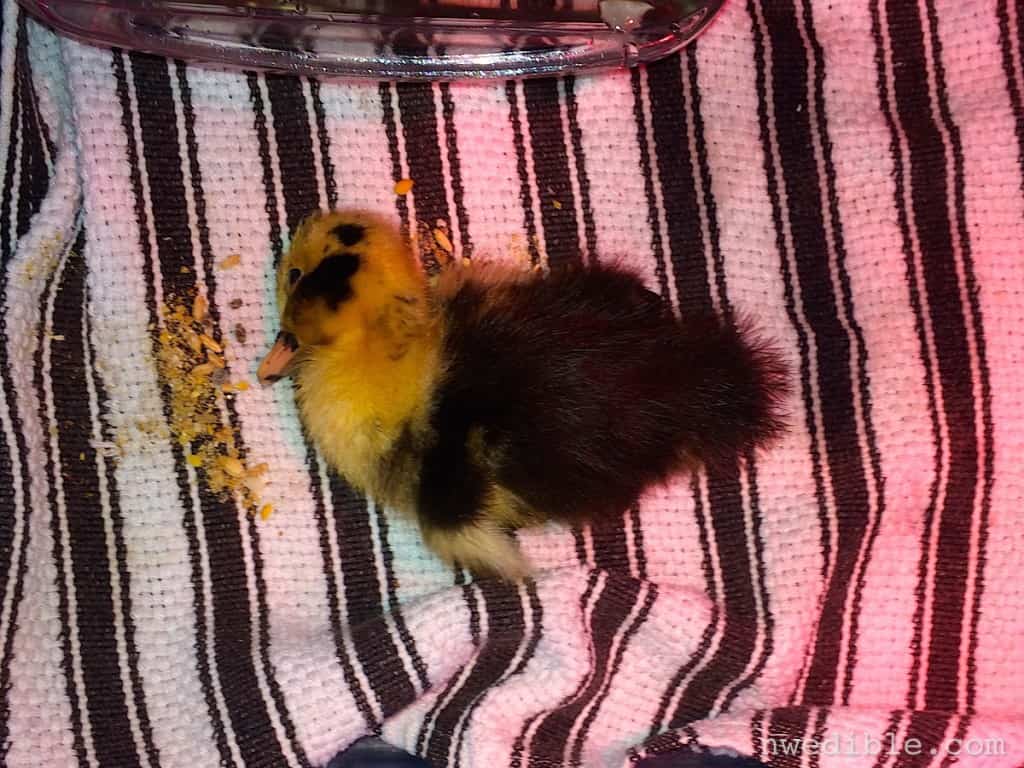 After consulting Dr. Google I diagnosed this baby as suffering from either Niacin and B vitamin deficiency or some kind of neurological disorder. Not much I could do about a neuro problem, but vitamins I could fix. It was worth a shot.
I asked my husband to swing by the Yuppie Hippie market, and he brought me back brewers yeast (high in Niacin) and a liquid B-vitamin complex. I added the brewer's yeast to the little duckies feed, and started spoon-feeding him with B-vitamin and Niacin water with a tablespoon.
At first he could not hold his head to drink very reliably, so I brought the water to him for about 6 hours. It was touch and go at first. He seemed to be improving, but then he would have something like a seizure. Very scary.
But last night, he turned a corner! He started to regain his balance and head control. His body movements became increasingly sophisticated, and eventually he was grooming himself and eating and swimming and running as much as any other duckling.
We kept him in the nice warm hospital brooder over night, and this morning I reunited him with his brothers and sisters. He seemed very happy, and they took him in just fine.
Only one problem: he's small. Noticeably, definitely small. These ducklings are growing so fast, that the 24 or 48 hours of "grow time" he missed while he was sick really shows. His siblings are all putting on fat in their chest, and are taller and sturdier. He looks kinda runty, in the cutest possible way.
So, we are watching very closely. If he seems to slip back, or be unable to pile in under his mom or otherwise fight for the resources he needs, he will come back inside and we will brood him in here. We aren't giving up on this little one.
Ducks have a higher need for Niacin than chicks, and some ducks are just genetically predisposed to need more Niacin than others. I think the chick crumble we are feeding these ducks is low in Niacin for waterfowl, and this particular duck probably just needs an extra Niacin-rich diet.
None of the other ducklings showed symptoms, but I supplemented everyone's feed and water, just to be on the safe side.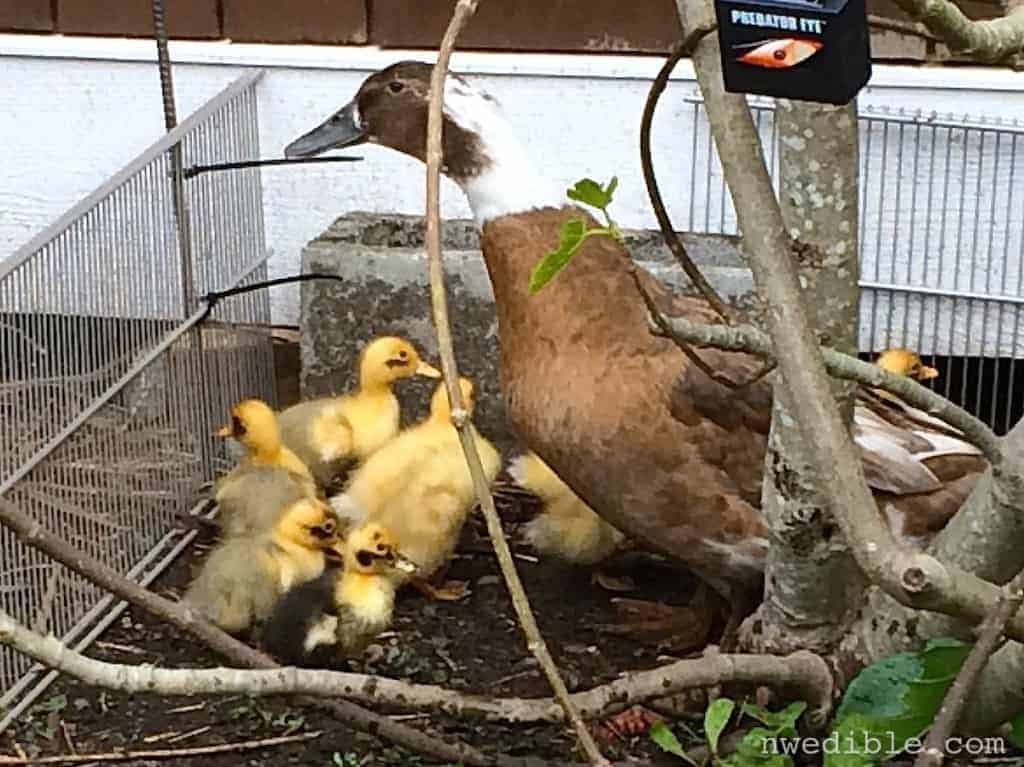 Quack! Quack! That's the duckling update for now. Cross your fingers they all thrive – especially that little black one at the front who's had a rough time of it.
30