Would you put pork fat on your face?
I've started using a moisturizer that most people would describe as…gross. After trying it, I say it's gross and fabulous.
I've always had very sensitive skin. On my face, my skin expresses it's tender nature by being dry, scaly, patchy, and red in most places…and breaking out in all the others.
I had this idea that the 30s would be a sweet spot between acne and wrinkles, and instead I've learned that, like a Venn Diagram of skin woes, you get both! Bonus!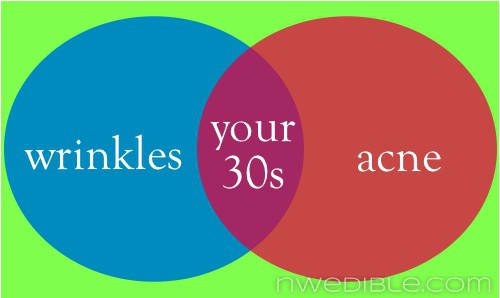 Anyway, in past lives I've tried all kinds of skin remedies, natural and artificial, to soothe and moisturize my skin. (You can read more about my realization that I was being lied to about skin care products here.) My quest for normal skin (I'm not looking for flawless, here, just simultaneously non-patchy and non-cystic) has taken me from drug-store acid-based acne fighters to expensive department store specialty under eye wrinkle cream to prescription  hard core zit cream and daily antibiotics.
Slumping Towards Lower Maintenance
Looking back only two constants held true. 1) The more I did to my skin, the worse it got. 2) Whenever I was wrist deep in animal fat (making lard, skimming tallow, etc.) my hands became soft and lost their deeply abused look…at least temporarily.
After the birth of my second child, hygiene fatigue combined with frugality and I started doing less and less "maintenance" for my appearance – haircuts happen on about an annual basis and the idea of browsing aisles for the perfect combination-skin calming cream when I still don't get a daily shower is just laughable.
I took up oil cleansing, and liked it. The almond oil I used to wipe off the day's grime really did the trick, and was cheap compared to things marketed as cosmetics, but the oil went rancid in my warm bathroom pretty quickly.
I tried coconut oil, which many people adore. The solidity of the coconut oil at room temperature required hand-rubbing to soften the oil enough to make it usable. More than this, the coconut oil I tried burned the skin on my face. This is, as far as I can tell, pretty unusual. If you love your coconut oil I'm not knocking it, just saying it didn't work out for me.
The coconut oil experiment led to the following internal debate:
"Coconut oil is kinda like vegetarian lard. People love coconut oil, but I love lard. I could moisturize with lard."
"That would be really gross."
"But pigs are really close to people. Remember, there was that super creepy CSI episode where the pig is used to study the -"
"Um…stop. This is getting grosser by the second. You have terrible powers of persuasion."
"Well, my point is, if pigs are similar in their body make-up to people, then doesn't it make sense that pork fat would work well as a people moisturizer?"
"You're going to do this pork-turizer thing no matter what I say, aren't you?"
"Oh, I am so trying this."
"Please don't ever mention that CSI episode again."
And so, tentatively, I dabbed a bit of clean (not yet used in the kitchen) lard onto my cheek.
Homemade Gross vs. Industrial Gross
So, ok, lard has a bad rap. I get why the idea of smearing pork fat on your skin might put people off. But consider what you probably already put on your skin if you use a standard suite of soaps, moisturizers and cosmetics.
Heavily-used fast food deep-fat frier oil (almost certainly GMO and partially-hydrogenated) is recycled for soap and make-up, and rendered animal fats and their derivatives are common in pretty much every conceivable skin or cosmetic product you might put on your face.
And the stuff that goes to the rendering plant where that fat comes from? That's the stuff that's not good enough for pink slime, know what I mean? It doesn't meet even the bare minimum legal standards for human consumption. (If it did, it'd be in a hot dog, not lipgloss.) In fact, if you're not actively seeking out vegan skin care products, you probably don't just rub animal fat on your face…you rub industrial waste animal fat on your face.
Now, please don't take this as judgement. I have some industrial waste animal fat lipstick in my bathroom cabinet right now. I bring this unpleasantness up to make the point that you are very likely already rubbing "gross" animal fats or their derivatives on your skin.
In contrast, the lard I'm rubbing on my cheeks is rendered in my own kitchen from the unprocessed fatback of humanely raised pigs that had a good life and one bad day. Unlike the fats used extensively in commercial soaps, moisturizers and make-up, the lard I use came from the fat of one animal, not whatever combination of road kill and dead zoo creature happened to get thrown into the rendering vat that day.
There now, doesn't some nice home-rendered kitchen lard moisturizer seem downright Happy Hippie compared to all that? I've been rendering lard for quite awhile for cooking, and it seems to me that it can't be that weird to put something on my skin that I'm already willing to eat.
Does It Work?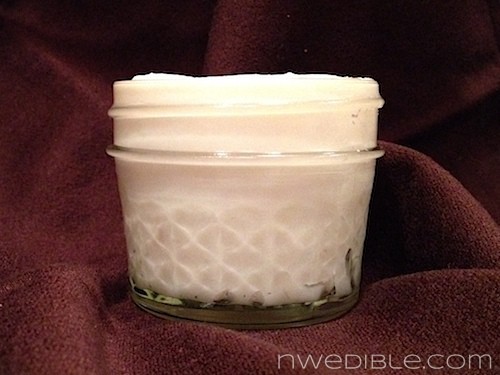 Other than a vague and short-lived porcine smell, my lard moisturizer is great. It leaves a thin sheen that absorbs into my skin quickly. I was already accustomed to the temporary residual shine left from oil cleansing, so the degree of greasiness from the lard doesn't phase me at all.
At room temperature the lard is creamy and easy to rub in, and it takes very, very little to moisturize my entire face.
I've had no reaction to the lard, and actually it feels downright soothing on the skin. And since I've started smearing pork fat on my face my skin just looks better. The big dry patches are gone and my skin feels genuinely smooth. I haven't had a problem with break-out or pore clogging. Quite frankly, I'm not sure I can think of a downside.
Would you ever use animal fat as a moisturizer?
261