A good friend emailed me last night. She pointed out the inflamed elephant in the room: if sleep is my anti-inflammation keystone, spending 3 hours a night after the kids are in bed writing daily blog posts until midnight might not be the healthiest use of my evening hours.
Yeah. There's that.
So, dear readers, I'm going to perform an experiment, and I beg your patience as I do. This month was an experiment into the effects of anti-inflammation lifestyle changes, and my personal conclusion was that none of the other changes I need to make will stick if I can't sleep more, and more consistently.
March's experiment will be moving to a four-day blogger work week. I'm going to not post on Fridays in March and see if that change helps me bank a little more sleep and gives me enough wiggle room to spread my writing out into more manageable, non-sleep destroying chunks. (If I absolutely cannot resist the siren call of Friday, I'm going to hold myself to "Weekend Inspiration"-type posts showcasing excellent edible gardens instead of lengthy and time-consuming how-to posts.)
Homebrew Husband has been nagging me to take Friday's off for months. He's a data guy and the statistics for this blog must be beamed directly into his pre-frontal cortex or something because he always knows which posts are popular and which are slow. Long story short: Friday is a crap day for blog traffic and never generates the same readership as the Monday through Thursday posts.
I have resisted kicking Friday to the curb because I take things far too seriously, including this blog. I know how much I value consistency in blogs I read and I'm trying to provide that consistency to my readers. But I think ya'll will be fine without me on Fridays. And if I'm sleeping, everything – including the writing, and the gardening, cooking and making of the home that gives me something to write about – will come easier.
Now, as promised in the very first Anti-Inflammation Challenge weekly post, those of you who stuck with me through the whole series of posts and commented on each one were entered to win your choice of either The Primal Blueprint, Nourishing Traditions or The Paleo Solution.
And the winner is….(drumroll please)…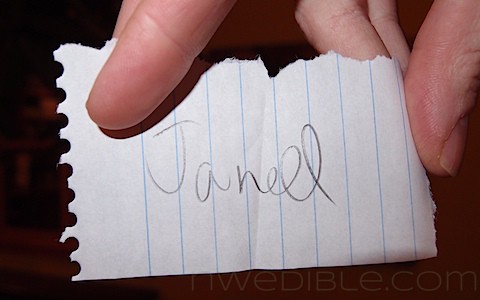 Janell, email me and let me know which book you want; I'll get it right out to you. Thank you to everyone who participated in this month of self-care and self-reflection. I hope you've come away with a few realizations about your own essentials for health and how to prioritize the gettin' of them.
I'm going to continue my Anti-Inflammation efforts over the next several months, but I'm going to tackle one key concept at a time, hopefully stacking good habits as I go. March, as I've said, is about adequate rest. How will you continue your anti-inflammation journey?
2