A few weeks ago the smartest dude I know got a bit maudlin about how warming waters over the Arctic and methane burping forth from the melting permafrost is likely to increase the speed and effects of climate change. (Read more here and here.)
This, in combination with the polar vortex in the midwest and the raging drought up and down California got me pondering: what does climate change mean for gardeners, and what can we do to mitigate the effects of more extreme weather? This is a meant as a thought exercise, not a call to action, so I hope you'll add your own perspective in the comments.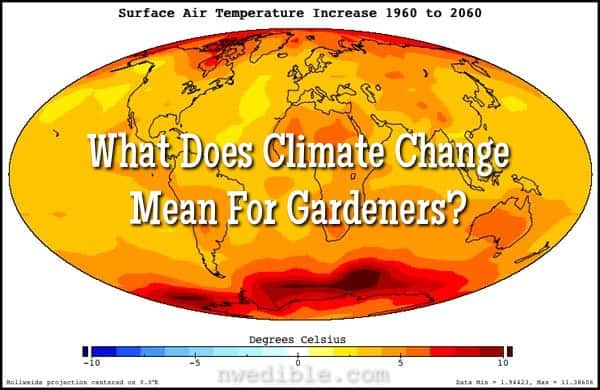 One note: anthropogenic climate change is, in the US at least, political and controversial. I'm not interested in opening this up to a debate on whether or not climate change is real, or if it's anthropogenic or part of a natural warming cycle that would be happening anyway, even without industrial CO2 discharge. If you don't think the actions of people are influencing global climate patterns, please just mentally substitute the phrase "unpredictable weather" for climate change throughout this post. The topic should still be decent brain-crackers.
Okay, so gardeners are obsessed with the weather, right? My neighbor, in her 70s and a gardener from way back, assures me every year that she's never seen weather like this before. Over the fence we engage in old-school weather gossip, pointing out unusual overwintering bugs and strange warm spells and sudden cold snaps and looking at the sky in spring like we're trying to read tea leaves.
But the data seems to support that notoriously-unreliable gardener "gut impression" of the weather: more variable, extreme, intense weather events are probably the new normal. As a gardener, I feel like I need to be ready for hotter hots, colder colds, drier dries, wetter wets.
But how?
In the immediate term – right now – I think it's all about mental flexibility. I live in a bioregion that is defined as "moderate" and "temperate" for a reason. If I had my say, the temperature would always stay within 20 degrees of 60 degrees Fahrenheit. A range of 40 to 80 degrees seems entirely civilized to me, thank you very much.
But if I know that those cold snaps and dry spells and heat waves and torrential downpours are more likely to come at me, fast and hard and sometimes in sequence, that changes the way I think about my garden. I know I have to build in more stability and diversity in my plantings, be more alert to those weather events, and be pretty constantly prepared to moderate their effects for my plants.
Mental flexibility also means understanding that the timing sequence that worked last year might not be right this year, and we might have to take more and greater educated guesses about when to get our plants in the ground. We might have to make more staggered sowings of key crops to compensate for the more dramatic temperature swings over a growing season. When a January warm spell comes, maybe we should seize the moment, take a chance, and plant peas a month early. Maybe this year that's appropriate. Maybe it'll flop – but flexibility is the most important thing we can cultivate now.
Certainly focusing our minds on learning to read our place backward and forward is a good idea – looking for those natural clues – tulips breaking ground, birch trees leafing out – to help guide our deeper garden knowledge.
In the short term, I think investing in tools and supplies to help moderate the unpredictable effects of climate change is very smart. Ironically (because, you know, industrial production and input dependency) this might mean buying stuff like hoops and plastic covers for low tunnels and cloches. It means maybe saving old worn out sheets in the garage, ready to be tossed over plantings to protect them from a freeze. It might mean investing in grow lights or heating mats so that growing out your own starts is easier, whatever the weather outside, and setting up a rain barrel to help offset less predictable rainfall patterns.
But let's be honest: if climate change dramatically changes weather patterns, buying technological solutions to moderate those extremes is a stop-gap measure. It will help us keep the garden growing, sure, but at the cost of greater dependance on the technologies that are, at least in part, contributing to climate change in the first place. That's a bitch of a situation to be in.
I'm not giving up my grow lights any time soon, but I see intermediate steps to build resiliency in the garden as more education and design-based. Steve Solomon wrote a book called Gardening When It Counts, and in it he talks about dry gardening – growing food with far less water and fertility inputs than is typical. There are resources out there for gardeners looking at a future of less predictable weather.
Educating ourselves about alternative growing techniques like dry gardening, winter sowing, food forests and other kinda kooky, non-mainstream options for edible production will be key, I think. Then we move to re-designing our gardens in ways that utilize the full breadth of those traditional and cutting-edge techniques to maximize the garden's chance of success going forward.
For example, I'd suggest that gardeners in areas at risk for lower rainfall check out sunken beds, hugelkultur, berms and swales, passive rainwater sequestration and drylands gardening. If increasing cold is likely to be a problem, Sepp Holzer is a great example of a guy who's hacked his climactic zones with thoughtful farm design. At his farm, he built terraces and placed ponds and rocks in certain positions to reflect sunlight onto trees and plants, and in this way grows citrus more than a kilometer up the slopes of the Austrian Alps.
If water is really the new oil, personal grey water reuse systems just seem smart. Investing in the kind of technology – or just hacking existing plumbing systems – to get a second use out of water used for bathing and laundering may be economically and ethically critical in the years to come and may be the only thing that keeps personal gardens acceptable (or legal!) in low-rainfall areas. One simple step in this direction is to stop literally pissing away clean drinking water. (Read more: How To Use Pee In Your Garden.)
Folks going down the path of greater independence in the face of an unpredictable climate will want to make sure they learn basic seed saving and start trialing various open pollinated varieties of veg to see what is most successful in their own garden.
Folks looking for a more communal approach to riding-out a Water World future should spend their time getting to know (or create) a local seed library and should support efforts to maintain or increase seed diversity in whatever way they can. The dinner you breed might be your own.
Long term, it's very hard to predict what climate change might do. Thoughts on the best and worst places to ride out global warming are fraught with either sarcasm or unsurety. But we do know that if sea levels rise due to a melting polar ice cap, waterfront property will become underwater property. And unless your favorite crop is kombu, that's gonna put a kink in your gardening.
This map came out a few weeks ago showing what my hometown would look like with a huge, 240′ sea rise. (Read all about it here.) It's the archipelago of Seattle, and it's fascinating and terrifying. The take away: live at the top of a hill.
So if climate change is something that concerns you, there is perhaps some sense, long term, in considering where you live. What are the geographic areas least likely to become uninhabitable? What areas are likely to be mild or suffer less from weather extremes? I don't know the answer. I'm not sure anyone does, though avoiding the two extremes of "hell and high water" should be a major concern.
To that end, anything that's already a desert is a bad choice, as are low-lying coastal regions. I'd avoid any area typically in the path of hurricanes or typhoons, since those will probably just get bigger and more damaging. Areas currently chilly may become more desirable as they warm – chilly Northern Canada might end up a temperate paradise, who knows?
In the northern hemisphere I'd look for land in a temperate to cool area on a gentle south-facing slope with mountains that will continue to see snowfall at my back. I'd be careful of building on permafrost – if it becomes meltafrost, giant sinkholes may eat your house. Does anyone reading live in Terrace, B.C.? That town looks like a great little spot to call home in a post-climate change future.
I'm not a doomsday person. I think people are good at adapting if they have enough time to do so. And if the worst, most terrifying predictions are accurate and climate change is going to rapidly kill off the majority of mankind anyway, I figure we might as well just hug our kids, read great books, grow great food, eat it and have a good time. But in the meantime, it can't hurt to work on being resilient and flexible in how we garden.
What do you think?
---
Related Stuff…
(These are affiliate links. Purchases made through these links cost you nothing extra but may help zombie-proof your garden. Full financial disclosure here. Thank you for your support, guys!)
An good introduction to gardening with less water: Gardening When It Counts by Steve Solomon.
Anything by Sharon Astyk is a very choice for homesteader-types concerned about climate change or peak oil. I particularly recommend her latest book, Making Home.
For information on how to garden with an eye towards sustainable design, I recommend the following permaculture focused books: The Vegetable Gardener's Guide To Permaculture and Edible Landscaping with a Permaculture Twist (both excellent for beginners), and Gaia's Garden. I have not read it, but apparently Sepp Holzer's Permaculture is amazing for people ready to implement a permaculture vision in a cold climate.
1