I've been ramping up my indoor seed starting over the past several weeks. The first of my spring cole crops and my peppers and tomatoes are just getting to the true leaf stage. I thought you guys might want to see the veggie madness that has taken over my seed starting rack.
My first round of seed-starting on these crops was done Saturday, February 1st. Pricking out of the first round of seedlings and the second round of seed-starting was done on Saturday, February 15. All photos were taken last night (Monday, Feb 24) so you can get an idea of seedling development.
Unless noted, all seeds are from High Mowing Organic Seed Company, my favorite seed house, and a sponsor of this-here blog. If you're looking around for a super-ethical seed house to call your own, check out High Mowing. They're fantastic people selling fantastic seeds.
Tomatoes!
Despite telling myself every year that it's probably not worth it to grow tomatoes in Seattle, I find myself (yet again) staring at dozens of cute, harmless-looking baby tomato starts. I have all these plans every year for why this year will be different – how I can totally hack my microclimates to make my tomatoes think they are living in Tennessee. (I've got plans for a great sweet potato experiment, too, this year  – I must be extra garden-feverish this spring.)
Of course, those great Southern yields never materialize up here – tomatoes tend towards a heartbreak crop in my maritime climate – but over the years I have gotten a bit better at selecting cool-season adapted varieties that work in my yard and not skimping on the season extension techniques. With a little extra love and care, most years there is a very short window when we have more tomatoes than we can possibly eat. That's a good window.
This year I'm growing a few old favorites, trying a few new varieties, and limiting myself (hah!) to mostly cherry and paste variety tomatoes – our favorites for fresh use and preserving, respectively. You'll notice I'm not growing any monster-huge beefsteak types like Brandywine. I've found that in my cool maritime climate, cherry and the smaller-sized tomatoes are far more reliable.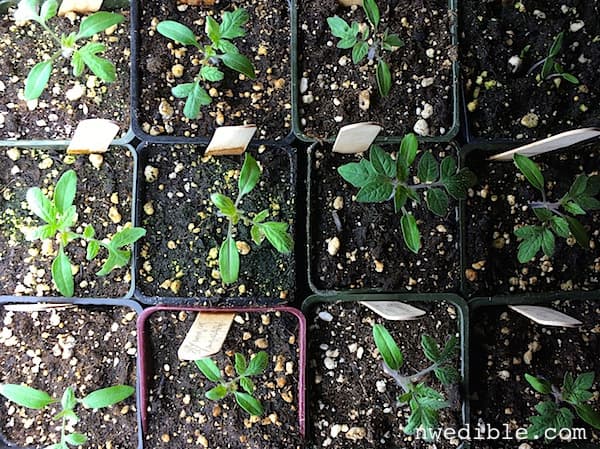 This year I'm growing:
Peppers!
You would think that peppers would be even harder than to grow than tomatoes, but I've found the short season varieties to be remarkably adaptable to life in the Pacific Northwest when grown in a greenhouse or under low-tunnels.
King of the North did well for me last summer, with my kids gobbling down bell peppers as soon as they blushed red. I harvested the last of my Anchos on November 17th last year and they were in good shape. I was also pleased to not have to buy any peppers for salsa making last summer! So I think peppers in the Northwest are worth a try.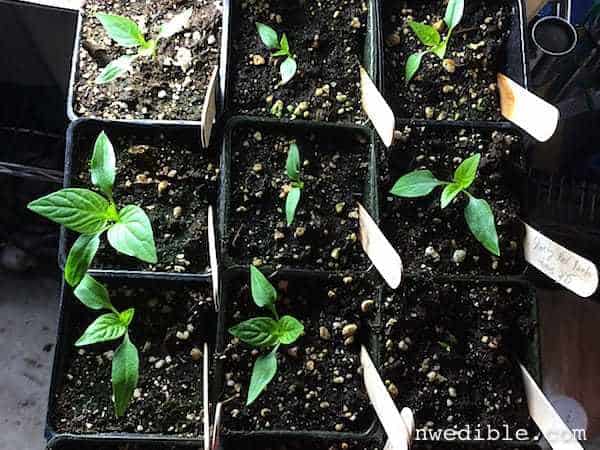 This year I'm growing:
Brassicas!
Much of the spring garden is comprised of brassicas – cabbage, cauliflower, broccoli, kohlrabi, etc. I've got quite the assortment going here.
These guys are Red Express Cabbage:
In the foreground is Janvel Cauliflower.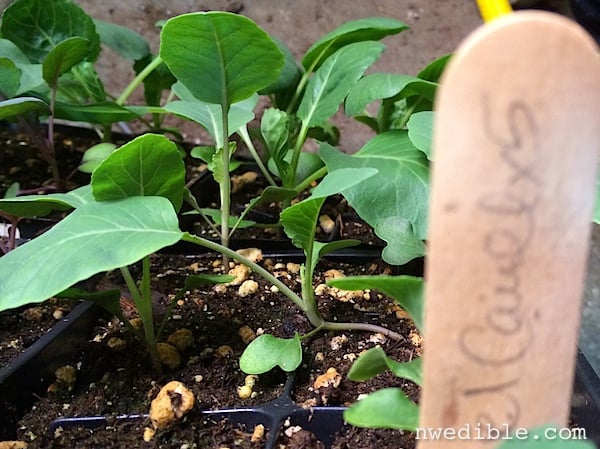 The top row of seedlings, from left to right, is Snowball Cauliflower, Belstar Broccoli (the sprouts in the middle) and Tipoff Romanesco Cauliflower (the sprouts on the right). The bottom row of seedlings is Lech Kohlrabi.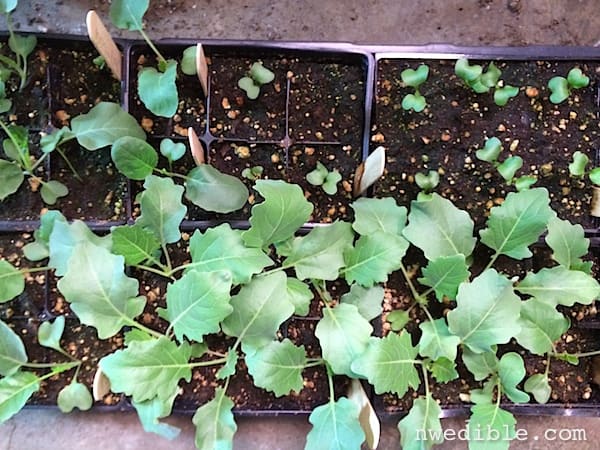 This month I have the following brassicas started under lights:
Greens and Herbs!
I try to start a fresh batch of greens somehow, every month. Sometimes I sow outdoors, sometimes I start in. I like to start parsley inside because it takes forever to germinate and start growing. The parsley in the back of this photo was seeded over three weeks ago and it's just starting to do something.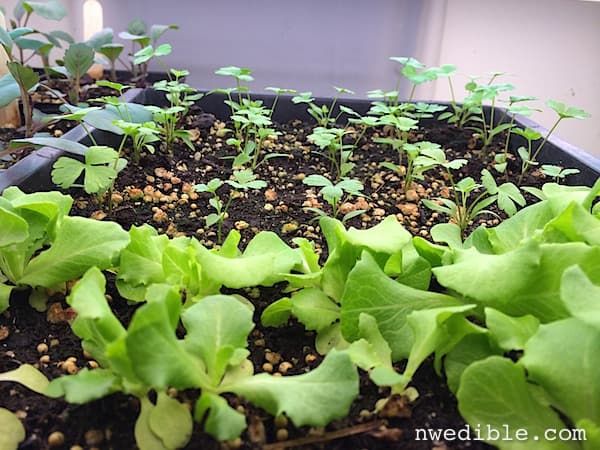 This month I have the following greens started under lights:
Other Stuff
I don't have photos and it's too late right now to go outside and take them (it's 10:00 pm as I write this)
My peas are already a few inches tall and I transplanted them outside late last week after starting them inside at the beginning of the month. Yippie!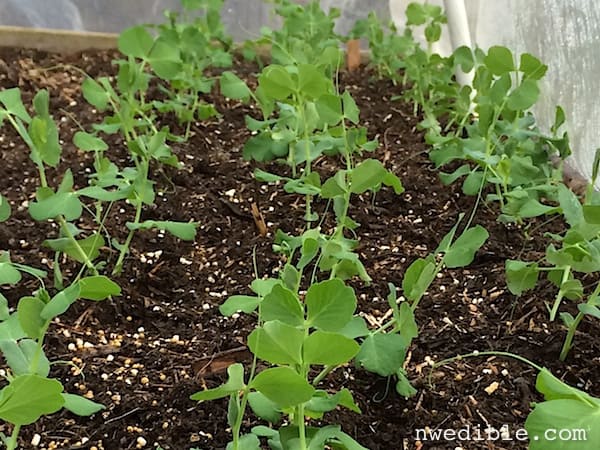 Resources
Don't worry if you haven't started a single thing! You're not too late! Here's my garden to do list for February.
Still trying to figure out which seeds to buy? This post makes it easy.
Want to jump-start pea-season? You can start your peas in a length of gutter. It works great – here's my full report on the technique.
What about you? Have you stared anything under lights yet?
1