This month, if you do nothing else – nothing – get your garlic in. With my eyes all wonky there is a very good chance that I will only be able to do (or delegate) a very limited number of things in the garden this month. My top three priorities are : garlic, garlic and garlic.

Plan & Purchase:
This is a great month to order bare root fruit trees and shrubs! If you didn't get a garlic order in or save your own seed cloves, hit up your local farmers market or yuppie-hippie market and buy some hardneck garlic to plant now. My favorite variety is Music because the cloves are huge, but most of the hardnecks have great flavor.
If you don't have cloches, buy or scrounge up the stuff you need to make them. We use PVC pipe hoops and 4 or 6 mil plastic sheeting for 6-8 week season extension and year-round weather protection for hardy edibles that are prone to rot, like endive. We dabble with Reemay and various spun row covers, but plastic sheeting, for all its many flaws, does create a nice grow environment more cheaply than just about anything else.

Sow Indoors
Nope, the lights are done for the year.
Sow Outside
Garlic – The sooner you sow it, the bigger the cloves will get.
Legumes – Some people grow overwintering peas, but I have not yet stepped up to this challenge. I've done overwintering favas with mixed success. In a mild winter they really do start blooming very early in spring. In a cold winter, the stalks die back to the ground and have to re-grow anyway once it warms up.
Cover Crops -The easiest way to do cover cropping is to buy a blend that includes at least something from the legume family, like crimson clover. I also like to do edible cover crops of mustard, arugula or baby kales. In the Maritime Northwest, half the benefit of cover crops is in protecting the soil from pounding rain and compaction. If you do nothing else, put some straw or leaves or cardboard over your bare earth before the rains start in earnest.
Late and overwintering greens – if you are using cloches, greenhouses or other season extension techniques, you can put in a direct-sown crop of fast-growing greens like winter lettuce, mache, arugula, mustard greens, spinach etc. and expect to harvest this year. Without season extension, much of what you sow out may not really grow a whole lot this year, but may size up beautifully very early next spring, before anything spring-sown could possibly mature.
Overwintering root crops – you can also experiment with overwintering carrots, beets and other root crops. This year, an October 2011-sown patch of Mokum carrots provided us with delicious fresh and full size roots from May to July with very little damage from the root maggot.

Transplant Out
It's a bit late, but if you have any lingering starts kicking around – chard, kale, lettuces, etc. – and you have a spot for them, why not stick them in the ground and see how they do? Get them under a cloche and they'll probably thrive.

Harvest
Veggies
Asian Greens – Bok choy, Napa cabbage, etc. are all coming into their own.
Broccoli & Cauliflower – Broccoli came on a few weeks ago and I'd guess I've got 3-4 more weeks of pickings. This is why I like well-put together "blends" of things like broccoli. I harvested all my cauliflower as soon as it was ready because I know about this.
Cabbage – The winter cabbage is sizing up nicely – I'm guessing it'll be harvestable by Thanksgiving.
Carrots – a few patches of late-sown carrots are hanging around but aren't yet big enough to do anything with.
Chard – Always chard. Always.
Eggplant – still harvesting eggplant out of the greenhouse.
Kale – The only thing more critical to grow than chard. Lots of decent size Cavolo Nero.
Kohlrabi – I'm loving the way the Superschmelz Kohlrabi are sizing up. Already baseball size and looking at softball or larger size before I harvest.
Lettuce and Greens – some lettuce has survived Slugfest 2012, and lots of baby arugula is growing around the winter leeks.
Onions & garlic – From storage. Great garlic harvest this year, which is a relief after the garlic fail or 2011.
Peppers – still harvesting peppers from the greenhouse.
Potatoes – I've lifted all but some Yukon Gold type and some Russets. I'd say I've got maybe 80 or 100 pounds put by – I'm very happy with this year's potato harvest! Lots of gorgeous French Fingering taters.
Radishes – the ones sizing up now are less spicy than last months.
Tomatoes – the last of the tomatoes will turn red in the next several weeks, or they'll be picked green. This was a very disappointing year for tomatoes.
Winter Squash – Will have to pick whatever the whacky volunteer winter squash gods saw fit to give me and make it work. I think I have a bunch of Green Hubbard and Acorn out there soaking up whatever last bit of ripening they can before the frost comes.

Fruit
Apples – The apples are shining right now. So crisp and delicious right off the trees.
Pears – Only a few Asian pears still on the tree, we picked a bunch and have them stored in the fridge where they will keep for weeks. The Euro pear trees around my neighborhood look loaded with fruit right around now. Last years espaliered Euro
Plums – still a few Prune Plums hanging to the tree but they are mostly overripe and too soft now to really bother with.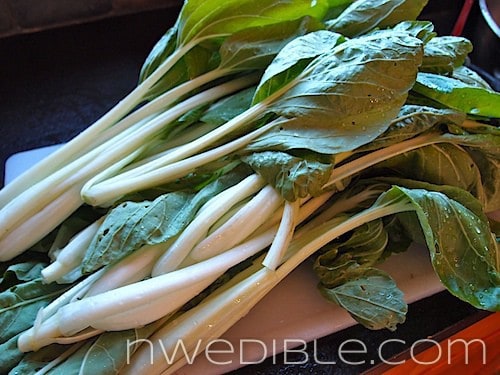 0