It's not quite strawberry season, cherries look like small, hard green marbles and peaches are just a fuzzy dream.
But there is rhubarb.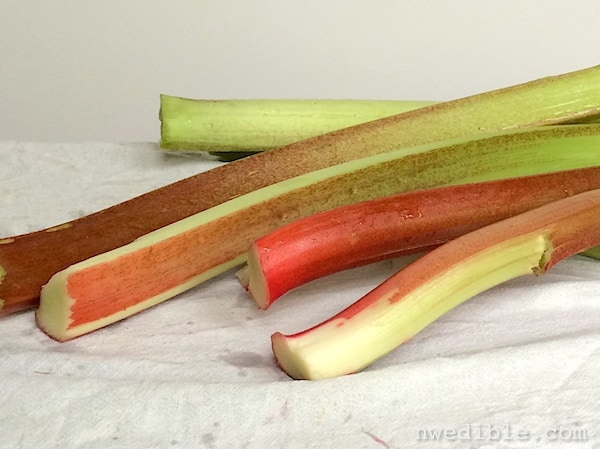 Rhubarb is a strange edible. Not really a fruit but typically used as one, poisonous except for the stalk, tart and astringent and stringy when raw.  Who was the first brave gatherer that discovered that this unpromising stem turns floral and delicate and aromatic when cooked? Add a bit of sweetener and rhubarb delivers the flavor of fruit to a palette tired of winter greens and root crops.
This cocktail ties with rhubarb crisp as my favorite way to use the first faux-fruit of spring. Based off the classic French 75, the Rhubarb 75 is an iron fist in a velvet glove. The drink is quite balanced and easy to imbibe, but go easy – the potent combo of gin and sweetness shouldn't be underestimated.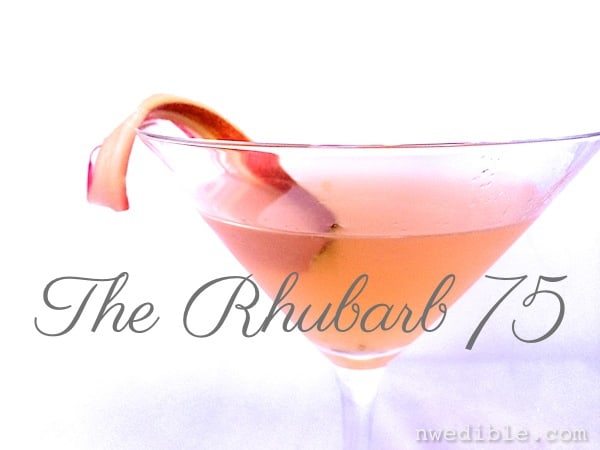 Speaking of gin – many people (ladies, I'm looking at you) swear they hate gin because they had some cheap juniper-bomb served as a Martini (or, God-forbid, a Gibson) back in college. The flavor of gin varies substantially by brand – the whole point is that the maker gets to pull together their distinct collection of spices, herbs and botanicals and uses those to flavor neutral spirits (vodka).
So saying you don't like gin is a bit like saying you don't like curry – which can be everything from a dusty bottle of anemic powder in the grocery store, to a bright Thai green curry made smooth with coconut milk, to a rich and aromatic braise filled with toasty ginger and turmeric and fennel.
I am not a fan of a strong juniper-forward flavor profile, and like Hendrick's Gin for most of my gin-based cocktails. Sip around – you may find that you do like gin, after all.
First things, first. You're going to need some Rhubarb Simple Syrup.
Rhubarb Simple Syrup
This flavored syrup is so delicious and such a lovely soft pink color (the photos taken at night with my iPhone really don't do it justice) that I encourage everyone with an overgrown rhubarb patch to make a few jars. The syrup is great in this cocktail, of course, but also delicious mixed with sparkling water.
Ingredients
8 oz. fresh or frozen rhubarb stalk (2 large stalks)
1 cup sugar
1 cup water
Method
Chop the rhubarb stalks  into 1-inch sections. Combine rhubarb, sugar and water in a small saucepan. Cover,  and bring to a simmer over medium heat.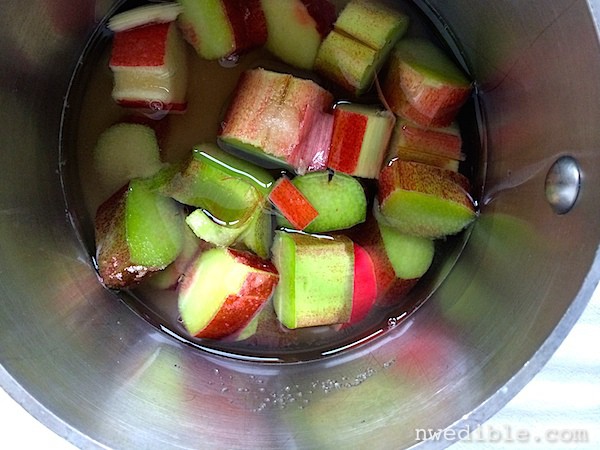 Simmer for about fifteen minutes, until the rhubarb is very soft. Strain the rhubarb syrup through a fine sieve. Push as much juice as possible through the sieve, leaving behind the soft rhubarb puree (which is delicious now, used like applesauce).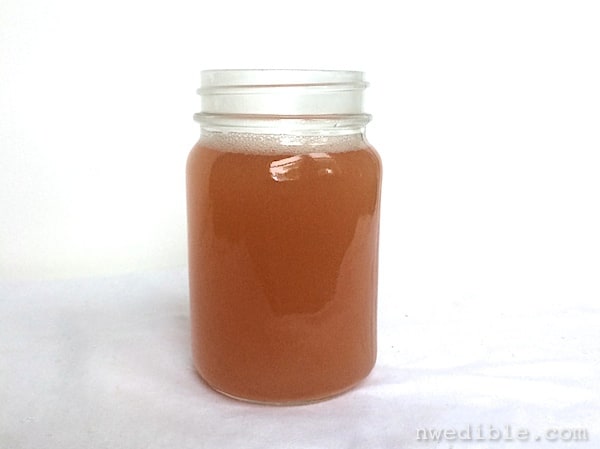 Let the rhubarb syrup cool and use in The Rhubarb 75, or as desired. Keeps refrigerated for several weeks.
The Rhubarb 75
Ingredients
2 oz. Gin
1 oz. Rhubarb Simple Syrup
1/2 oz. Freshly Squeezed Lemon Juice
Splash soda water
Method
Shake gin, rhubarb simple syrup and lemon juice together with finely cracked ice and pour into a chilled cocktail glass. Add a splash – about an ounce – of soda water to the drink and garnish with a peel of fresh rhubarb stalk if desired. So delicious!
Enjoy and happy weekend!
165