Chickens have changed the way I think about gardening, and I'm not just talking about bull-rushing a garden bed to shoo the little cluckers out of my arugula. Again.
No, something is happening to the way I think about garden inputs and outputs, and it all hinges on chicken shit.
Before we got our hens I bought a lot of compost. I had resigned myself to the fact – never questioned the fact, actually – that to grow a garden of the size and quality I desired I would need to buy a couple hundred dollars of compost or other bulk organic inputs annually.
Perhaps that seems an unfathomable garden expense, but I have 17 4'x8′ raised beds. Top-dressing each bed once a year with two inches of finished compost requires 6 cubic feet per bed, or 102 cubic feet of compost. At $3 per cubic-foot bag we're looking at $306 in annual compost costs. Delivered in bulk the stuff is less expensive, but not by that much when you only buy 3 or 4 cubic yards – those delivery fees'll kill you.
The two to three bins a year of cold-finished compost I can make on site could supply about 40% of my raised bed top-dressing needs if I got aggressive about sifting and fining-out the chunky stuff. But even if I put in that amount of work, I've still got the three-tier perennial bed, the fruit trees, the herb bed, the cane fruit area, the ornamental areas – and all those spaces would like to get in on the compost action, too, thank you very much.
And, to be perfectly frank about it, the compost I make just isn't that great for top dressing. I'm just too haphazard about how I make it, so it's all very un-uniform and tends towards too wet. I know I should be adding more browns – but I'm just not that into compost tinkering. "Let it rot" is pretty much good enough for me.
But those chickens – they are feather-covered compost-making machines.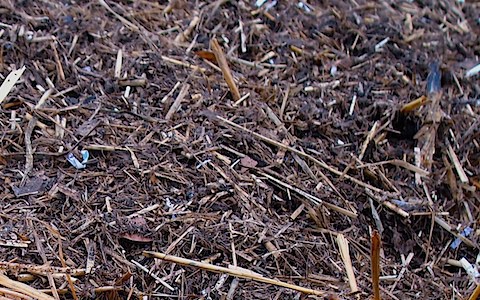 I tapped into the bounty of the coop last weekend and am finally realizing the full value of the hens. The top of the coop litter is kinda straw-ey, but scrape down and the deeper layers look like the stuff I pay $3 a cubic foot for: rich, brown, fluffy and mostly uniform. The straw is chopped into itty bitty pieces, just right for shielding soil from Pacific Northwest rains and preventing the dreaded crusting-over problem. The bottom most layers crawl with red worms lucky enough to avoid the beak of death.
And the quantity – there is so much of it! I hauled out wheelbarrow after wheelbarrow and only after raising three sweeping new beds a foot off the ground did I make a substantial dent in the compost. I really have no idea how the coop holds that much. Actually, I do: a foot- deep layer of composted chicken litter in our 8×12 coop is 96 cubic feet, or 3.5 cubic yards, of compost.
Ninety-six cubic feet is within a hairs-breath of how much compost I'd like to have on hand annually for all my raised beds, and has an input equivalency value of $288. And the chickens, with their unending pooping and straw-scratching aeration, are churning more out all the time.
I don't have a fully formed conclusion or philosophy on this yet, but as I continue my education in Livestock 101: The Chicken, it's becoming apparent to me that lower-input, sustainable and time-efficient agriculture, at even the pico-level of the home garden, requires the contributions of animals.
I'm not saying you need chickens or other animals to grow a good garden – I've grown great gardens without chickens – but in order to have a more internally-sustaining system (in an urban area I do not believe a completely self-sustaining system is truly possible), I think you just might need livestock.
Here's why.
Consider the math of the compost, which is a crude way to assign value, but it's the best we have. We've spread three bales of straw into the chicken coop, with a total input cost of $30. Straw plus natural and free chicken (and worm, etc.) activity yields $288 worth of compost. Chickens earn us $258 in Negabucks.
Now consider the value of time. To take-home $258, the difference between the input cost and the output value from the coop litter, a person earning $20 an hour and paying an average tax rate of 10%,would have to work a little over 14 hours, or two days not counting Facebook time at the office.
Alternatively, that same person could pile up yard clippings, run all around their neighborhood looking for yard-waste containers to empty before the trash guy can, rake neighbor's leaves and genrally abscond with any compostable possible in order to get enough bulk material to produce an equivalent quantity of compost on site without paying extra. I'm thinking that's more than 14 hours worth of effort, and we haven't even gotten to turning the compost or sifting it.
The chickens have nothing else to do but make eggs and compost. That's literally what they live for. They scratch, they poop, they make little dust bath divots, they eat some worms. Result: eggs, poop, happy chickens. The gardener, however, has an unending list of things to do and squeezing 14 hours out of the year to generate compost inferior to that of a chicken just may not make sense.
I'm never breaking even on eggs, but I'm pretty sure these chickens are going to shit their way to garden profitability.
2