I don't want to brag, but because of that sowing peas in guttering technique I tried this year, we've been enjoying sugar snaps for about six weeks now. I have photographic proof that our first harvest was June 6th, and it's been pretty well continuing since then.
I am almost relieved to say that the pea vines are starting to slow down and slump into yellowness, because I really need that bed for fall crops.
Everyone knows that peas and mint go together like maple bars and bacon, but I say why stop with just one verdant herb? Anywhere you want the flavor of green, you want parsley. Fresh parsley is the breadcrumb of the herb world; it's hard to imagine a situation when it isn't appropriate. Except as a sad garnish on the edge of your plate – now that's just a waste.
I made this dish, in about this quantity, as a side for a recent dinner. No one else got any. I ate every single pea. Gluttony, man, pure snap pea gluttony.
Like most of my recipes, exact quantities can't be given. Grab what you grow. A little more of this, a little less of that – if you are working with fresh herbs and fresh peas, it'll be ok. No, it'll be better than ok – it'll be fantastic.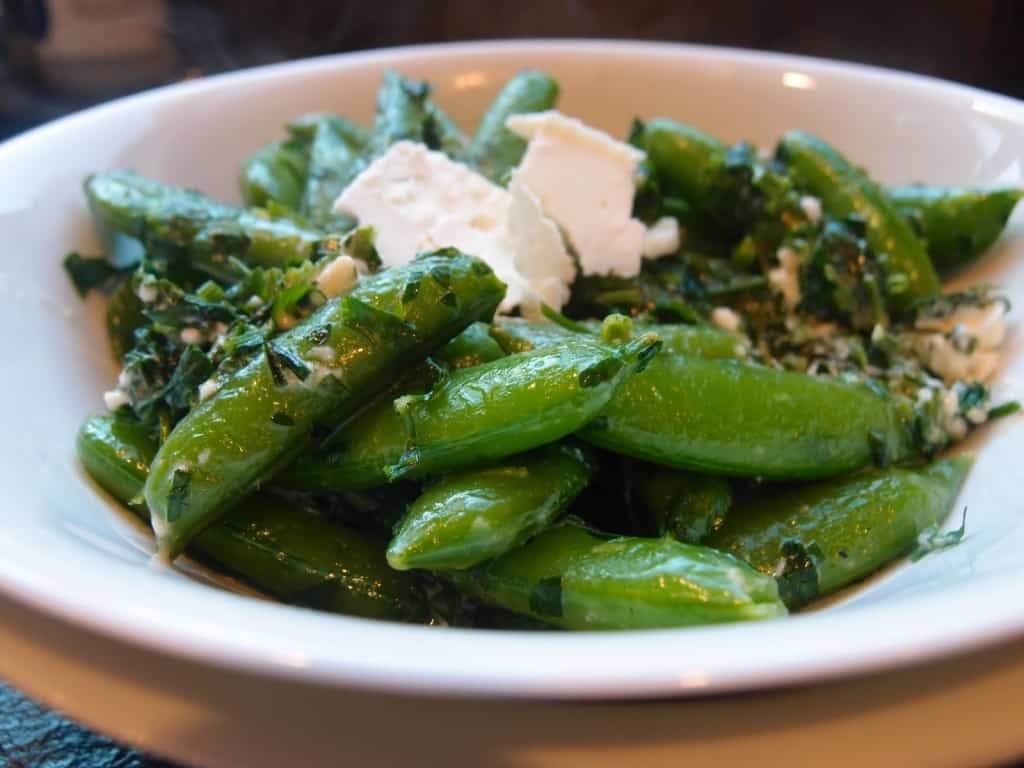 Sugar Snap Peas with Herbs and Feta
Ingredients:
2 tablespoons butter
1 big harvest of sugar snap peas (shelled peas or snow peas can be substituted), trimmed. About 4-6 cups of snap peas.
1 bunch of flat leaf parsley, leaves rough chopped. About 1/2 cup chopped.
Several sprigs mint, leaves roughly chopped. About 1/4 cup chopped.
Salt and pepper to taste
1/2 cup good feta, roughly crumbled or cut into cubes
Directions:
Melt butter in a large skillet set over medium-high heat. When butter foams up, add snap peas and cook, stirring frequently, until peas turn bright green and soften slightly, 2-4 minutes.
Add chopped herbs and stir to coat the peas with the herbs. Cook for about a minute, until the herbs turn bright green and wilt a bit. Season to taste with salt and pepper, but go easy on the salt because the feta you'll add is quite salty.
Taste a pea: the texture should be softer than a fresh pea but still have some "tooth" to it – it should not be overly soft or mushy. If it's still too firm, cook for another minute. If it's too soft – oh well – cook the the peas less next time.
Remove peas from heat, toss with feta and serve immediately. The residual heat from the peas should soften the feta into salty chunks that highlight the sweetness of the peas.
0