I'm partial to cast iron cookware. I also use stainless-clad aluminum pots and pans for soups and blanching vegetables and making oatmeal, but my daily-use pans are a set of five Lodge Cast Iron Skillets.
I say 'set' like I went down one day to my local Williams-Sonoma and got a deal for buying the 5-Piece Damn Heavy Collection by Lodge. In fact, each piece has been acquired over years. I bought one of my 10-inchers for $5 at a thrift store when I was a college kid. At the time it was patina'd orange with rust and neglect. I'm pretty one of the big-guns was handed down from my Grandma (aren't all cast iron skillets handed down from someone's Grandma?). The baby of the set I bought new because I needed something small to cook eggs in for my daughter's breakfasts, but at $13 it's not like it was a break-the-bank investment.
The skillets sit stacked up on my stove all the time. I don't bother to put them away because I use them multiple times a day, they are (as I may have mentioned) rather hefty, and I like to deck my stove out in as much black metal as I can get my hands on.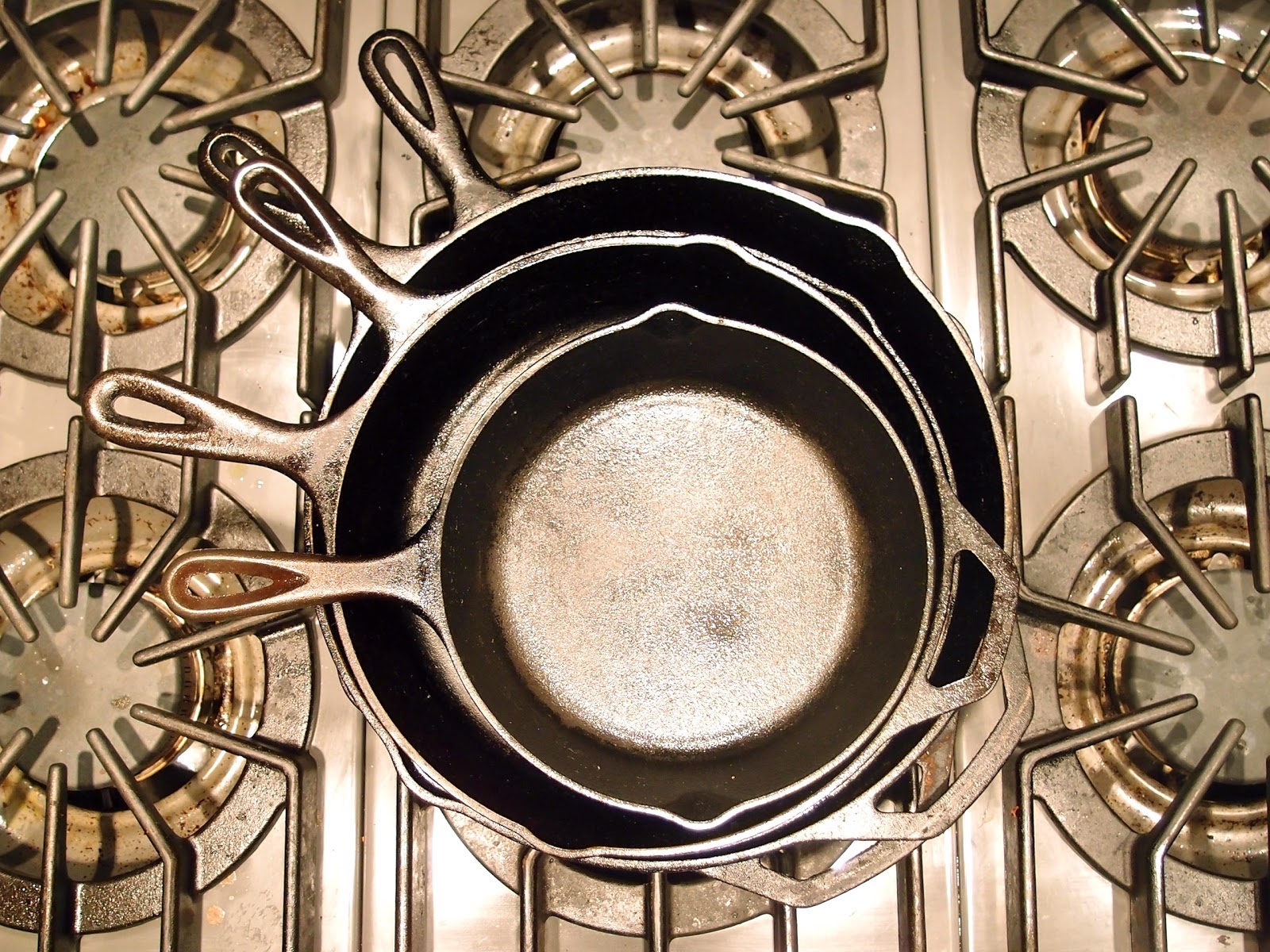 They've been moved, lost, found, forgotten about, remembered, abused, scrubbed, and always come back better than ever. Go at a Teflon-coated pan with a metal spatula or whisk and you'll come away with flaked Teflon (and maybe an emergency room bill, but that's another story).
Take a scouring pad to your gorgeous shiny stainless and suddenly you have brushed stainless, ala 3-year-old. Apparently the high-end copper stuff discolors over high heat. Cast iron has none of these frailties. There is very little you can do to damage it, since it's just a big solid hunk of, well, iron.
The only way you can really mess cast iron up is to leave a bunch of soapy water sitting in it for an extended period of time. Even then, you can call a Mulligan. Cast iron is easy to win back with a simple re-seasoning.
The Lodge official method for re-seasoning calls for coating a clean pan with shortening or oil and baking the pan in the oven for at least an hour to allow the iron to absorb the fat and form a naturally stick-resistant coating. I have a faster, stovetop way, which is based on how you season carbon steel woks. Woks, like cast iron, develop a black patina of seasoning which prevents food from sticking to the cooking surface.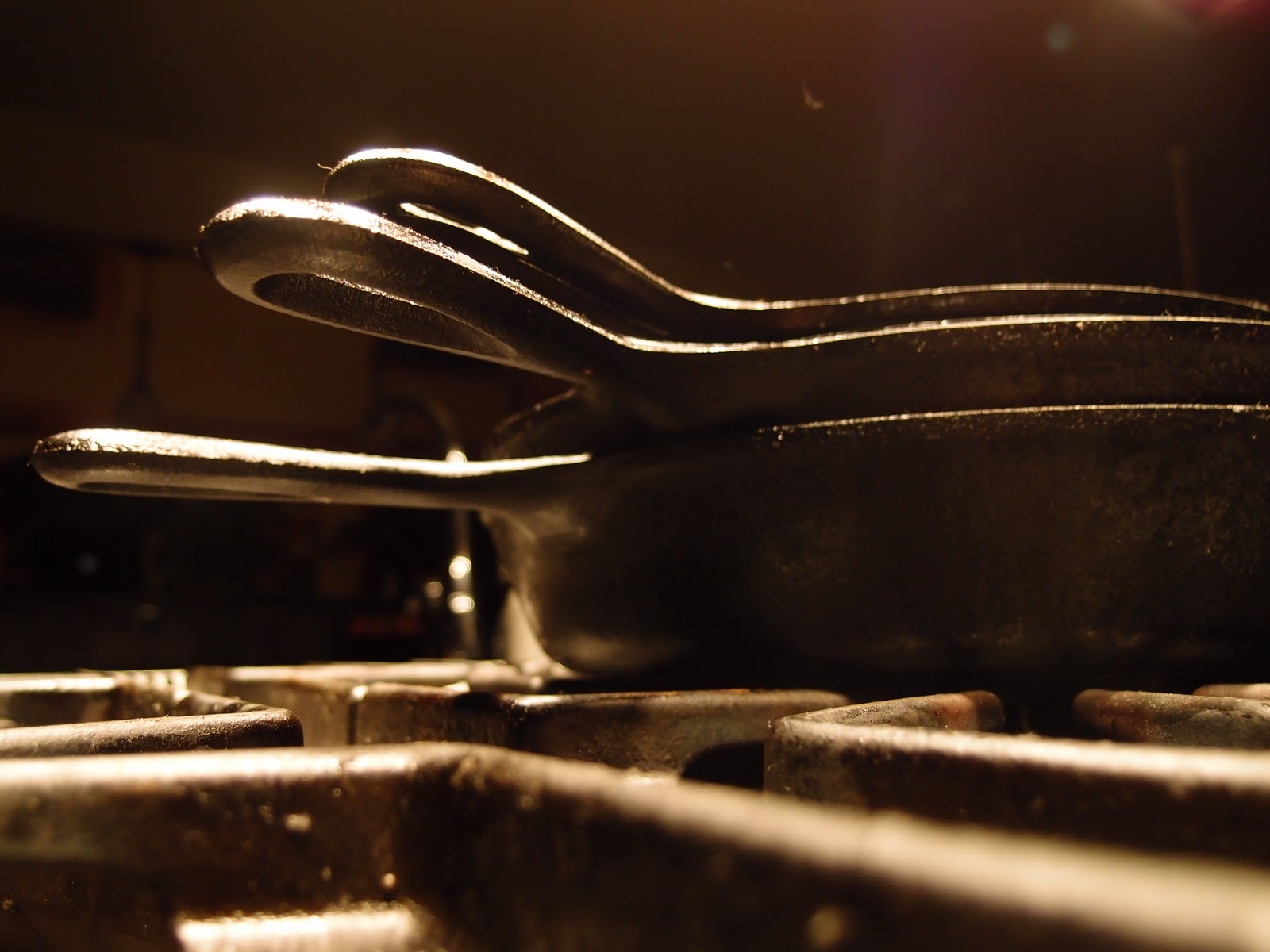 My Simple Cast Iron Seasoning Technique
To season a cast iron skillet wok-style, heat your clean skillet over high heat for several minutes. You want that puppy good and hot. Now, turn off the heat and let the skillet cool slightly. Pour a tablespoon or two of high-heat fat, like grapeseed oil or vegetable shortening or lard into the hot pan. Experts say that you shouldn't use saturated fats because of rancidity issues, but if you are using your pan twice a day that's not really a concern, and lard is, in my experience, the absolute best fat for seasoning cast iron.
Immediately start rubbing the fat into the pan with a lint-free rag that you don't much care for. I keep a few dedicated kitchen towels around for this purpose. Your rag will turn brown and icky. Keep rubbing the fat into the pan until the pan is black and shiny.
Now, put the pan back on the heat and get it quite hot again (that handle's hot, so make sure you are using a pot holder or towel to move the skillet). Let cool slightly and rub yet more fat into the pan. Repeat one more time for a total of three heating/fat-rubbing sessions. On that last session, keep rubbing the pan until you aren't seeing additional brown gunk coming off on the towel.
All done! A little more hands on and active, but total time is about 10 minutes and you can get on with the business of making dinner.
Now the best way to keep a cast iron skillet seasoned is to do a little mini-version of the stovetop seasoning method each time you use it. Wash your skillet (should be easy to do since the patina makes it virtually non-stick) by wiping it clean or rinsing it out with warm water and, if necessary, giving it a quick scrub without soap. Place the skillet over high heat until any additional moisture boils off and the pan is absolutely dry. Turn off the heat, throw a little oil in your skillet, rub it around and store your pan until you next use it.
If you are like me, that will be in about 3 hours.
What do you cook in? Cast iron, non-stick, stainless? Have you thought about using cast iron but balked at the idea of a pan you can't dishwasher
1