Not everyone loves beets. Good, more for me. I love roasted beets tossed with a simple vinaigrette. The technique is dead simple and lends itself to multiple variations.
I pick my beets at around golf ball size. I'd like to say that's because they are sweetest when they are small, but truthfully I'd love big, prize-winning baseball-sized beets. I just can't wait that long. By the time they've sized up to reasonably harvestable, I can't keep my greedy hands off them any longer.
In any event, roast beets that are similar in size. Some variation is ok, but don't try roasting a baby beet and a big behemoth at the same time. They'll cook too unevenly.
Basic Roasted Beets
Ingredients:
Small to medium sized beets. Quantity isn't actually important, but since roasted beets keep for several days in the fridge, why not make a bunch and have them on hand for salads?
Olive Oil
Salt
Method:
Preheat oven to 400 degrees. Trim and scrub beets but do not peel. I like to leave a bit of the stem attached. I think it's pretty.
Tear off 12-18 inches of aluminum foil. Center beets on foil and drizzle lightly with olive oil. Sprinkle beets with salt to taste. Fold the ends and sides of foil packet up to make a packet. Fold and crimp edges together so the beets are fully enclosed in the foil packet. Place packet on a sheetpan and transfer to the hot oven.
Roasting time will vary considerably based on the size of your beets, but 40 minutes to an hour is a good ballpark for medium sized beets. After 30 minutes, remove beets from oven, carefully open foil packet (watch for hot steam) and use a toothpick or wooden skewer to pierce one of your largest beets. If the skewer slides in easily, your beet is cooked through. If it encounters resistance, re-seal the foil and cook the beets for another 10-20 minutes. Continue testing until the beets are cooked through.
Set beets aside at room temperature to cool until cool enough to comfortably handle (or just forget them overnight on the counter like I did last time!). Peel beets by rubbing the skin with a clean towel or paper towel. The skin will slip right off. If you are concerned about having pink hands, you might want to wear rubber gloves for this step. Transfer the beets to an airtight container and keep chilled until needed, up to 4 days.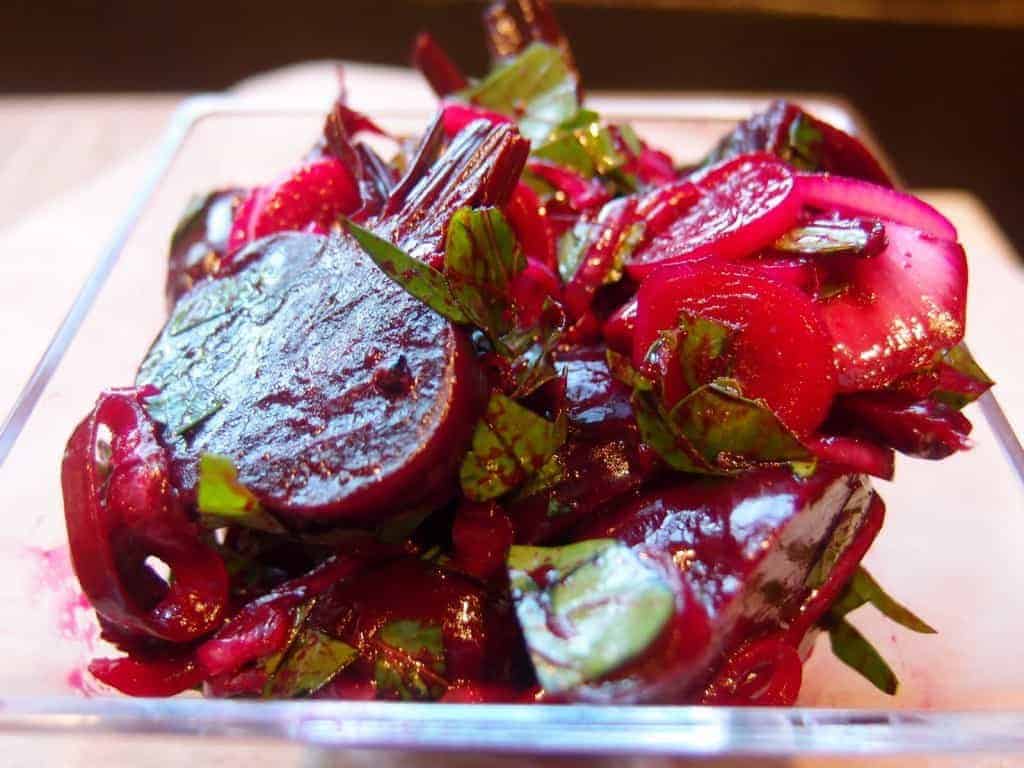 Marinated Roasted Beets with Red Onion
3 cups roasted beets, halved or quartered depending on size
1/2 – 1 cup red onion sliced into thin rounds, to taste
1/4 cup olive oil
2-4 tablespoons apple cider vinegar, to taste
1 tablespoon dijon mustard
Salt and pepper, to taste
1/4 cup chopped tender green herbs, such as parsley, mint, oregano or basil (I used parsley)
Add beets and onion to a medium bowl. Toss to combine. In a separate bowl, add remaining ingredients and whisk together to make a vinaigrette. Adjust taste with additional salt, pepper or vinegar as desired. Pour vinaigrette over beets and onions and let sit, chilled, for at least one hour. Serve cold or at room temperature.
Roasted Beets with Goat Cheese and Walnuts (Jo's Salad)
3 cups roasted beets, halved or quartered depending on size
2 tablespoons toasted walnut oil
Salt and pepper, to taste
1/2 cup toasted chopped walnuts
4 oz. crumbled fresh mild goat cheese (chevre)
Add beets and walnut oil and toss to combine. Season to taste with salt and pepper, being generous with the pepper. Add walnut halves and goat cheese and toss together gently. The more you toss, the more the goat cheese will turn pink, so I aim for a minimum amount of gentle tossing. Serve cold.
Winter Beet Salad with Arugula and Orange
4 cups arugula, washed and dried
2 cups roasted beets, sliced into rounds
2 large naval oranges, peeled and cut crosswise into rounds
Dressing:
1/4 cup orange juice
2 tablespoons apple cider vinegar
1 tablespoon maple syrup
1/4 cup olive oil
1 tablespoon Dijon mustard
Salt and pepper to taste
Combine all dressing ingredients and whisk together to combine. Divide arugula between four plates and arrange beets and orange rounds atop the arugula. Drizzle salad all over with dressing. Serve immediately.
Do you grow beets? And more importantly, do you eat them once you've grown them?
1