I have 1-foot high raised beds on my concrete soil. It's really is that hard, filled with rocks and impossible to dig. I put in 2 grapes on a little arbor. What fruits and veggies will survive in such shallow soil? Thank you for any help you can share.

– Sharon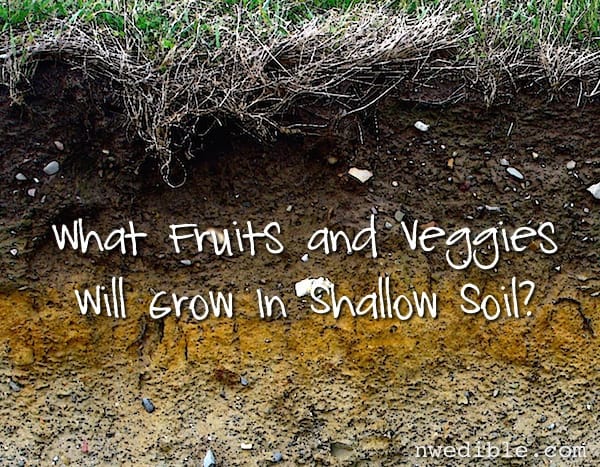 Hi Sharon. The quick answer to your question is, most annual vegetables will do just fine in 12" of good quality soil. Many gardening "systems" – like Square Foot Gardening or Mittlinger Grow Boxes – use raised beds even shallower than 12" to grow pretty much everything.
As long as you attend to feeding and watering your plants, a foot of good quality soil is fine for growing all the typical backyard crops. You will want to stake anything tall that might be prone to falling over without a good anchorage opportunity, like Brussel's sprouts. You may not want to try potatoes in those beds unless you can hill up over the base-layer of soil. Otherwise, go and grow!
For fruits, strawberries will be fine. The perennial shrub fruits like blueberries, currants and gooseberries will probably do alright, but I wouldn't ask a fruit tree to thrive in 12″ of soil without an accessible layer of sub-soil underneath.
Your grape vines want to send down roots 20 or more feet, so I am skeptical if they will thrive in 12" of soil, but they may very well help break up that hardpan under your raised bed. While your vines are small, you might also consider if your "little" arbor is sufficient to support them. That's another question for another day, but depending on how you decide to train your grape, you might want something more substantial.
And speaking of your concrete soil, that's the thing that concerns me most about your question. Let's take a look at why your soil is like concrete and how you can improve it.
Rocks in soil don't really bother me (I think of them as very, very slow release mineral fertilizer!) but if your soil is truly like concrete, you probably have a type of soil where very fine clay particles have aggregated together with sand. Gardeners are often advised not to add sand to heavy clay to improve drainage for exactly this reason. It seems counterintuitive – doesn't sand help drainage? – but when you combine sand with clay, you can end up with something far worse than you began with.
Good soil is a mix of sand, clay and humus (organic matter). I'd guess based on your description you already have clay and sand in your native soil but organic matter is almost nonexistent. You can check this theory with an easy DIY test that will tell you about your soil components. Full directions here. So what you need to improve that soil is a huge influx of hummus.
Here's my suggestion – your raised beds are, I assume, filled with a good imported soil blend suited to vegetable gardening. This is great, but to soften up that concrete-like soil and allow your vegetable roots greater access to sub-soil minerals and nutrition, mulch your paths and the areas around your beds heavily with earthworm-attracting organic matter. I recommend a layer of weed-suppressing cardboard (the plain brown, non-coated kind) followed by a 4-6" layer of either arborist's wood chips or straw.
Arborist's wood chips are the kind of wood chips you get when you run all the parts of a tree through a wood chipper. They are rougher and more diverse than play chips, bark mulch or hog fuel chips, and are often available free from local tree companies.
A 6" layer of either of these materials will quickly settle to 2-3" tall but won't compact in the same way as your native soil. This mulch will shield your concrete soil from sun and rain, and promote earthworm activities which will do more to loosen your soil than a shovel ever could.
The soil in your raised beds is slowly doing what it can to soften the hand-pan directly under it. To help it along, I'd recommend that every few years you grow a sub-soil busting crop of deep-taprooted things in your raised beds.
Daikon is great for this – it can grow 18" or more in length. Wait for large roots to develop but instead of harvesting this crop, cut off the above ground greenery and top inch or so of root and compost it, feed it to chickens or eat it. Daikon greens are a kind of radish green, and while they aren't my favorite, they are edible and a nice addition to soup. Leave the roots themselves in place, right in the soil.
If all goes well, those large roots will rot-in-place, adding tremendous aeration to your sub-soil. Now, instead of soil like concrete, you have concrete punctuated by earthworm-attracting rotting vegetable matter 18" deep in the ground.
If your daikon roots attempt to re-grow greens, which they probably will if they are large, just nip these out as you see them. The goal is really to exhaust the tap root and finer root hairs permeating the soil so that they die and improve the the poor-quality hard soil under your raised beds.
One last tip: consider sending a sample of your native soil away for a good soil test from your local extension agency or a lab that performs them. Acidic soils are more prone to forming a hard-pan-like surface, and you may find that applications of lime and/or gypsum help a good deal in improving your soil's texture. Get a soil test to figure out exactly what you need, and in what quantity.
Do you have a question you'd like me to answer? Drop me a line at nwedible at gmail dot com or through my contact page. Put "Reader Question" in the subject line and I might answer your question in a post like this!
52