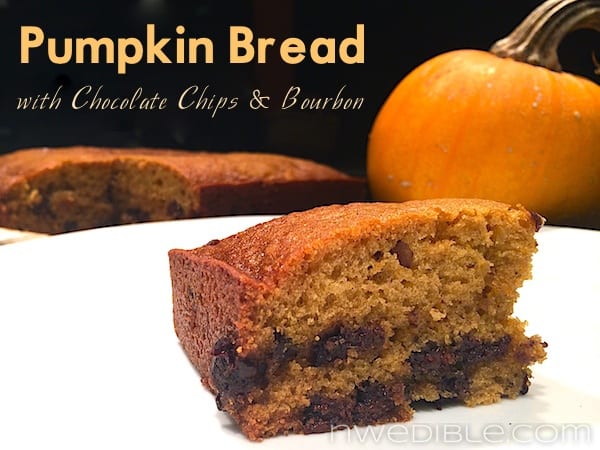 Let's talk about how pumpkin flavors are forced into everything at this time of year. I know this isn't a universal feeling, but I kinda run screaming from pumpkin spiced lattes, pumpkin ale, pumpkin yogurt, pumpkin pie flavored vodka (blech) and many of the "pumpkin spice" type commercial products that hit the shelves in October like so many fallen leaves after a windstorm. These flavors just feel forced to me.
But pumpkin baked goods, oh, those leave me smitten. Before the year is out I will indulge in soft, puffy pumpkin cookies with a shiny, lemon-zest flecked glaze. I will make pumpkin spice waffles "for the kids" and go back for seconds, topping mine with pecans and maple syrup. And I will make pumpkin bread…oh, pumpkin bread.
This particular version of pumpkin bread is tarted up with dark chocolate chips, walnuts and bourbon. These additions give a grown up note to the cake, but feel free to leave out any or all of these items depending on your preferences.
Far too easy to eat for something so rich and decadent, this bread makes me happy both for comforting fall flavors and big cozy sweaters that forgive a little seasonal over-indulgence.
Although I grow a lot of winter squash, including butternut squash which makes a lovely rich puree, I generally use my homegrown squash in more savory applications and use store-bought canned pumpkin puree for recipes like this.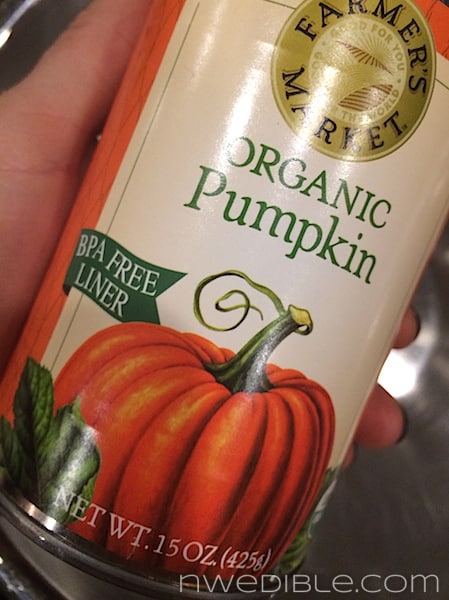 I'm in the habit of keeping my winter squash cellared, and when Pumpkin Bread mania strikes, I don't really want to take the time to roast and puree a winter squash to order. So, canned it is. If you are better at that "planning ahead" thing than I am, you can keep roasted, pureed squash in the freezer for recipes like this. Pumpkin puree cannot be safely home canned, so don't bother.
Pro tip: get parchment paper. It will ensure that every loaf of quick bread you ever make for the rest of your life comes out of your pan without sticking. I use the roll kind from Costco right now (you can see it here but buy it in store for a far better price), and while the roll is okay, I am a happier baker when I have pre-cut sheetpan-size sheets like these.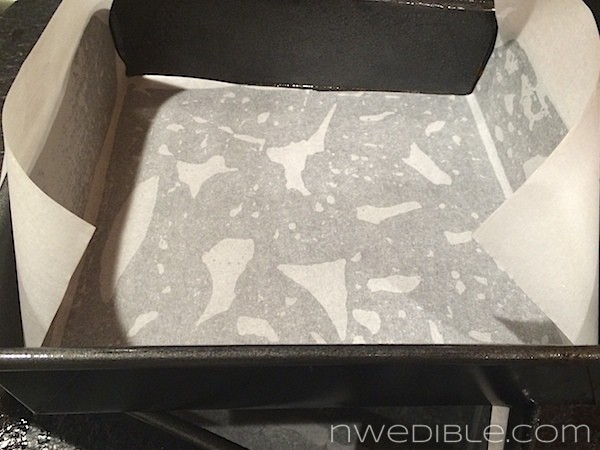 For loaf or square cake pans, I just cut the parchment into a "sling" that fits along the sides and bottom of the pan. This parchment sling makes it a snap to remove a loaf of quickbread or cake from a pan without any flipping or sticking.
Pumpkin Bread with Chocolate Chips and Bourbon
Adapted from All Recipes
Makes 2 – 9×5 loaf pans OR 2 – 9×9 inch square cake pans OR about 24 muffins.


Ingredients
Wet Stuff
15 ounces (1 can) pumpkin puree
4 eggs
1/2 cup (1 stick) butter, melted and cooled
1/2 cup oil
1/2 cup water
3 tbsp. bourbon. I use Jim Beam. (Optional – substitute water or apple juice if you prefer not to use bourbon)
2-1/2 cups sugar
Dry Stuff
3-1/2 cups all-purpose flour. (Substitute up to half white whole wheat pastry flour if you prefer)
2 teaspoons baking soda
1-1/2 teaspoons salt
1 teaspoon ground cinnamon
1 teaspoon freshly ground nutmeg
1/2 teaspoon ground cloves
1/2 teaspoon ground ginger
Add Ins
1 cup chopped walnuts (Optional)
2 cups chocolate chips (Optional)
Method
Preheat oven to 350 degrees. Grease your pans and either flour or line them with parchment paper. If making muffins, grease and flour or use muffin liners.
In a large bowl, whisk together the Wet Stuff. Mix pumpkin, eggs, oil, water, bourbon and sugar until well blended.
Place a kitchen sieve over the bowl and add the Dry Stuff to it: dump the flour, baking soda, salt, cinnamon, nutmeg, cloves and ginger into the sieve. Gently shake the sieve until all the Dry Stuff has been sifted together into the Wet Stuff bowl.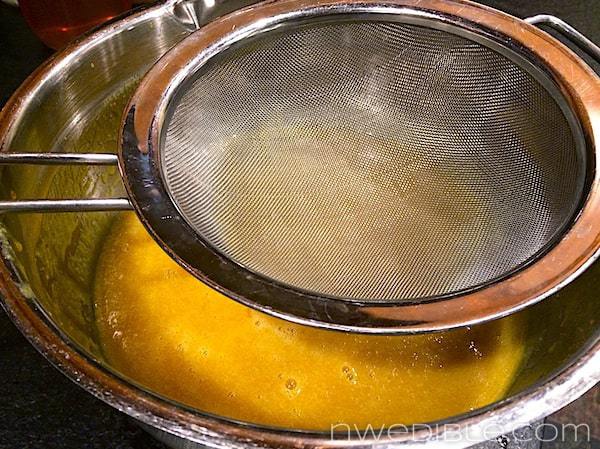 (I introduce the Dry Stuff to the Wet Stuff in this way only so that I only dirty one bowl, but if you prefer you can sift all the Dry Stuff ingredients together into a second bowl and then dump the Dry Stuff into the Wet Stuff.)
Stir the Dry Stuff into the Wet Stuff until just blended with no flour streaks.  Add in the walnuts and chocolate chips and fold them into the batter until evenly distributed.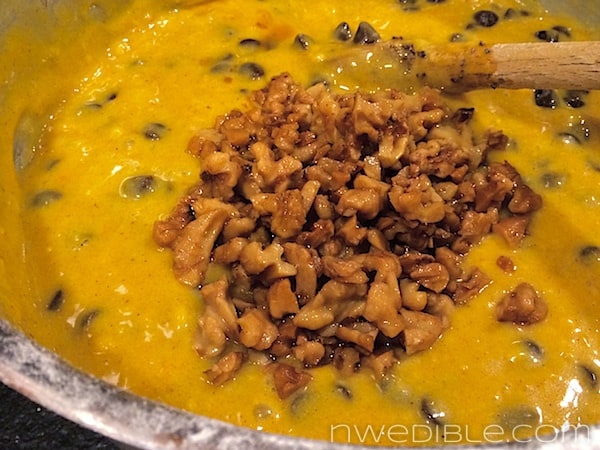 Pour batter evenly between the prepared pans or portion into muffin tins.
Bake for about 60-70 minutes in the preheated oven for 9×5 loaf pans, about 45-55 minutes for 9×9 square pans, or about 25-35 minutes for muffins. Because baking time will vary based on your oven calibration, oven size, pan, etc., it's really best to rely on the the toothpick test to determine when your Pumpkin Bread is done. Loaves or muffins are done when a toothpick inserted into the center comes out clean.
Let Pumpkin Bread cool in pan until firmed up, about 10 minutes. Transfer to a cake rack and let cool completely before slicing. This is harder than it should be, but the texture of the quick bread is better if allowed to fully cool before you cut it open.
This bread freezes well if well wrapped.
What do you think about pumpkin flavored everything at this time of year?
1