I am learning what every first-time chicken keeper knows: chickens grow fast. At three weeks old, our 6 birds had outgrown their rubbermaid brooder. They were getting a bit too excited about their flight feathers and were constantly crashing into things, like the mesh ceiling of their brooder. They clearly needed more free ranger space.
Thankfully, my friend Meg over at Grow & Resist had the perfect solution: she had converted a portable playpen into a medium-size brooder for her girls. As luck would have it, I had an old Pack & Play lying around unused in my garage.
Do all Pack & Plays go totally unused until they are pressed into chicken brooder service? My sample of two says, "yes."
Meg's excellent instructions for how she converted her playpen made my task simple. I did things a tiny bit differently simply because I had different junk lying around the garage, but the basic idea is the same.
Convert A Pack and Play Into A Chicken Brooder
Line Pack & Play with heavy-duty plastic. The goal here is protecting your Pack-and-Play from poop. (That's a lot of p's). One day you might actually use this thing for a child. Don't cheap out on the plastic lining.I used 6 mil poly I use as "heavy weight" tunnel cloche material when it's not containing chick poop.
I ran the plastic sheeting lengthwise and secured it to the edges with large binder clips. Then I ran a second sheet widthwise and secured it in the same way. This put two layers of plastic along the bottom and gave me some serious overlap on the edges.
I covered the plastic with a layer of heavy cardboard so the chicks wouldn't tear the plastic with their scratching, then I put down a 3-inch (ish) layer of pine shavings.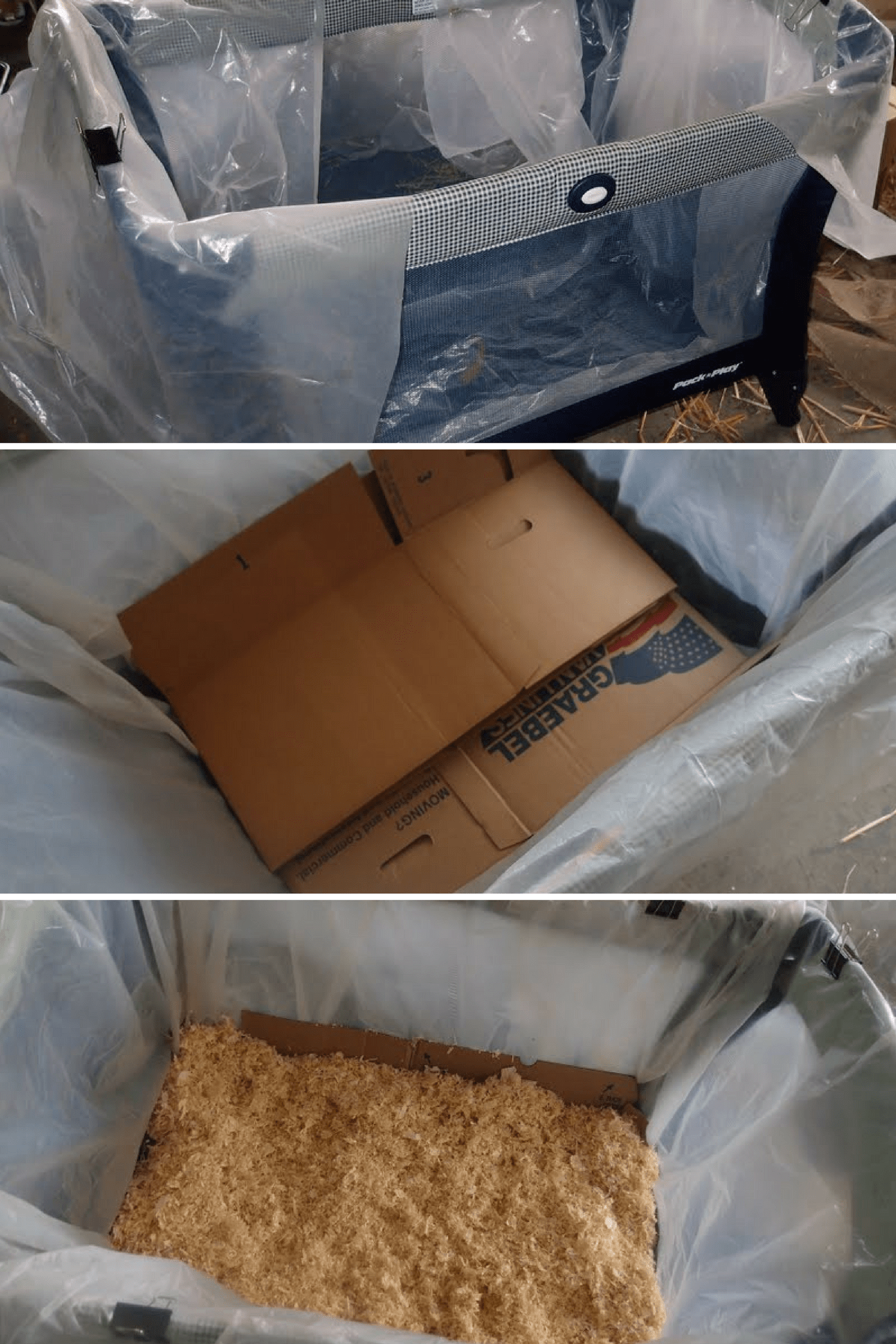 I moved the feeder, waterer and chick toys into the new brooder and the girls settled right in. It took them about 10 seconds to start scratching and pecking away, so I assume they are happy in their new home.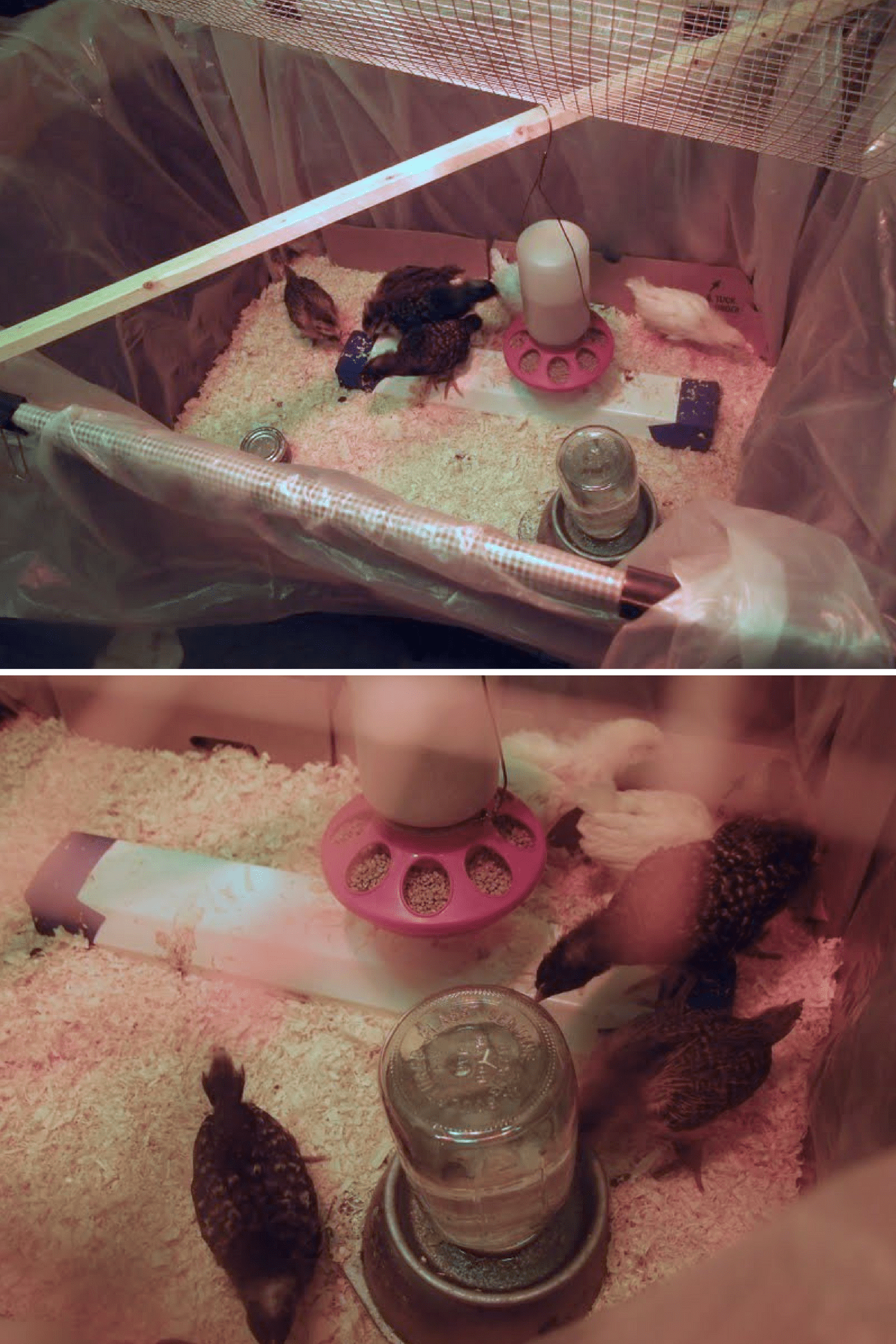 I highly recommend this excellent re-purposing technique for those of you who simultaneously have chicks gettin' bigger and an old Pack & Play lying around gettin' dusty.
In the meantime, until the chicks are old enough to move to their handsome new coop and sheltered run, the family has taken to using it as a little breakfast space/play area. Why not? It's covered and has a great view of the garden and there are not yet any chickens living (pooping) in it.
Homebrew Husband started the Coop-As-Breakfast-Nook notion when he surprised me by bringing home some tasty breakfast pastries on my birthday and setting up breakfast al fresco. Since the coop was my early birthday present, it seemed fitting.
Of course, our son was more than happy to get in on the scone action too.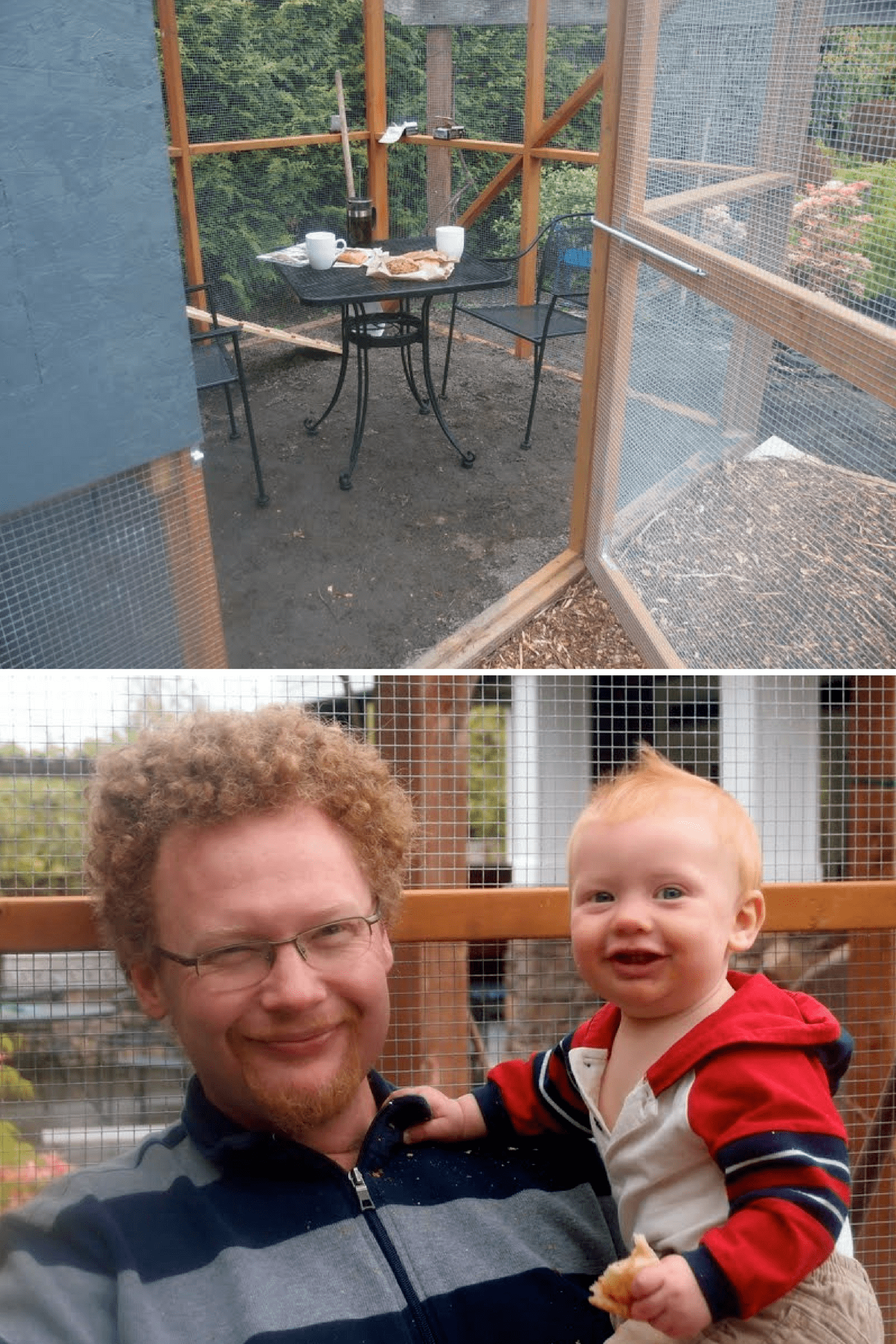 Chickens in the playpen and babies eating scones in the coop. It's a funny life, but I wouldn't want it any other way.
43