There's a local cafe that serves chocolate chip cookies that should be illegal and morning glory muffins that really do make my morning glorious.
Since I have an ethical and financial problem paying $6.50 for a muffin and cup of coffee, and since it behooves my expanding ass to stay away from the chocolate chip cookies entirely, I set out to try to make my own version of the morning glory muffins I enjoy so much.
Relatedly, my zucchini has recently started coming on (right now the zuke production is still slow, but you know how zucchini is…once it starts going I'll have a zucchini tidal wave to contend with) and I still have something like 15, 1-pound bags of shredded zucchini in my freezer from last summer. In the spirit of "Use Up What You Put Up," my new rule is: nothing gets baked that doesn't include a pound or two of zucchini. If you think I'm kidding I'll show you pictures of the zucchini brownies I made last night.
The muffins turned out really well. They are a real muffin, not one of those cupcakes masquerading as a muffin, and are reasonably healthy if you accept that things with flour and sugar can also be healthy (personally I'm not convinced). On the other hand, if you wanted to go for broke in the treat department, a dollop of cream cheese frosting on the top would not be out of place.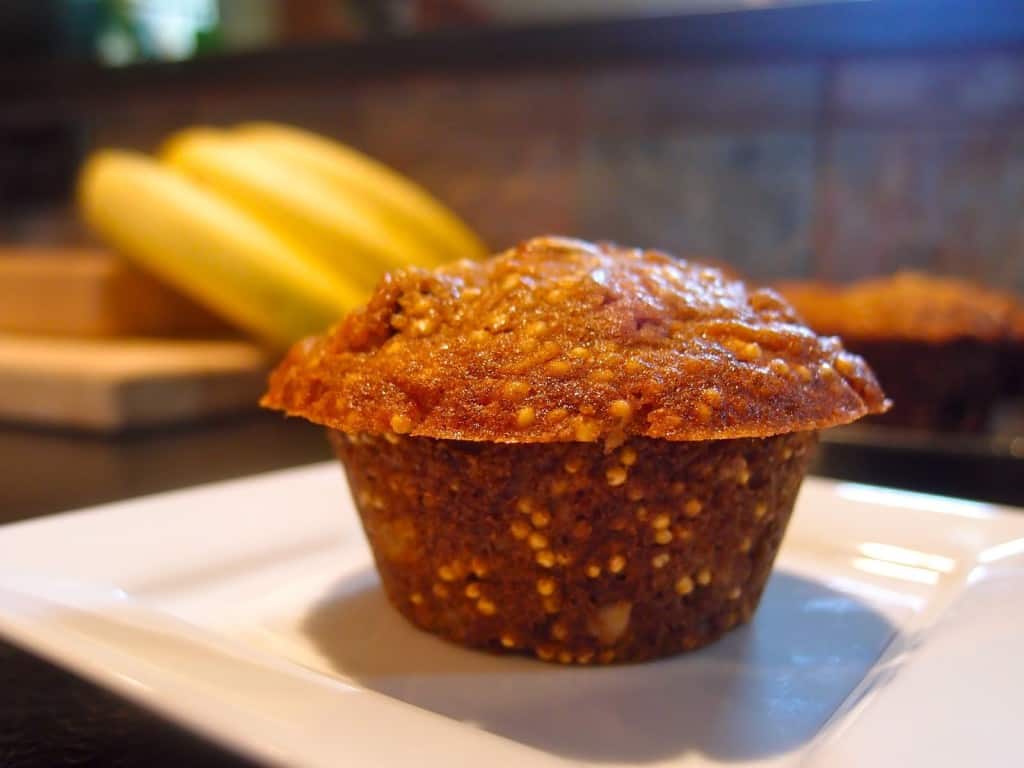 Morning Glory Muffins with Millet and Zucchini
Dry Ingredients:
1 cup whole wheat flour
1 cup all purpose flour
1 cup millet
1 tablespoon baking soda
1 tablespoon cinnamon
Wet Ingredients:
1 cup unrefined sugar
3 large eggs
1 cup olive oil (do whatever applesauce/melted butter/canola oil substitution your heart desires, olive oil is the only kind I keep on hand so that's what I use, even in baking)
1/2 cup plain yogurt
The Chunky Stuff:
2 cups shredded carrot
1 pound shredded zucchini, very well drained (once you really wring all the water out of it, it's about 1 cup worth of shredded zucchini)
1 cup raisins
1 cup chopped walnuts
1 cup sunflower seeds
1 cup flaked, unsweetened coconut
Directions:
Preheat oven to 350 degrees and grease and flour 24 muffin tins (or line with paper liners).
Whisk together all the dry ingredients in a very large bowl. Set aside.
Whisk together all of the wet ingredients in a medium bowl. Pour the wet mixture into the dry mixture and stir to just combine.
Add in all the chunky stuff – or mix it up by substituting in your own favorites – and stir everything together. I find it's easiest when working things into a really thick batter like this to just stir everything together with my hand, fingers held slightly apart like a rake.
Scoop the batter into the prepared muffin tins. I use a portion scoop* to ensure every muffin is the same size and bakes evenly.
Bake muffins in the preheated oven for about 18 minutes, or until a toothpick inserted in the muffin comes out clean. Let cool slightly, then transfer to a wire rack to cool completely. Eat one warm but keep most stashed in the freezer to make breakfasts a bit easier and mornings….glorious!
* A portion scoop looks like an ice cream scoop with a wire "sweeper" attached to the inside. Portion scoops are the most useful kitchen gadgets you can have – I highly recommend them, but most of the ones I've seen from fancy kitchen stores are crappy, with thin little sweepers that bend under any real load. Restaurant supply stores carry industry-grade ones with colored plastic handles in a whole range of standardized sizes. They are heavier duty than the "pretty" all-stainless varieties and are relatively cheap for something that will last you a lifetime.
14