Judy Rodgers died Monday. Unless you are a chef, or a follower of the food world, or live in San Francisco, this probably means nothing to you. Why should it? People die every day. If we mourned for every person we've never known we would be paralyzed.
But Chef Rodger's passing means something to me. She ran Zuni Cafe in San Francisco from 1987, she was a James Beard Best Chef, she was the kind of woman who was respected by people worth respecting. With food, she made the simple elegant in a world full of people trying to outdo each other by making the simple complicated. And she was a damned fine writer.
I didn't know this woman, please understand, not personally. But I knew her work and I knew her voice and I knew what was important to her in food through her one cookbook, a tome called The Zuni Cafe Cookbook.
I received my copy of The Zuni Cafe Cookbook when I graduated from culinary school – all us fresh-faced, newly-minted cooks got one. There is a sticker in the front of mine that says, "Congratulations! The future belongs to those who believe in the beauty of their dreams."
 Under that are the names of all the chefs who taught us, most of whom have since gone off to believe in the beauty of their dreams somewhere else.
In the decade since they handed me that book and my diploma, I have read The Zuni Cafe Cookbook cover-to-cover over a dozen times. It is one of my desert island books, a book I would grab in the event of a fire, a part of my culinary upbringing. It's not just one of my favorite cookbooks, it's one of my favorite books. I know exactly where it is on my crowded bookshelf of food and cookery writing: conveniently at that place where my right hand falls if I face my bookcase and bring my arm up to a comfortable level.
I don't quite know how to describe The Zuni Cafe Cookbook. It's got recipes – good ones – but more than that it has soul, and a wise voice full of conviction and respect for tradition. Food and ingredients and techniques are discussed with expert respect, but without that sappy overdone reverence can can plague locavores or the pedantic precision of a chef desperate to maintain control of his food even unto the reader's own kitchen.
Every eight months or so, I read The Zuni Cafe Cookbook casually, in bed, like normal folks read a favorite novel. I am reminded of the criticality of pre-salting, the perfect pairing of crispy chicken, roasted until the fat drips, with bread salad. I am reintroduced to the joy of curing and pickling in-house and the limitless possibilities of fresh ricotta or a truly ripe apricot. I swim in the beautiful conceit of California kitchen culture: select the world's best ingredients, put them together well, and just don't fuck them up.
When I learned Chef Rodgers had died – through the Facebook update of Slow Food International – I was walking through my hometown under a crystalline winter sky and my mouth fell agape. I hadn't known about her year-and-a-half battle with cancer. All I knew was that this woman who had written a book that had become a part of me was gone. My breath skipped and a lump of sorrow settled down into my stomach like a bad meal. The kind of bad meal Zuni Cafe has never made.
I never knew her. But Judy Rodgers' words and her food helped shape the cook and the person I am today. Her stance for simple, delicious food, thoughtfully prepared, squeezed itself into my brain and became part of my own basic understanding of what good food is all about.
Her work sent waves of joy through food-loving people throughout her career, and now a tide of grief washes over us at her passing. Thank you for dinner, Chef.
---
Zuni Roast Chicken with Bread Salad (Simplified Easy At-Home Version)
It is appropriate that Zuni Cafe was most famous for a roast chicken. What could be more straightforward? What could be less chefy, less ego-driven than a roast chicken? And yet the recipe for the Zuni Roast Chicken with Bread Salad is four-and-a-half pages long. Details, care, details, care. Always.
This is pretty much how I always cook a roast chicken, presented to you with something very akin to the Zuni Cafe Bread Salad. I've dramatically streamlined the original recipe for chicken and salad to make it more approachable for home cooks, but the essence of the meal is the same.
Key points for the chicken are:
Get a little, tender chicken, about 3 pounds. Little chickens have a higher skin and fat to meat ratio, so they cook-up more tender and flavorful.
Pre-salt your bird.
Cook hot and fast, starting the bird in a hot cast iron skillet and moving it to a 475-degree oven.
Roast The Chicken: Step-by-Step
Get a little bird between 2.5 and 3.5 pounds.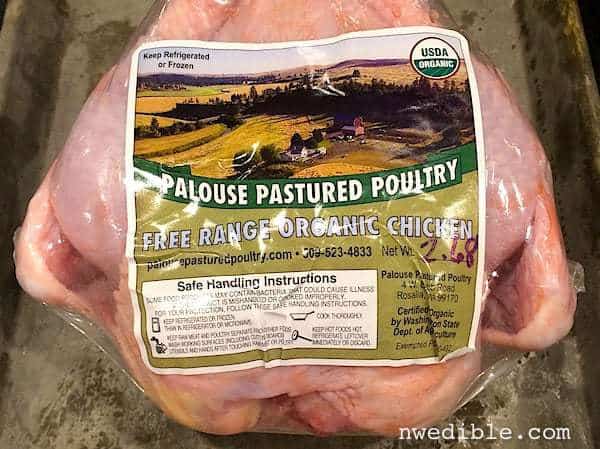 Tuck wingtips behind neck (this shows the bird breast side down).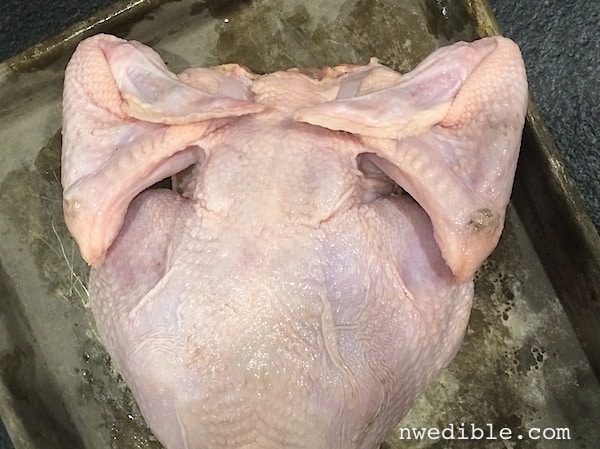 Salt the bird liberally. I use about a tablespoon of kosher salt for a three pound bird. Add a bit of freshly ground pepper and, if desired, tuck soft sprigs of fresh herbs like rosemary or thyme between the breast meat and skin, and between the thigh meat and skin. Refrigerate, lightly covered, for at least a day and up to three days.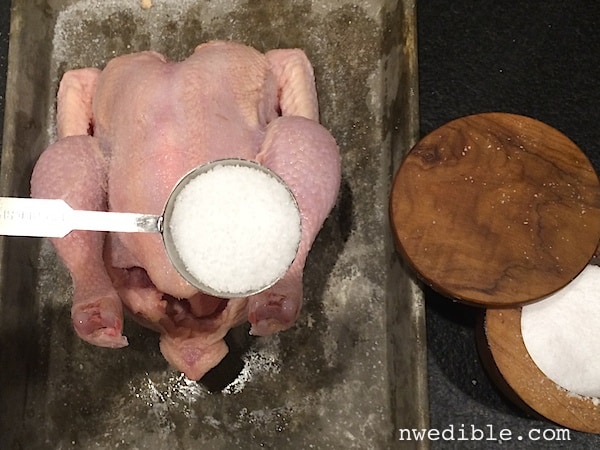 Before cooking, bring the chicken up to room temperature by letting it sit out, uncovered, for an hour. Meanwhile, preheat oven to 475 degrees F.
Preheat a cast iron skillet over medium heat for several minutes, or until very hot. Place seasoned chicken breast side up in skillet. The chicken should sizzle. Transfer to the preheated oven and cook for 40-60 minutes.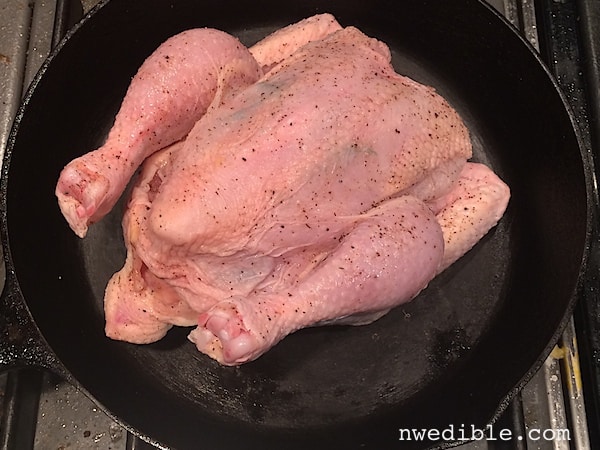 When chicken is done, it will be a deep golden-brown. The juices around the thigh joint will run clear or only slightly pinkish and the thigh bone will have a little looseness in the joint.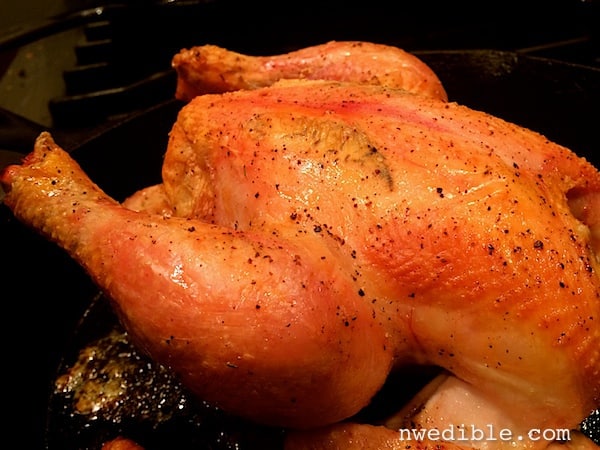 Drain the juices from the cavity of the bird into the pan. If juices have pooled between the thigh and breast, slash open the skin and drain those as well.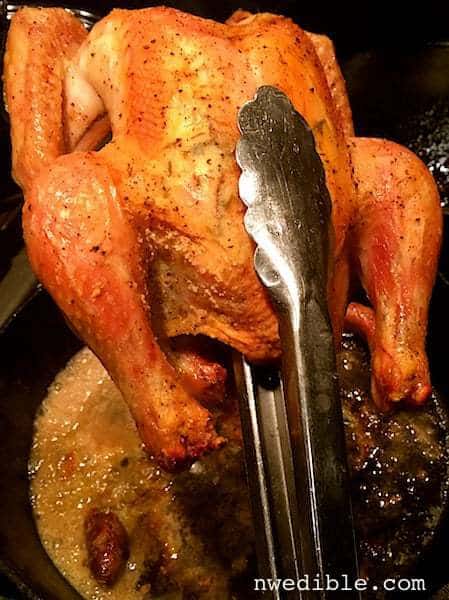 Transfer the bird to a platter and allow to rest for at least 10 minutes, and up to an hour (at which point the chicken will be tepid, but still delicious).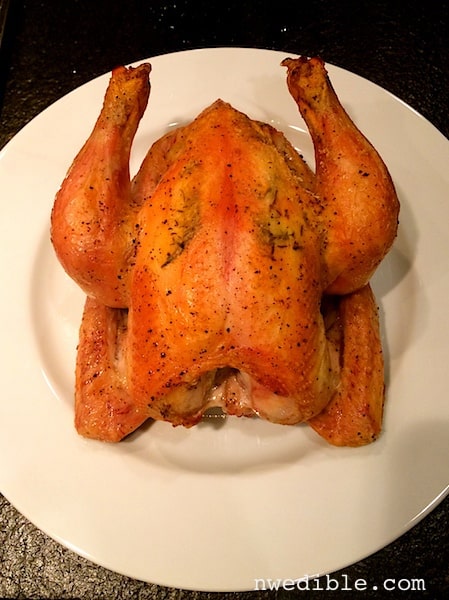 While chicken is resting, whisk pan juices in skillet to dissolve any caramelization on the bottom of the pan.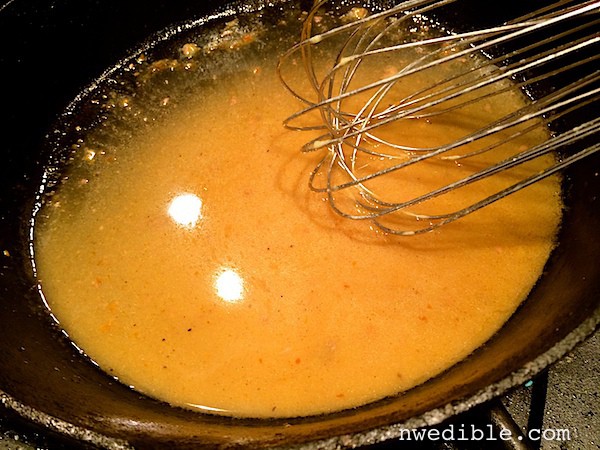 Set pan juices aside with chicken – you should have about 1/4 cup.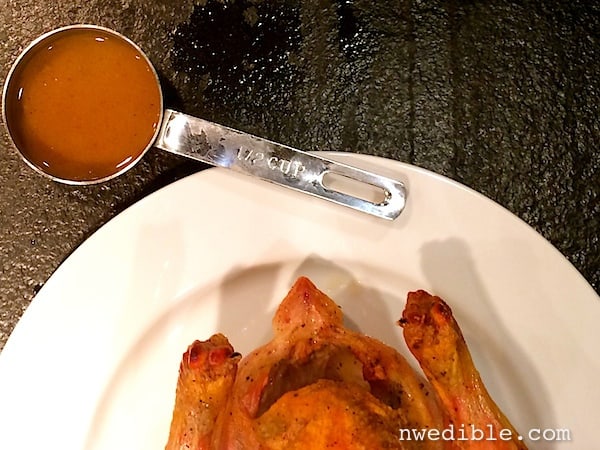 Make The Bread Salad: Step-by-Step
Make the vinaigrette. Soak currants and red onion in vinegar for at least ten minutes.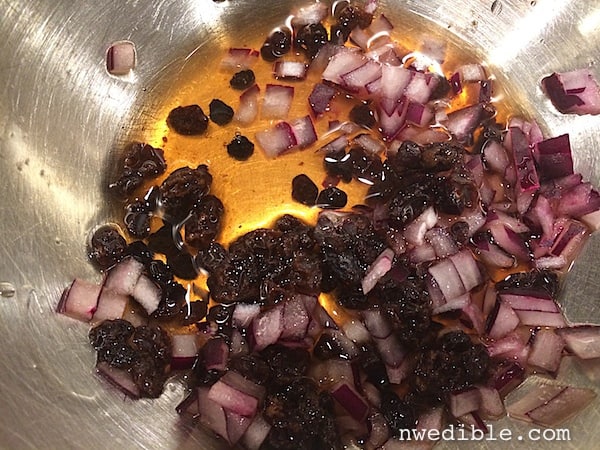 Add dijon and oil and whisk to combine. Set aside.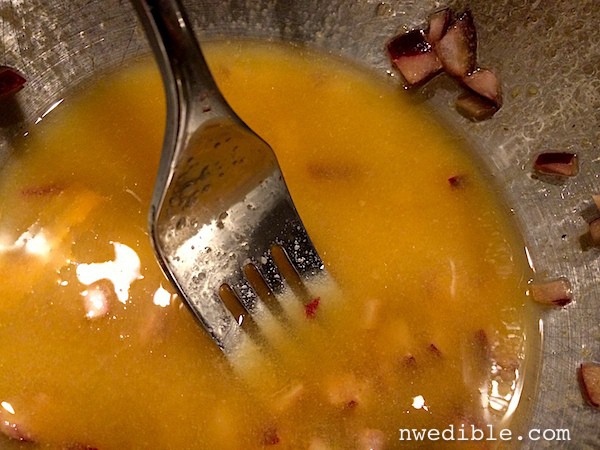 Slice bread if necessary.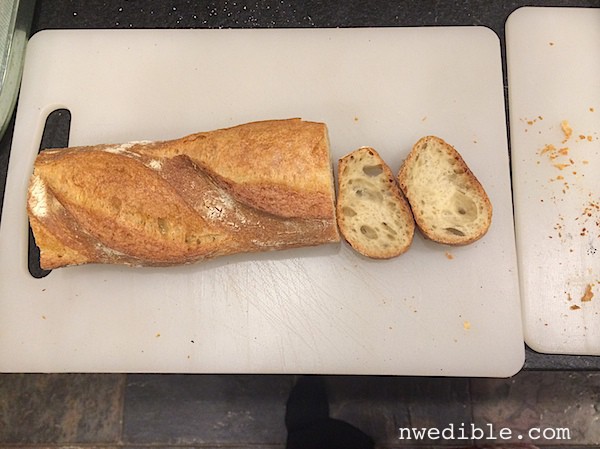 Brush each slice with olive oil and season with salt.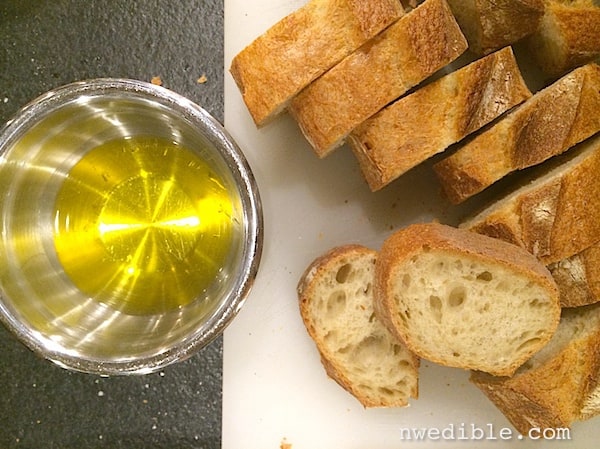 Set each slice on a sheetpan and toast to golden brown. Flip slices over and toast opposite side.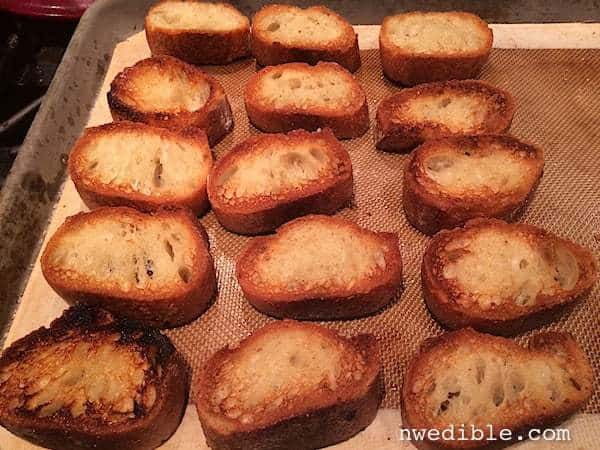 When bread is cool enough to handle, tear into bite size chunks and set aside in large bowl.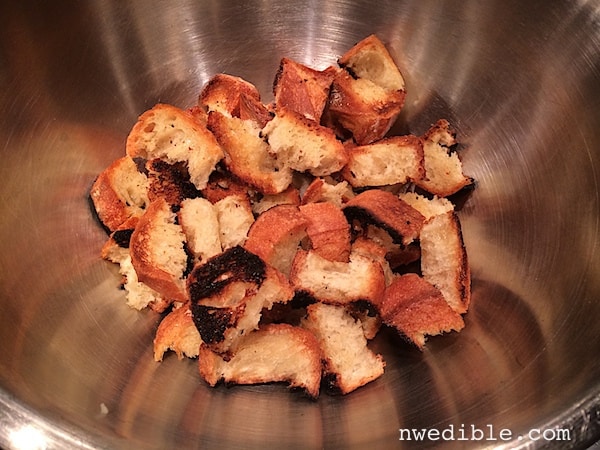 Warm garlic and pine nuts in olive oil in small pan. Cook over medium heat until garlic is softened and pine nuts are toasty.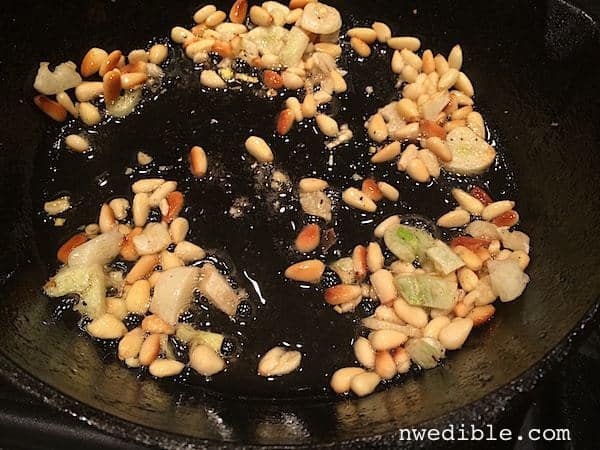 Add pine nuts and garlic to the torn bread pieces.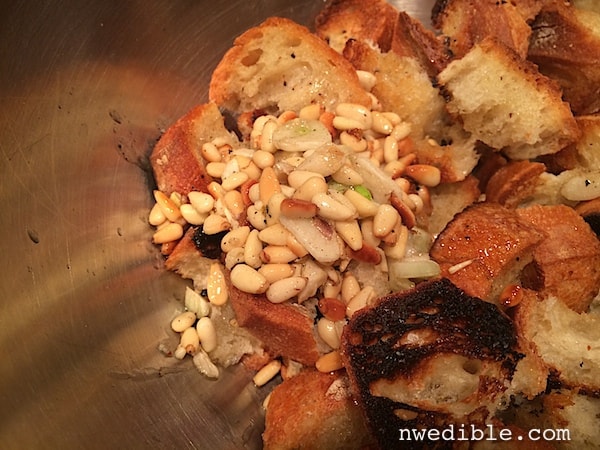 To finish salad, gather the vinaigrette, the reserved chicken pan juices, the torn bread pieces and several big handfuls of arugula or similar greens.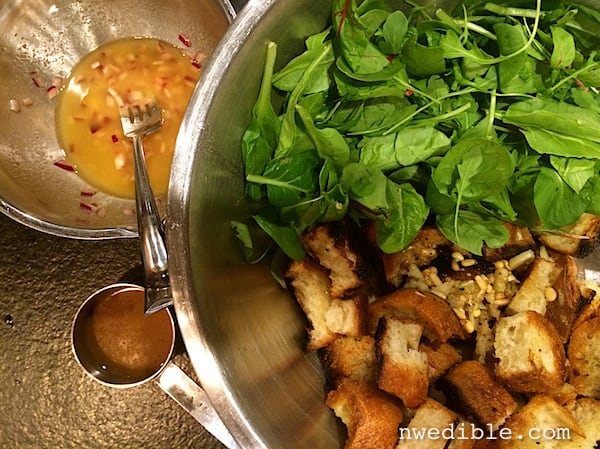 Toss all components together.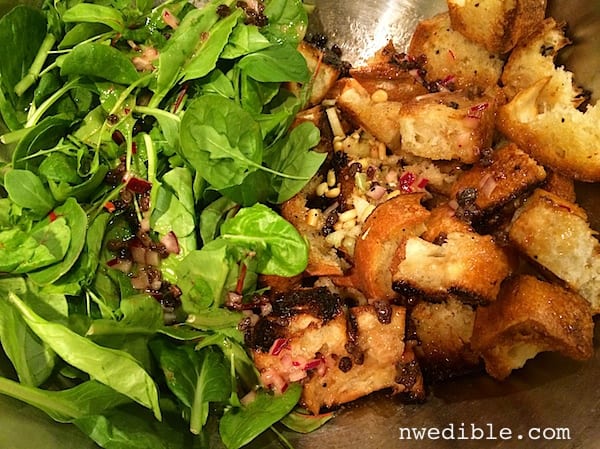 Putting It All Together
Pull or carve the rested chicken into pieces and serve the chicken atop salad.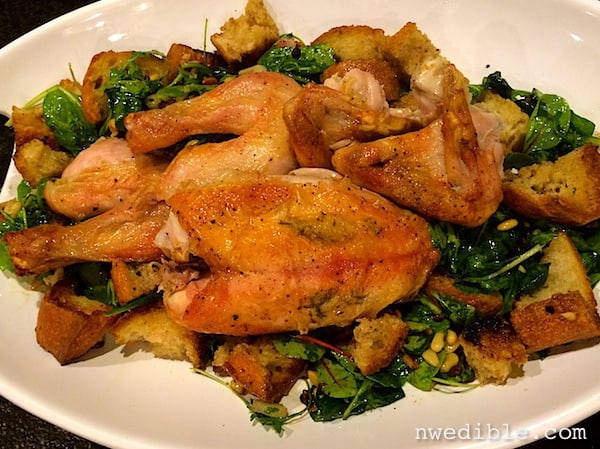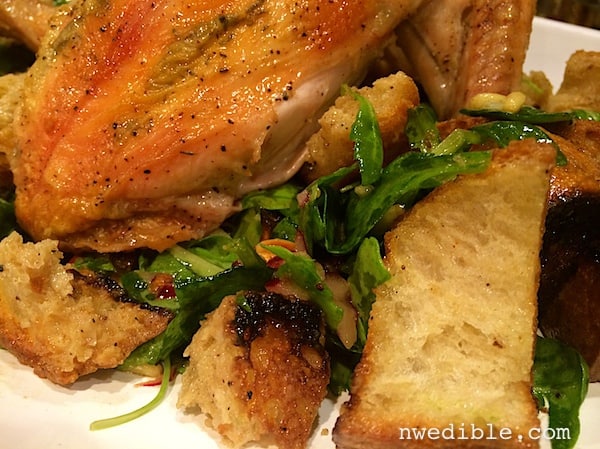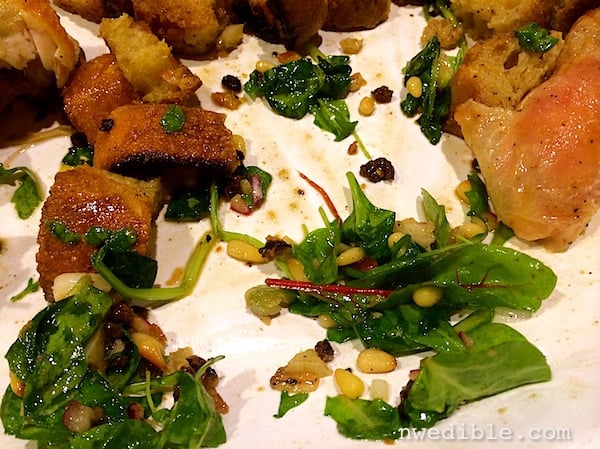 Printable Recipe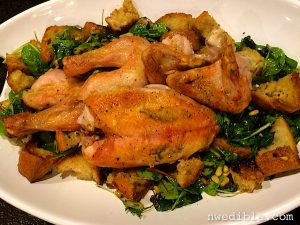 Print
Zuni Cafe Roast Chicken and Bread Salad
Yield 2 -4
Inspired by the writing and recipes of Judy Rodgers of Zuni Cafe. Adapted from The Zuni Cafe Cookbook.
Ingredients
For The Roast Chicken
1 chicken, 2.5 - 3 pounds
4 soft tip-sprigs of thyme or rosemary, each about 1-inch long
1 tablespoon kosher salt
1 teaspoon freshly cracked black pepper
For The Bread Salad
8 ounces rustic bread, thick sliced
olive oil, as needed
2 tablespoons pine nuts
2 to 3 chopped garlic cloves
A few handfuls of arugula or similar greens washed and dried
Kosher salt and freshly cracked black pepper
For The Bread Salad Vinaigrette
1 tablespoon dried currants
1 tablespoon finely minced red onion or shallot
2 tablespoons white wine vinegar
1 tablespoon red wine vinegar
1 teaspoon dijon mustard
1/4 cup olive oil
Kosher salt and freshly cracked black pepper to taste
1/4 cup hot chicken drippings, from roast chicken
Instructions
To Make The Roast Chicken
A day or two before you intend to roast your chicken, sprinkle it all over with kosher salt and a little black pepper. A 3 pound bird will use about a tablespoon of kosher salt. Slide an herb sprig under the skin pocket of each breast and thigh. Tuck the wingtips behind the neck but do not truss your bird.
Refrigerate chicken, lightly covered, for 24 hours to 3 days. This gives the salt an opportunity to season and tenderize the meat.
An hour or so before you want to start roasting your chicken, and about two hours before you want to eat, preheat your oven to 475-degrees and bring your chicken out of the fridge so it can come to room temperature.
Preheat a large cast iron skillet over medium-high heat for several minutes, until quite hot. Place the resting chicken, breast-side-up, in the hot skillet. It should sizzle. Transfer immediately to the hot oven. If your skillet isn't well seasoned, and you worry about sticking, add a bit of olive oil or lard to the skillet just before you add your chicken the the skillet.
Roast chicken for about 40 minutes to an hour, until fully cooked but still juicy. The skin should be beautifully golden and paper thin across the thigh, and the thigh joint should feel lose.
When chicken is cooked, carefully tip the bird so the cavity is down and drain the juices from the chicken. slash the skin between thigh and breast to let out any trapped juices there. Transfer chicken to a platter to rest. Whisk the pan juices in the skillet to release any caramelized bits stuck to the bottom of the pan, then transfer juices to a small bowl and set aside for the bread salad. You should have about 1/4 cup reserved juices; if you have more, save extra for another purpose.
Prepare the Salad
While chicken is roasting, prepare the bread salad.
For the vinaigrette, add the currants and minced red onion to a bowl. Add red and white vinegar and set aside for about ten minutes, to allow currents to plump. Then, add dijon mustard and olive oil and whisk until well blended. Set aside.
Brush all bread slices liberally with olive oil and salt to taste. Place toast slices under a preheated broiler or in a dry skillet set over medium heat and toast until golden brown. Some darker and lighter spots are fine.
When toasted bread is cool enough to handle, tear into rough, bite-sized hunks. Some larger and some smaller pieces are fine. Put toasted bread pieces in a large bowl.
Heat a tablespoon or so of olive oil in a pan. Add the smashed garlic cloves and pine nuts and warm all over medium heat until the pine nuts are toasty but not burnt and the garlic has softened.
Add garlic, pine nuts and any olive oil from the pan to the bowl with the toasted bread pieces. Set aside until you are ready to finish the salad.
To finish salad, gather the bowl with the toasted bread, the vinaigrette, the reserved pan juices from the roast chicken and several handfuls of arugula.
Toss the bread with the chicken juices and vinaigrette and stir to combine. You want the bread to soak up those juices, so give it a minute if needed. Add in the arugula, toss, and taste for seasoning. Adjust by adding salt, pepper or a tiny splash of red wine vinegar if needed.
Serve
Serve the chicken pulled into pieces, over the bread salad. Good hot or room temperature.
3