A friend of mine who's known me for eight years or so was over a few days ago. She was checking out my pantry and said, "When we met, you had a total Costco pantry. And now it's a total hippie pantry."
Excuse me while my heart swells with a little self-indulgent pride over my jars of tomatoes.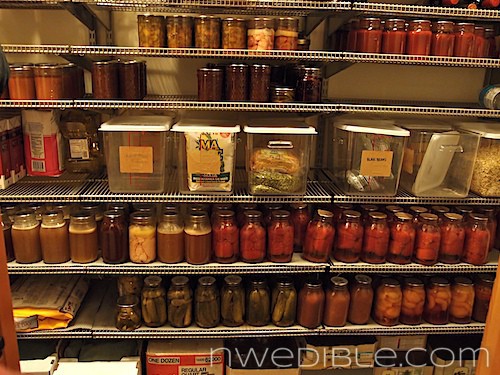 At the beginning of the preserving season, way back in May, I talked about the importance of assessing your larder and making a game plan for the upcoming canning onslaught.
Here's what my pantry looked like back then. Look at that one sad jar of tomatoes I was hoarding. All those jars on the bottom are empties.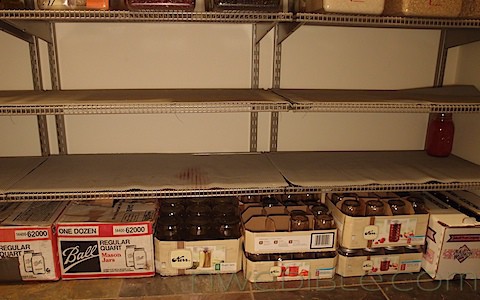 Things look different now. We crested the hump of Crazy Canning season some time last month and are now on the easy slide to winter, when we get to live off the larder instead of creating it. Fall food preservation is quite languid generally, as apples and pears and nuts will keep a lot better than tomatoes if you need to push your preservation back a day or two.
So, here is what the pantry looks like now.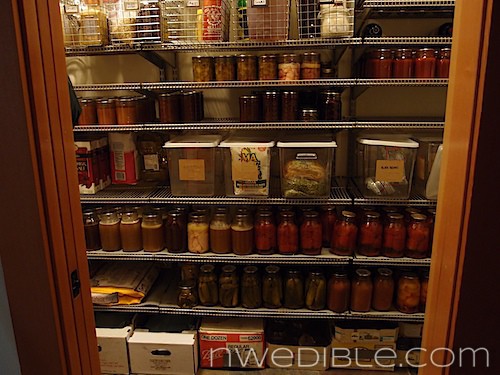 My main storage area, still some room for more late-fall preserves and winter stuff like citrus and persimmon and more convenience stuff like meat and stew but close to full. I'm very low on staple whole grains and beans. Those will have to wait until after No Spend Month for a restock.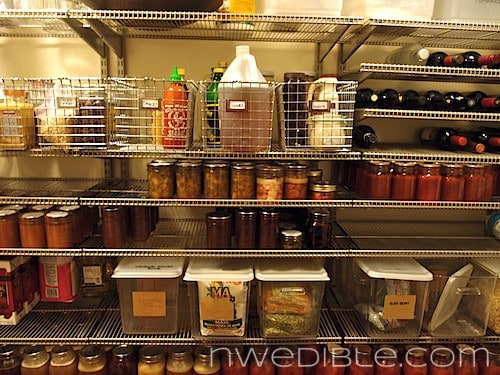 Booze. More and more of ours is DIY. About half of these bottles are full of our homemade 2011 blackberry wine. Sadly we didn't get a chance to make a 2012 batch, but there's always plenty of homebrew if we run low of homemade wine.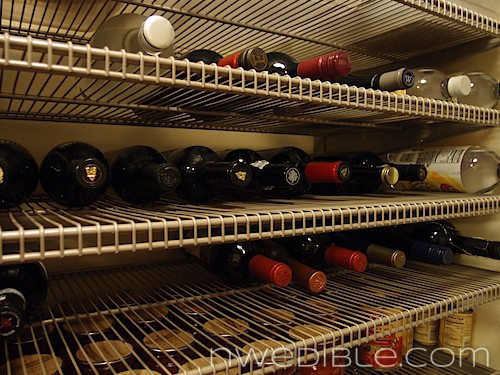 Sweets and treats: jams, conserves, syrups, etc. If it looks bare that's because I pulled some two dozen jars of jam off these shelves and moved them into "back storage" in the garage. Those re-used onion and citrus bags hold cured onions and garlic.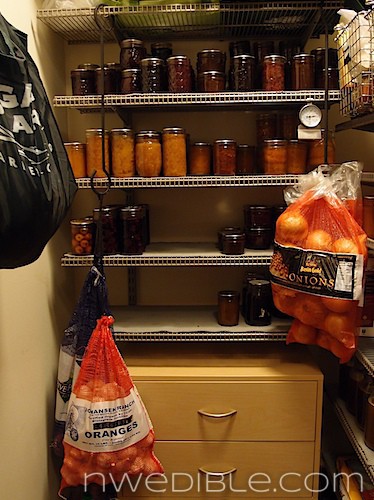 My garlic is cured and stashed right up front.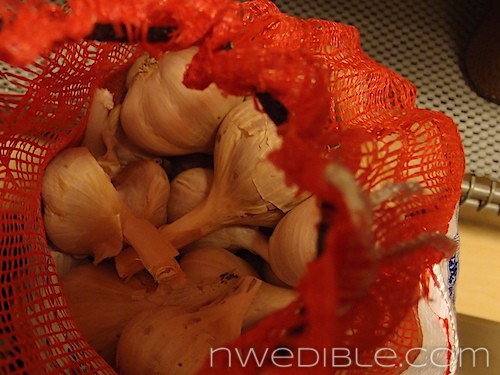 I store partial boxes of empty jars on the floor. When a box is filled completely with empty jars it goes out to the garage until next season when it will be needed again.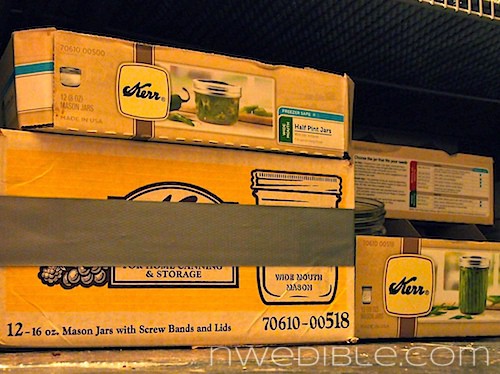 Most of the cleaned and cured potatoes are in the boxes on the floor too, covered with towels to keep out the light. I think I harvested over 100 pounds this year.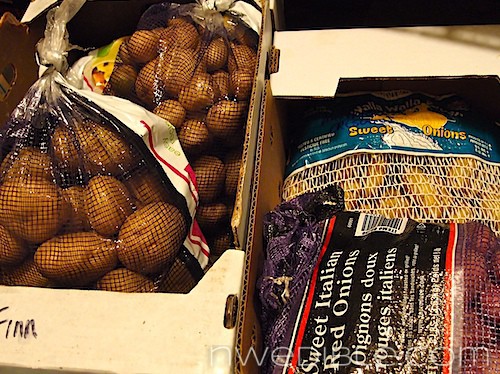 Garage Back Stock
Here are those back-up jams. Many will likely be gifted. The kids like jam, but would be taking down over a jar a week if we were responsible for eating it all.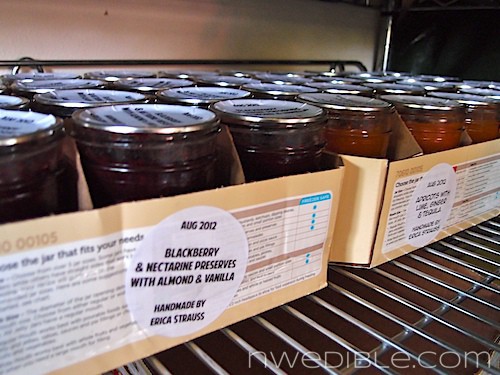 Backstock of canned tomatoes, peaches and pickles are out in the garage too.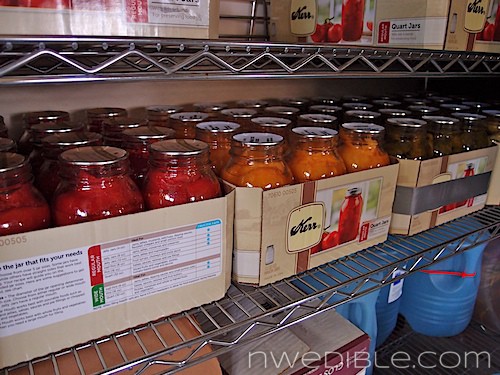 Dried Fruit
We like some canned fruit, but find dried fruit infinitely useful for snacking, kids lunches, and both sweet and savory cooking. I like to throw dried apricots into a slow-cooked dish of lamb or add dried peaches and rosemary to braised pork shoulder. And dried pears are essentially a form of currency with my two year old son.
Exceluding the pounds that never even made it into storage and were eaten straight off the dehydrator, we have:
4 lb. 8 oz. dried pears
9 lb. 4 oz. dried plums
2 lb. 2.5 oz. dried cherries
2 lb. 3 oz. dried apricots
1 lb. 11 oz. dried nectarines
1 lb. 10 oz. dried peaches
1 lb. 4 oz. dried Roma's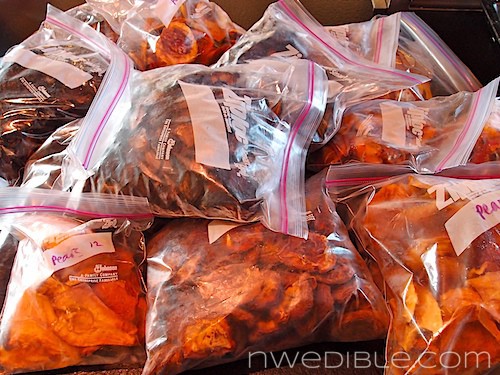 Freezer
The freezer is about three-quarters stocked. I have chicken in various cuts, some salmon, a few large cuts of pork, and lots of elk and venison. I did my large bulk purchase in late September, and since I was in the middle of eye surgery hell I just shoved everything in the freezers as best I could and called it good. Organization and a proper inventory will have to wait for a bit.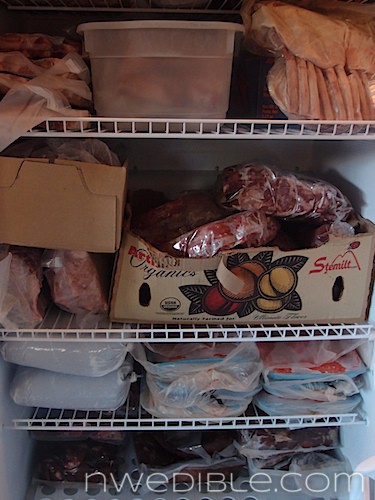 I would, ideally, have more utility cuts of beef and pork on hand (top round for sandwiches, ground beef for spaghetti, etc.) and would have more salmon and perhaps halibut on hand for fish meals. I have several months worth of sockeye salmon I froze fast-and-sloppy over the summer, but not enough to get to next summer when the 2013 runs start if we eat wild fish once a week, as we try to. Halibut I haven't purchased at all in two years. It simply hasn't been affordable, even through wholesale or bulk-buy.
I scored an incredible deal from my meat wholesaler and picked up a case of amazing grass-fed ribeye steaks for $3.95 a pound and two ribeye roasts for $2.95 a pound. That is, to put it in perspective, less than I generally pay for grass-fed ground beef. So our "cheap meal" will be grilled ribeye. Life is Good.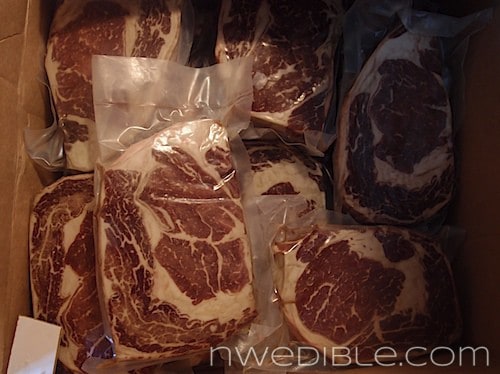 Lots of fruit is in the freezer too. The green stuff in those bags is green tomato, black bean and corn salsa. I made up the recipe and couldn't guarantee the acidity level so I froze it instead of canning it. Great way to use up green tomatoes.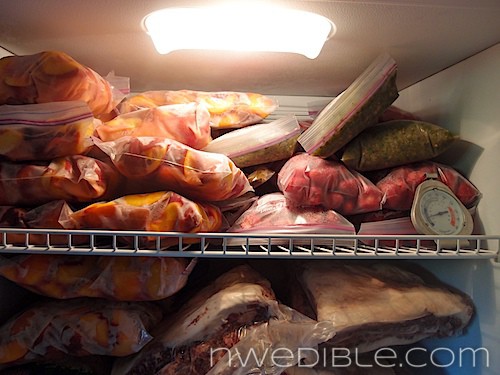 Homebrew Husband's house blend of hops is dried and frozen for beer making. Backup bags of whole grain flours and rice get kept in the freezer too for maximum shelf life.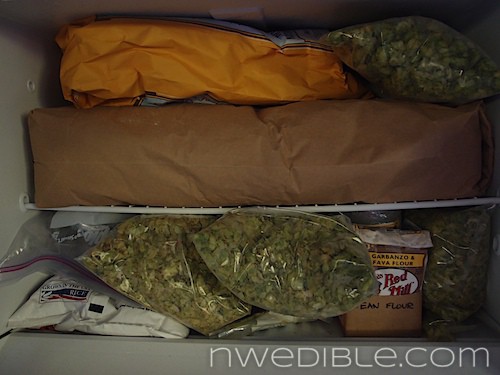 Fun with Ferments!
The outside fridge is full of various pickles and ferments. The lacto-fermented salsa, crock pickles, cherry salsa, pickled beans and various refrigerator pickles are stored out here. Sauerkraut and various winter pickles will get stored in here too as they are made. Once we eat this stuff down a bit, Homebrew Husband will get to move his beer kegs back in here.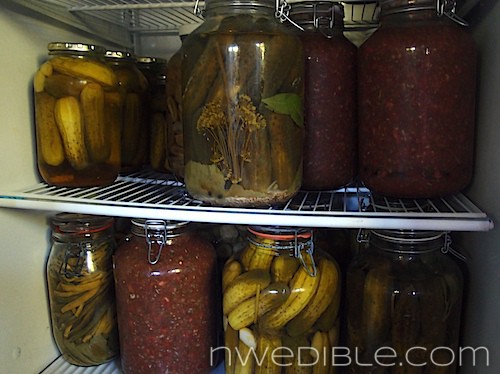 Until then, the beer lives in the garage and is just served a bit warmer than we would prefer. Right now we have 3 of 4 5-gallon Corny Kegs in production.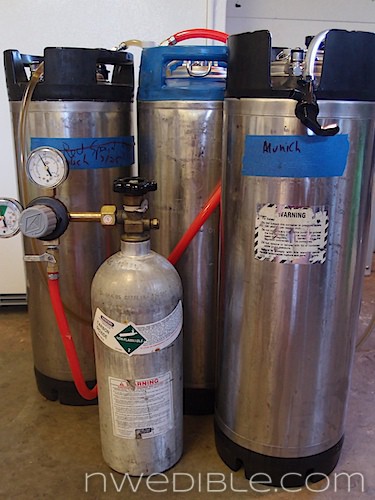 So, that's the larder. I think if we really wanted to, we could basically not buy any groceries for…a while. Months. I love that feeling. In reality, we will still be hitting up the market occasionally for dairy and "essentials" like dark chocolate and sushi nori. But I have some pretty serious savings goals for the next six months and these stores of food are going to help us achieve them.
How's your larder looking?
2