I like working on the coop. This past weekend I swapped the raised hen house area of the chicken coop from a straw-bed floor to a sand-bed floor. When I bought our first two hens, who we acquired as grown layers, the owner kept an immaculate coop with a sand bed under the roosting area and swore by that system.
According to Prior Chicken Owner Guy, the sand works basically like kitty litter and you just sweep the chicken poop into a bucket. When the bucket's full it's pure chicken manure compost time. If a little sand comes along for the ride, well, who wouldn't want a bit more sand in their garden beds, huh?
This is what the remodeled Hen House with the new floor now looks like: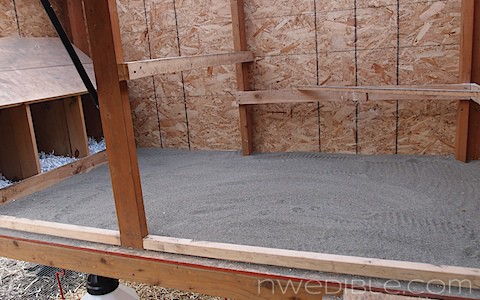 It turns out a lot of owners like the sand bed method, and you can find lists of reasons why sand bedding your chickens is a great idea on Backyard Chickens.
But the deep litter method we have been using is great too, and has just as many fans eager to share their reasons for choosing this low-work, compost-in-place method.
Deep littering has worked great in out 12×8 built-on-soil enclosed run, but I haven't been entirely happy with how it has worked in the elevated 4×8 roosting area. Nothing seems to really compost up there (the litter there never touches the soil, so that makes sense, really), and the lip of our chicken nesting box isn't high enough to allow the litter to build up anyway. So in practice, that area has needed to be cleaned of roost droppings anyway more-or-less daily.
With this recent coop modification we are attempting a hybrid of the sand bed and the deep litter method. The 12×8 run area will remain deep litter and the hen house will be maintained sand bed style, with a daily scoop-up or rake-out of the overnight poop accumulation.
As I envision it (because I spend so much time envisioning chicken shit), the overnight poop will just be raked down into the run to be added to the rest of the deep-litter compost pile already happening there. If this works, poop maintenance shouldn't take more than a half-minute a day. If my raking idea doesn't work I may have to scoop (an action familiar to all cat owners), which would up my maintenance time to 60 or 90 seconds. Either way I think it will be doable.
Making things even easier, Homebrew Husband installed a roof-mounted rake hanger a few months back. A free light-weight rake from my grandma and a pair of screw-in decorative hooks languishing in the garage became an thing of moderate genius, if I do say so myself. If you have a walk-in style coop, I highly recommend this. It has been immensely useful having a rake at the ready on countless occasions.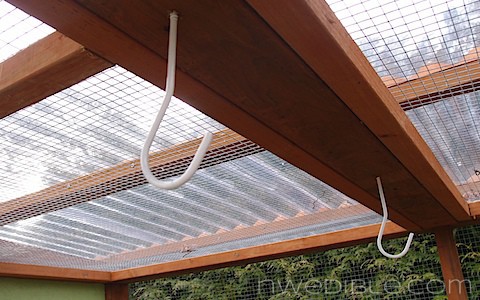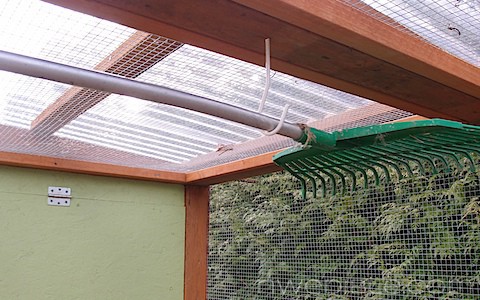 The hen house sand bed was very easy to install. It took an 8′ length of 2×2 for a sill (so the sand doesn't just fall out of the hen house) and six bags of sand. We used play sand because it seemed cleaner than riversand, which is pretty stupid reasoning considering the stuff is there to catch poop, but apparently the rougher sand options may have been a better choice. Ah well, live and learn.
The first step was cleaning the floor of the hen house. This wasn't too hard because we lined the floor with a scrap of vinyl flooring on the advice of a reader. After raking all the hen house straw litter down into the run, a scrub brush and some water took care of most of the poop that had managed to work its way down.
Next I cut the 2×2 to the exact length needed to form a lip at the edge of the hen house. I measured carefully and cut on the long side so I could whittle the lengths down to exactly what was needed for a very tight fit against our coop walls and center-support. A few good whacks got the 2×2 in place.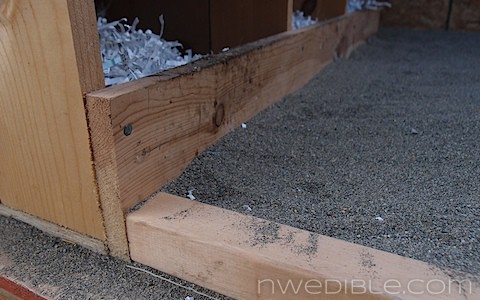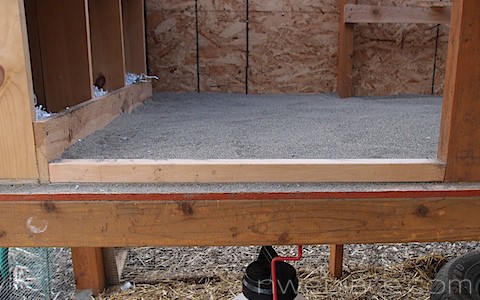 Everything is just tension mounted so if this experiment fails returning to a shavings or straw litter will be simple.
Once the 2×2 lip was in place I poured in the sand and used my rake to smooth it out. The chickens were out running around in the garden while I did this, and I think I held up their laying schedule a bit because as soon as I wrapped up and stopped making a lot of noise, half the flock lined up for their turn at the nesting box.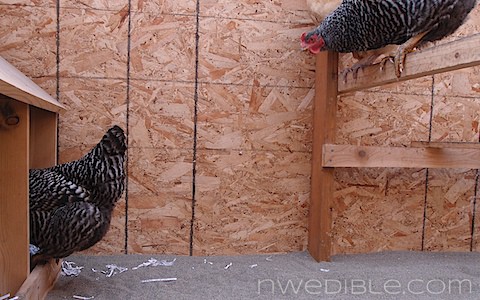 Speaking of nesting boxes, I refilled them as well. We've been going through old bills and bank statements that we no longer need and shredding a ton of no-longer-important documents. Shredded paper (nothing shiny or glossy) has a million uses around the homestead, so we keep bags of it in the garage until a new worm bin is needed or a gift basket needs stuffing or a fragile package needs protecting in the mail.
I used the old shredded bills to line the nesting boxes and I'm interested to see how the chickens take to it. I like the idea of buying less straw and managing our homestead inputs a little better, and this might be one small way to do that.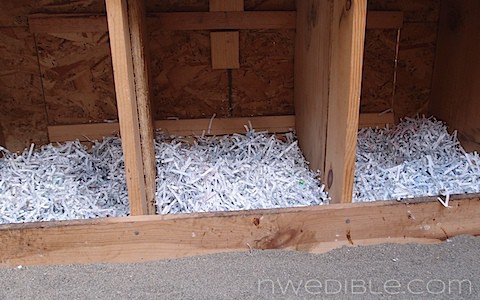 The coop has seen one more improvement since we've last talked chickens. After reading this post from Apron Stringz, I ran right out and screwed an old tuna can to the side of the coop to hold calcium supplements in the form of oyster shell or recycled egg shells. This has worked great, it's another highly recommended coop improvement.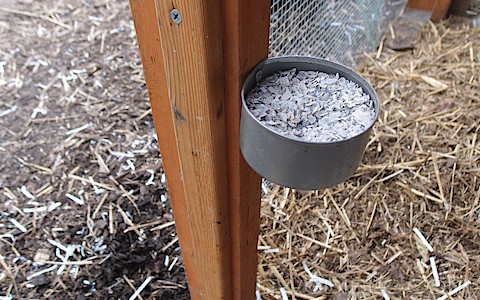 Do you tinker with your coop? What things have you modified for the better and what do you still wish you could change?
26