Your clothes dryer sucks your money away. After your basic HVAC, fridge and freezer it is the biggest and most expensive energy hogging appliance in your house.
You are a NW Edible reader, so of course you know a clothes dryer is totally optional. People have, can and do line-dry their clothes 100% of the time. You may also, like me, be a busy mom with a canning problem, messy rug rats and a laundry pile that will not quit. So maybe going 100% line-dry is a bit more than you want to commit to.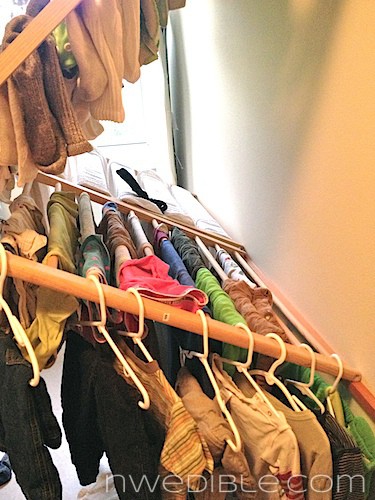 Your Mini-Money Challenge
Here's today's Mini-Money Challenge: for the rest of this month – a week and a day – unplug your dryer.
If you have a separate Washer/Dryer set-up this might be really easy. I can reach over my drier and unplug it without moving anything. If your W/D is combined or if your plug is unreachable behind the machine you may have to get creative and find some other way to make it inconvenient to dry your clothes in the machine….maybe some blue painters tape across the handle or something.
Because that's what this challenge is about: deliberately inconveniencing yourself.
Note I did not say you couldn't use your dryer. You totally can. Whenever you feel like you really, absolutely need too, you can plug that machine in and dry a load. As soon as that dryer load is complete, put it away and unplug your machine. Try not to be gratuitous.
Make Your Laziness Work For You
"Why? Why unplug my dryer just to irritate myself?" you might ask.
This is all about making our own laziness work for us instead of against us. Most of us (not all of us – maybe not you – but most of us) are basically lazy, at least when it comes to things that don't show a pretty immediate return-on-investment.
When an opportunity to work less comes up, most of us take it: power windows, escalators, Cuisinarts, paper plates, clothes dryers, finding the absolute closest parking space at the gym because we signed on for 30 minutes of treadmill time, not 30 minutes plus a walk across the parking lot. We generally prefer to do things that are easy even if those things aren't necessarily the best for us or our wallets.
If you just accept this tendency towards natural laziness you can use it to your advantage by setting up your life to make it easier to do those things you should do anyway and harder to do those things you should maybe do less.
Set up situations which increase difficulty in areas where it's better for you to work a little harder: unplug your dryer, park at the far side of the parking lot, put the chocolate in the back of the freezer.
Set up situations which minimize difficulty in areas where it's better for you to do as little work as possible: set up automatic deductions to fund a savings account, make your lunch the night before, keep your running shoes ready to go by the side of the bed.
We unplugged the dryer at the beginning of the month and I've found that I've been way, way better about hanging my clothes up on my awesome wall-mounted clothes drying rack simply because the act of having to plug in the machine gives me pause. And in that moment I can say, "Oh, I'll just hang these shirts. This isn't that big a deal, come on – suck it up."
And when it comes time to do a load of towels, which I prefer to tumble so they don't end up the texture of scratchy plywood, I plug my dryer back in and machine dry the towels.
I have realized that line drying my clothes doesn't actually take a lot more active time than machine drying. The most time consuming part of the laundry process is folding or hanging everything up, and since the majority of our line-dried clothes are dried right on their hangers, those items net out to an active time win over machine drying. Most of the clothes we dry loose on the drying rack are socks, diapers or undergarmets that just get shoved into a drawer when they are dry anyway. Time neutral. The only items that really add active time to the process are pants, which have to be taken off the drying rack and then hung. But it's so quick to hang pants this is hardly a deal breaker.
These little drips and drops of savings and effort can add up, but usually after we've managed the "terrible horrible inconvenience" of doing something the slightly slower way for awhile we find that it's really not that terrible or horrible after all. We might even come to prefer it.
If you already line-dry all your clothes, reward yourself by spending the next ten minutes wasting time on Pinterest looking at clothes drying racks 'cause you are awesome!
How do you feel about manipulating your own laziness to work for you? Do you already line dry? Will you take the Unplug Your Clother Dryer Challenge and deliberately make your life a little less convenient (maybe) for just eight days?
2