Here's the list of homestead things we were hoping to accomplish in 2014:
Install Solar Panels.
Plant Suburban Food Forest
Build Pond – working on it.
Get Ducks.
Get Bees – too late; pushed to 2015.
The solar panels are churning out a ton of power (nearly 40 kWh on a lovely sunny day), the trees, shrubs and edible groundcovers of the food forest are settling in nicely, the pond excavation is going well – it's about 18 inches deep at this point.
And I just impulse-bought some ducks.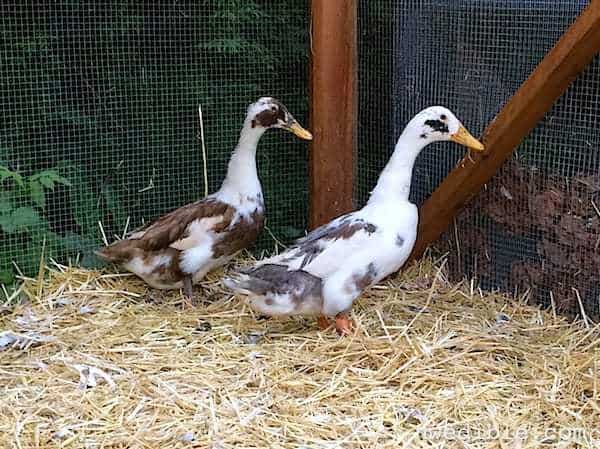 Wait, hold the phone, Erica! You never impulse buy an animal! You're the one who wrote that pissy post about people not taking on poultry without thinking it through, remember?
Yeah, I know. The truth is, we have been thinking about adding ducks to the working garden for nearly a year. We've been researching breeds, and we've been slowly hand-digging a pond for our eventual duck-friends. We decided to bring in a few quackers for one primary reason: slug and snail control. I could start a small escargot business with the number of snails that call my yard home, and my budget for Sluggo every year to deal with the slimy mollusks before they deal with my veggies is rather ridiculous.
Ducks, everyone assures me, are the solution for slugs. And you get duck eggs, which are amaze-balls and make the best creme brulee ever. So if you think about it, ducks turn slugs into creme brulee. Just. Like. Magic.
We had planned on buying Welsh Harlequin ducklings mail order, but while at the Mother Earth News Fair this past weekend, I attended a presentation called Raising Ducks: The Power of Ducks in a Permaculture Design.
This slideshow talk from Evan and Rachel, the owners of Boondockers Farm outside Portland, was the hit of the fair circuit for me. Evan and Rachel detailed their experience raising and breeding the critically endangered Ancona ducks. I came away smitten by these splotchy, quiet, productive, hardy ducks.
When I stalked followed up with Evan and Rachel back at their farm booth after the presentation, they had a bunch of Ancona ducklings and three adult breeding pairs (one male, one female, sold together) for sale.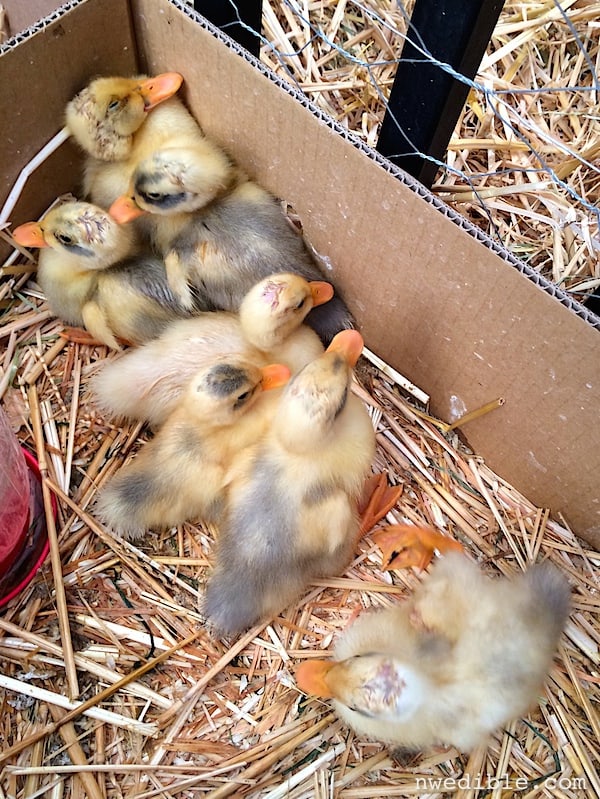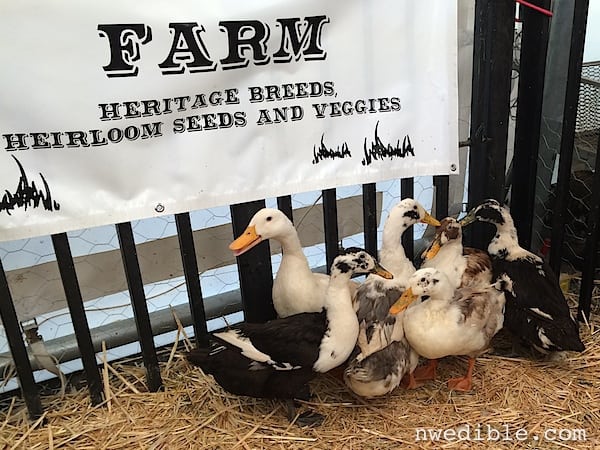 I needed these ducks. Some women need $400 shoes. Some need monthly spa facials. I needed ducks.
I texted my husband: "Honey, I'm going to buy two ducks."
He texted back, "Is this a well thought-out decision?"
"Not in the slightest."
So I bought a couple – Evan helped me pick out a male and female – and we brought them home from the fair in a cardboard box. My husband is a very tolerant man.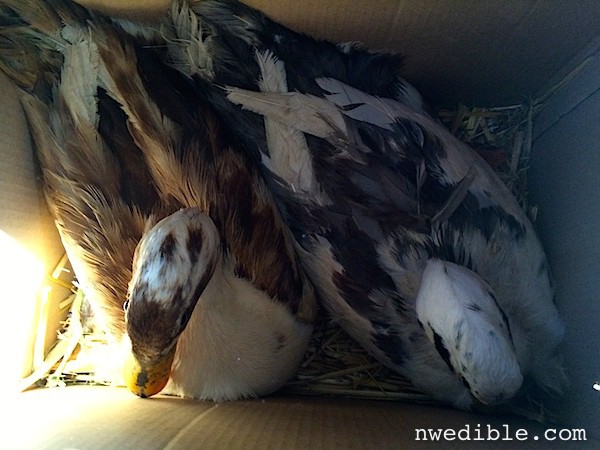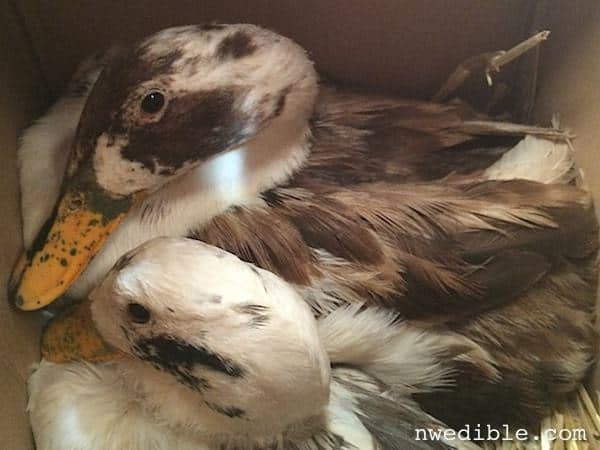 There is nothing cuter than baby ducklings, but I opted to buy a grown, mating pair for a few reasons.
I don't really have time to brood ducks right now.
I knew adult ducks could be co-housed with my hens in a poultry set-up that already works until the separate duck-house and pond are completed.
The female of the pair was already laying.
Egg production is less critical to me than mollusk control, so a sole egg-layer doesn't bother me. Eggs are truly, just bonus.
My recent experiment with our broody hen has me convinced that letting a good animal mama raise babies is far better than me doing that work. If this pair proves up to the task of making and raising babies, so much the better – I'll be helping keep the genetics of this rare breed going and I'll have pure-line ducklings to sell. If they don't, then I have very cute slug control.
I was able to observe these two ducks for a bit and saw they were very, very quiet. That's important because I'm in town and we must be good neighbors.
If you want more info about the Ancona breed of duck, or keeping ducks in general, the Boondocker's Farm website has some great info.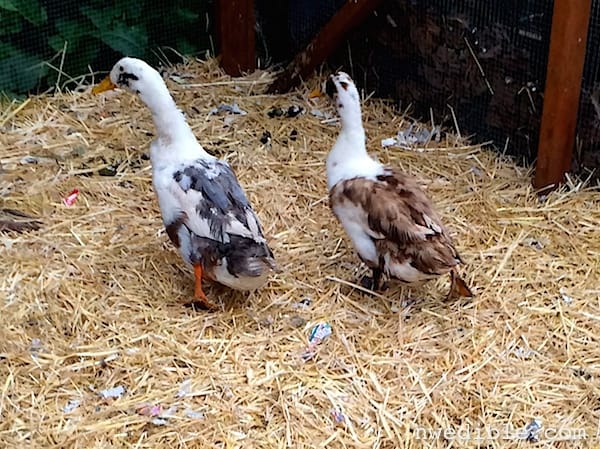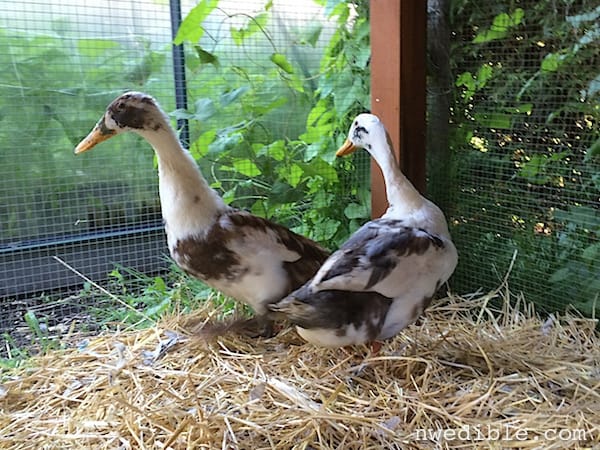 Aren't they cute?
13