Like people, cocktails can be organized into families. There are the sours, the champagne cocktails, the duos, the trios….many families. And the great, great, great granddaddy of them all is the Old Fashioned.
The first known definition of the word cocktail was in 1806. Back then a cocktail was spirits, bitters, water, and sugar. Nothing more, nothing less.
By the 1860s, cocktail culture had exploded, and people were throwing all kinds of stuff in a shaker and calling it a cocktail. People who wanted a cocktail the old way – the way their daddy used to drink it – started to ask for "just an old fashioned style cocktail."
The barmen knew what these retro lovers of simplicity wanted: American whiskey with just enough bitters, water and sweetness to round out the flavor. Thus was the official Old Fashioned Cocktail born.
I try to stay true to the spirit (hah! booze pun!) of the Old Fashioned while still allowing for some fun barcraft. This variation is the perfect winter sip to warm you from the inside out.
Maple Spice Simple Syrup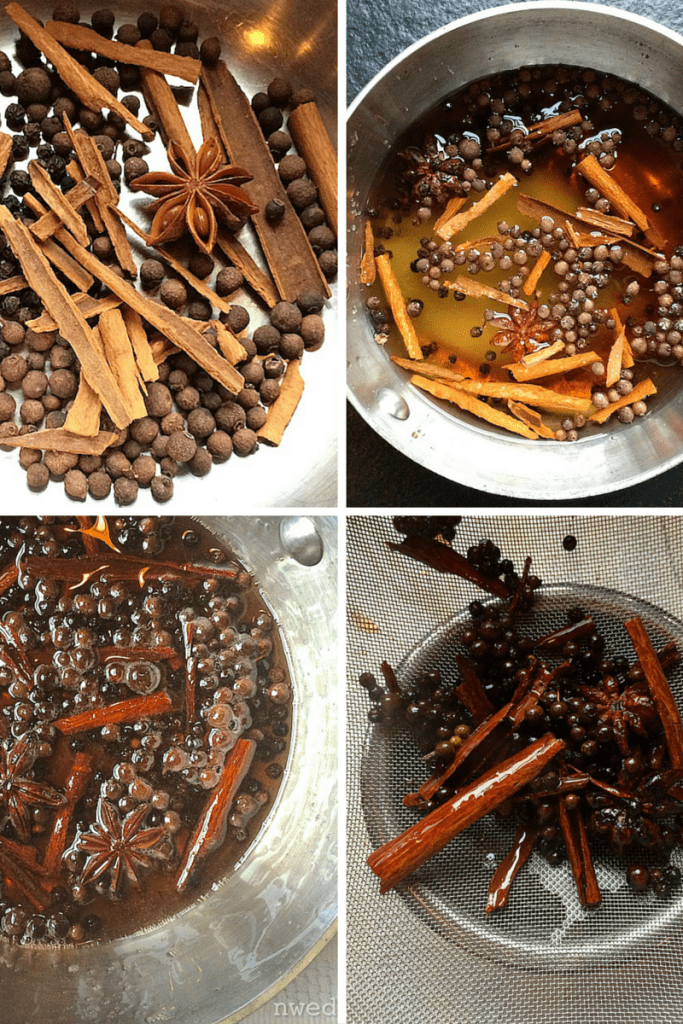 We're gonna start off, as we so often do, with a flavor-carrying simple syrup. In this case, a delicious maple caramel loaded with the warm flavor of the cookie spices. I am currently in love with allspice as a cocktail flavor component so that gets pride of place here. If you want to go with more cinnamon or add cloves or whatever, feel free.
The syrup is simple: simmer, reduce, strain. I use a lot of spices because I want a ton of that spice flavor to make it into the syrup and cocktail, but because I strain the syrup while it's still warm, I'm not allowing for an extended infusing time.
If you reduce the syrup too far, you'll make something that will harden like toffee as it starts to cool. If this happens to you (as it did to me on my first recipe test of this cocktail) just add a bit of boiling water to the syrup and stir until your solid returns to a liquid.
Making The Cocktail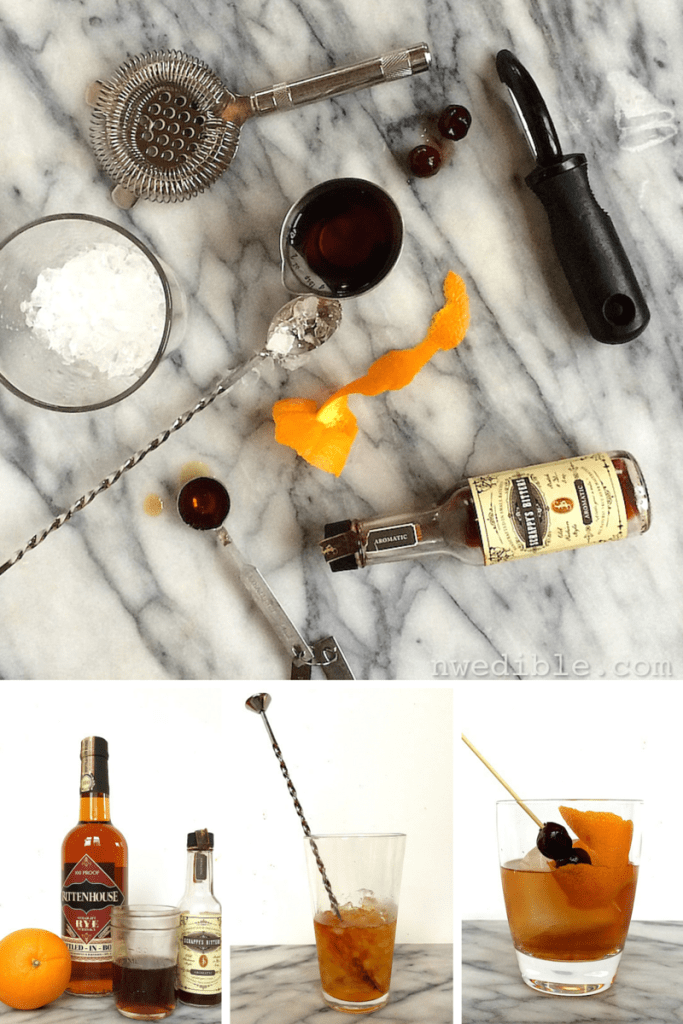 You'll need some rye whiskey or bourbon. Here at the NW Edible Cocktail Development lab (aka my kitchen), we have become big fans of Rittenhouse Bottled-in-Bond 100 Proof Rye Whiskey for whiskey-based cocktails.
Rit, as we affectionately call him, is a strong, reliable mixing spirit at a very reasonable price point for the quality. Whenever we see this bottle in stock at a liquor store, we grab 1 or 4.
You'll also need the strained, cooled Maple Spice Simple Syrup and your aromatic bitters of choice. I used Scrappy's here, which was excellent, but the widely available Angostura bitters is fine.
Because we are hipster douchebags when it comes to cocktails, our old fashioned-style drinks get served on "the rock" – a giant single cube of ice that melts very slowly, allowing longer drinking time before a cocktail becomes overly diluted. We make our ice megaliths in an inexpensive silicone ice cube tray.
Garnish with a nice big zest of orange peel and a few brandied cherries (or whatever non-horrifying maraschino cherry substitute you prefer).
Printable Recipe For The Maple Spiced Old Fashioned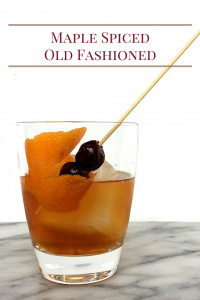 Print
Maple Spiced Old Fashioned
Yield 1
Ingredients
For The Maple Spiced Simple Syrup
1 cup water
1/4 cup maple syrup
1/4 cup sugar
2 tablespoons whole allspice berries
1 tablespoon black peppercorns
1, 2" long stick cinnamon, broken into pieces
2 star anise pods
For The Maple Spice Old Fashioned
2 oz Bourbon or Rye Whiskey
1 1/2 - 2 teaspoons Spiced Simple Syrup, to taste
2-3 generous dashes aromatic bitters
To Garnish
1 large curl of orange zest
2 brandied cherries
Instructions
Make The Maple Spiced Simple Syrup
Add the water, maple syrup, sugar and all spices to a very small saucepan. Bring to a simmer. Stirring occasionally, simmer until the liquid has reduced to about 3/4 cup volume. While the syrup is warm, strain the syrup off the spices. You'll have about 1/2 cup of finished syrup. Allow the syrup to cool.
The syrup should be thick but still pourable when it cools, like honey or corn syrup. If it has started to solidify like a hard caramel, just add a bit more hot water and rewarm the syrup while stirring to thin it out.
For The Cocktail
To a shaker filled with crushed ice, add the bourbon, Maple Spiced Simple Syrup, and bitters. Stir well until the drink is nicely chilled, about 20 seconds, then strain the cocktail into an old fashioned glass.
Add a jumbo cube of ice, rub the orange zest around the rim of the glass, and garnish the drink with the orange zest and the brandied cherries.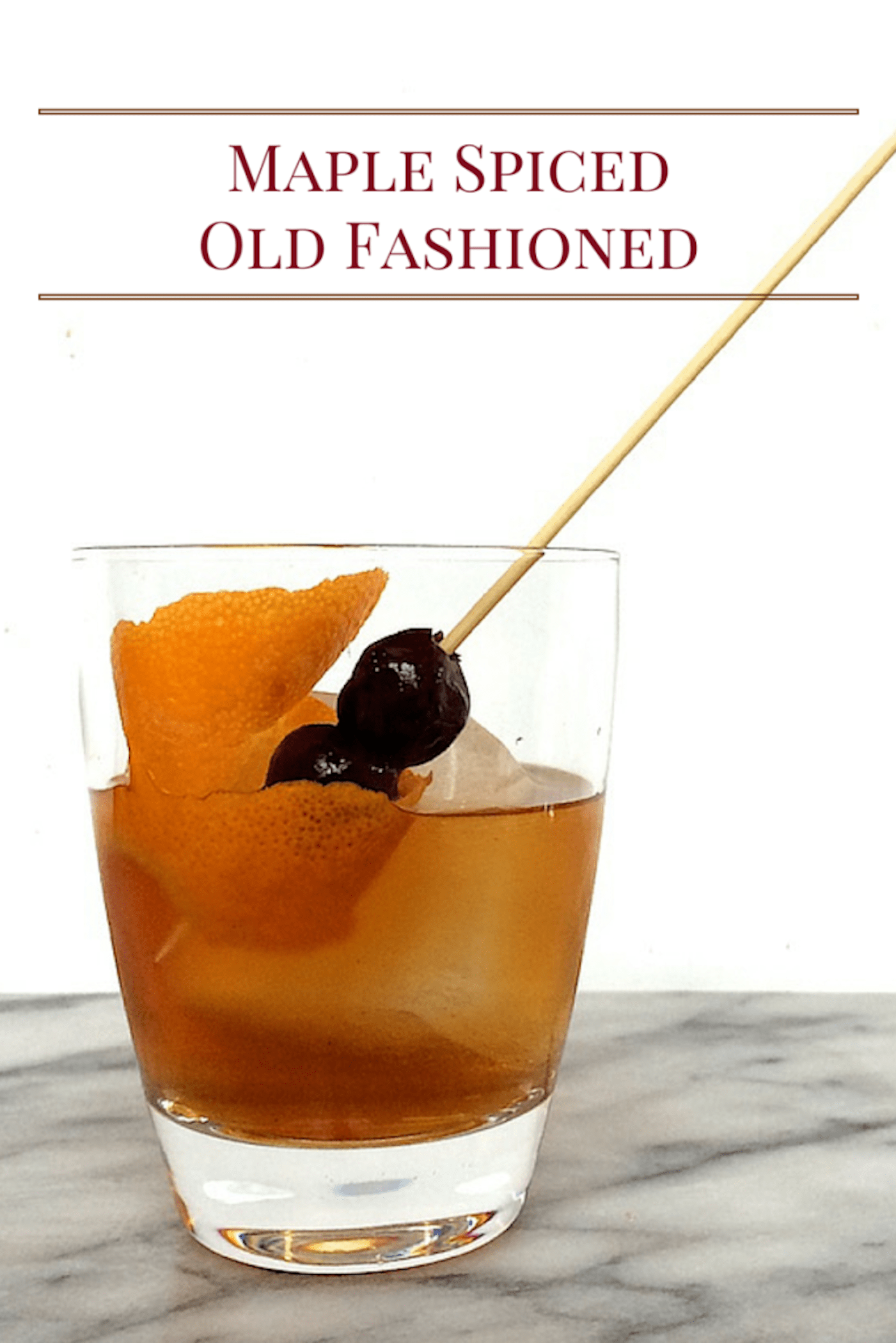 1