Regular readers may have gleaned (gleaned – ha! harvesting pun!) that Homebrew Husband and I enjoy fermenting stuff.
Right at this exact moment, the following is being (deliberately) fermented in our home:
5 gallons blackberry wine
10 gallons of beer (a carboy of pale ale and another of porter)
2 loaves bread dough
homemade yogurt
3 or 4 gallons of crock pickles
2 or 3 gallons assorted other vegetable ferments: turnips, beans, carrots, mixed pickles, etc.
3+ gallons lacto-fermented salsa (actually, we're down several jars already but that was the original quantity).
Sadly, I tossed about 2 gallons of fruit-fly infested malt vinegar two days ago or I'd get to put that on the list, too.
Of all my ferments the Lacto-Fermented Salsa is my current favorite. It's blowing my mind. It's based on the Nourishing Traditions recipe that's kicking around the web but with a few seasoning adjustments.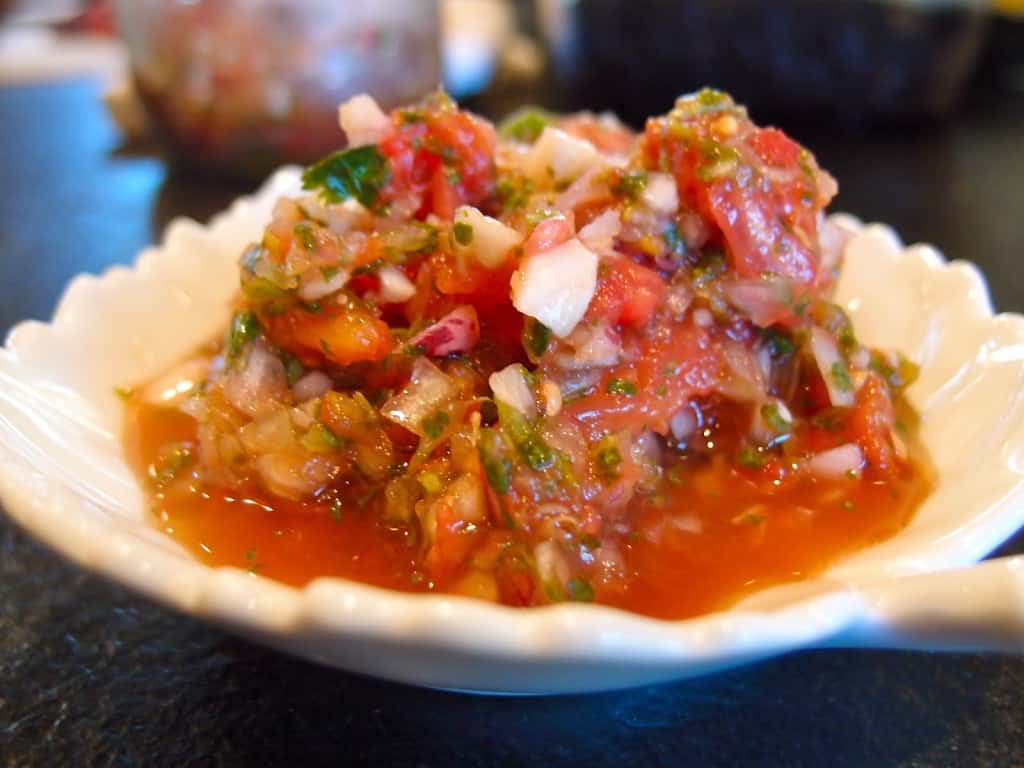 I made a huge batch of this for the first time this weekend as part of my "I bought 100 pounds of roma tomatoes – now what?!" adventure. We've eaten over 12 cups of this salsa in the 54 hours since I first made it. It's that good, and it just keeps getting better as it ferments.
Before I give you the recipe, a word about food safety: you cannot, cannot, cannot just water bath can this salsa. First, water bath canning a lacto-fermented product kills off all the beneficial bacteria you've worked so hard to encourage. But more importantly, I have absolutely no proof that this salsa is acidic enough to be safely canned in a water bath canner. So don't do it.
On the plus side, since you are not dancing with the botulism devil in the pale, anaerobic moonlight of canning, you can play around with the recipe. Add more peppers, add more cilantro, add more garlic or lime juice. All those adjustments you can't do with a canned salsa recipe you can do with this one. Have fun. Just keep the salt and the whey constant and you should be fine.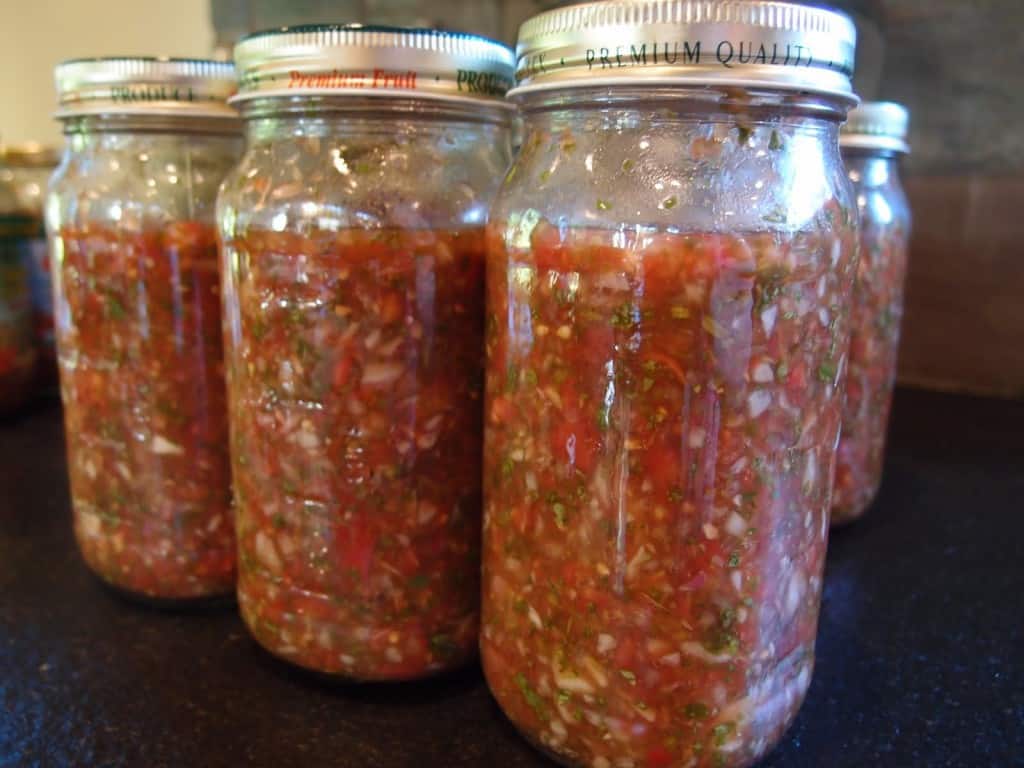 To prepare, I chopped everything separately in my food processor and combined in a huge stainless bowl. I highly recommend not hand chopping all this.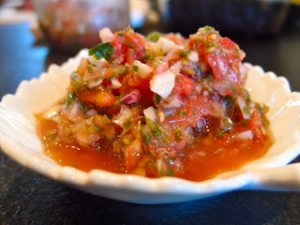 Print
Lacto-Fermented Salsa
Yield 2 quarts
Ingredients
2 pounds tomatoes, cored and chopped (about 4 cups)
1 pound onion, peeled and chopped (about 2 cups)
12 ounces bell peppers (green or red), seeded and chopped (1½ cups)
2 jalapeño peppers, seeded and chopped
2 cloves garlic, peeled and chopped
1 bunch cilantro, chopped
½ cup freshly squeezed lime juice
1/4 cup whey from live and active culture yogurt
2 tablespoons fine sea salt
1 teaspoon ground cumin
Instructions
Combine all the prepared ingredients in a large bowl, and stir to fully mix everything.
Divide the pico de gallo evenly between two scrupulously clean, 1-quart mason jars. With a clean spoon, press the ingredients down to release some of the juices. Press the solids under the juices, and weight the ferment.
Seal the jars with standard two piece lids, leaving the ring just fingertip tight, as you would for canning, to allow the gasses of the fermentation process to escape. Leave the pico de gallo at room temperature out of direct sun, for 2 to 4 days. Check the ferment daily. Look for bubbles and other signs of fermentation, give the ferment a little shake and swirl to keep everything fermenting evenly, burp the lid to release any pent-up carbon dioxide in the jar and taste the development of the salsa (clean spoon please).
When you like the taste of the salsa or after 4 days, transfer the fermented salsa to the refrigerator, where it will keep for at least 4 months.
13