Quince is an interesting fruit. It's hard and dry and astringent when raw, but floral and delicate if cooked. If you put your nose into a bag full of ripe quince, the perfume of the fruit shows its promise.
Quince paste (often called by it's Spanish name, dulce de membrillo) is a popular spread in Portugal, Italy and Spain. It's a traditional accompaniment to Manchego cheese, and is spread on bread for a simple breakfast or used in baked treats.
Quince paste is easy to make – it's a lot like making apple butter – but it takes patient stirring for quite awhile. Here's how I make mine.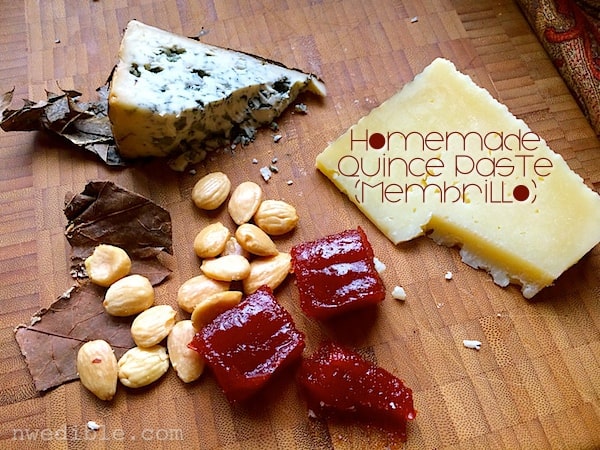 If you don't have a quince tree, and sadly I do not, you'll have to buy some quince. The only quince at my market were a touch past firm-ripe. See those brown spots? Ideally I'd like less of those, but my membrillo turned out fine.
This variety is called Pineapple Quince, and is a common commercial type, inasmuch as there is a commercial market for quince in the U.S. at all. Fully ripe, it has a deep, floral, tropical fruit smell that's beyond delicious. I spent a good 20 minutes just huffing the fruit before I proceeded with this recipe.
Quince are similar in form to their relatives apples and pears. To start, peel and core the quince, and rough chop the fruit into big chunks.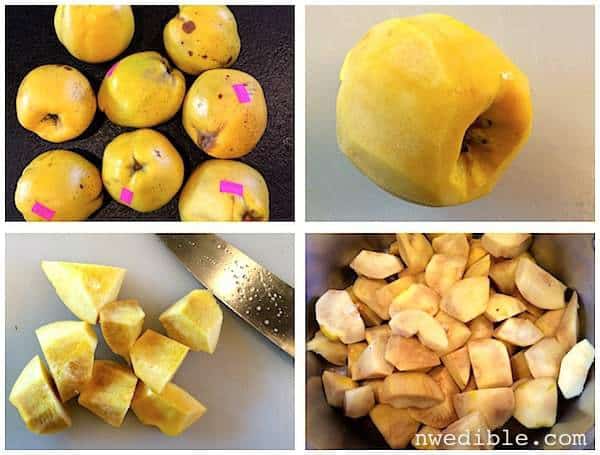 Cover the quince chunks with water and simmer until tender. The quince will turn color – this is one of the amazing things about quince. They are like the mood-rings of the fruit world, with a color that changes from pale yellow to coral to ruby to deep, fire-brick red as they continue to cook.
Strain out the tender quince chunks from the cooking liquid and weigh. Make a note of how much cooked quince you have.
Puree the cooked quince in a food processor until perfectly smooth. Return the quince puree to the empty stockpot. Measure out a weight of sugar equal to your cooked quince and add this to the stockpot with the juice of one lemon for each pound of cooked quince. So, if you have 3 pounds cooked quince, combine this with 3 pounds sugar and the juice of 3 lemons.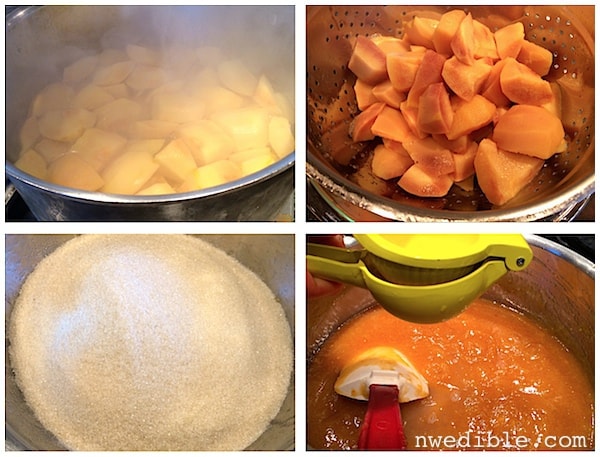 Over medium heat, bring the quince puree to a simmer. Stir periodically and reduce the puree until very thick. Adjust temperature as necessary and stir as needed so puree does not scorch or stick as it reduces.
This will take some time – plan on setting aside a few hours when you're going to be in and out of the kitchen anyway. I made quince paste concurrently with my Caramelized Onions. I figured as long as I was babysitting one long-cooking item, I could babysit two.
Eventually the puree will reduce to a very thick, dark red paste. When you run a spoon or spatula through the puree it will hold a line.
Scrape the paste into a parchment-lined 9×12-inch pan and smooth the top as best you can. Let the quince paste cool to room temperature, then transfer the uncovered pan to the refrigerator. Chill overnight.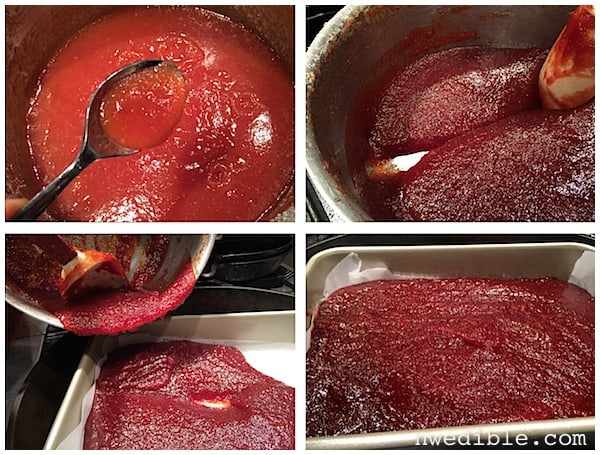 After setting up, the quince paste should hold its shape. To serve, cut as much as you like into bite-sized squares or slices with a sharp knife. Running your knife under very hot water and then drying the blade before slicing can help if your knife sticks badly.
Wrap whatever you don't use well in parchment, then in plastic wrap. It will keep in the fridge for a long time – several months, at least – because of the very high sugar content.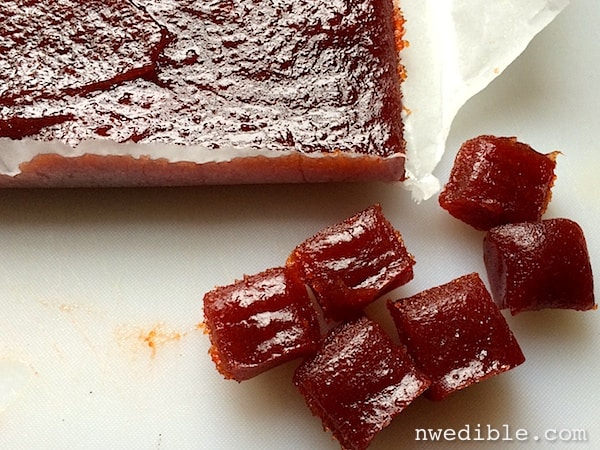 I like a thin spread of quince paste served alongside Spanish cheeses.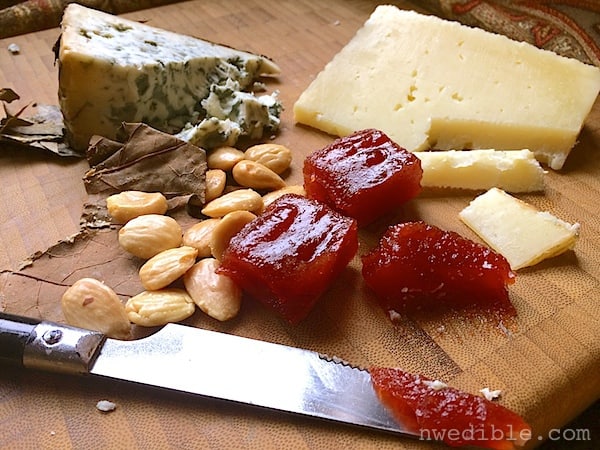 Printable Recipe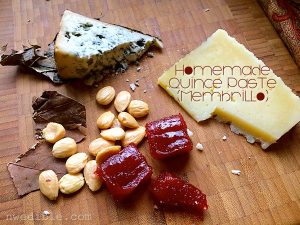 Print
Quince Paste (Membrillo)
Ingredients
4 pounds quince
about 3 pounds sugar
3 lemons
Instructions
Peel and core quinces and cut into large chunks.
Put quinces into a large stockpot and just cover with water. Bring water to a simmer and cook, covered, until quinces are fully tender, about 30 minutes.
Drain quinces, reserving cooking liquid for another purpose if desired. The quince cooking liquid is flavoful and high in pectin.
Weigh drained quince pieces. You should have about 3 pounds quince.
Transfer quinces to a food processor and puree until totally smooth.
Return quince puree to the empty stockpot and add as much sugar by weight as you have quince puree. If you have more or less quince puree, adjust your sugar quantity accordingly.
Add the juice of three lemons (or one lemon per each pound of cooked quince) and stir quince, sugar and lemon together.
Bring quince mixture to a simmer over medium heat. Stir often.
The quince puree will cook for several hours, reducing until it is quite thick and becoming darker and more red in color. Adjust heat as needed and stir frequently to prevent sticking or scorching.
The quince paste is done when it is a jewel-like reddish-brown and a spatula drawn through the mix leaves a distinct trail that takes several seconds to close up.
Scrape reduced quince paste to a parchment-lined 9x12-inch pan. Smooth quince paste into an even layer and let cool to room temperature.
Refrigerate quince paste uncovered until cold, then cut paste into sections, or wrap well and store in the refrigerator.
Do you cook with quince? Have you made membrillo?
14