Classic new gardener problem: you successfully grew a seedling. You planted it and nurtured it from a little seed and – life doing what it does – it's flourishing, putting on layers of healthy leaves and growing up well.
And now you have to kill it – on purpose.
You have to murder your seedling so that other, slightly better or slightly luckier seedlings can grow big and strong without competition.
It's tragic, like Shakespeare.
Oh cruel, cruel fate that hath put these secateurs in my hand! Why hath thou made me both judge and executioner among young kinfolk, when I cry only for life, dear life of blossoming verdurousness!
But look, it has be done or none of your seedlings will have room to grow properly and they'll all suffer (as will your harvest yields). So get over the sentimentality and know that when you thin your seedlings – which you must – you are doing one of the many essential tasks which you committed to when you decided to become a veggie gardener.
Let's look at this tomato seedling I started in late January. This "seedling" is really four tomato plants, all looking to fill this 4″ pot with a heathy root system.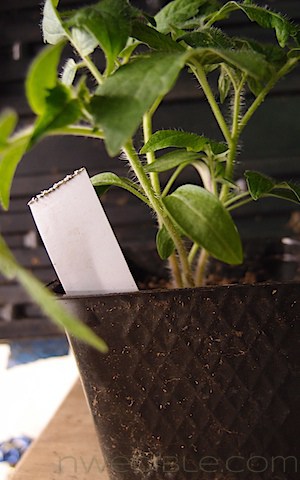 Unless there is obvious leaf loss or disease, you can pretty much ignore the leaves at this point. When you evaluate seedlings to thin, look at the stem first.
We want the thickest, stockiest stem we can find. That rules out seedling #3. We also want a more or less vertical stem. That rules out seedling #1 which is growing at a weird angle as it tries to get at more light.
Sorry guys, you gotta go. A pair of kitchen shears or small scissors is the right tool here. Just snip the seedling off at more-or-less soil level. Don't try to pull the seedling out or you'll probably mess up the roots of all the seedlings, including your keeper.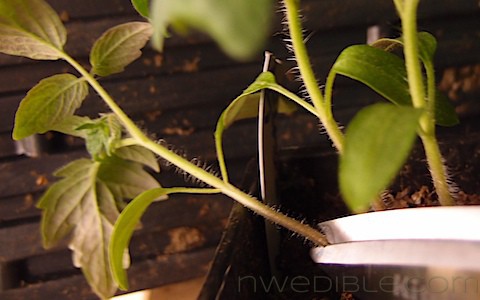 Okay, now we're down to two seedlings with equally qualified stems. We need a tie-breaker at this point, so look to the leaf mass of the finalists. The seedling on the bottom in this photo has more leaves, and they are more well developed. You can see she's working on her third set of true leaves at the center growing point, while her sister in the top of the photo is still growing out the second set. We have a winner, and the top seedling is snipped out.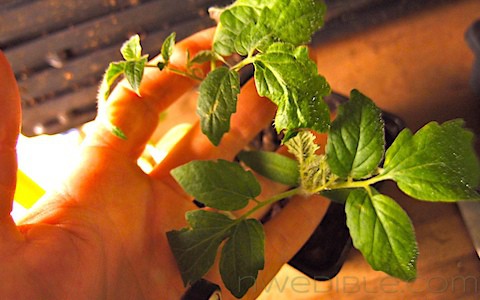 The result of the seedling carnage: a plant with room to grow and develop properly. With a little time, continued space to grow and – cross your fingers – heat, this plant will grow into a mature, ripe-tomato-laden beauty. (Since this is Seattle, in reality she'll probably peak as a green tomato goddess, but that's not really her fault.)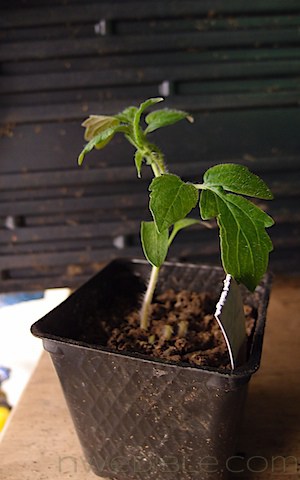 A few notes about culling the weak. Sometimes you'll see something like this: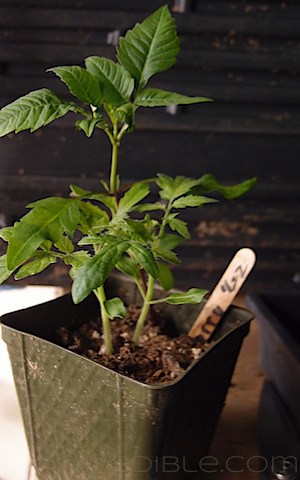 And say to yourself, "Woo-hoo – look at that tomato in the back go! That's the super tomato…that's…hey, those leaves look kinda funny. Damn it, that's not a tomato, that's a weed!"
Yup, if you see something that looks too good to be true, it is. Get rid of it. This tall thing – whatever it is – came from some seed that hitched a ride in the vermicompost I used to start some of these tomatoes.
You won't run into this much if you use sterile commercial potting mix, but occasionally a batch of good seeds will have a seed that develops into some very different seedling – much taller, or very different leaf shape or something. Get rid of that one. If it's that far off from everyone else at the seedling stage, it's probably not going to mature into what you think you planted. Genetics are funny. That's why professional seed folks rogue out anything that looks too different in a batch of seed-crop.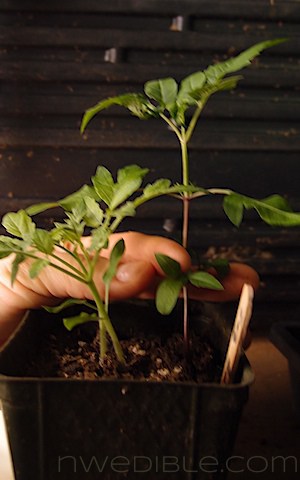 Another reason to cull is poor seedling location within a pot. My daughter helped me plant these tomatoes, and the seeding density and location was a bit variable. Here you can see a pair of seedlings growing right at the edge of the pot. They look good, but that location isn't ideal because all the roots will be off to one side when the seedling is transplanted. Since I had viable seedlings growing in the center of this pot, I cut off both of the side seedlings first thing.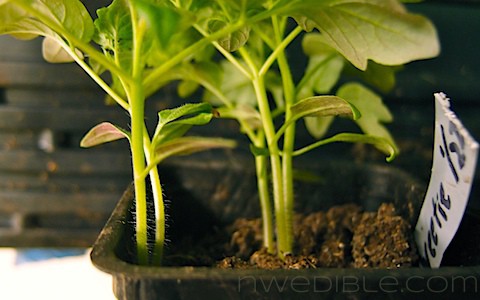 So go forth, guilt free, and know that thinning your seedlings – in a pot or in the garden bed – is the right thing to do.
Besides, it hurts you more than it hurts them.
27