I'm writing this post kinda under duress. If I don't write it, several readers are going to show up at my house with pitchforks, demanding answers.
People want a follow-up on the Heavy Duty Potato Cages I built last spring, and they want it now, so they can plan for their own potato growing. Totally get it. Typically, I'd like to run something like this more than a season before giving it a thumbs up or thumbs down, but my audience has spoken. Answers Now.
So, I give growing in these Heavy Duty Potato Cages a thumbs up, with qualifications. Here's why.
First, here's what my Heavy Duty Potato Cages look like.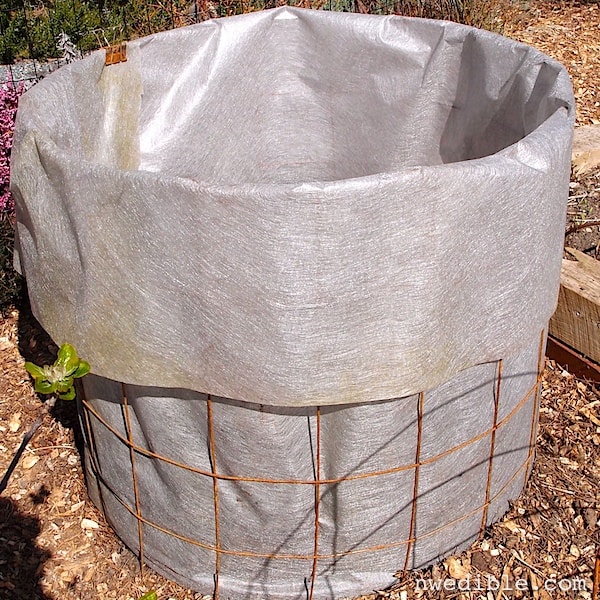 The heavy duty bins themselves worked spectacularly as oversize containers. The landscape fabric held up, the bins maintained their integrity, nothing leaked out or tipped over.
The semi-composted woodchip path mulch I used to fill the bins on the cheap has continued to break down over the past year and the soil in those bins is now some of the loveliest in my yard, though if I were a betting girl I'd guess that it's a touch on the acidic side – I didn't lime the bins since I was growing acid-preferring potatoes.
The bins are now essentially stationary. My vision when I built them was that I could just lift the bins straight up and sort through the mound of soil for potatoes. This does work – I did it with one bin, and dirt and taters did just kinda plop out towards the sides – but you need to make sure you don't bury the bottom lip of the landscape fabric with a half-cubic yard of soil when you are first setting them up. If you do, the bins become much harder to lift.
If you want to keep your cages together, lifting is also a two-person job. You really need someone on each side of the bin to lift straight up or else the weight of the soil makes getting the mesh and landscape fabric. If you are willing and able to unhook the concrete mesh frame, you could probably pop these cages open like springform pans.
All but one of the bins got left exactly where they were for now, not taken apart, and harvested from the top. This is not exactly easy, since you have to fork through soil that is below the top lip of the bin, but it worked. It was simpler to reach in with my hands and snag a potato as needed because the soil was so loose and airy, so that's how I harvested most of the potatoes from these bins.
Yield was acceptable but by no means spectacular. The I planted about ten uncut small/medium seed potatoes per bin – this was about a pound of potatoes ber bin depending on the variety. From that I harvested around 8-12 pounds of potatoes per bin. French Fingering, German Butterball and All Blue did the best for me.
The potatoes did grow well in the tubs. Here's a photo of the bins on June 4th of last year.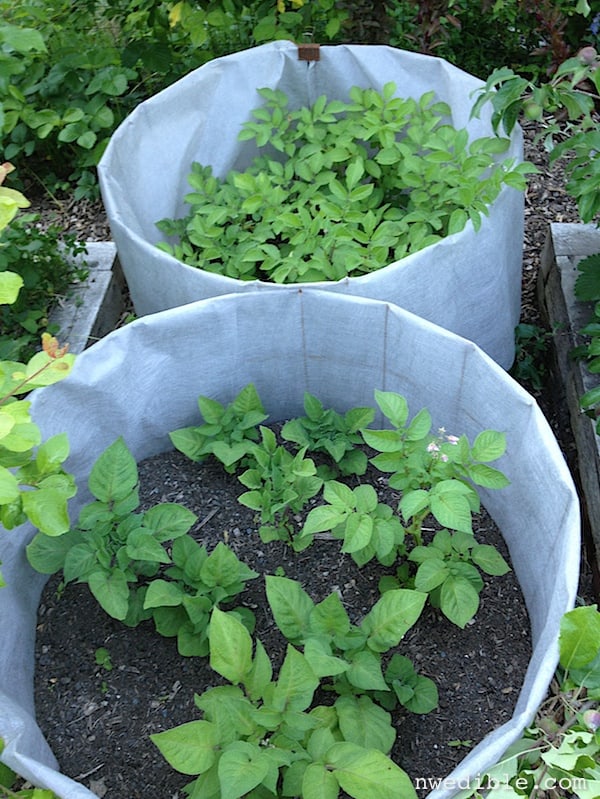 And here they are on June 24th.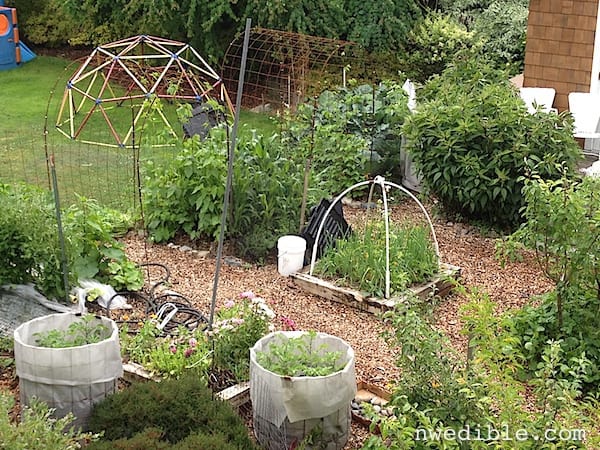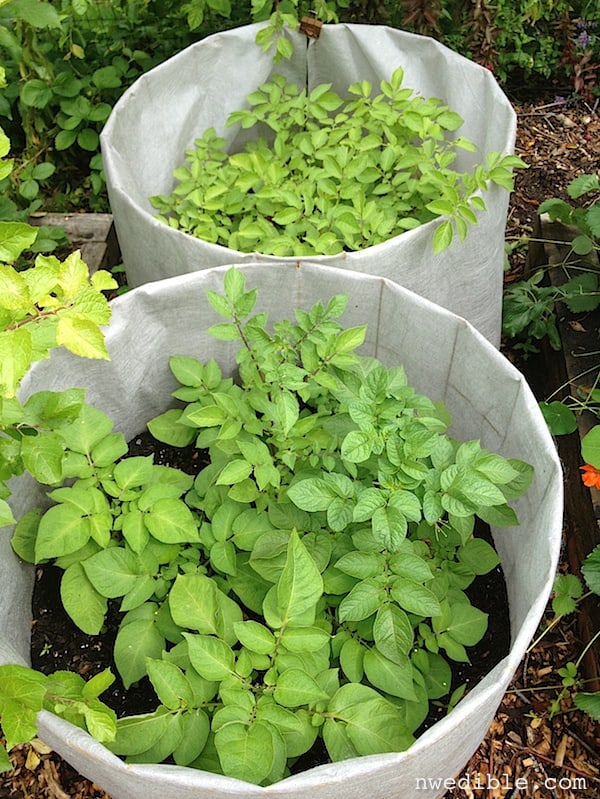 Here's the biggest issue I had with these bins, which I think limited total yield. My chickens decided these bins were their personal dust baths. This tattered up the potato vines towards the end of their growth period when all that vegetative energy should have been pouring into the tuber development.
I have hopes that, with the chickens now more securely contained in a dedicated run, future plantings of potatoes will not suffer so much, and yield will do better.
That said, I'm pretty sure I've attempted every potato growing scheme out there. Burlap sacks, heavy duty cages, plastic tubs, raised beds, hugelkultur, in ground – you name it, I've probably tried it in an attempt to grow those promised 100 pounds of potatoes in 4 square feet.
My conclusion is that potatoes are basically masochists. The less you coddle them the more satisfied they seem to be. Potatoes I grew in these Heavy Duty Cages yielded about the same or poorer than in-ground plantings I've tried, but far better than other container-planting schemes.
The best crop of potatoes I've ever grown was planted in the dregs of the prior year's compost pile. The spot was in good, strong sun, and was soon to be a permanent raised bed for my perennial crops. The soil was damp, bordering on mucky, but very rich – the kind of dirt that wriggles with worms if you scoop up a handful.
I was late to planting potatoes that year – it was June and, to be frank, potatoes were an afterthought. This was many years before I started my blog, so I wasn't instinctively snapping photos of everything. I had stretched black plastic down over the patch of old compost leavings to discourage weeds, and it occurred to me that I could snip holes in the plastic and tuck a few organic supermarket Yukon Gold's down into the muck.
That's exactly what I did. With my daughter watching, I cut X-shaped holes into the black plastic, about every 12 or 16 inches, pushed a bit of soil aside and dropped a small organic "seed" potato from the Yuppie Hippie Market into the dirt. Then, I did nothing: no watering, no hilling, no side-dressing. In a few months you couldn't see the plastic for the tangle of potato vines sprawling everywhere. I remember pale purple flowers appeared, and I was shocked at how gorgeous they were.
Soon after that, things that looked like huskless tomatillos showed up, bobbing amongst the potato greenery.  Terrified of the toxicity issue, I preemptively chastised my daughter never to eat the fruit of the potato plant.
That year, my potato harvest was insane. I filled up a 55-gallon bin with potatoes. Some of them were ugly – with internal black spot or scab, but many were perfect and boy, I had a lot of them to pick through. None of my fancy attempts to container grow potatoes with certified disease free potatoes in virgin soil has given me that kind of yield. So honestly, maybe the answer with potatoes is, just keep it simple.
I'm still deciding if I'll be growing potatoes in my bins again this year. I think may grow vining squash in the bins this year. Still figuring that out, but I'm happy to have the extra planting space and the great soil, and I'll be using it.
What's you favorite way to grow potatoes?
1