Here's the concept: pasta + greens + very light cream sauce = deceptively elegant, super easy dinner in a hurry with stuff you have lying around. The exact pasta, greens and cheese can be mixed to suit whatever you have on hand.
This version is Orecchiette with Rainbow Chard, Tomatoes and Stilton. Chard (like its relative, the beet) goes beautifully with blue cheese, but I have a hard time imagining a greens-cheese combo that would suck.
It's the simplicity of the method that makes this dish so great. There is no fancy roux business here, and this isn't a gut-bomb Olive Garden bechamel that's slopped on by the ladleful. It's a sauce that's flavorful, lightly creamy and just coats the pasta and greens without getting heavy.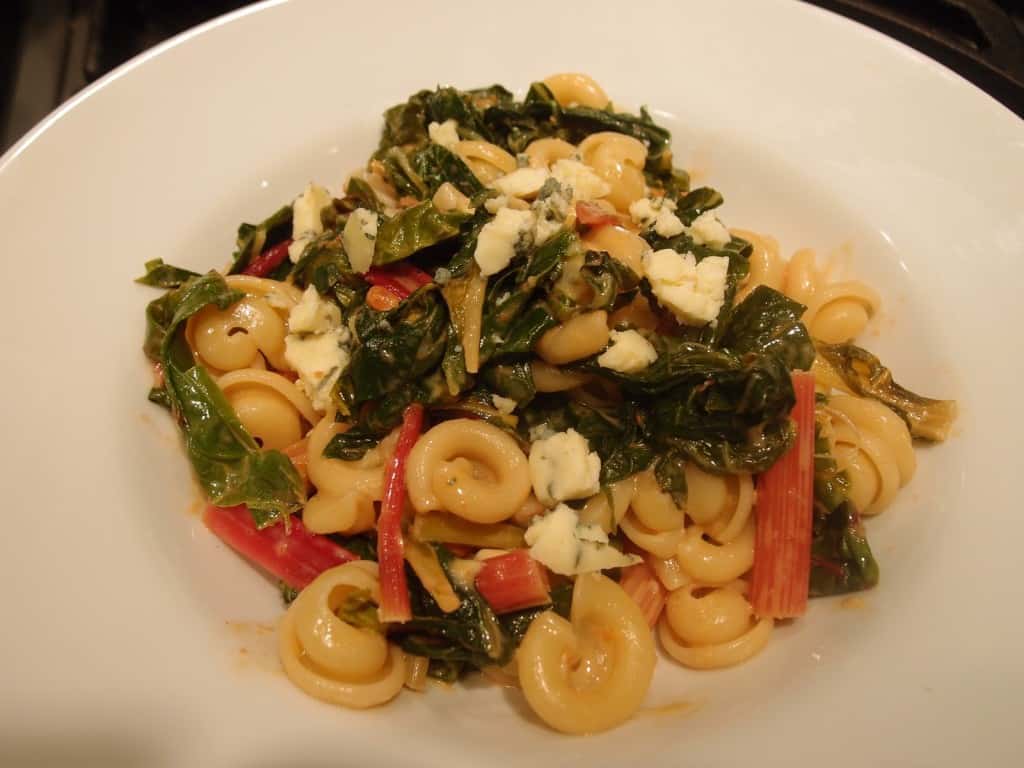 Serves 4
Ingredients:
8 oz dry pasta
2-3 cups cooked Swiss Chard or other greens (see below for my method)
1/4 – 1/2 cup crumbled blue cheese, to taste
1/4 – 1/2 cup heavy cream, to taste
Salt and pepper to taste
Start water boiling for your pasta. While your water is coming to the boil, prepare and cook your chard (see below). As your chard is cooking, the water will boil and your pasta can be dropped in to cook.
When the pasta is firm-tender, drain into a colander. With a little practice, the chard will be tender more or less as the pasta is done. When in doubt, err on the side of slightly undercooking the pasta.
Combine the cooked pasta, chard, crumbled cheese and a bit of heavy cream (use the pot in which you cooked the pasta to make clean up simpler)
Stir everything together over low heat. The melting cheese and the starch from the pasta will thicken the sauce. Add more cream and/or cheese if you want a saucier pasta. Season to taste with salt and pepper, garnish with a few extra crumbles of stilton and serve right away.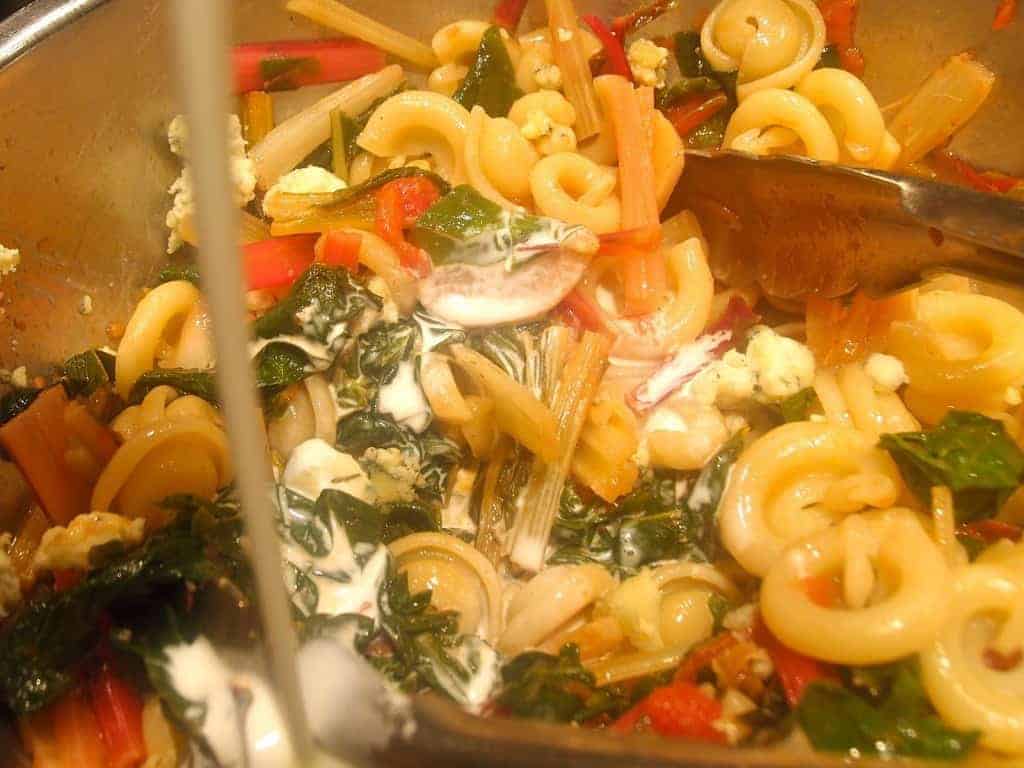 Here's how I prepared the chard:
1 tbsp fat (olive oil, butter, bacon drippings, etc.)
2 large bunches Swiss Chard or other tender cooking green (about 20 large leaves)
Aromatics: 2 -3 cloves garlic, 1/2 an onion or 1 shallot, or some combination, as desired
2 cups chopped fresh or canned tomatoes
salt and pepper to taste
To prepare chard, strip the leaves off the stem. Chop the leaves and stems separately into bite-size pieces. Heat a skillet with your fat of choice (I used bacon grease, but whatever makes you happy is fine) and toss in your favorite allium aromatic. I used garlic, but onion, shallot, or nothing at all is fine too. Cook aromatics over medium heat until soft and gently brown, then add the stems of the chard and the tomato with juice.
Cook the stems until tender, stirring occasionally while letting excess moisture from the tomato evaporate as much as possible. When the stems are tender, add the greens to the pot. Cover and steam 2-3 minutes, until completely wilted. Uncover, Stir stems and greens together. Season to taste.
At this point you have a pretty fine side dish for roast chicken, or you can use the chard as a component in something else, as I did with this pasta entree.
I'm so happy it's Swiss Chard season!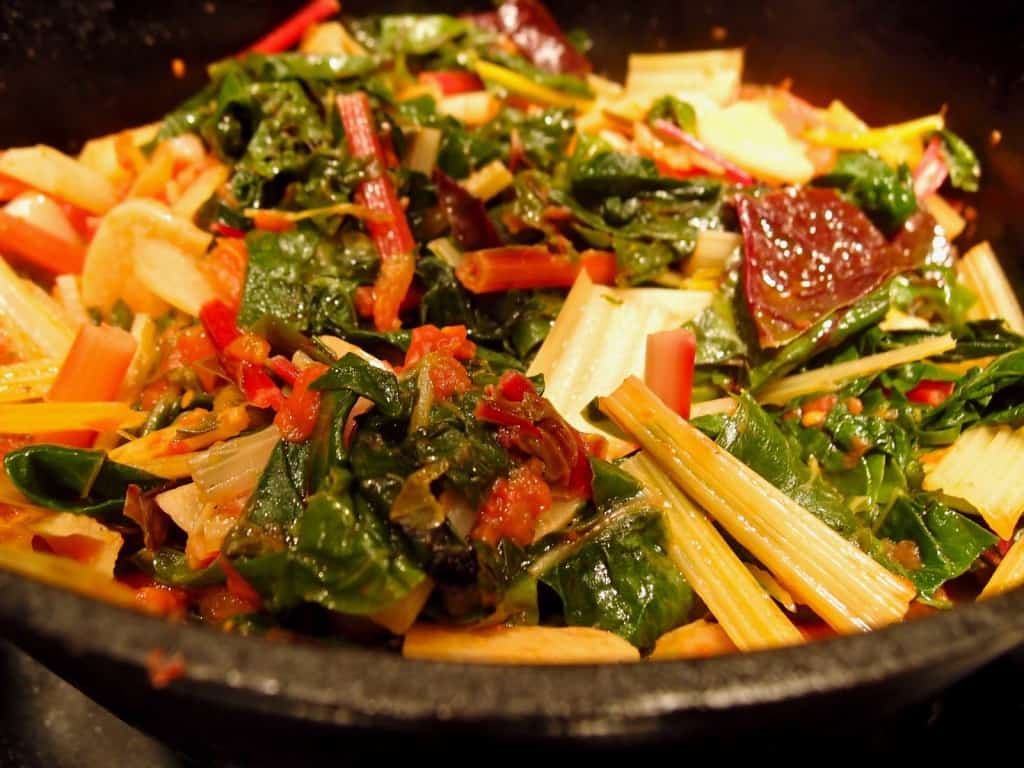 1