I'm heading to the Mother Earth News Fair in a few weeks. This is a four-year-long tradition now – I think I've attended every Seattle-area Mother Earth News Fair since it started. I always come away from the Fair re-energized and re-inspired about what we're trying to do here on our own one-third acre.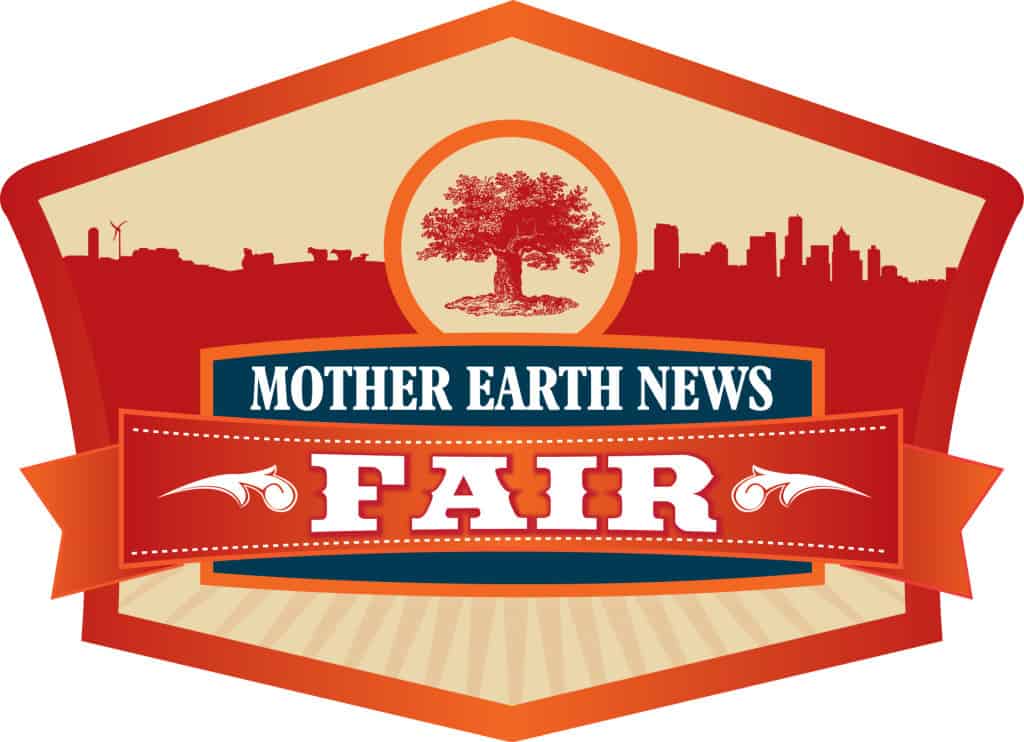 I wrote a post last year called Practical v. Political: People Who Give A Damn after attending the 2013 Fair. I think it captures what I love most about the Fair. When you put a fair together with topics like raw milk and mortgage-free DIY homes and sustainable gardening, a group of people shows up that represents the full spectrum of political viewpoints. And yet, we find this common ground in practical strategies for creating a life on our own terms.
This strange-bedfellows, hippie/prepper aspect is my favorite thing about attending the Fair. It makes me deeply reassured that, if push came to shove, those of us who care enough to just show up and get our hands dirty would be able to put the fear-mongering aside and get to work.
That said, you don't have to get all misty-eyed like me about this philosophical community crap to get a ton from attending your local Mother Earth News Fair.
The amount of info the Mother Earth News team manages to cram into two days, and the talent they get to speak, is staggering.
What do you want to learn more about? Beekeeping, craft distilling, marketing your farm, picking out a tractor, growing nutrient dense fruits and vegetables, making raw milk goat cheese, heritage breed livestock from rabbits to hogs, poultry slaughter and processing, gluten free breads, herbal healing, straw bale homes, basic seed starting? Something else?
All those topics and many, many more are covered. And if you just want to look at cute baby animals, well, the MEN Fair has that too.
Joel Salatin, Toby Hemingway and Bob Moore of Bob's Red Mill will be there, being all famous and stuff. Jessi Bloom (Free Range Chicken Gardens), Sherri Brooks Vinton (Put 'Em Up), Lisa Kivirist (Farmstead Chef), Matt Reed of Bee Thinking, and a ton of other experts in sustainability will be giving talks and leading demonstrations.
There are also hundreds of exhibitor booths where you can check out everything from composting toilets to tiny home kits to permaculture and rare fruit nurseries like Raintree.
My friends and sponsors, High Mowing Organic Seeds, will be showing off their 100% organic seeds at Booth 819 (tell 'em Erica sent you!), and if there's any interest I'm happy to set aside an hour on Saturday or Sunday for a NW Edible reader meet-up. Just let me know!
Bottom Line, if you are within a few hours drive of Puyallup, WA (or any of the other sites), the Mother Earth News Fair is totally worth the trip. And at $20 for one day or $25 for both Saturday and Sunday – kids 17 and under get in free – it's very reasonably priced. Last year I ate at least $25 worth of Theo's Chocolate samples (Coconut Curry forever!) if that helps in your decision making.
Info At A Glance
What
The Mother Earth News Fair – A giant weekend of modern homesteading and sustainable living awesomeness!
Where
Puyallup, WA at the Puyallup Fair Ground
110 9th Avenue Southwest
Puyallup, Wash. 98371
When
Saturday May 31st, 9:00 AM-7:00 PM
Sunday June 1st, 9:00 AM-5:00 PM
Tickets
One day (Saturday or Sunday) tickets are $20 if you pre-order and $25 at the gate.
Weekend tickets (both Saturday and Sunday) are $25 if you pre-order and $30 at the gate.
Youth 17 and under free. Like, totally free, so bring the kids!
Everything Else
More info on the Mother Earth News Fair website.
Giveaway!
I'd really like you to come to the Mother Earth News Fair, and so would the folks at Mother Earth News! In fact, they want you to come so much they've set aside five pairs of full weekend tickets to the 2014 Puyallup, WA Mother Earth News Fair for you guys!
Each winner will have two passes left at the will-call pick up window of the Puyallup Fairgrounds under their name. I ask that you only enter if you think you are actually able to attend the Fair. It would be a shame for these free tickets to not get used, so if you live in New Zealand and know you aren't flying out for this, please refrain from entering.
To enter to win one pair of free tickets to the Puyallup, WA, 2014 Mother Earth News Fair, leave a comment below telling me which presentation you are most excited to see . I'd also love to know if you are interested in a meet-up type thing at all.
Five winners will be picked. One entry per person, please. Additional entries will be disqualified.
Contest is open until Friday, May 23rd at 8:00 pm. Winners will be notified by email and have 48 hours to claim their prize. Good luck! Tell your Seattle and Portland friends, and I hope to see you at the Fair!
0