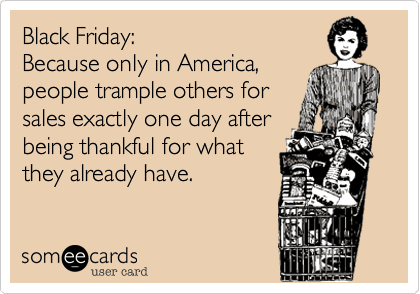 It is, somewhat shockingly, just a few days before Thanksgiving. I'm not sure how this happened. Perhaps because I've been even more of a homebody than usual this past 8 weeks, I've missed the traditional warning signs:
Williams-Sonoma window-displays featuring festive, faux-gourd soup tureens and French porcelain turkey-shaped gravy boats.
Pre-lit plastic Christmas Trees and ornaments the size of volleyballs, available at Costco about the same time most of us start thinking about Halloween costumes for the kids.
Garish Wal-Mart flyers announcing the opening of Black Friday Sales starting on Thursday Eve, for people who prefer to get trampled on the way to the Xbox section while still digesting their pumpkin pie of gratitude.
Yes, these are the warning shots fired across the bow of Thanksgiving, a holiday that (troubling historical issues aside) seems about as pure as we have. Thanksgiving has always been my favorite of the major holidays because, at its heart, it is about family and friends, good food, the harvest, and appreciating the bounty in our lives that allows our bellies to distend ritually every year. It is about sharing gratitude and pie with those we love.
At Thanksgiving, no gifts are necessary, there is no push to acquire. Thankgiving does not demand a forest-understory of wrapped gifts, or boxes of chocolates and overpriced flowers, or champagne and a floor show, or the chocolate mixed bag of fun size bars from Hershey Corp.
Because Thanksgiving is a major non-commercial holiday only a month from the insanity that is The American Cultural Christmas Event, it is used like a racer's starting block. Consumerism puts its foot against the starting block of Thanksgiving, using it to spring forward in the push off. Brace yourself, wait for the gun (watch some football if you like while waiting) and then, bam! We're off, racing towards Christmas spending with all the speed of Usain Bolt. First stop: Black Friday.
Shades of Grey Thursday?
As I'm sure you might guess, I am no fan of Black Friday. An important day for retailers, Black Friday likely got it's name from police officers in early 1960s Philadelphia who loathed contending with the terrible traffic jams and crowding that the shopping push created in the city.
I have to agree with the initial impulse in the naming. Why anyone would voluntarily wait in a huge-ass line to spend hours crowded cheek-by-jowl with strangers for the privilege of waiting in yet more huge lines and spending money on shit they probably don't need (and may not even really want) is beyond me. It's makes as much sense to me as standing out in the rain for 5 hours so that someone can punch you in the head repeatedly.
But that's me, and while I suspect other readers of this blog may have a similar perspective, nationally I know I my feelings on Black Friday are far from typical. In some quarters, criticizing the entire gimme-gimme-screw-you-Grandma-that's-my-xBox! culture that seems to have grown up around Black Friday will get you pegged as anti-business or anti-capitalist or anti-American, as if the thing that makes the U.S. great is a 70% discount on a TV manufactured in China. Pshaw.
In the 5 years from 2006 to 2011, Black Friday shoppers have grown from 140 million to 226 million, and each of those customers average nearly $400 in money spent. There are about 238 million people over the age of 18 in the U.S., so I conclude from this that just about everyone thinks Black Friday is freaking awesome.
The National Crime Prevention Council says shoppers need a personal safety plan for Black Friday. I say, if you need a personal safety plan to go to the mall, maybe you should stay home and make a turkey sandwich.
So given my already dubious feelings about Black Friday it really, really chaps my hide that Thanksgiving itself is no longer held immune. Walmart, Sears, Target and others are swooping in, vulture-like, on our Day of Thanks itself, opening at 8 or 9 pm and compelling employees to leave family Thanksgiving dinners for the Walmart Mothership so that customers have an opportunity to grab those plasma TVs at doorbuster prices. The media is calling it Grey Thursday, presumably because Black Thursday was already taken.
We Have Met The Enemy and He Is Us
You know why the Big Box Sellers are doing this? They say it's because shoppers asked them to! "In talking to our customers, we know that the (ad) circulars come out after the leftovers are put away, and millions of our customers are looking to kick-start their shopping, once again, on Thanksgiving night," says a Walmart statement said.
And it's true: when a retailer sees customers willing to wait in line for hours to rush the door at midnight, it's pretty easy to guess that they'd be willing to come in and spend at 8 pm.
So it's time to take a little personal responsibility here. It's going to cost Walmart and frenemies a lot of money to staff their giant concrete-block alters to stuff. Target and Walmart are apparently paying employees who work Thanksgiving holiday pay and offering additional employee discounts.
There's going to be extra security, extra on utilities, extra on labor – all so some of us can opt to ditch our family and score a good deal before the other guy. Walmart has very highly paid people who figure out what practices are profitable. If slapping Thanksgiving up against The Stone Table and gutting it out didn't pay, they simply wouldn't do it.
For Walmart et al, it's simply a matter of the one most important thing – the precious – the dollars: "If online is open, why should brick-and-mortar close just to give away those precious shopping hours to the competition?" asks an industry analyst. (Gollum emphasis added because how could I not, seriously?!)
This, therefore, is my conclusion and my message: all y'all Grey Thursday and Black Friday deal-hunters need to just calm the hell down for a second (or, ideally, twelve hours). Have some turkey, play a board game, watch a football game. Call your friends, hug your family, put on some music. Go around your house and count how many TVs you already have. Hint: if (number of TVs x 200)>(your credit score) do not buy any more TVs!
Go shopping on Friday. Have a blast – get up early, buy a Mrs. Field's cookie and make a day out of it. Go with friends, keep the economy moving, hunt for parking, be part of the Black Friday tradition. If everyone did this, within two years stores would take Thursday sales off the table, hundreds of thousands of employees would not be pressured to work Thanksgiving, and the discounts would be just as good on Friday.
I cannot emphasize this enough: there is no reason – at all – why a steep discount has to be offered on Thursday instead of Friday. The stores would all adapt if we refused to offer up Thanksgiving to commercialism.
Or, in the words of C. Renee, a Target Employee who has started a Change.org petition to "Save Thanksgiving" responds: "The world won't end if people have [to] wait 7 more hours to buy useless junk that will be outdated in a year anyway."
Enough Isn't Enough
Of course, I don't expect millions of deal seekers to suddenly give up the hunt and risk letting someone else score the discount they're looking to nab, but I will ask this: when is it enough?
When will our lives be full and blessed enough that appreciating them as they are, just for a day, will be able to compete with the promise of the new and the shiny and the cheap? How much more of Thanksgiving, a day dedicated to being thankful for what we already have, are we willing to jettison to make time to acquire more and more and more?
I will, as I'm sure you might have guessed, not be out shopping on Thanksgiving. Those of you who enjoy the chaotic competition of the Black Friday and Grey Thursday deal-grabbing/roller-derby, I wish you luck and I implore you to be safe, keep your wallet protected and wear elbow-pads.
Will you be out shopping this Thanksgiving?
1