Let's say, just for argument's sake, that you think the world would be a better place if the collective "we" used less coal, oil, natural gas, nuclear energy and other heat-generating resources.
Or, maybe you don't give a rip about the environment but you sure like saving money.
Perhaps you just need a reliable DIY way to heat your off-grid cabin?
Enter the Rocket Mass Heater, a "hyper-efficient wood-burning stove" (Wikipedia) and the preferred home heating solution for hip enviro-survivalist-DIY-off-grid-natural-building types since 1970.
I'm no expert, but as far as I can tell, a Rocket Stove is a way to build a massive jet-engine-type-burner (think "turkey fryer BTUs from something that looks like a coffee can") that runs on twigs and kindling. These have the advantage of being DIY-able for nearly free if you have the right random collection of stuff hanging around.
A Rocket Mass Heater is basically one of those jet-engine-type-burners and a special exhaust tube built into a big mass of masonry-type stuff that radiates heat out into your home. (For goodness sake, don't use my description to build one – you'll blow something up – go get a proper plan.)
The result of mixing a jet engine that runs on twigs with a lot of masonry bricks?
Well, according to Richsoil.com, Rocket Mass Heaters have some serious advantages over conventional home heating methods:
Heat your home with 80% to 90% less wood
Exhaust is nearly pure steam and CO2 (a little smoke at the beginning)
Radiant heat from one fire can last for days
Build one in a day and half
Buildable for less than $20
I only partially grok the fire science behind Rocket Mass Heaters, but this photo helps to make it more clear: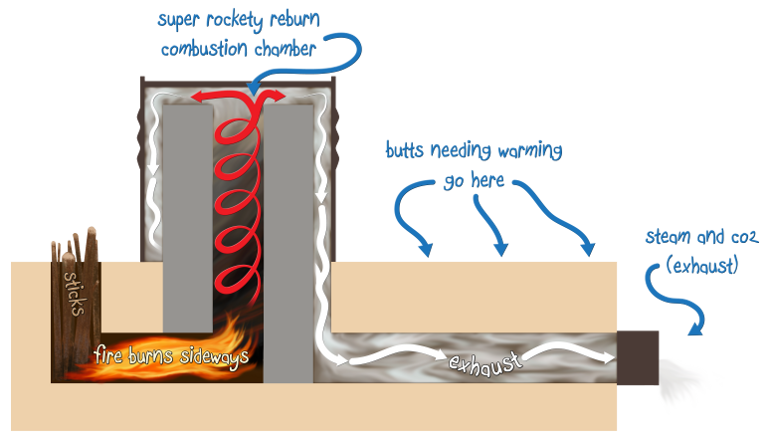 Image:Richsoil.com
What makes a Rocket Mass Heater unique is the extremely well insulated chimney that gets so hot it burns off smoke and particulate and creates a strong air-flow current that results in a super-clean, nearly smoke-free burn using minimal wood.
The "Mass" in a rocket mass heater is important too – the super hot combustion chamber and the exhaust channel radiate their heat out through rocks, fire-bricks, fire-cob and the other high mass stuff that surrounds them and this radiant heat means that a small RMH fire can warm a home for days. This mass means that Rocket Mass Heaters tend to have a particular look – kinda like if a clay pizza oven and a window seat had a baby.
Which can be far more attractive than it sounds, actually. Like this:
Image: Ernie Wisner, Rocket Mass Heater super-expert
Or this: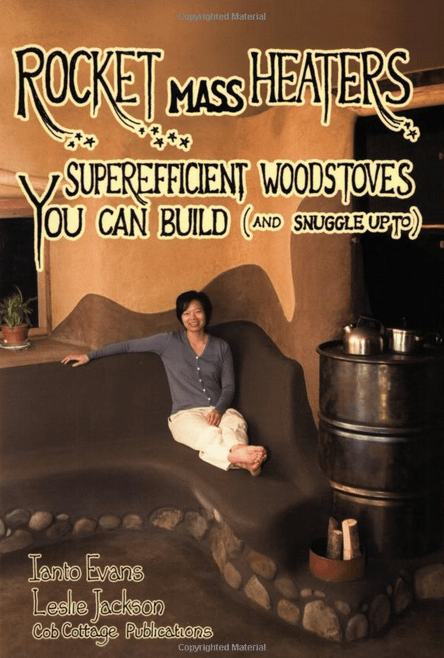 Image: Cob Cottage Publications via Amazon.com
If you are as intrigued as I was when I started learning about Rocket Mass Heaters, you can find a ton more info at the Permies.com Forum dedicated to wood burning stoves. I also like this video for a good overview on how these heaters are put together.
And if you think this crazy brick-and-twig off-grid heating system might be for you, you may want to get in on an active Kickstarter Campaign started by Paul Wheaton of Permies.com. He's making a 4-Set DVD series on how to build Rocket Mass Heaters (and other related stuff) without blowing up your house or melting your face off. The trailer for the Kickstarter is worth a watch below if this technology interests you.
If you could learn to build one safely, would you go off-grid for your home heat with a Rocket Mass Heater?
60