I did some entertaining last weekend which necessitated purchasing two dozen eggs. I had a few eggs left over, which allowed me to perform a side-by-side comparison of good quality store bought eggs with my backyard hen's eggs.
Left: store bought eggs. Right: backyard eggs.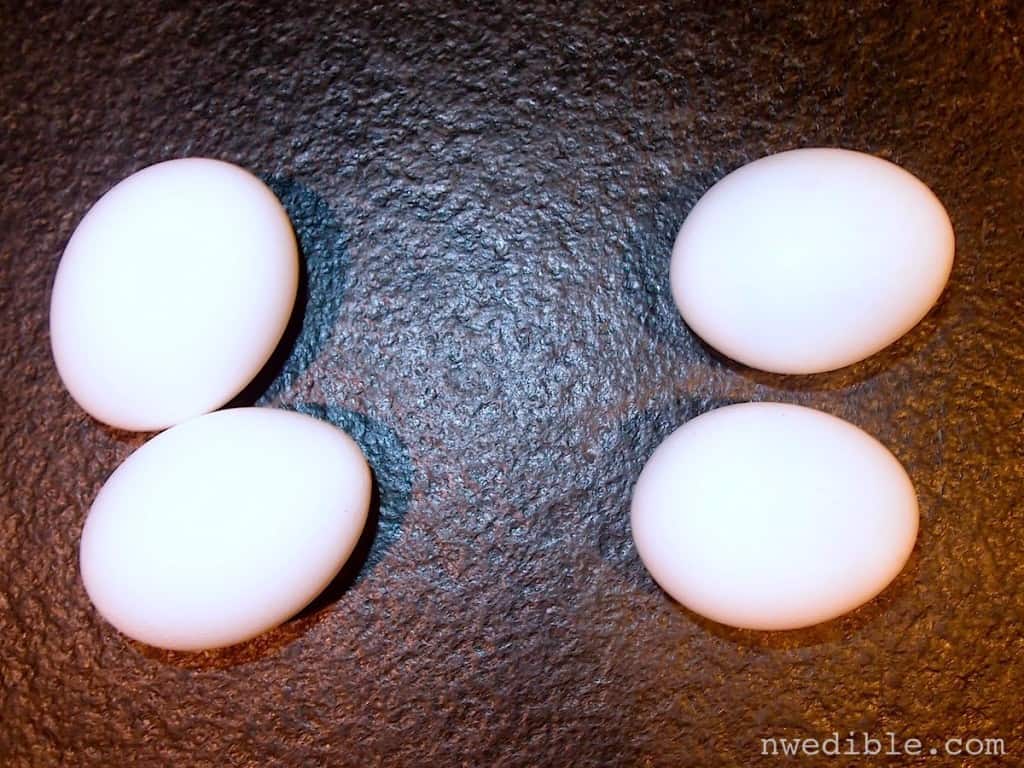 The backyard eggs come in various other shades as well.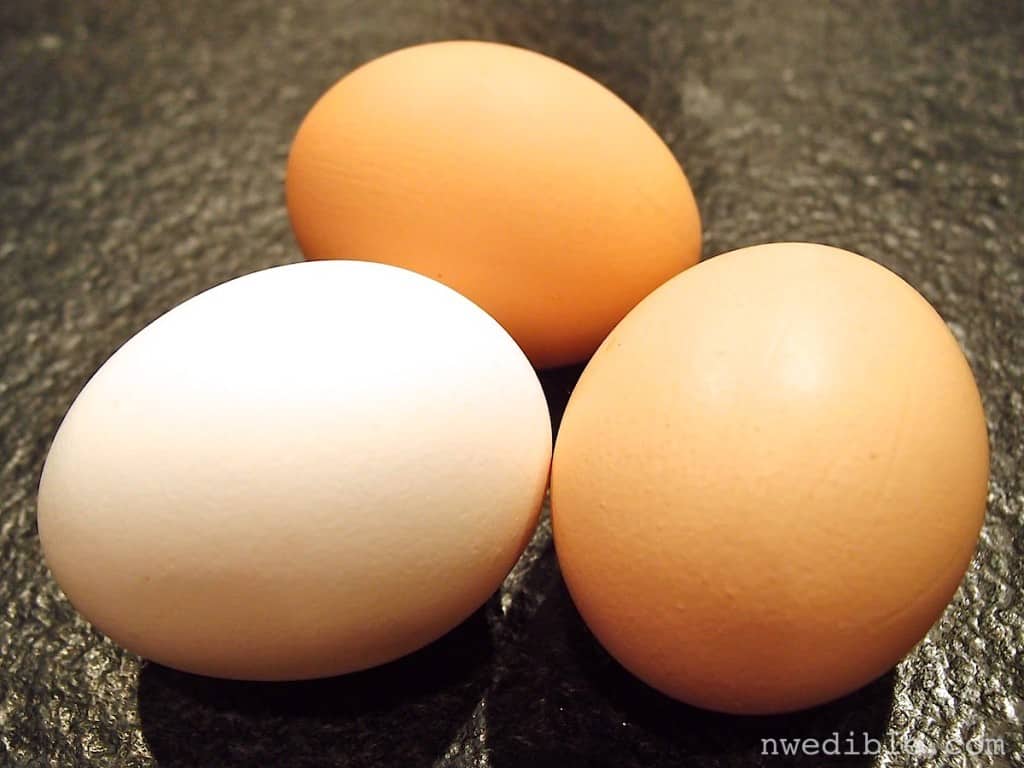 The store bought egg shells (background) were easier to crack. They shattered more cleanly, and the shell seemed thinner. The backyard eggs (foreground) tended to have a greater elasticity in their shatter. I believe this is because the bloom is intact on the backyard eggs but is washed off of all storebought eggs.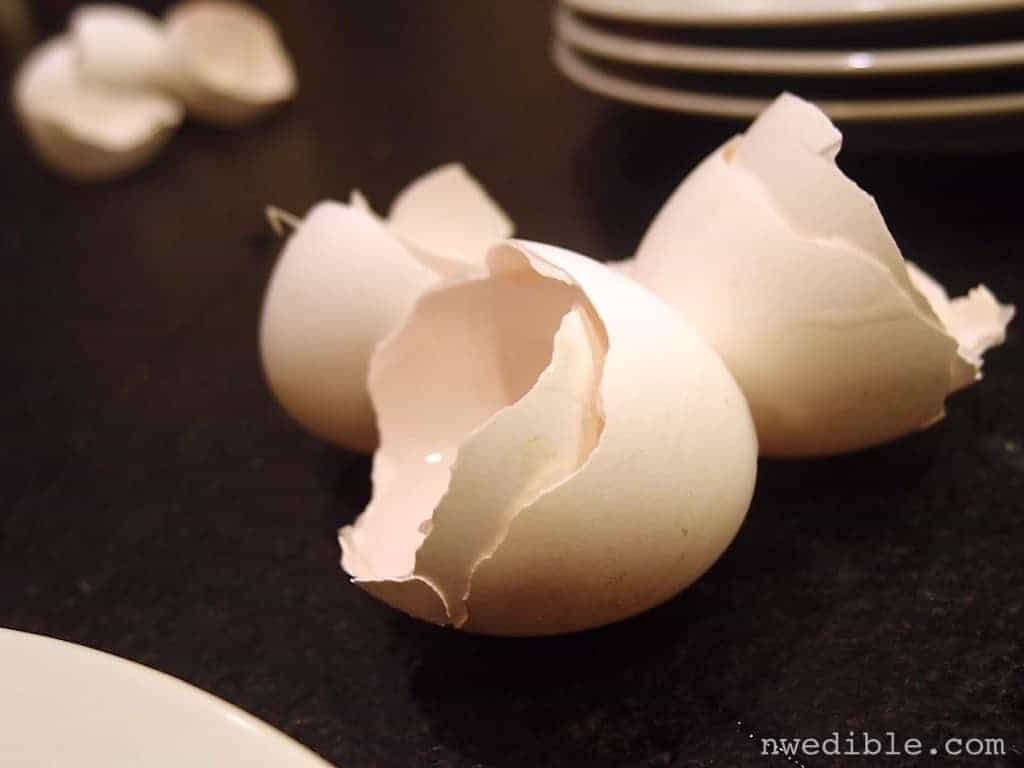 Left: Store bought. Right: Backyard. Under my less than ideal lighting, it is hard to detect huge differences. The backyard eggs seem slightly brighter and more golden, and "stand up" better than the store bought. I believe the color difference would be more dramatic in the summer, when the chickens eat a larger proportion of forage and vegetable scraps.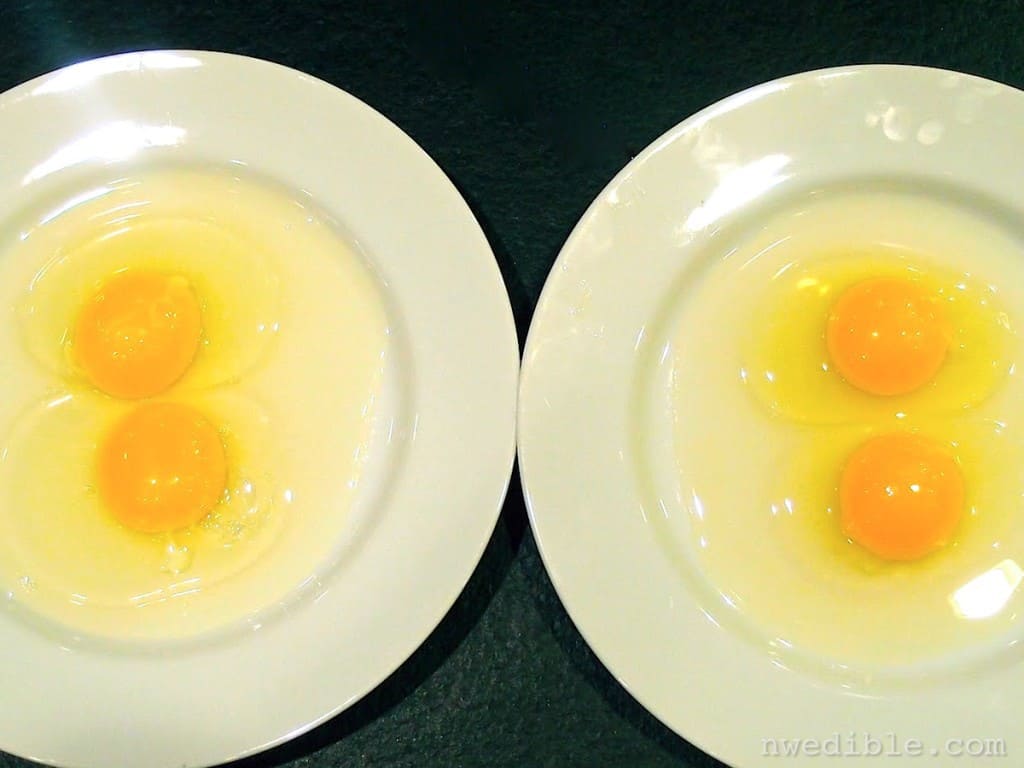 The color difference is much more apparent once the eggs are in the pan, next to each other and under the halogen task lighting above my stove. Store bought eggs (background) are much paler than backyard eggs (foreground).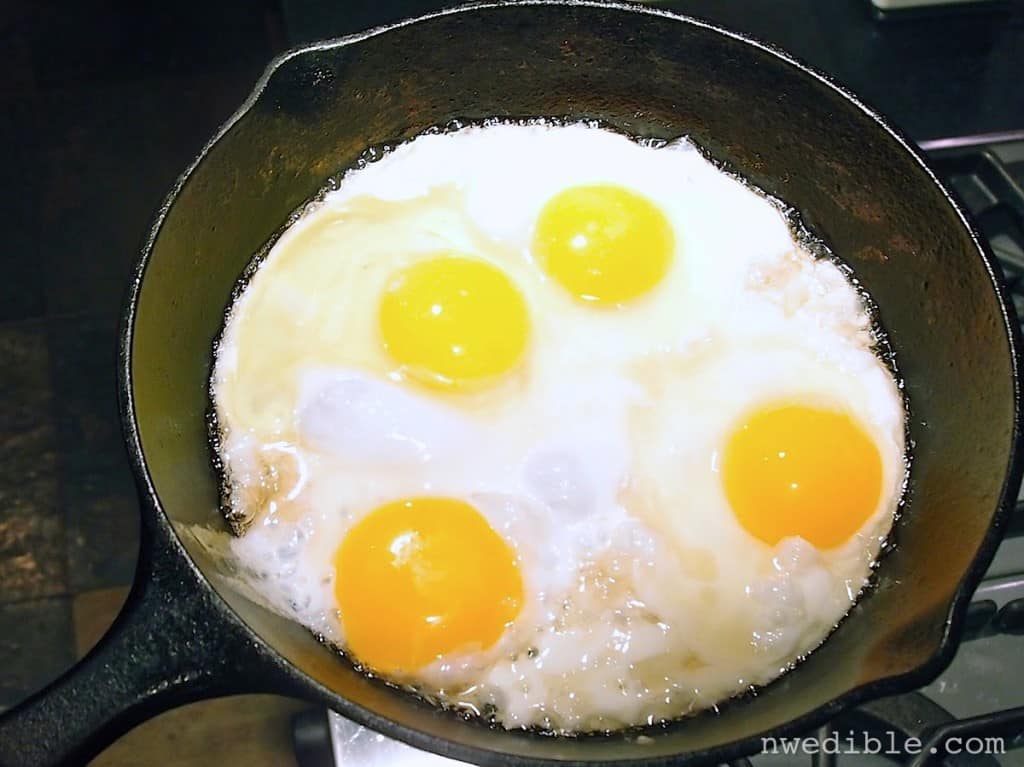 Sliding the yokes adjacent to each other makes the color difference even more apparent. Backyard egg is on the left, store bought is on the right.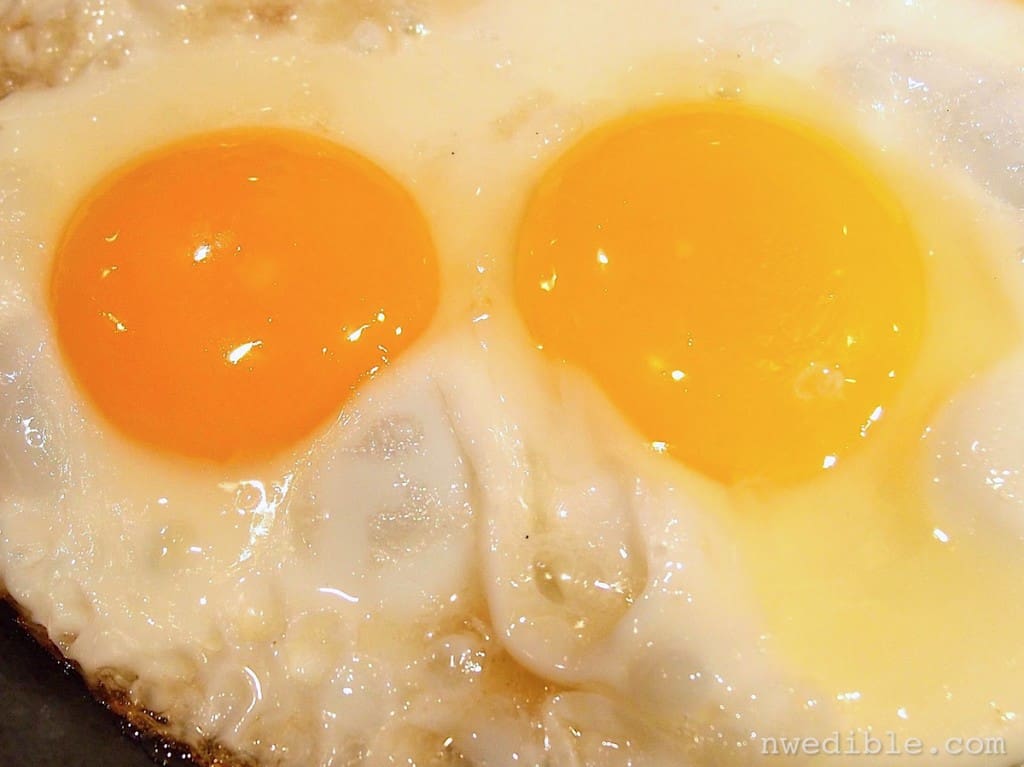 When cooked to over-medium, the store bought egg (left) spreads out much more than the backyard egg (right).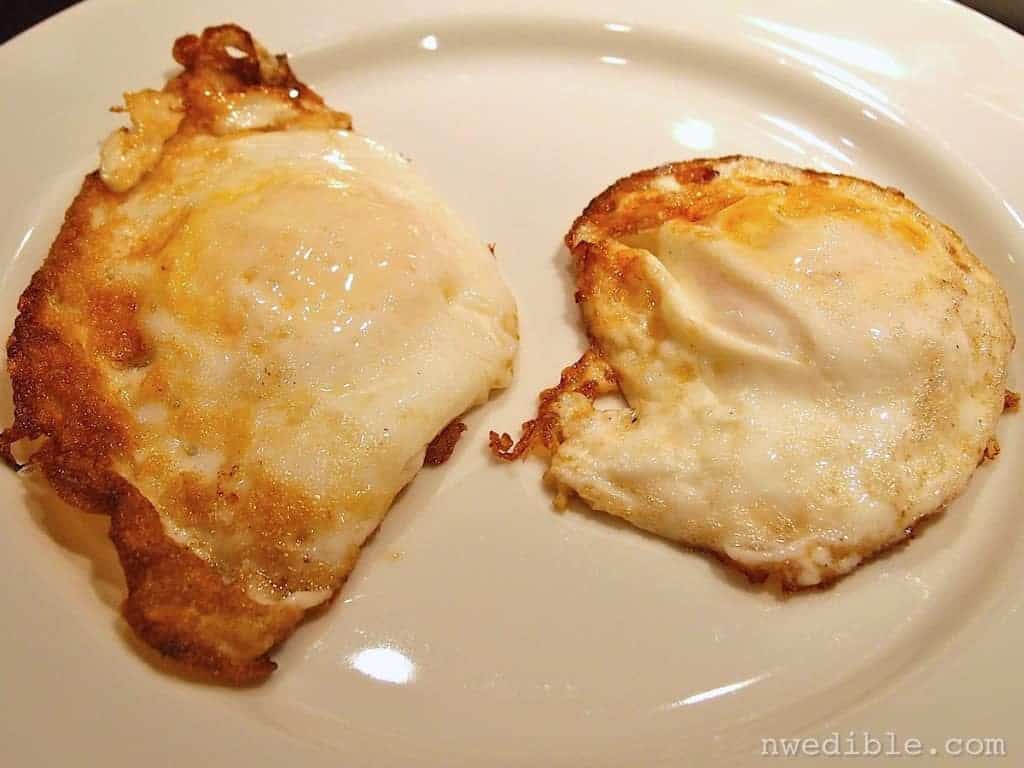 The store bought egg (left) has a yolk that collapses when cut.The yolk texture is simultaneously a bit chalky and sticky. The backyard egg (right) has a yolk that holds its shape very well. It remains much more creamy. Kid and adult taste testers who did not know which egg they were eating preferred the flavor of the backyard egg. The kid described the yolk of the backyard egg as, "gooier" which, coming from her, is definitely praise.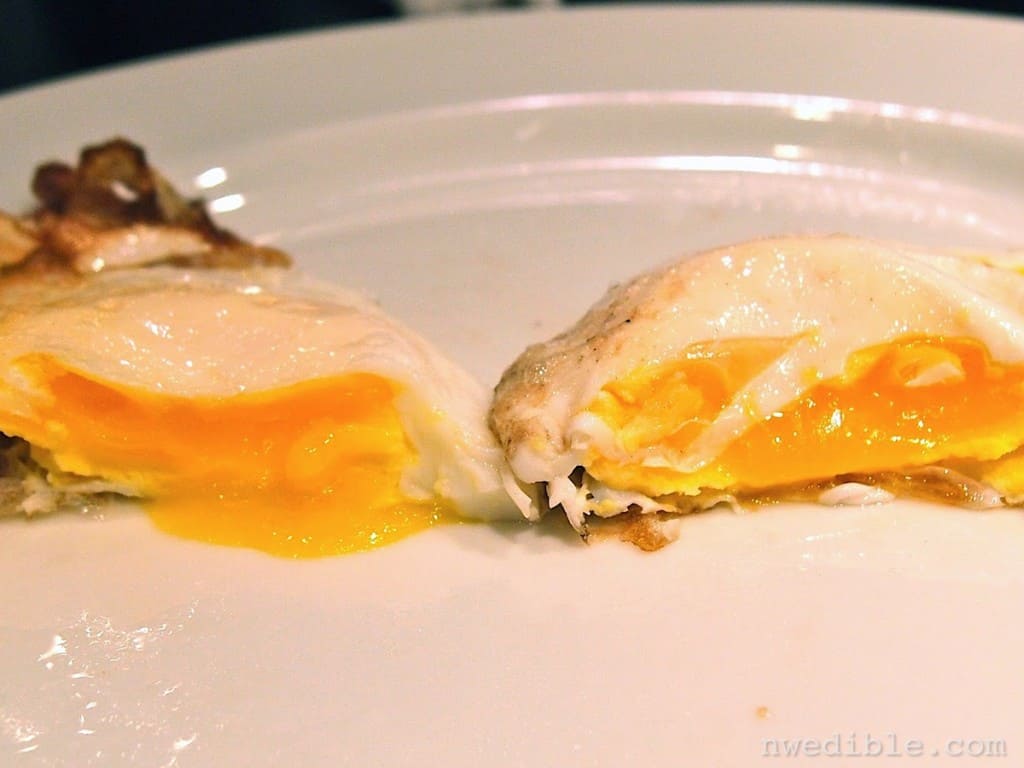 This was an interesting comparison. The store bought eggs were fresh and of excellent quality, from a local medium-scale producer that does a consistently great job delivering humane eggs at a good price point. I would happily buy and eat these eggs if I did not keep chickens.
In contrast, the backyard eggs are currently not at their best, since the chickens are foraging less over the winter and are more reliant on commercial feed. Despite this seasonal handicap to the backyard eggs, they were still the clear winner in color, texture and taste.
Are backyard chickens in your future?
16