I have been in such a great mood this past week. I don't know if it's that we had those stretch of bright sunny days and I finally feel like my garden is somewhat back under control, or that school is nearly over, or what, but it's been a great week!
This week's randomness: how to justify chocolate chips for breakfast, a new favorite watering tool for the garden, the most adorable house-swap you'll ever see, my everyday beverage carry, and why no one goes out for lunch anymore.
What I'm Eating: Chocolate Chip Yogurt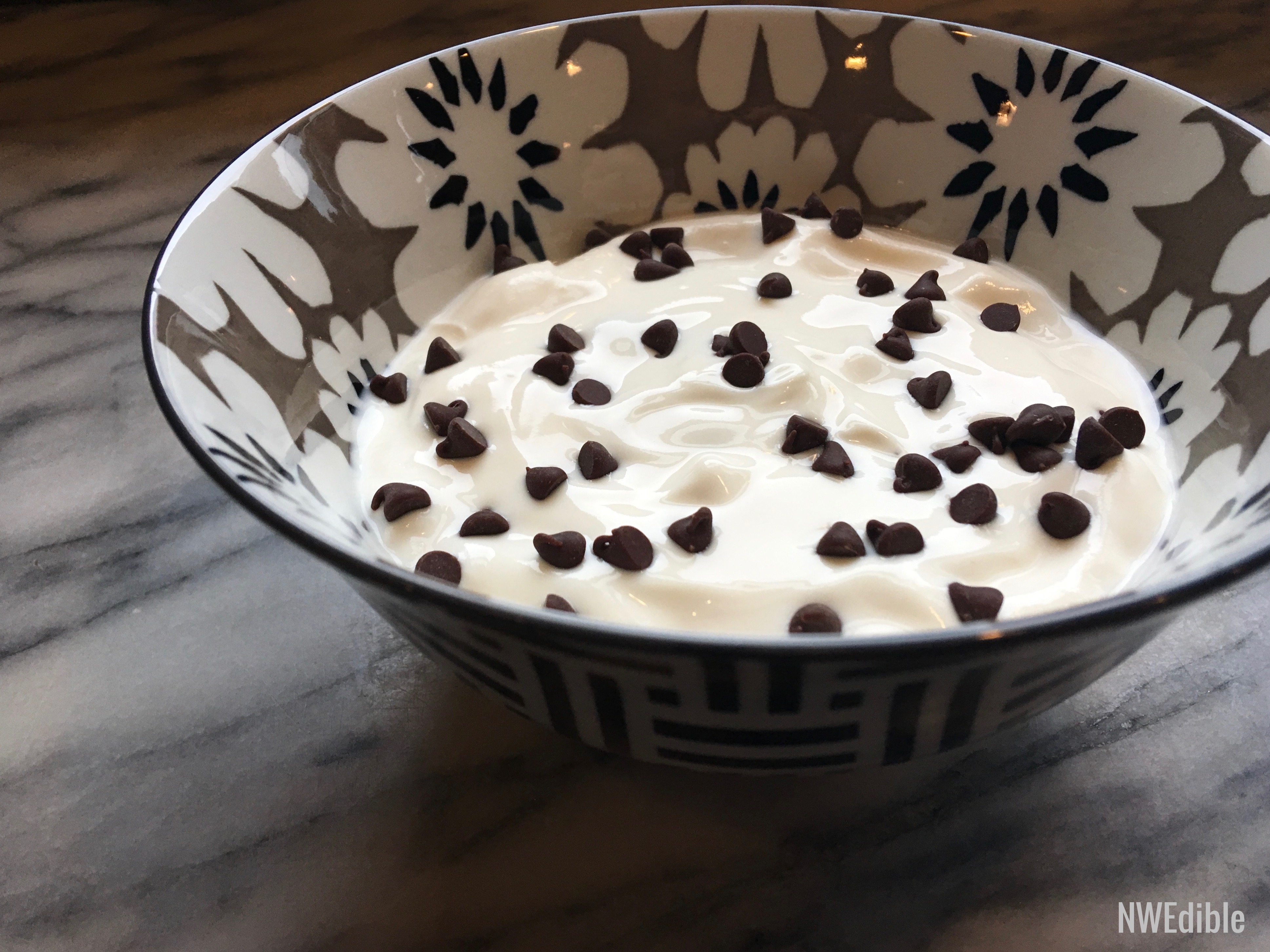 Ok, this is what you do. Take out a pint jar of homemade unsweetened yogurt. Scoop half of it into a bowl. Toss some chocolate chips in there. If you have mini chocolate chips that's even better.
The yogurt is tart, but then you get these little bursts of chocolate-sweetness when you hit a chip. Perfection.
The next day: take out the now half-full pint jar of yogurt and toss your chocolate chips right in the jar. No need to make a bowl dirty.
Now you've got an excuse to eat chocolate chips in the morning for the probiotic. You're welcome.
2. Gardening Tool I'm Loving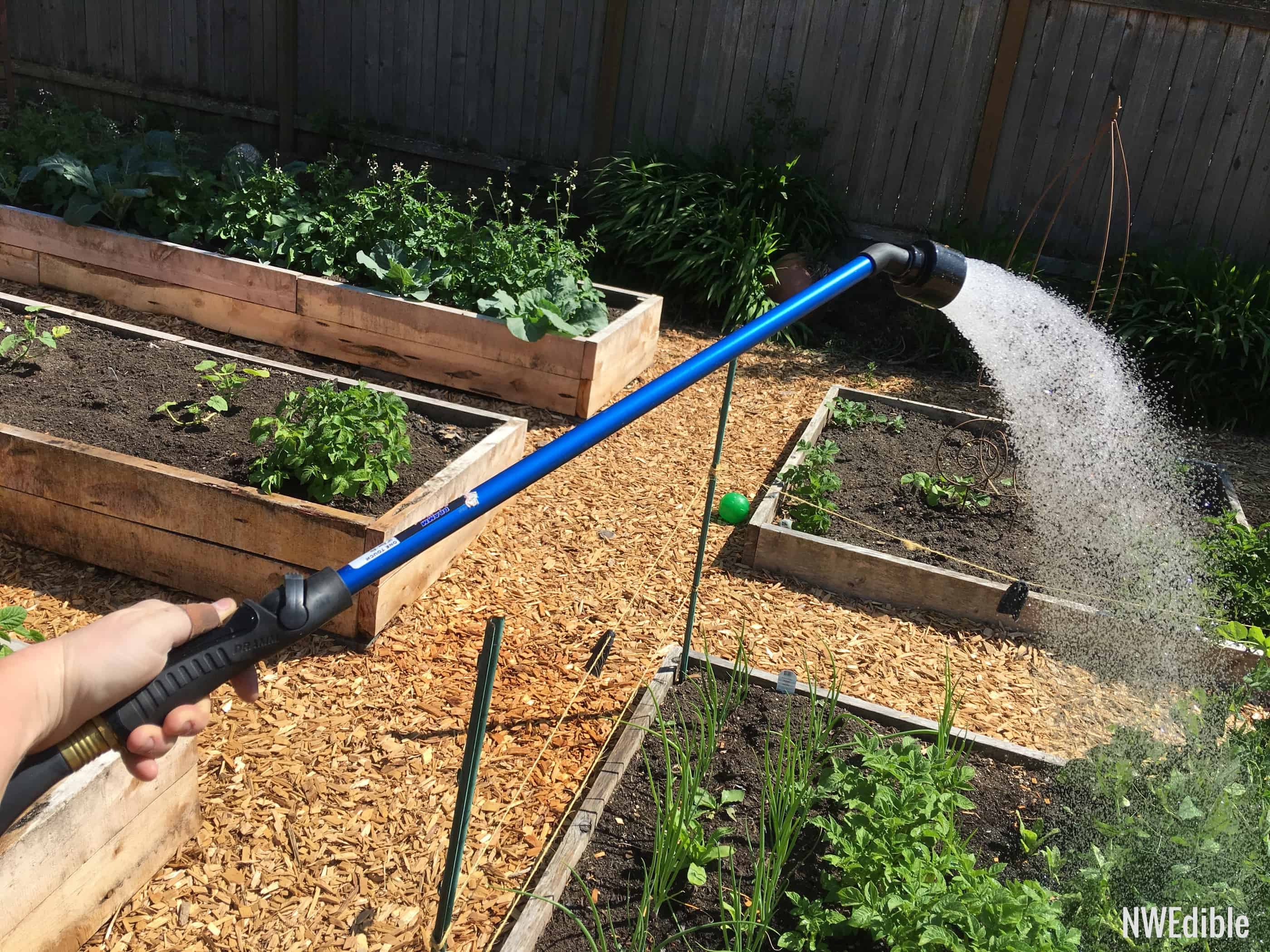 I helped my neighbor water her garden the other day (that's her fresh and tidy garden in the photo, not mine), and got to try out her sweet watering wand. It was love at first sproodle! (I think I made that word up, and now it sounds dirty.)
It's a Dramm 30-inch Rain Wand, and it was just a dream to use – smooth on/off action, fine, dispersed water pattern, and great reach. I liked it so much I ordered one for myself, for spot watering and keeping stuff in pots alive over the summer. It should be here soon! I'm very excited.
What I'm Watching: Amazing Hermit Crabs
No words will do this 5-minute long nature video justice. Just trust me – it has David Attenborough and hermit crabs playing Extreme Flip This House. Watch and be amazed.
What I'm Packing: Everyday Beverage Carry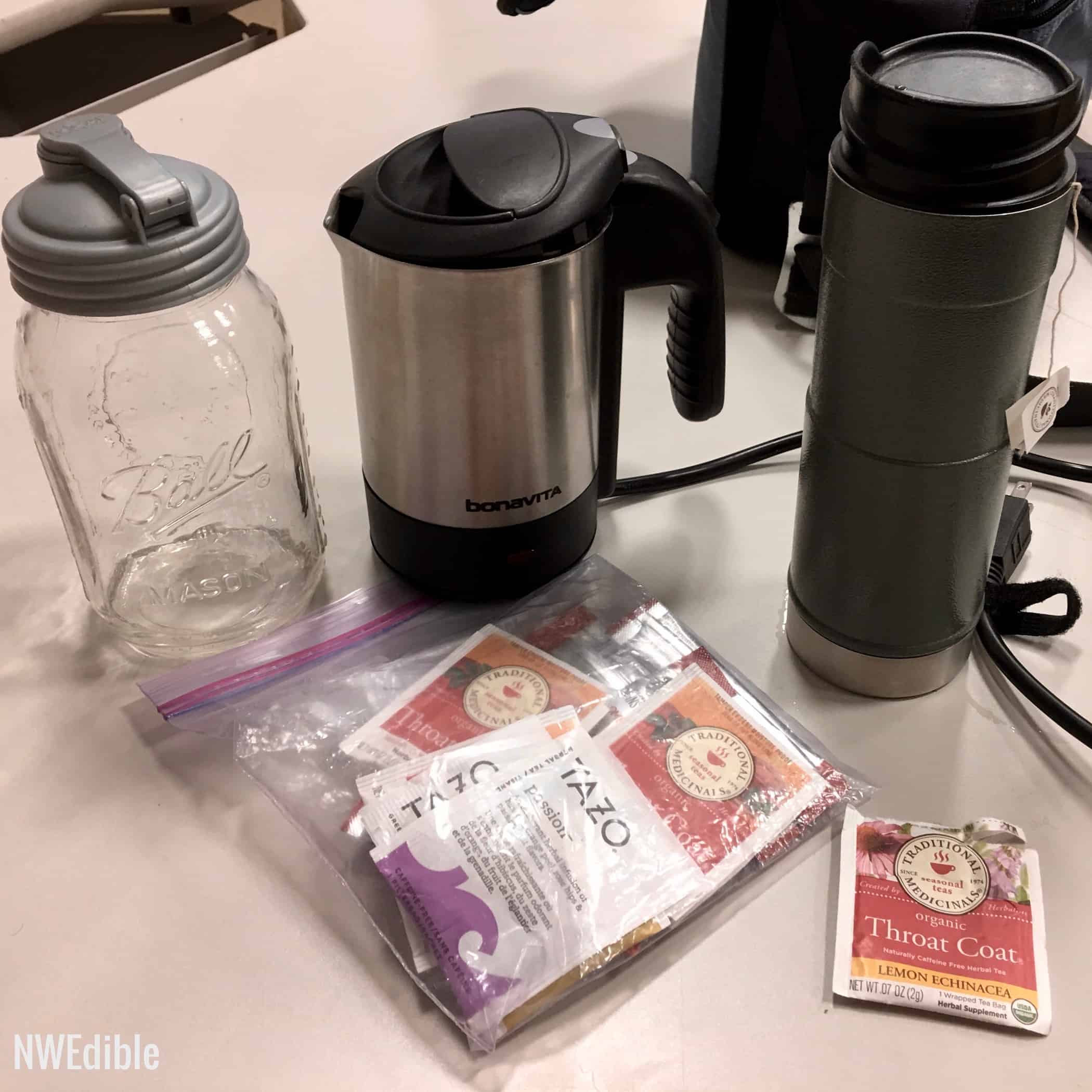 This is how I roll when it's gonna be a long, thirsty day out of the house. All this fits easily in my backpack (it's a big backpack) with plenty of room left over for my laptop, various power cords, kids school books, pencils, wet wipes, and assorted other essential and educational things.
Left to right in the back:
Quart-sized mason jar topped with a reCAP flip lid. That's my water bottle. Goes everywhere with me.
Bonavita mini electric kettle. I looked everywhere for an electric kettle that was small enough to be genuinely portable. I tried an immersion water boiler first, but didn't like it at all. It seemed like a child-scalding just waiting to happen. But I love this little kettle. You can see from the picture it's about the size of a quart jar.
Stanley thermal coffee mug. I got this last year for camping with an REI dividend and immediately made it my everyday to-go coffee mug. Excellent quality (I've dropped it multiple times and it's still perfectly leak proof), easy to drink from one-handed, and it keeps my coffee warm for several hours.
And in front, assorted tea and instant coffee. I love Throat Coat and just about everything from Traditional Medicinals. Instant coffee is bullshit, but I pack Starbucks Via which is slightly less bullshit than most, better than stale percolator coffee, and comes in very convenient single-serving tubes.
When it's time for a tea or a coffee and I'm at the kid's school, or off somewhere on an outing, I hit up the water fountain to fill my thermal mug with water. Then I pour the water into my mini kettle, plug-in the kettle, wait about 3 minutes, and pour the steaming hot water from the kettle back into the thermal mug. I do it this way so I never heat up more water than my mug will hold.
Then, I just drop in a tea bag or a packet of the instant coffee, depending on my mood, seal up my thermal mug, and I've got a nice hot beverage for the next couple hours, when I'll probably repeat the whole process. Cheaper, quicker and easier than finding a café.
What I'm Pondering: The High Cost Of Restaurant Food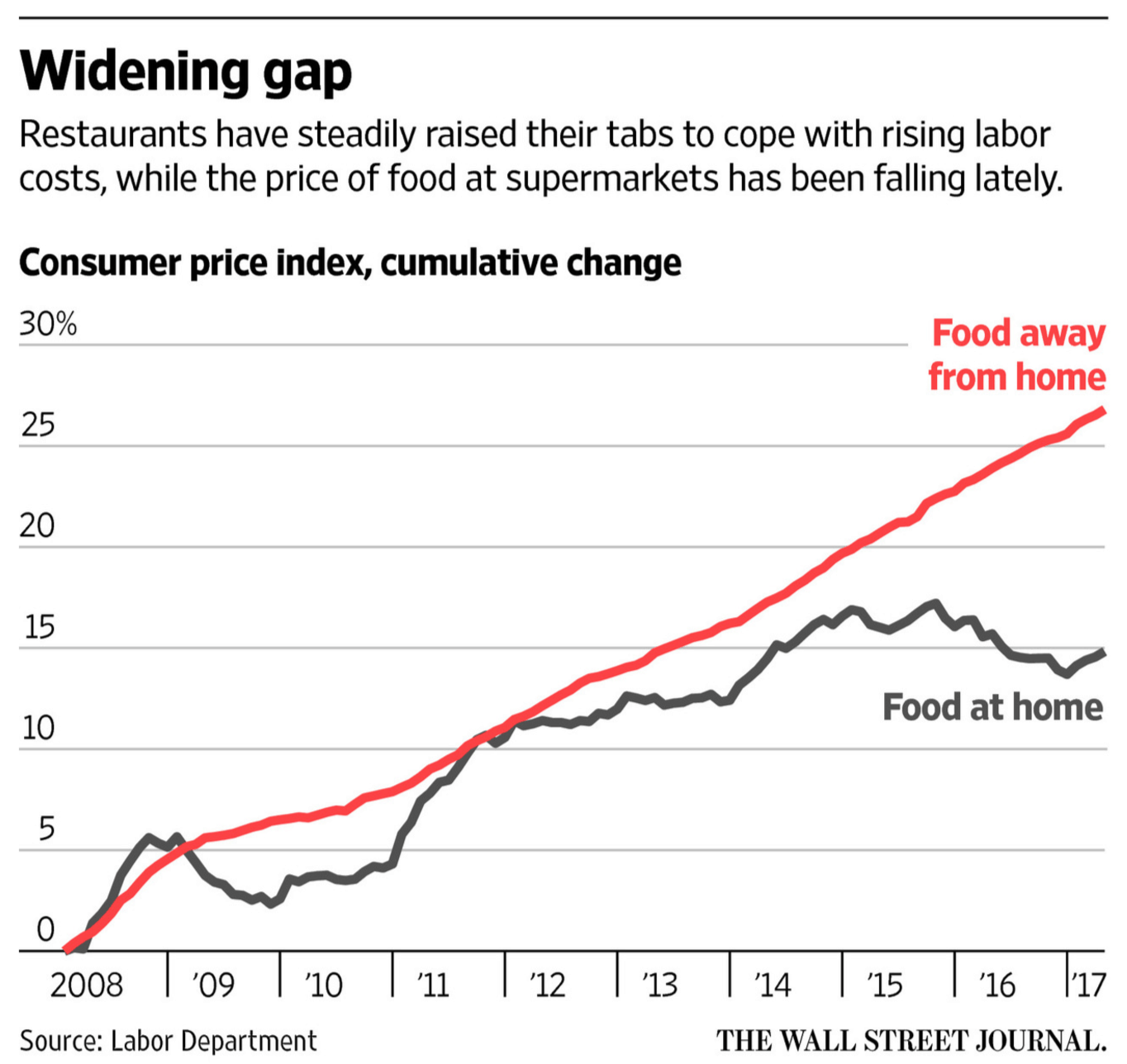 I read an article in the Wall Street Journal the other day (it's behind a pay wall, but if you are a subscriber or have google-fu you should be able to read it) called Going Out for Lunch Is a Dying Tradition.
Here's the take-away. (Hah! Get it? Take-away. Lunch pun.)
In even high-powered, corporate settings, people are rejecting lunch out in favor of brown bagging it or getting food delivered into the office. A couple things are at work.
Check the chart above. The cost of dining out has risen dramatically in the last several years, while the cost of ingredients from the store has been stagnant or even dropped, depending on what's in your shopping cart. The financial spread between dining out and brown bagging lunch is very noticeable right now.
Culturally, we have all decided we are far too busy to sit down for a midday meal. This is true even for highly paid "power lunch" types who aren't as price sensitive as the average worker. The article mentions "lunch and learn" sessions – because there's no time to just lunch, you know.
A lot more people are telecommuting. Homebrew Husband is one of these corporate, knowledge-worker types. He works from home about 80% of the time. No need to go out for lunch when your full home kitchen is right down the hall.
Have you changed your dining out habits for lunch – or any other meal – because of the increasing cost of restaurant food?
• • •
Ok, friends, that's it for this week's Five Things Friday. Hope your weekend is fab!
0