Some time back I got a question from Cindy, who asked:
What five cleaning and hygiene supplies would you stockpile in bulk for a long-term deflationary period when you might lose your job? How would you clean, sanitize and prevent disease in a situation where disruptions can happen and money gets so tight it cries? What might you acquire in bulk, to carry you through animal husbandry, dirty laundry, butchering, etc., when you live way off the beaten path?
I love this question! Good home and personal hygiene is related to overall health and comfort. The tougher times get, the more important it is to maintain your home and health proactively, because money for repair, replacement or even doctors bills might be hard to find.
I buy and stock many home and personal care ingredients in large quantities for a few reasons.
If you DIY most of your home cleaners, it's far more cost-effective to buy the classics like baking soda and vinegar in bulk.
With a few exceptions like oils and bleach, the items that are used for home and personal care have a very long natural shelf life and are not overly picky about the conditions in which they are stored.
A nice stock of key home care ingredients means you're never "out" of a product, and it's simple to customize a cleaner that can tackle nearly any home cleaning or sanitizing job.
For the situation Cindy described, if I had to pick my top five cleaners to store in bulk, this would be my list:
1. Clean, Potable Water
For home and personal sanitation, the most important thing is clean, potable water. This might not be what you expect, but all the soaps and sanitizer in the world aren't of much long-term use if you don't have fresh, pure water.
Figure out at least a few different ways to keep the water flowing to your homestead no matter what happens. It's great to store water, and I do, but the minimum recommended water storage for short term emergencies is 1 gallon per person, per day. Unless you have huge cisterns, it's very difficult to store enough water for more than an short-term stopgap.
Long-term, it takes a lot of water to keep a homestead and the people on it clean and healthy. Figure out a way – or several! – to get and filter enough water for your family's drinking, bathing, cooking, cleaning, gardening and butchering needs. Look to various natural sources of fresh water in your area – lakes, streams, rivers, etc. – along with rain capture and ground-water options.
Investigate filtration and purification methods that make sense for your location and financial situation.
Some options might be:
I own 3 of the 4 above, and the 4th is on my wish list. Whatever filtration and purification methods you chose, practice using them now – while camping, or just during a dry-run on your homestead – before you need them in an emergency.
2. Chlorine Bleach
I have some mixed feelings about chlorine bleach. We're talking about plain old Clorox, here – sodium hypochlorite. It's powerful and corrosive stuff and it's not good for you, but it's also probably the best value broad-spectrum disinfectant in the entire world.
I think some of the problems with bleach stem from the fact that it's used thoughtlessly because it's so common. Use bleach at too high a concentration or get sloppy with it, and you can damage surfaces and fabrics in your home, give yourself a chemical burn, or inhale some very nasty fumes. And of course, chlorine bleach should never be mixed with other cleaners, particularly ammonia, because highly toxic fumes can form. So be smart and use bleach with appropriate care and at appropriate dilution.
(Get my nerdy technical bleach dilution chart here, and my easy visual bleach dilution chart here.)
One concern for preppers is that, when you store bleach of typical concentrations (around 5% to 8%), the sodium hypochlorite degrades quite quickly into salt and water. This breakdown will happen whether you open a bottle or not. Storage temperatures over 70° will hasten the breakdown.
The people at the Clorox Company say you should get six months to a year of full potency for a bottle of their bleach, and the date of manufacture will be stamped on every bottle. This is a prep where it is important to date and rotate. Remember to FIFO – first in, first out – your product.
Bleach is quite cheap by the gallon and with proper dilution I'd guess an average, active homestead could make a single bottle last at least six months or so. So, for a small financial investment, bleach kills a lot of things you probably don't want on the surfaces of your home in a long emergency. Things like:
Mold and fungal spores
Bacteria like Listeria, Staphylococcus, Streptococcus, E. coli and salmonella
Viruses such as those that cause the flu and the common cold
At dilute concentrations, you can use bleach to safely disinfect your cutting boards, butchering tables and food prep areas. This, combined with good food handling practices dramatically reduces the risk of cross-contamination and foodborne illness. What this all means is you're less likely to get sick from something preventable, at a time when you probably can't afford to be sick.
Of course bleach is also great at lightening and getting stains out of white fabrics. In a situation like Cindy describes, stains are not my primary concern – sanitation is – but keeping clothes looking newer and fresher for longer could help save money in the long run.
3. Lye To Make Soap
You're gonna want soap, or lye to make soap, depending on your situation. Cindy said she would be butchering animals. If those animals are hogs or steer, Cindy will likely have a big abundance of lard or tallow. In this situation, it is extremely cost-effective to make basic bar soap for general purpose cleaning with just one basic stored prep – sodium hydroxide lye.
In soapmaking, lye reacts with fat in a fairly complicated chemical reaction called saponification and transforms oil, water and lye into this lovely, totally new thing that we call soap. Soap is pretty cool. It has an interesting chemical makeup that allows one end of the soap molecule to bond to oil while the other end bonds to water. Oil and water don't mix, but soap brings 'em together. This means that while water can't penetrate and dissolve a greasy stain, soapy water can.
Making your own cold processed soap is very simple, and the resultant bar can be used to clean everything from dishes to hair. You need fat, water, lye, and an accurate way to measure things very precisely.
In a homestead situation where hard fat like lard or tallow is available, all you'd need to have on hand to make tons of soap is a few bottles of pure, granular sodium hydroxide lye. This is typically sold as drain cleaner at hardware stores and is also available online, but as long as it's granular sodium hydroxide lye with nothing else added, it's the right stuff. A bottle is not very expensive, and as long as you keep your lye perfectly dry (and it's important that you do!), it will last for years.
When it comes to safety, you don't want to mess around with sodium hydroxide lye. It's highly caustic and can really hurt you if you get it on your skin or in your eyes. (Remember Fight Club? Yeah, don't do that.) Always follow safety precautions. Wear gloves, goggles and long sleeves when making soap, and keep your kids and pets well away from the process. The last thing anyone wants is for their kid to reach up and knock a glass of lye-water onto their face and be permanently blinded. I'm not kidding about this – kids and pets out of the room, please.
With the caveat that you always have to respect the power of lye and use caution, soapmaking itself is not difficult. Once you've done it a few times you'll be very comfortable with the process. If you haven't made soap before, I would recommend you make it now, so that if times do get difficult you're already familiar with the skill.
If you want to do a practice run, you can use supermarket lard (often sold under it's Spanish name, manteca) and do a test batch of soap. I cover beginning cold process soapmaking basics in my book The Hands-On Home, and there are some great videos on YouTube so you can get a feel for the process.
In soapmaking, put the science before the art. You must get the ratio of lye to fat correct in order to make a safe, fully saponified soap. If your ratios are off, there might be leftover, un-converted lye in the finished soap. No good! Because these ratios are really important, I never make a batch of soap without running my soap formula through an online soap calculator first.
Once you find a recipe you really like, keep a printed-out hard copy of the formula for future use.
Soapmaking is also a nice skill for bartering. If folks know that you're making a great all-purpose, natural bar soap, you might be able to trade for little luxuries that you can't produce for yourself.
Less cost-effective than lye if you have access to animal fats, but perfectly effective from a cleaning standpoint, would simply be to stockpile a commercial liquid or bar detergent on hand. If this is a goal, couponing is probably your best bet to save money while building up your supply.
4. White Vinegar
This is a homestead essential for so many reasons. We use it in cooking, for pickling and other food preservation, as an early-season weedkiller, and for both home and body care.
Commercially made vinegar is typically a 5% solution of acetic acid. It's this reliable, standardized acidity that makes vinegar so useful both in canning and as an acidic cleaner. Acidic cleaners like white vinegar are excellent at cleaning alkaline soils – think hard water buildup, soap scum, and mineral deposits.
Because you're most likely to see mineral buildup in the bathroom, white vinegar really shines as a bathroom cleaner. Diluted vinegar is also a great natural hair conditioner and skin toner. The acid helps to smooth and shine hair and return skin to a healthy, slightly acidic pH.
Standard, 5% acetic acid vinegar is quite safe to use with reasonable care. Dilution rates vary based on the cleaning job.
Undiluted vinegar can be used to soak off tough mineral deposits in the bathroom or clean coffee pots of buildup.
1 cup vinegar and 3 cups water makes a spray that will clean, de-scum, and shine stainless, enamel, tile, and other hard surfaces.
1/4 cup vinegar added to a quart (4 cups) of water makes a mild acidic cleaner gentle enough to use when damp-dusting wooden floors or furniture.
Caution: if you use natural soap (as opposed to a commercial detergent) be very careful about mixing soap and vinegar. People tend to think that mixing everything together will make a DIY cleaner more effective but it doesn't work like that.
Alkaline soap and acidic vinegar actually tend to make each other less effective because they want to neutralize each other from a pH perspective. Even worse, if you are using a natural liquid soap like Dr. Bronner's or your own homemade liquid soap, if you add enough acid, you can actually break the saponification of the soap. Your soap will turn into a greasy mess that looks like curdled cream because that saponification process has actually been undermined by the acid.
5. Washing Soda
Last but not least on my list is washing soda. I'm talking about washing soda, not baking soda. Baking soda is also great and I have bags and bags of it in my garage, but considering Cindy's scenario, I wanted to highlight a more powerful alkaline cleaner.
Washing soda is sodium carbonate – it's also called soda ash. It's a strongly alkaline cleaner and a superb water softener. These characteristics make washing soda extremely good at boosting the effectiveness of soap and breaking down grease and oily grime. For this reason washing soda is a staple ingredient in most DIY laundry soaps.
Washing soda excels in the laundry room, but has a ton of uses around the home beyond the wash. I use it to clean my oven, stove, grill and vent hood when the grease builds up over time. If a casserole dish gets baked on power-grease, a washing soda soak cleans things right up without excessive scrubbing.
I refresh my patio in the late spring by scrubbing it down with a mix of soap and washing soda diluted in a bucket of hot water. A soap and washing soda solution is an excellent cleaner for greasy kitchen floors. Basically, adding washing soda turns basic soapy water into a heavy-duty grease and grime cutting power cleaner.
I've never personally done this, but apparently a bit of washing soda can be added to the scald water for chicken or duck plucking and the grease cutting aspects of the washing soda help that hot water better penetrate the feathers so that makes plucking a little bit easier.
If you want to store a lot of washing soda it's sold in bulk as a pH adjuster for pools and spas. If you have a pool supply company locally, ask for it by its chemical name, sodium carbonate. The price per pound when purchased this way is typically much better than via small packages.
Bonus Item! Vodka
Those are my top five home care items to hoard for potential tough times. Number six would've been vodka! Vodka is an excellent solvent and sanitizer, it's very useful in food preservation, it's extremely barter-able, and you can use it to clean your windows.
What cleaning items would you most want to have stocked up for a long term deflationary emergency?
This information was originally presented in audio format on The Survival Podcast as a Expert Council guest answer. It has been edited for clarity, readability, and accuracy in the written format. You can listen to the original audio here.
Pin Me, Share Me, Save Me For Later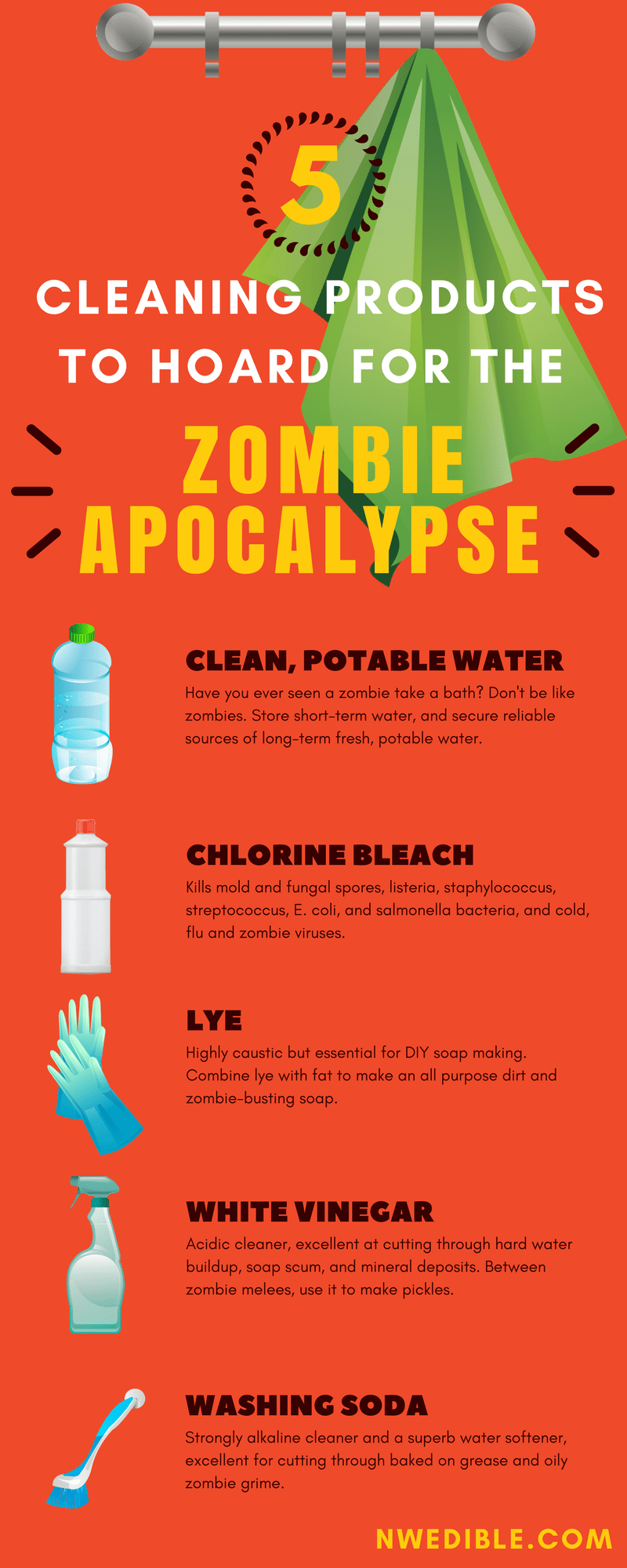 14