A tartine is an open faced sandwich. It's also an excuse to pile whatever happens to be in your harvesting basket right now onto a crunchy toasty piece of good bread and call it lunch or dinner.
There is really no limit to the tartine as a concept. From the avocado toast that is standing between you and your first home (eyeroll) to my mom's old fashioned tuna melts with cheddar – if it's delicious stuff on top of a single piece of bread, it counts.
In the summer I follow a little formula that allows me to convert fresh-picked veg into easy tartine meals.
The Tartine Formula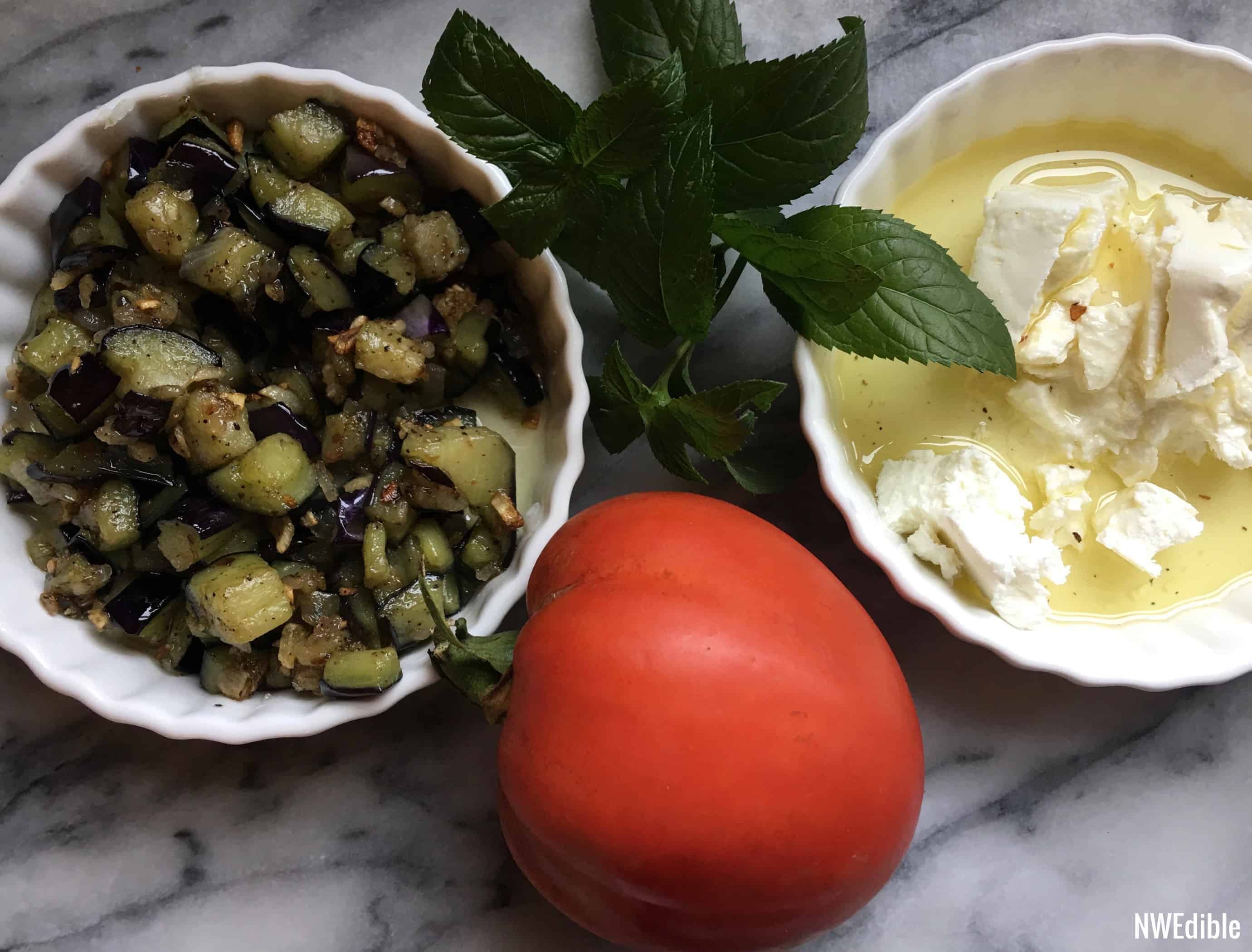 The following formula will never go wrong in building a good summer tartine.
Good bread +
Good spreadable cheese +
Cooked firm vegetable topping and/or fresh sliced ripe tomato +
Fresh herbs =
Delicious tartine
Can you deviate from this formula? Absolutely, it's a sandwich, not bomb disposal. But try it this way once; it's easy and I bet you'll like it.
Tartine Basics
1. Bread: The Foundation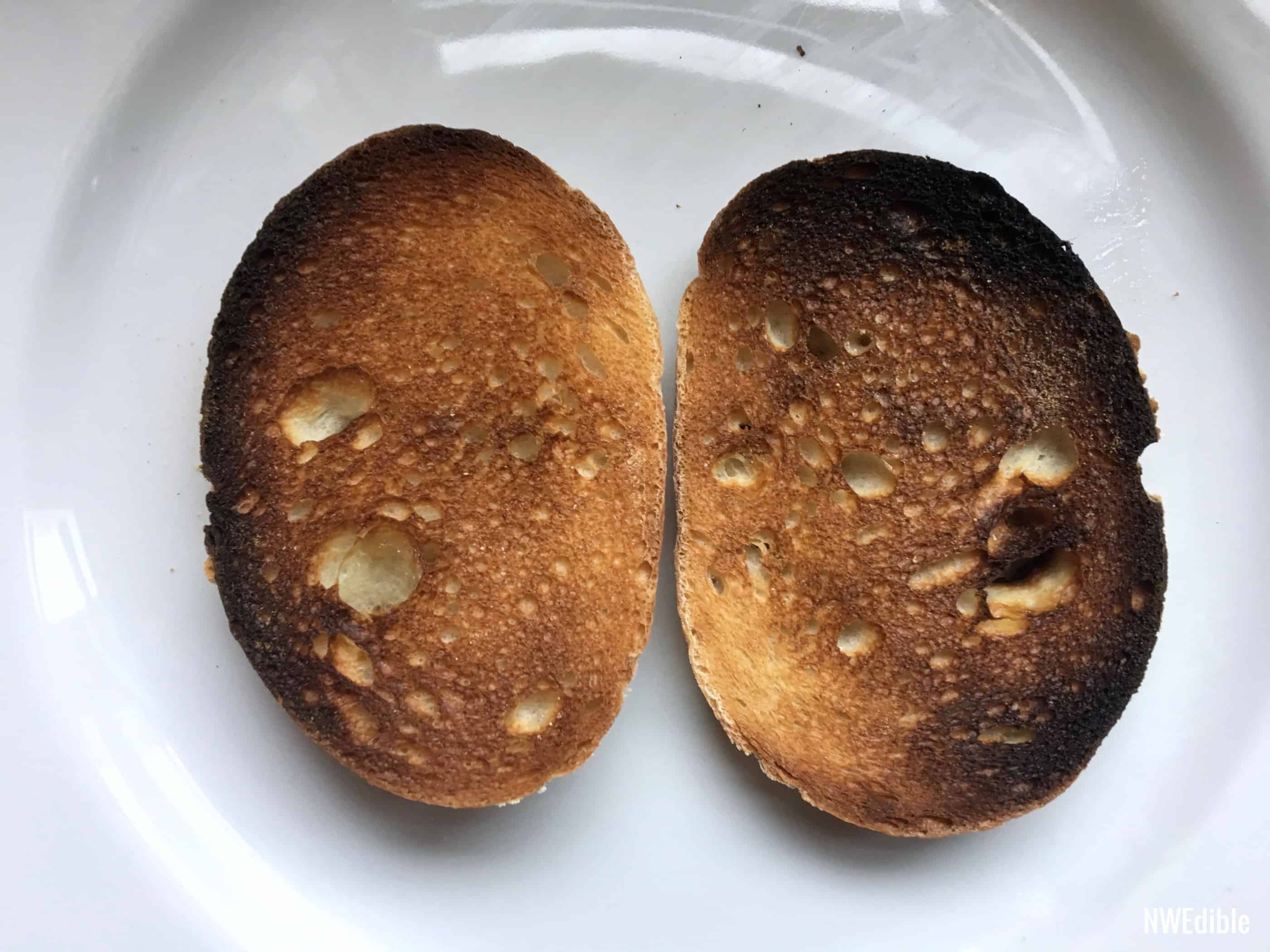 You want the right bread. Rustic, chewy, flavorful and with a good crust is important, but you still a fairly dense, uniform crumb. The giant air bubble pockets you find in some delicious rustic breads are inconvenient for tartine making because all the toppings fall through those holes!
Make your slices about 1/2 inch thick. Anything too thin won't be able to hold all the deliciousness you're going to pile on. Anything too thick becomes slab-like and impossible to shove cleanly in yer gob. (Use a knife and fork? What are you, civilized?!)
Finally you want to toast your bread slices pretty aggressively. Well toasted bread holds up longer to juicy toppings before collapsing into free form panzanella. Final tip: let your toasted bread cool before applying the toppings. This lets the toasted crust firm up and seems to keep the tartine bread crisp longer.
2. Vegetables Front and Center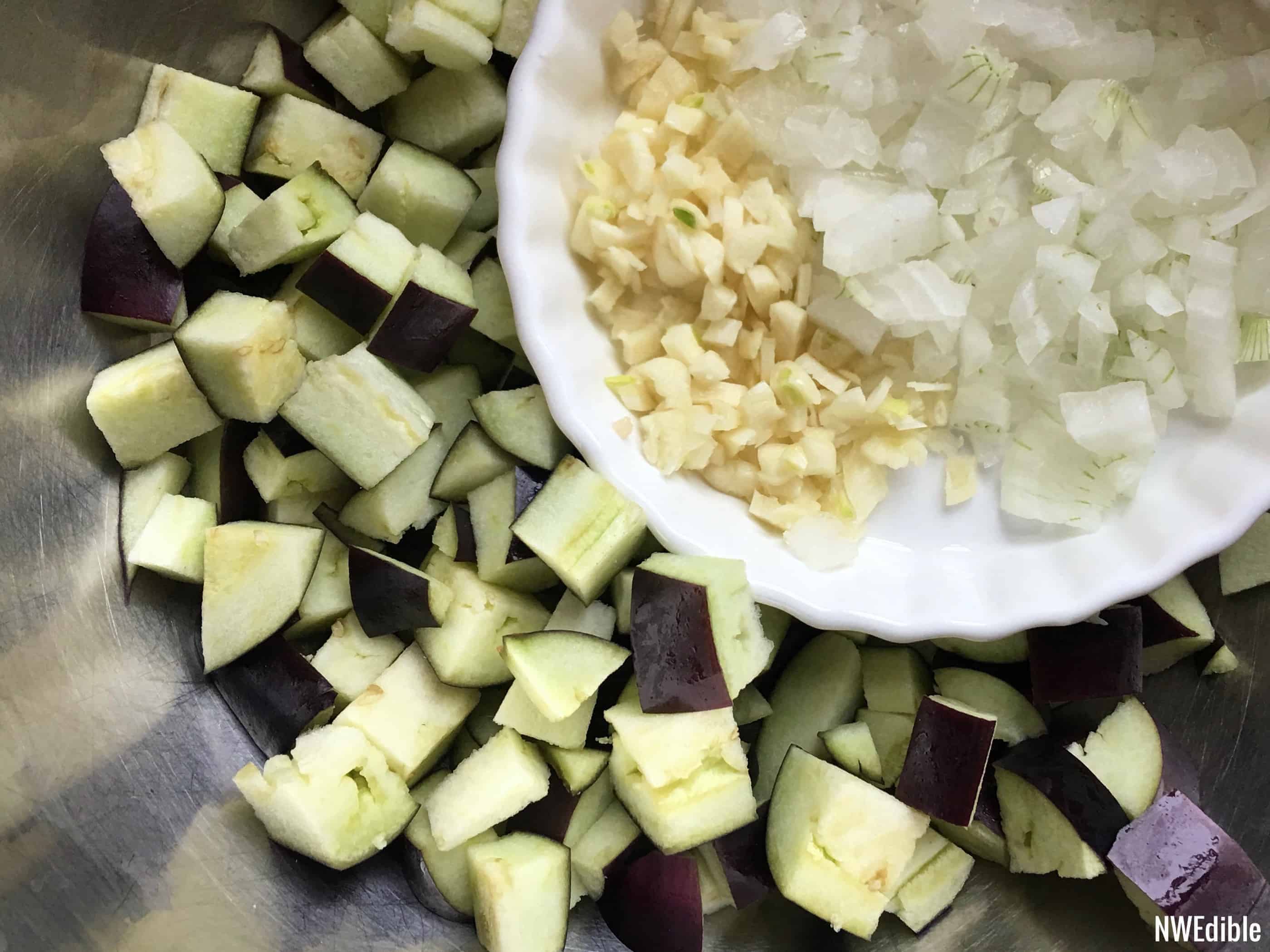 Raw eggplant is never ok, but cook it with garlic in loads of olive oil until it's soft and it becomes the perfect tartine topping.
A tartine is typically a vegetarian thing in my world. This style of eating is more often than not a reaction to summer, when vegetables push everything else out of the way and demand to be used up in quantity right now. If I do add meat, it's likely to be something like prosciutto that's very thin and more about a flavor accent than a slab-o-beast, anyway.
Any firm summer vegetable, like eggplant, zucchini, onion or pepper can be turned into a delicious tartine topper. Just dice fine and saute in olive oil with garlic until soft and maybe kinda brown and caramelized. Use lots of olive oil – you'll want the extra olive oil later, trust me.
3. Lovely Spreadable Cheese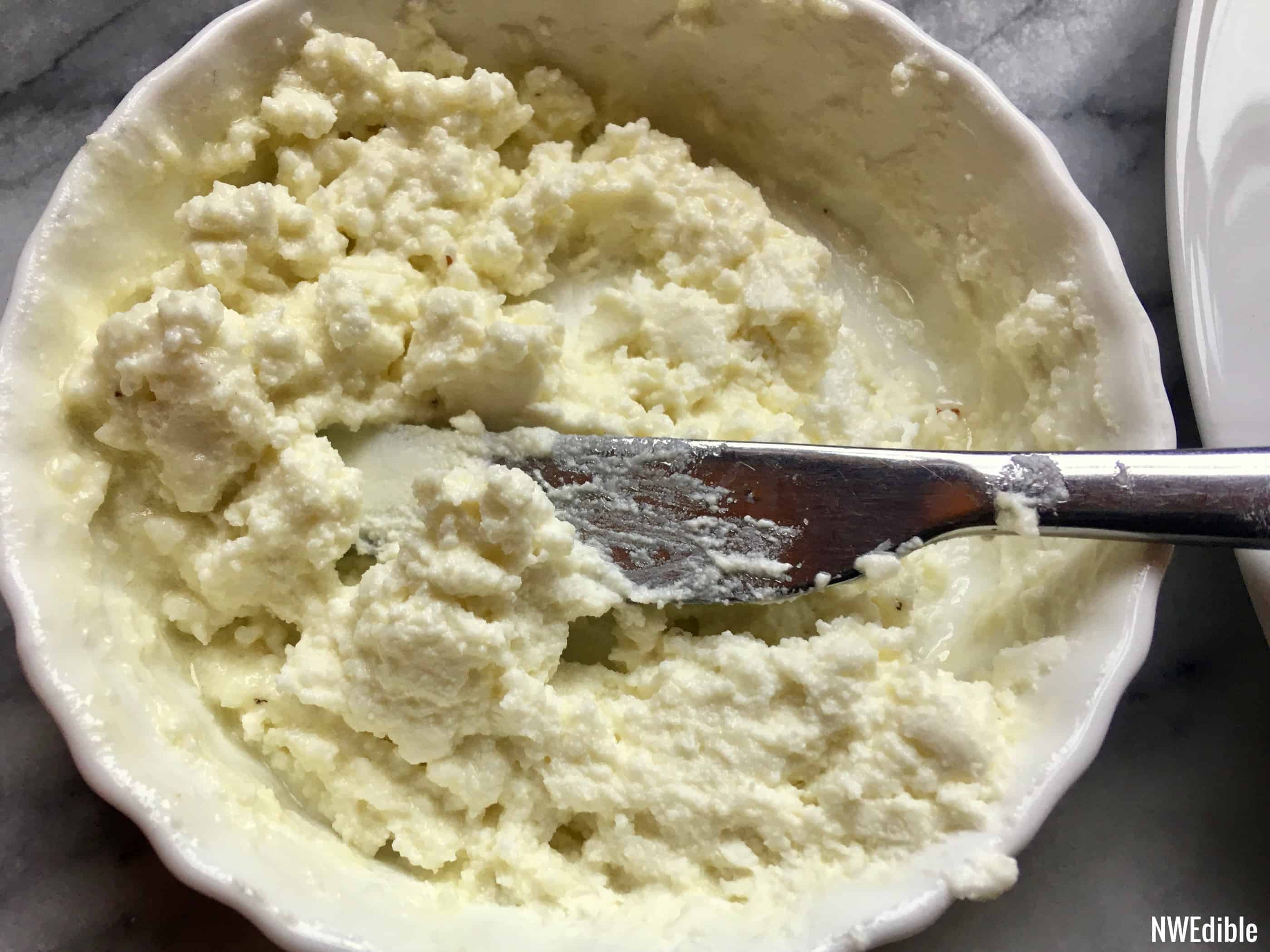 The cheese is important. First, it adds flavor – salty, creamy, tangy, rich, pungent – all reasonable possibilities depending on what cheese you select. Second, it forms a nice protective layer between the toast and your veg, which helps prevent a prematurely soggy tartine. Third, it's cheese. Cheese is its own argument.
Select a soft cheese with flavor intensity and spreadability. Camembert and creamy blue cheese are examples of cheese that are both naturally flavor-packed and relatively easy to spread. Other cheeses like ricotta or cream cheese are easy to spread but less flavorful. No worries on that – just make sure to season a mild cheese with salt and pepper.
And if your cheese is flavorful but can be a little harder to spread – like crumbly chevre or feta for example – just mix your cheese with some of the leftover, warm olive oil from sauteing your veggies. It's all full of lovely garlicky sautéed vegetable flavors and will loosen up your soft cheese perfectly. The photo above is chevre mixed with a bit of the oil from sauteing the eggplant to make a perfect spreadable consistency.
Here's Some Tartine Ideas To Get You Started
Blue Cheese, Tomato and Basil Tartine
Here's an example of bread + cheese + tomato + herbs. Simple but delicious and so easy.
Note that because I didn't add highly seasoned sautéed vegetables to this variation, I made sure to season the bread and cheese with salt and freshly ground black pepper. It's better to season the cheese instead of the tomato because 1) the seasoning sticks very well to the cheese and 2) once the salt hits the fresh tomato it starts drawing the juices out from the tomato and you end up with a soggy tartine more quickly.

Goat Cheese, Eggplant and Mint Tartine
Bread + cheese + cooked firm vegetables + herbs. Eggplant and mint are delicious together, by the way. I'll be eating this variation all summer.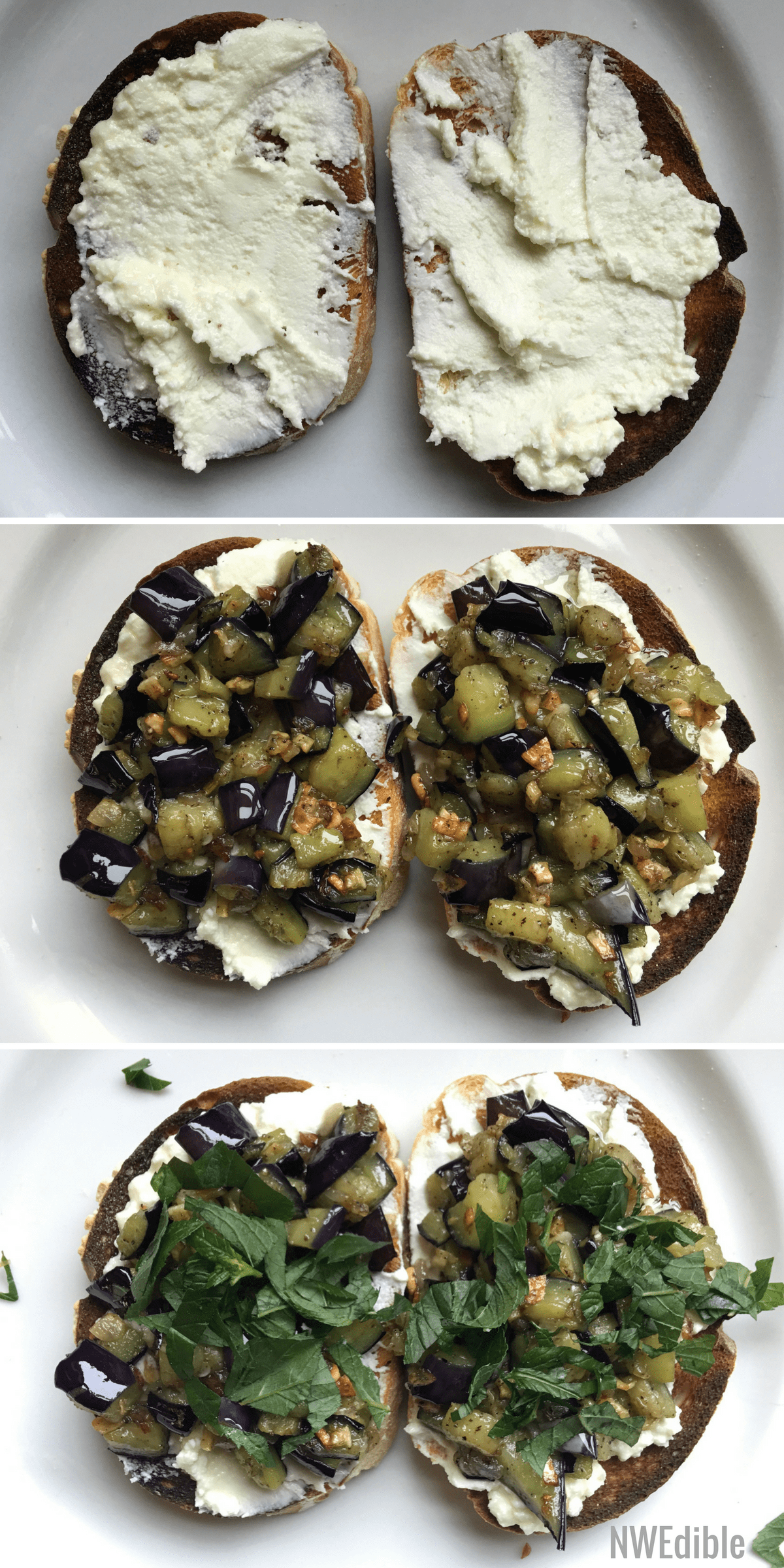 Feta, Zucchini, Tomato and Basil Tartine
Bread + cheese + cooked firm vegetables + tomato + herbs. Here we have both topping options – the cooked veg in the form of sautéed zucchini followed by juicy ripe tomato.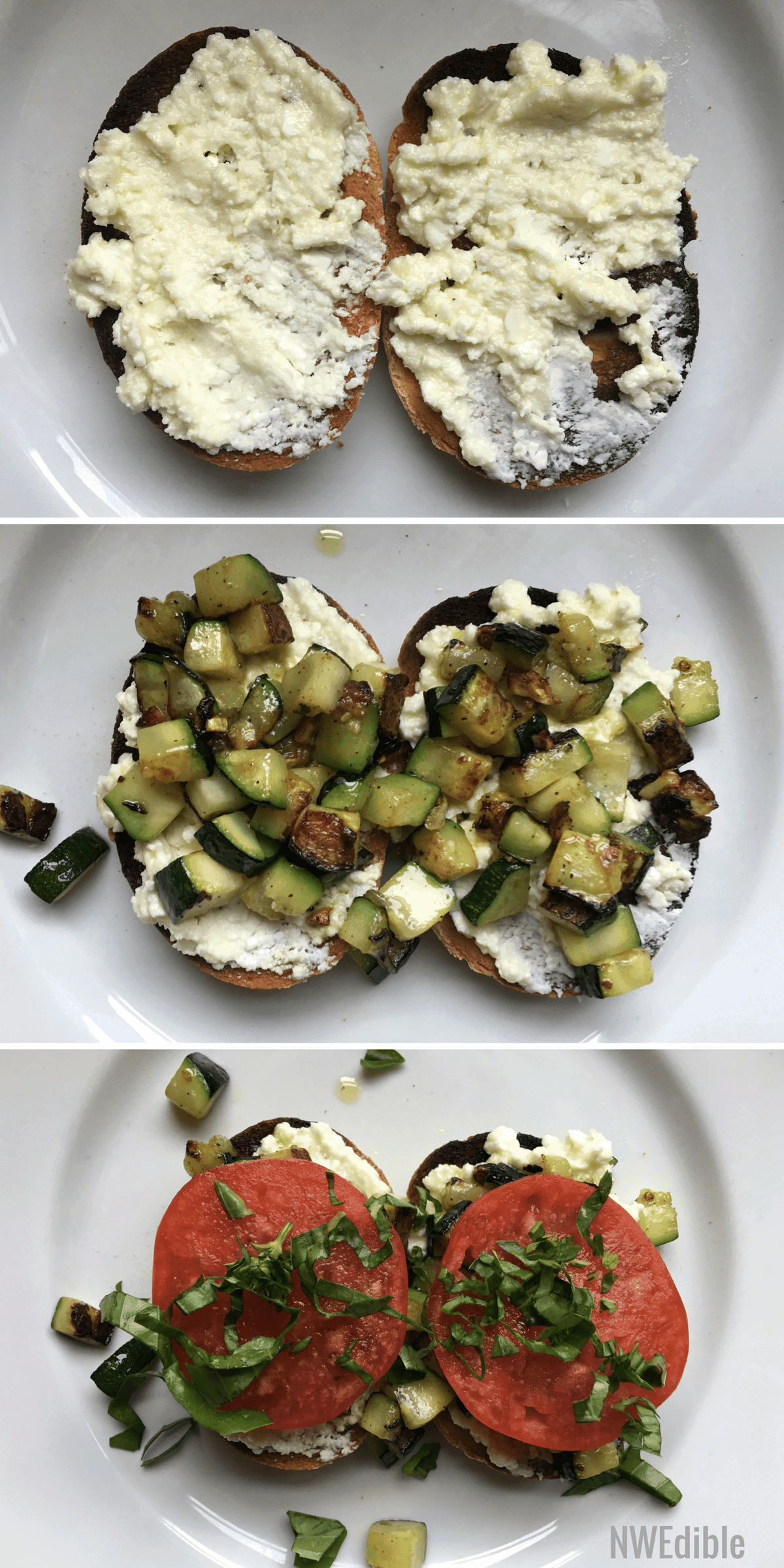 That's my kind of sandwich. Side profile sammie glamor shot:
So what are you going to top your tartine with?
13