I know this isn't a financial blog, and this post won't appeal to all readers, but a big part of running any home – productive or not – is money stuff. So, I wanted to share how Homebrew Husband and I have, over the years, honed a kind of financial hierarchy for our savings goals.
We call this the "Money Drip." Our goal with this idea is to establish specific target ranges for our checking and savings accounts, so as money drips through those accounts we get and maintain the right amount of money in the right places.
It's a bit like food. You wouldn't keep your dried beans in the fridge, or your fresh milk in the pantry. And you wouldn't buy a huge fridge to hold 97 gallons of milk at a time because that would be excessive. (Okay, some of you with dairy animals would. But you know what I mean.)
So it is with money: some funds are short term like milk in the fridge, and some are longer term, like dried beans in the pantry.
For a while we budgeted by giving every conceivable thing it's own category – travel, home maintenance, kids activities, emergency, car repairs, etc. This is sometimes called the envelope method of budgeting – we used a program called You Need A Budget – and it's a great way to get started.
But we realized we needed a simpler system – something that was less work and more flexible but still held us accountable in our savings goals. That's when we came up with this Money Drip idea.
Step 1: Automatic Savings
Savings we try to automate and then forget about. Any savings that snags a tax advantage or a match from an employer should be a priority here. Think 401k retirement, IRA contributions, health savings accounts, 529 education accounts, etc.
Step 2: Checking
Checking is used for day to day expenses so we want the funds here to be easily accessible. (This is the milk in our fridge.)
Checking is the first place that "catches" the money drips, so the minimums and maximums here directly influence how rapidly the money moves down the hierarchy.
We set our checking minimum at basically our Peace of Mind amount. If we spend (or don't) right, checking never dips below that amount. For us, that's one month of typical expenses, or – put another way – enough to pay our household bills and pay off our credit card in full every month.
Our maximum is twice that – two month's typical expenses. Beyond that, for us it's a bit like having those 97 gallons of milk in the fridge – too much for the short-term holding area of checking.
In between our 1 month and 2 month targets, the checking account just breathes up and down as we pay bills, cash checks, buy chicken feed, get paid, etc.
Step 3: Savings
Once checking is full, money drips into savings.
We view savings as basically a combo short/medium-term emergency fund. These savings are tapped for short term unexpected "emergency" expenses like home or car repairs.
But they also serve as a medium-term savings buffer against job loss or debilitation. If my husband – the primary income earner in our family – were to lose his job, our savings would buffer against the impact of that. Or if I were to fall and shatter my leg, the savings would help with the expenses incurred while I recovered.
This is the proverbial beans in the pantry.
We try to keep a minimum of 4 months expenditures in savings. Our maximum is 6 months. Between these numbers, the savings account can float a bit. If we know we're going to have home repairs coming up, for example, we might aim to top up savings so that when we pay for those repairs, we don't dip down under that 4 month minimum.
One thing to note, here: Savings doesn't necessarily mean money in a bank savings account. Money market accounts or short term certificates of deposit or other short-term, very safe investments might make sense.
Step 4: Fun Savings / Investments
Once the savings emergency fund is full, any additional savings goes to fun stuff like travel, or to additional investments.
I don't think there's any right or wrong at this point. Once your money drips down here, it's already survived long-term automatic savings and rolled past a full checking and emergency savings account.
So you're saving for whatever you want at this point. Travel? Pay off the house? Buy a boat? Early retirement? That's your call.
Early retirement was our biggest priority for several years, but now we are directing more of those drips into savings for travel to support our upcoming homeschooling adventure.
Step 5: Retirement / The Long Goal
The little drips that make it to the bottom join with the drips from automatic retirement savings in a pool that will, eventually, fund our retirement.
If retirement isn't your thing, then just read this as "really, really long-term savings" for a stretch goal that gets you hot and bothered.
Not sure how much you need for retirement? 25 x (your annual expenses) = a nest egg that will support a 4% safe rate of withdrawal. (More info on the 4% rule here.)
This is actually less than financially-conservative types aim for these days, but anyone who can save 25 x their annual spend can probably save 30 x their annual spend, so I think 4% is probably still a good starting place.
Show Me With Real Numbers
Ok, here's the Money Drip idea, filled out for someone who spends $2,500 a month on normal, everyday expenses.
This assumes you aren't in consumer debt. Specifics vary, but generally you want to prioritize killing off consumer debt, especially high-interest credit card debt, over extensive savings.
Minimums and maximums are just based on what make sense to us – but we are pretty conservative about stuff like this. You may be more comfortable with a smaller or larger emergency fund, for example.
Savings based on months should be based on how much you spend per month, not how much you make per month.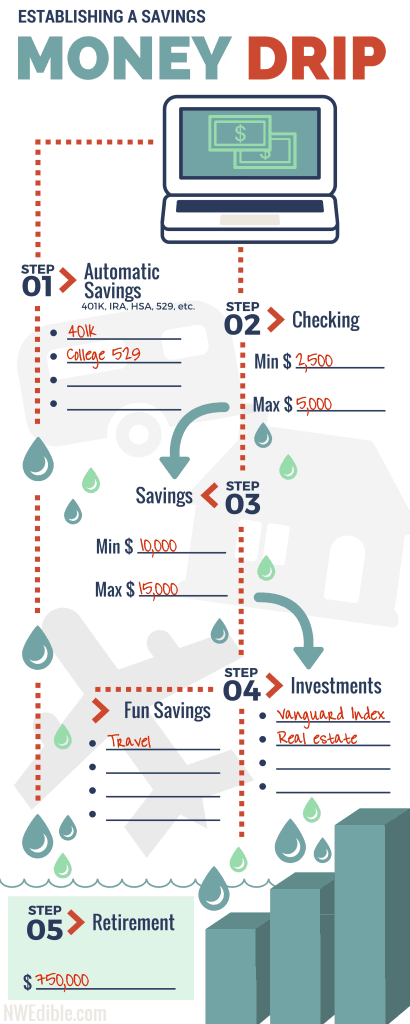 Printable Money Drip Savings Chart
This Money Drip concept has worked really well for us for several years. It's granular enough to help us categorize our savings, but not so granular as to make savings seem like a bunch of work.
I'd say it's helped me, especially, get my head around a lot of basic savings concepts. What can I say – I'm a visual learner.
Here's a PDF of this chart – a blank version of what I designed for myself. Feel free to print it out, fill it out with your numbers and specific goals.
Thanks to anyone who made it this far! Happy savings! And now, back to our regularly scheduled programming…
0