Think of this as kimchi for wimps. It's more accessible in flavor than a traditional Korean, long-fermented pungent cabbage or turnip ferment. But it's not so unlike kimchi that it won't stand in well as a spicy, pungent addition to rice bowls, soups, and noodle dishes of all kinds.
For the best results on this ferment, you absolutely need to get a Korean style chili flake called gochugaru. I swear by Mother-in-Law's Kimchi brand gochugaru. You'll notice in the recipe below I call for a half-cup of this chili flake.
If you try to substitute regular crushed red pepper flakes at these same quantities, your mouth will melt and drip out of your head like sad, bloody, tongue-colored pudding.
These are the chili pepper flakes I use. If you like Korean food and want that Korean flavor in your ferments, or just want to best tasting sweet-smoky-spicy hot pepper flakes, these are seriously worth seeking out.

If you've ever made any kind of sauerkraut, this spicy Korean flavored variation will be familiar. The key components are in this are cabbage, carrot and ginger.
I used what I had – plain green cabbage – but feel free to try this with Napa cabbage, add onion, green onion, or radish and raise or lower the garlic and ginger as you like.
As you no-doubt know by now, fermented kraut variations are infinitely versatile and can be adjusted to your palate.
When it comes time to make this Spicy Korean Kraut, just shred your veggies in the food processor or (if you must) chop by hand. Then salt your kraut and pack it into a perfectly clean crock or jar.
I aim to add 2% salt by weight to this ferment. If you want to adjust the proportions of the recipe (below), just follow this formula to figure how much salt to add:
Weight of Spicy kraut in grams x .02 = Grams of salt to add
After the vegetables in this ferment begin to give off their juices, make sure you pack the kraut firmly into your crock or jar to remove any possible air pockets from the ferment. As I've gotten better at fermentation I've realized one of the keys to success is to really cram those veggies in there.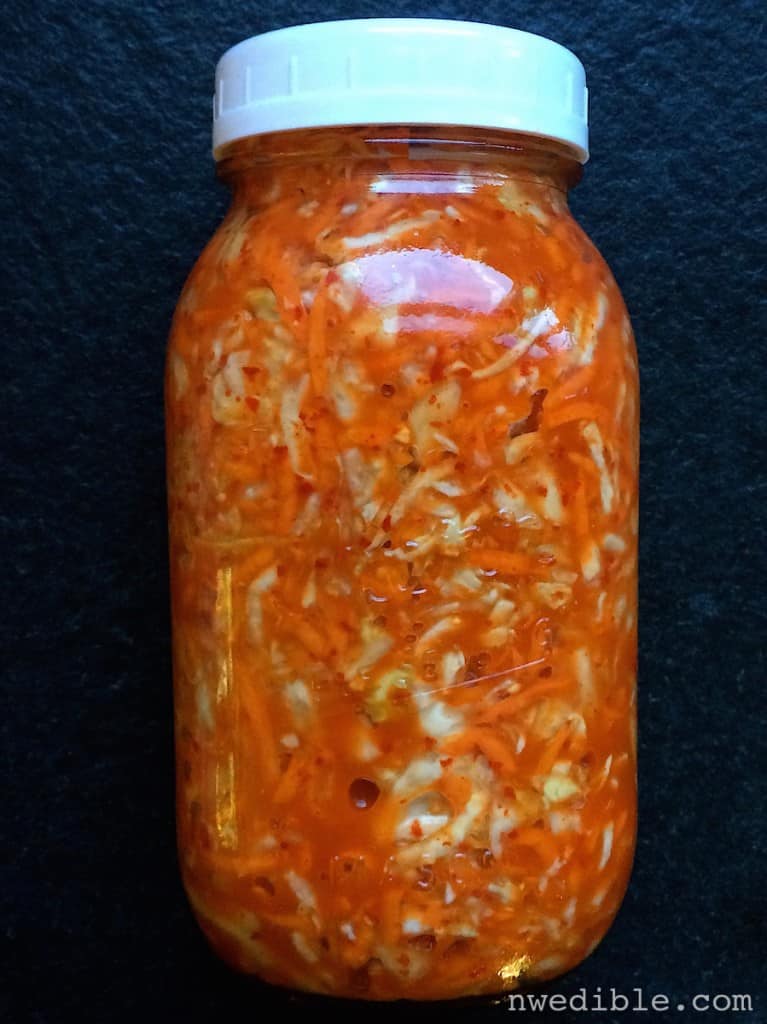 Printable Recipe For Spicy Korean Kraut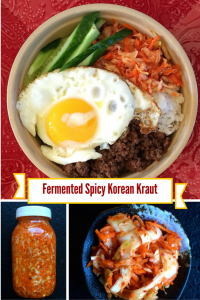 Print
Spicy Korean Kraut
An approachable substitute for kimchi, this kraut relies on flavorful Korean chili flakes for it's flavorful kick.
Ingredients
1 large cabbage, cored and finely shredded (3 pounds as prepared)
8 medium carrots, peeled and grated (1 pound as prepared)
8 large garlic cloves, minced
1 3"-long piece fresh ginger, peeled and minced
1/2 cup Korean style chili flake (gochugaru)
40 grams salt (about 2 tablespoons + 2 teaspoon fine sea salt)
Instructions
Clean and prepare a 1/2 gallon glass jar or fermentation crock for fermenting. Make sure it's scrupulously clean!
Add the prepared cabbage, carrot, garlic, ginger to a large, non-reactive bowl.
Sprinkle the Korean chili flakes (gochugaru) and salt over the vegetables
With clean hands, massage all ingredients together until the vegetables begin to give off moisture, about 3 minutes, and the salt and chili flakes are uniformly distributed.
Transfer the Spicy Korean Kraut to the clean half-gallon mason jar or crock, pressing down firmly with clean hands as you go to eliminate air pockets in the jar.
Weight down the ferment. There should be enough juice from the vegetables to rise up and fully cover the solids. If there isn't, add 1 tsp of fine sea salt to a cup of water, then add enough of this brine so that the liquids fully cover the solids.
Loosely seal the crock or jar, and leave the Spicy Korean Kraut at room temperature out of direct sun, for 3 to 10 days.
Check the ferment daily. Look for bubbles and other signs of fermentation, burp the lid to release any pent-up carbon dioxide in the jar, and taste the development of the Spicy Korean Kraut with a perfectly clean spoon. If you notice any scum developing on the top of your brine, skim it off promptly.
When you like the taste of the Spicy Korean Kraut or after 10 days, transfer the ferment to smaller jars for cold storage in the refrigerator, where it will keep for at least 6 months.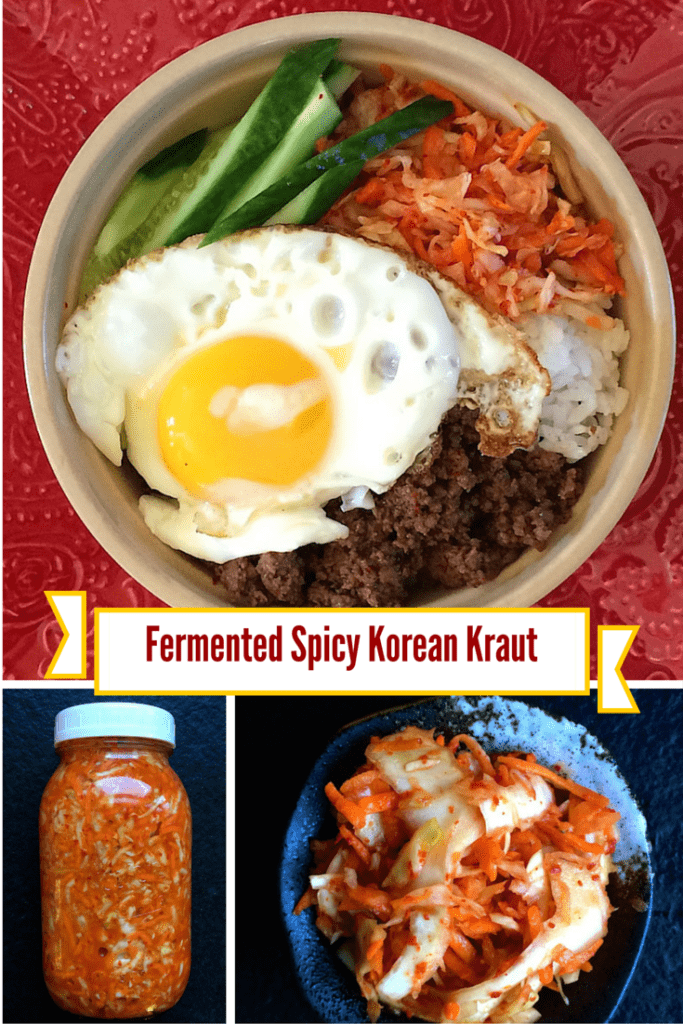 14