Last year we performed a taste test. We ordered two, 12 pound turkeys from our local yuppie-hippie market. Both were raised by Diestel, a large, independent, family-owned turkey ranch in California. By all accounts the birds had a good life and one bad day, living on pasture, free-ranging and eating vegetarian feed and whatever bugs they could grab until slaughter.
The turkeys were both purchased fresh and were prepared, brined, roasted and served the same way, and at the same time.
The only difference, really, was breed. One of these birds was a typical Thanksgiving gobbler, a Broad Breasted White (BBW) type bird, bred for lots of white meat, a high meat-to-bone ratio and quick growth.
The Broad Breasted White is the standard commercial breed, and every Butterball factory in the country is filled with these poor birds who, owing to breeder's selecting for larger and larger breasts, suffer from health issues and an inability to mate naturally.
The typically soporific flavor of the Broad Breasted White is often blamed on the breed, but a boring diet and poor grow-out conditions in a commercial setting (big sheds where the birds get little exercise and can't engage in their basic turkey behavior) is probably as least as guilty as the breed.
That's why we didn't include a supermarket Butterball in our taste test. We weren't interested in confirming that a well raised turkey tastes better than a poorly raised turkey. That's a question with, to us, an obvious answer. We wanted to see how much role breed plays in flavor.
So, the other turkey in our taste test was a heritage-type bird, an "Heirloom" bird, bred and grown slower, the old fashioned way, to give what promised to be more dark meat and a rich, old-fashioned flavor.
Beyond breed, there was one more difference: price. At $2.79* a pound the humanely raised BBW was spendy, but not heart-attack inducing. At $4.49* a pound the Heirloom was a serious wallet commitment. Both our small turkeys weighed about 11.5 pounds, and our bill for the two was right around $80.
The Big Heritage Turkey Controversy
In researching this article I've learned that there is a bit of a dust-up in the heritage turkey world about big name ranch Diestel marketing their not-exactly-heritage birds as "Heirloom" in what appears to be a total Whole Foods clientele marketing coup.
Heritage turkeys are purebreds that go back a long way. There are standards the breed has to meet, just like with purebred dogs or cats. It seems Diestel's heirloom birds are bred from Auburn Turkeys and Bronze Turkeys. Everyone agrees that the Auburn is a true heritage breed. Bronze Turkeys have a heritage "Standard" line that is able to breed naturally, and an "Improved" Broad Breasted line that has a long pedigree but is unable to breed naturally and is therefore decidedly not heritage.
According to the Heritage Turkey Foundation, Diestel's Heirloom birds are bred from the Broad Breasted Bronze variety, an older variety but not a heritage breed, which the HTF describes as, "essentially a [Broad Breasted] White, but with brown feathers." This makes the Diestel Heirlooms, "actually an organically raised crossbreed that incorporates both heritage genes and nonheritage," according to Chow.
Although it is a bit hard to sort through all the information out there, the point is that just because it walks like a heritage turkey and gobbles like a heritage turkey and is marketed like a heritage turkey, doesn't mean it's necessarily a true heritage turkey. So if you are looking for true pure-bred heritage cache and flavor, do a little research so you know what, exactly, you are buying. And be willing to pay for it, since $4.49 a pound is less than you will pay for a true heritage turkey. An 11.5 pound true heritage bird purchased from the highly regarded Good Shepherd Turkey Ranch, for example, costs $136.99, or about $11.90 a pound.
The Results
So what does this all mean for our big turkey taste-off?
Once we got the birds out of their plastic shrink-wrap there were a few visual differences. The BBW was, as one would expect, larger of chest, and wider, but not by a shocking degree. The Heirloom bird had slightly longer, larger legs and thighs and narrower breast development but again the difference was not dramatic.
Neither bird was injected with a weight-enhancing and flavor-diluting chemical salt solution, and neither had one of those terribly obnoxious plastic red pop-up timers plunged into it's breast. These things all by themselves are worth at least 75-cents-a-pound to me.
Total cooking shrinkage loss on the two birds was about identical, but the Heirloom bird reached 155-degrees, the temperature at which I pulled the birds from the oven and let them rest, about 25 minutes before the BBW obtained the same temp.
It may just be perception lining up with expectation, but 5 out of 6 of the adult tasters preferred the Heirloom turkey to the Broad Breasted White. The flavor was described as "richer" and "more intense" compared to the meat of the BBW.
Both were excellent turkeys, with very good flavor and texture. But, particularly for those of us who prefer dark meat, the Heirloom bird offered superior flavor. The one vote for the BBW came from a taster who prefers only white meat and appreciated its "milder" flavor.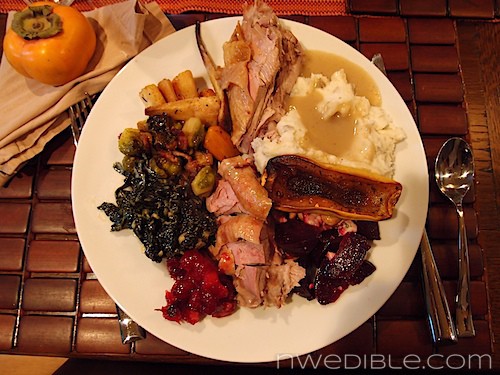 Winner: Heirloom, though I would recommend any of the Diestel products over industrially raised turkeys based on our sample of these two whole turkeys.
Now that I've learned all about the Great Heritage Turkey Controversy, I think we'll have to do a true heritage taste-off one day! I'll start saving.
Have you eaten heritage or heirloom turkeys? Did you notice a flavor difference? What will be on your plate this Thanksgiving?
*Prices given are local current year prices. When I purchased these turkeys in 2011, they were each about 20-cents a pound less expensive.
74