Last week I talked about building my wall-mounted DIY clothes drying rack from a Freecycled baby play pen. Several readers expressed their concern that my rack as-built wouldn't allow quite enough airflow to ensure prompt drying.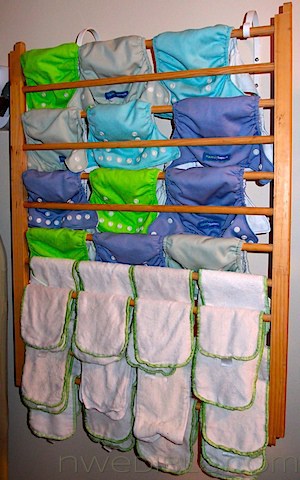 I addressed those concerns temporarily by propping the rack when in-use away from the wall using a fruit tree branch spreader. Who knew those things were so versatile? The greater angle of the rack allowed the drying items a lot more airflow.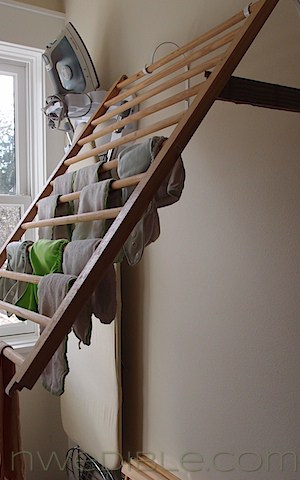 Good temporary fix, but definitely temporary. Now, I believe I have perfected (or at least substantially improved) the original clothes drying rack concept.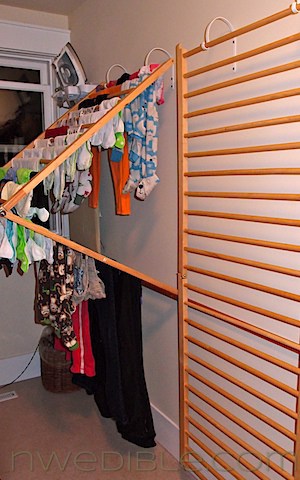 In its new form, each rack is made from two baby jail panels hinged together. When not in use, the racks hang flat, a few inches off the wall. When in use, they fold up to form a two-tiered, sideways-V-shaped rack.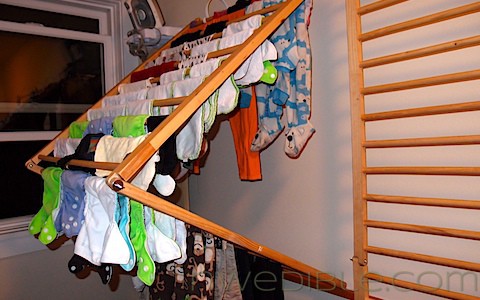 I installed a small piece of leftover 1×1 trim from the garage at the right height to serve as a ledge for the in-use, folded rack.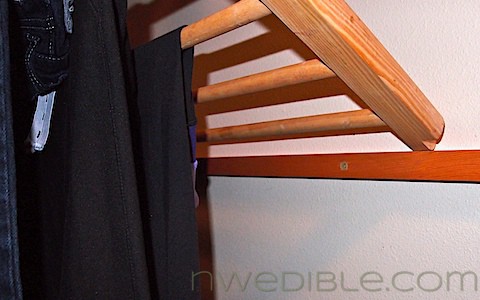 The baby jail panels were designed to screw together. I took advantage of this design feature by slipping a bolt through the pre-existing holes and securing the fastener with a washer and wingnut.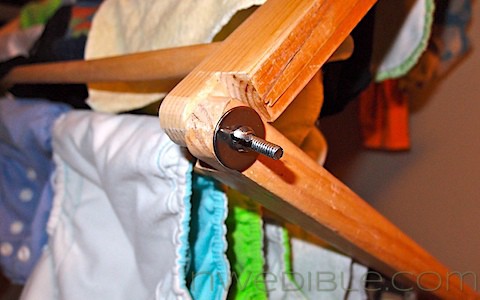 Because of the acute angle, the clothes drying on the rack have a lot more air flow and don't crowd each other as they hang down.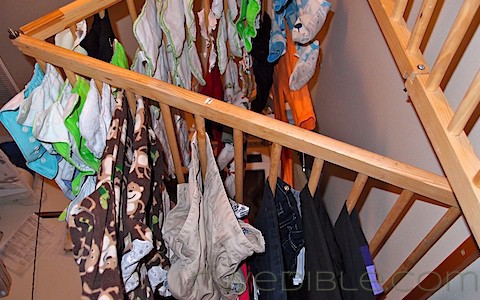 There is a ton of space on this thing – I got an entire load of diapers and half a load of pants and other assorted clothes hung up on one without even bringing the second unit into play. I think between the two racks I could have 2-4 loads worth of items drying at once.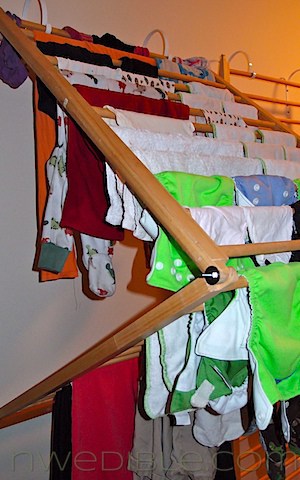 Even though this rack projects into the working space of the laundry room when set up, I can drop it into it's flat configuration against the wall if I need to throw another load in the washing machine. And here's the thing: I can collapse the rack while the clothes remain on it. When I leave after starting the wash, I just prop it back up into that sideways-V shape and drying resumes.
Total cost for this project was about $3.00 for the expense of four bolts, washers and wingnuts. Everything else was free or already on hand.
Read all about the first-run version of the DIY Wall Mounted Drying rack to learn more.
253