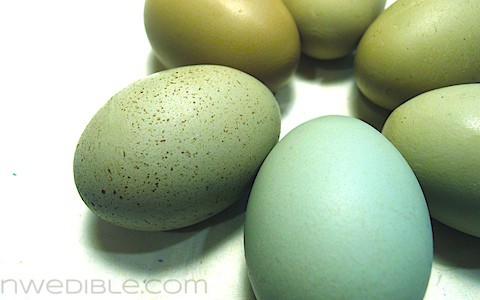 Want to know why I really keep backyard hens?
The eggs are great, the chicken TV is a blast, and the deep-litter compost might actually make our hens a financially reasonable investment.
But that's not really why I have the girls.
I keep laying hens because the sum total of the work involved in feeding, housing and tending to them – including dealing with the occasional prolapsed vent and Mean Girls style bickering – is still easier than trying to make a fucking purchasing decision in the egg aisle of a well stocked supermarket.
Free range, cage free, vegetarian fed, Omega-3 enriched…blah blah blah. I have been struck immobile by egg-decision-making paralysis more than a few times.
It's a dangerous thing, having a little knowledge. And that's all I have: a little knowledge about the food system, the industrialization and commoditization of how we eat. It is a full time, full energy job to be a truly informed consumer. There is so much bullshit marketing to sort through and claims to compare and various components of "good" to weigh.
An ethical eater with only a little knowledge juggles the often-competing issues of time, food cost, health claims, food miles, organic certification, animal welfare, farm worker rights, GMO crops, degrees of food processing, family farm support, heirloom produce and monoculture agribusiness every time they buy enough groceries to make a sandwich.
Me? If I'm going to spend that much energy on a damn sandwich, I'd rather just grow the lettuce and bake the bread, you know what I mean? Then the only landmine to navigate is where to buy meat I can feel ok about. And if you're a vegetarian, you don't even need to do that.
In many ways, an urban homesteadery life is quite complex. Finding the way to incorporate food production on a city or suburban lot on top of everything else we all manage in our modern lives adds a lot of fullness. Planning and scheduling crops so they are planted and enjoyed at the right time is a logistical juggle.
But in another way, growing as much of my own as possible simplifies my decision making tremendously. There is no political, César Chávez back story to my lettuce or my broccoli. I grew it, I picked it, I ate it. If it got fertilized with something or sprayed with something, I know what, how, when and why. No migrant laborers were poisoned with pesticide drift so I could have iceberg on my sandwich.
My purchasing isn't snowy white, of course. Dig a little deeper and non-organic cotton fills my closets. Non-fair-trade coffee sneaks in, transporting its plantation exploitation for thousands of gasoline-fueled miles before arriving like a hot little blessing at my lips every morning. Plastic trays from take-out sushi made with fish I shouldn't eat anyway clutter the recycling can.
Imperfection abounds.
It's a process, a sometimes exhausting process, getting to better, getting to more sustainable, getting to ethical, and it never ends.
But now the only egg choice I confront is, brown or green? white or tan? and making breakfast has never been simpler.
0