You can freeze sandwiches. Why didn't I realize this about 3 years ago?
I have a school-age daughter, and naturally I want her to have nutritious, healthy lunches. My attempts to send my daughter in with various kinds of frugal, left-over based meals have met with mixed success, and all too often my kid would come home with a barely eaten lunch.
I hit my limit when, early one Monday, I retrieved from my daughter's backpack a forgotten lunch from the previous Friday. The containers were full of untouched (and now disgustingly moldy) wild salmon and sesame-edamame salad.
Have I mentioned I really hate food waste? I really, really do. Particularly expensive, wild-salmon food waste.
Then and there I decided I was being ridiculous. Clearly, my daughter needed more kid-friendly food and I needed to stop pretending she had the same tastes and lunch food preferences as the adults of the family.
The Sandwich-Plus Formula
I have friends who make it easy to throw school lunch together with pre-packaged food. They go for the Sandwich-Plus route. Lunch is a sandwich, homemade – or maybe not (Uncrustables? WTF?) – plus some combination of commercially made snacks: granola bars (candy), fruit snacks (candy), pudding cups (candy), various flavored crispy (starch) things like potato chips and cheesy crackers, etc.
I am of the belief that almost all moms are just basically trying to do their best, but I can tell you that, for me personally in my rather more sugar-sensitive family, a lunch like that would make my job as mom way harder. My kids tend to become totally energy-less human slugs (daughter) and totally fucking crazy whirlwinds of hyperness (son) when they have too much sugar or simple starch.
So a more DIY approach to the kid-friendly lunch would be necessary for my household, I knew that. But the goal was not just to provide my kids with a decent lunch, it was also to make my life a bit easier. Basically I wanted a more whole foods Sandwich-Plus plan.
I started with a sandwich. I went to Costco and loaded up on the least processed looking ham and turkey I could find, sliced cheddar and provolone cheese and four loaves of organic 100% whole grain bread.
And then I assembly-lined basic sandwiches. Mayo went on both slices of the bread, meat and cheese in the middle. No veggies, nothing fancy. Each sandwich got wrapped in plastic wrap and put in the freezer. I ended up with 30 of them.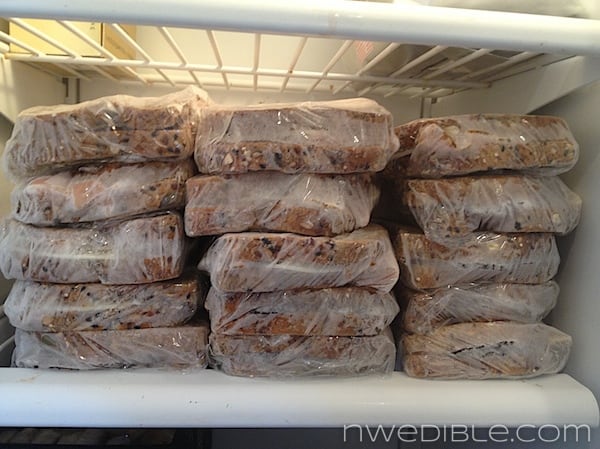 Then I got busy on the "Plus" portion of the Sandwich-Plus plan. I spent half of a Sunday turning the random bits of things hanging out in my fridge and freezer into kid-friendly foods I knew my children would eat and that I could feel moderately okay about.
Sun-nut butter and chocolate chip granola bars (based off this recipe.)
Low sugar pumpkin-chocolate chip-cranberry bread (based loosely off a combination of this recipe and this recipe.)
Cranberry orange mini muffins
Cornbread buttermilk muffins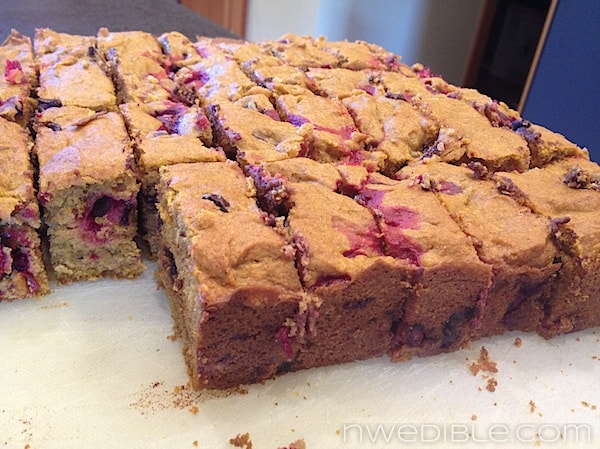 These items were all cooked, cooled, appropriately portioned and then wrapped in plastic wrap. They got stacked in metal baskets and popped in the freezer with the sandwiches.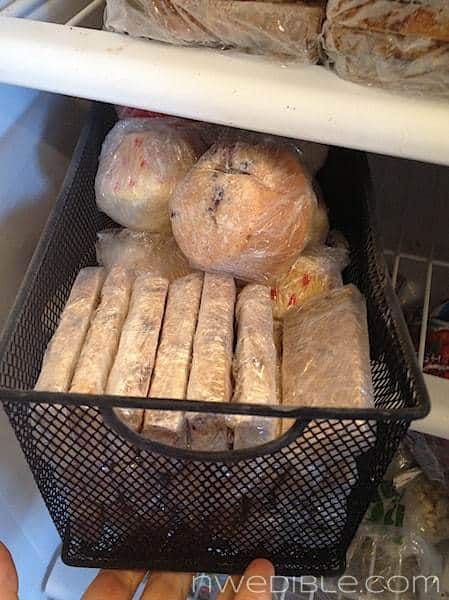 Now we have our own, homemade version of the Sandwich-Plus plan and I have to say, it's simplified things mightily.
Often, my daughter makes her own lunch. This is as simple as grabbing one sandwich and one treat from the freezer, and adding in whatever veg or fruit we have in the fridge or on the counter.
Is this all ideal? No, not really. In an ideal scenario all the meat and cheese would be from a local artisan. The bread would be homemade, long-soaked sourdough. There wouldn't be so much dammed plastic wrap. There wouldn't be a trace of sugar anywhere and my kid would thrive on being the weirdo with the hippie lunch.
But for now, for where we are now, I'll take this solution gratefully. Lunches are being eaten. My irritation over the food waste is gone. The pre-made sandwiches and treats have saved a ton of time and frustration, and have made it easy for my daughter to take ownership of her own lunches. I think she is at that age where she prefers not to be quite so "unique" at the lunch room table, too.
It is what it is, and for now it's far better. No more rotten food. No more resentful mom. Simplified mornings. Empowered, lunch-making kid.
PS: The sandwiches thaw fine in a few hours at refrigerator or room temp. Once thawed, they taste totally normal. There've been no complaints. However, if you try to quick-thaw them in a microwave, the bread gets a bit soggy.
Do you batch-make food for work or school lunches? What has worked best for you?
16