If you are part of the NW Edible community on Facebook, then you may already know about the pressure canner that brought me to tears.
I had some birthday money, you see. Visions of pantry-ready, home-canned stock danced in my head.
And so, after some research, I look the plunge into pressure canners. It was a big, $300 plunge but it bought me what I was sure was the last pressure canner I'd ever need – the kind of homemaker tool I could pass down to my kids or grandkids.
I purchased the All-American 30 Quart Canner. It holds a ton, gets fantastic reviews on Amazon and is widely regarded as well worth the hefty price tag. It has a metal-on-metal seal (no gasket to wear out) and is even made in America.
What could possibly go wrong?
I was so excited to receive my canner. I bought it through Amazon and two days after clicking "buy it now!" I was unboxing the beast in my living room.
"It's here!" I squealed to my son, who, in the manner of toddlers everywhere, was super excited to have something to be super excited about.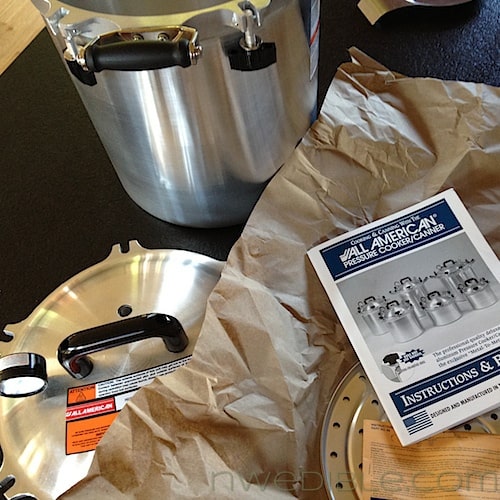 The Ugly
Everything looked wrong.
The lid of the canner was totally covered with very noticeable pit marks.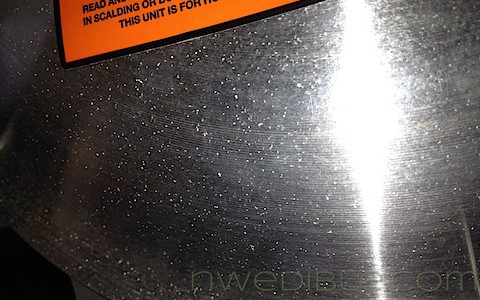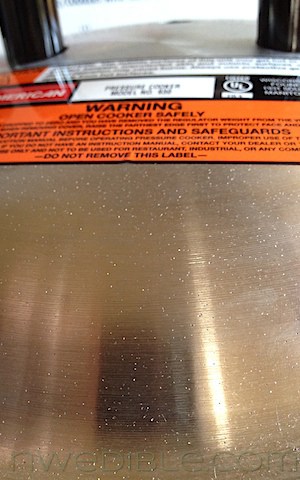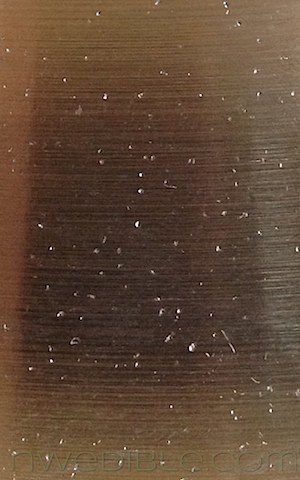 The lip of the canner was scratched and rough.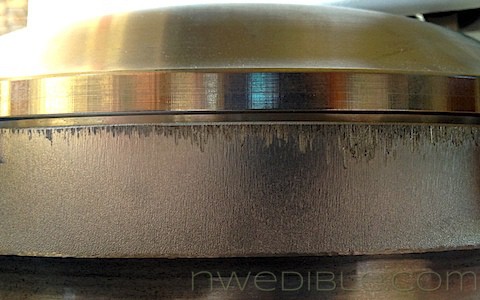 The base had a deep gouge, like some angry giant had stuck his thumbnail right into the base of the metal before it cooled.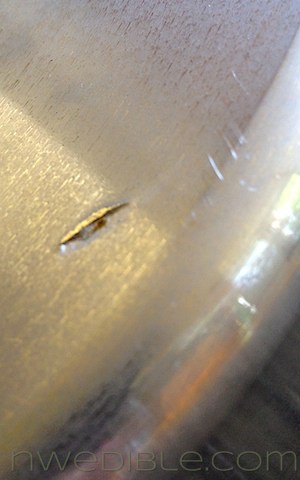 Inside the canner was a little sign, giving the inspection number of the All-American employee who gave this canner the a-ok for packing and selling-on.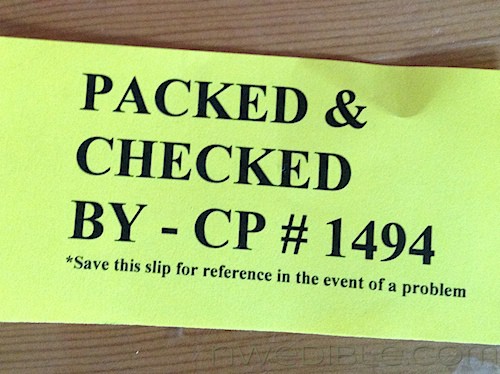 The Bad
The disappointment I felt was crushing. That sounds really stupid, I know, and melodramatic, because a pressure canner is just a thing. This isn't in the category of Big Deals like illness or job loss.
But as minor deals go, this one stung. That canner was $300, and one of the few splurges outside of compost and seeds that I'd bought for myself in a fair long while. And so I looked at my ugly, flawed canner and all my disappointment hit me and I cried a teeny bit.
Eventually I picked myself up and called All-American, the manufacturer of the canner.
A woman answered the phone. I explained that there were pit marks in the lid of my canner and I wanted to know if that was normal. She told me there probably weren't any pit marks, it was just how the canners were made.
Since I generally put more trust my own evaluation of something when I'm staring right at it over the assurances of someone half-a-country away, I re-explained that there were pitmarks all over the lid of the canner.
She told me someone named John would call me back the next day.
All-American was not winning any customer service awards at this point. But, to the company's credit, John – the Plant Supervisor, as it turns out – called me back just a few minutes later.
The Explanation
We talked extensively about the pitmarks and John explained that, because of the process they use to fill the mold completely with aluminum, many of the canners will have small "bubbles" at the surface. He assured me these did not affect the function of the canner.
We talked about the swath of scratches and divots along the lip of the canner and John explained that those were markings from the unmolding process.
I learned that these canners are very expensive for All-American to manufacture, and that as a cost saving measure, and to remain competitive against canners made in China and South America, All-American made the decision at some point to stop polishing out surface imperfections in their canners. John said that if they were still doing that degree of polishing it would add at least another $60 to the cost of the canner I had purchased. At the discounted Amazon rate I paid, this would have been an increase of about 20%.
It was clear when I was talking with John that he was a guy who cared about his product, but that he was also deeply invested in the financial realities of his company.
In other words, I would be offered patient explanations, but not an expensive replacement pressure canner. The cosmetic issues with the canner as I described them were considered within the range of normal.
Finally I asked about the gouge on the bottom of the canner. At this, I believe John recognized that the degree of damage to this pressure canner was above and beyond what a $300 new-in-box product should arrive with. He told me that if I wanted, All-American would replace the base (but not the lid with the pit-marks) of the canner.
John reassured me that the base, even with the gouge, was safe to operate, but told me that if I chose to exchange it, All-American would send me a new base.
Our conversation was very cordial and I told him I'd like to sit with my flawed canner and think about my options, but I would let him know how I wanted to proceed.
The Good: Amazon.com's Amazing Customer Service
Within an hour I made the decision that I could not live with the pressure canner I had received. Even if it was safe to operate in the condition in which it arrived, I couldn't spend $300 on something that would fill me with disappointment and resentment every time I used it. But I wasn't totally willing to give up on this canner, which gets such amazing reviews from just about everyone. I jumped on-line and initiated a one-for-one exchange through Amazon.com.
The entire exchange process on Amazon took about 30 seconds. I briefly described the damage to the canner and the website informed me that Amazon would ship another one out to me to arrive within two days.
As for returning the original canner, I didn't even have to print out a return shipping label. All they asked was that I box the canner back up and have it ready for the shipper who would come to pick it up the next day.
Nothing in the entire process – return shipping, exchange, anything – cost me a penny or required that I leave my house.
Amazon, taking a bath on what I can only imagine was a substantial shipping charge, upgraded delivery on my replacement canner to overnight. I had my new All-American 30 Quart Pressure Canner in my hands less than 24 hour later. More on the replacement canner in a minute.
All-American's Response
After initiating the exchange with Amazon I emailed John, explaining my decision to exchange the canner outright and encouraging All-American to heed the details, even the merely aesthetic ones, in order to maintain their excellent reputation. I included the same photos that appear above so All-American would have an accurate idea of what my canner looked like, and the degree of the blemishes I was describing.
I sent that email Thursday evening, and when I did not hear back from John by Monday afternoon I followed up, apprising him that I would be writing about my experience purchasing this pressure cooker on my website and asking if he cared to respond to my original email before I published my post. This was the first time I mentioned that I was a blogger.
(Note to any company with customers: assume every customer you deal with is a blogger or could become one within an hour. Because they could – it's a low barrier-to-entry gig.)
I received an email back from John on Tuesday morning. He acknowledged that the canner I received was more pitted than the norm and apologized for not getting back to me sooner and for any inconvenience. He said that he was surprised by the gouge on the bottom and had talked to the assembly line about the situation.
You can read the full text of these emails below.
Assessing The Second Canner
I'm pleased to conclude that Ugly Canner appears to be somewhat of an outlier. My replacement canner was much prettier than my original canner, and numerous people on the Facebook page told me their All-American Pressure Canners arrived in great shape. From this, I conclude that the odds of getting an All-American Pressure Canner quite as ugly as the one I got are small.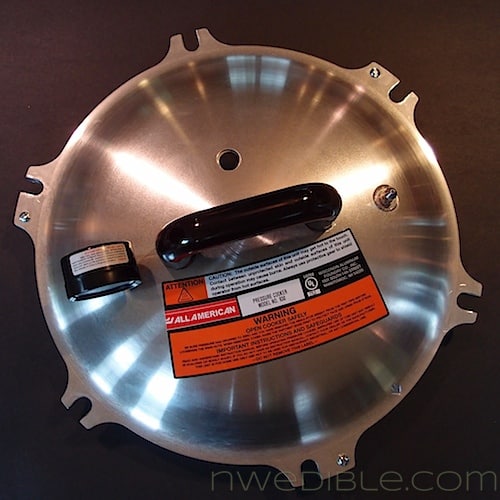 However, if you buy one of these canners, expect surface imperfections. The shiny, brushed-metal perfection of the advertising photos on Amazon and elsewhere do not accurately depict the texture, mold marks and variations that occur on of the surface of the All-American Canner.
For example, if I look closely at Canner #2, there are a number of shallow pit marks on the lid, and there are a few small rough patches and markings on the lip. If I had received this canner first, I would probably never have thought about those flaws because I wouldn't have looked for them.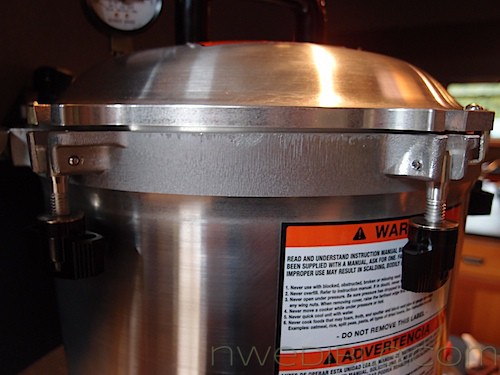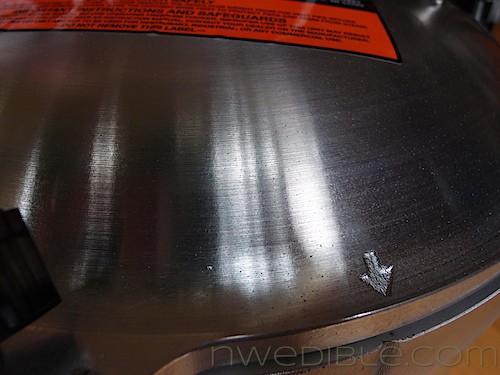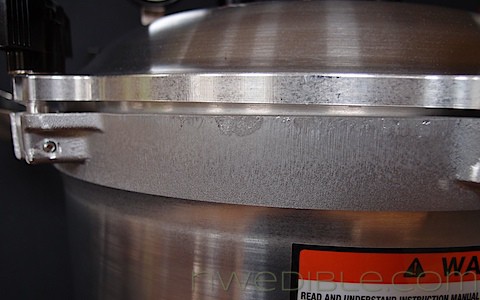 After the disappointment of Ugly Canner, my eye is pretty well honed. I suspect, but do not know, that most All-American canners will show some evidence of surface pitting or mold marks.
With that disclaimer, I can contentedly live with my replacement All-American canner. Though not pristine, the second canner is in much better condition than the first. The markings are more discrete and the function seems excellent.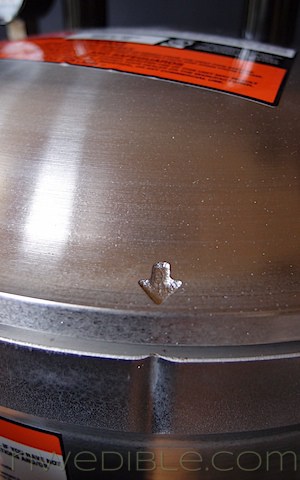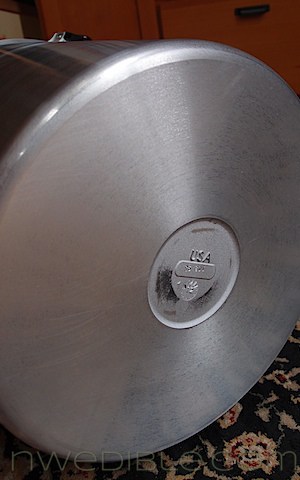 Would I recommend the All-American Pressure Canner?
Tentatively and reservedly, yes. But I would strongly encourage anyone buying something this expensive and with such potential variability to either pick out their individual canner in person, at a brick-and-mortar shop, or buy online at a place like Amazon where you are likely to get excellent customer service and simple, non-penal exchange policies if, like me, you receive a lemon the first time around.
As I write this, fish stock is cooling on the counter, the first trial of the pressure canner. It appears to have been a successful experiment, and using the canner for the first time was a small thrill. ("What if we do something wrong? Will it explode?")
I really like the combo of dial gauge and weighted valve on the All-American. I could turn around to do dishes in the sink or look down to read a book while continuing to monitor the pressure in the canner by ear. Little reassuring rattles from the weight every thirty seconds or so told me the canner was holding steady at 10 pounds of pressure. Gauge-only canners, as I understand it, require that you literally never take your eye off the gauge. What a drag that would be for 80 minutes of processing time!
I believe I will come to love this piece of equipment. I foresee jars of stock and stew and home-canned dried beans in my future. I suspect my pressure canner and I will have a long and happy relationship, though it was quite bumpy at the beginning.
When Blog Posts Have Addendums
The following is the series of emails I exchanged with John from All-American after receiving my first, heavily marked All-American 30 Quart Pressure Canner. This exchange may be useful to customers considering buying a pressure canner who want to evaluate what kind of customer service support they should expect from the manufacturer.
As I mention above, I strongly urge people thinking of buying one of these pressure canners to do so from a venue like Amazon or a local store which will provide independent exchange or return support if something goes wrong. If I had needed to do an exchange with All-American directly I would have been on the hook for the cost and hassle of shipping the base, and would likely have had no recourse at all on exchanging the lid.
That said, please note that all of my exchanges and conversations with John were very cordial and respectful. So it's not that the customer service experience I had with All-American was poor, so much as not proactive.
---
From: Erica
Date: May 17, 2012 7:46 PM
To: John
Subject: All American Pressure Canner 30qt
Hi John,
Thanks very much taking the time to chat with me today about my 30 qt. All American pressure canner that I received from Amazon. As I mentioned, it has a number of flaws and blemishes that made the unboxing of this much awaited purchase truly disappointing.
I cannot emphasize this enough: I was a customer who was happy to spend $300 on what I was sure was the best pressure canner I could buy. I was prepared to love your product and rave about it to friends (I have a number of friends who are very interested in "taking the plunge" into pressure canning, too, and were waiting to hear about my experience before buying their own canner). Instead I was so disheartened by its quality when I opened the box that I actually cried when I saw it.
Your company needs to know about this kind of customer reaction. Your quality control people need to know about it.
I can't live with the number and extent of the flaws in the canner I received. Even if they do not affect the performance of the canner, I cannot spend $300 on something with so many blemishes right out of the box. I have decided to exchange the canner through Amazon. Their excellent returns policy means that I am being sent a new 30 qt. All American Canner, and the one I am currently in possession of is being taken back at no expense to me.
I consider the replacement canner to be a real test for the All America quality, which until this point I had heard nothing but raves about. If it too arrives with blemishes, pits and dings as did the first one, I will sadly return it and look at other brands of canners. I truly hope the first canner I received was not representative of typical All American finish quality, and I eagerly await the chance to love my new canner.
I am enclosing photos of the blemishes my canner arrived with. When we spoke you said that markings like I described over the phone were part of the molding and unmolding process. I suspect I may not have emphasized the extent of the various markings enough. You said your company had made the cost saving decision to no longer polish out these surface imperfections. I completely understand that you need to do what is necessary to produce a competitive product, and I further understand that you are competing against canners made in China and South America. However, I would respectfully suggest that people buying your canners are doing so, and are willing to spend hundreds of dollars on them, because they are represented as the best investment one can make in this arena. I believe that to maintain your reputation for superior quality, it is essential that your company get the details, including the aesthetic details, right.
These pictures below show a product in which the details have not been gotten right. If it is my expectations which were flawed, and this is typical of All American canners, kindly disregard this email. If, however, this canner was one of those flukes that happen, perhaps these photos and this email will help your QA team understand the risks to customer satisfaction that sending along a product like this can cause. I am giving this product another shot. I suspect many customers would not.
Respectfully yours,
Erica
[Photos Included]
---
From: Erica
Date: May 21, 2012 2:37 PM
To: John
Subject: Fwd: All American Pressure Canner 30qt
Hi John,
I received my replacement All American 30 qt Pressure canner from Amazon. It is in much better shape than the first one I received. Although there are small marks on the lip of the canner from the unmolding, and there are a few small pit marks on the lid it is nothing like the combination of blemishes on the first canner. I am satisfied with the second canner sent to me from Amazon and will be keeping it. I look forward to putting it to good use.
I haven't heard back regarding the email and photos I sent Thursday the 17th, and I wanted to let you know that I will be writing about my experience purchasing this pressure canner on my website and give you the opportunity to respond to my original email before I did so.
My post will likely go live tomorrow or Wednesday morning. You will find my website here: northwestediblelife.com
Respectfully yours,
Erica Strauss
---
From: John
Date: May 22, 2012 6:26 AM
Subject: Re: All American Pressure Canner 30qt
To: Erica
Good Morning Erica,
I was out of town yesterday [redacted to protect privacy]. So I apologize for not getting back to you sooner.
I did look at the pictures and this unit was pitted more than the norm. I would have not been happy as well. The biggest flaw which surprised me was the deep scratch on the bottom. I have spoke with my assembly line and made them aware of their inspection. I do apologize for any inconvenience this may of caused and want to thank you for choosing an All American Pressure Cooker. If there is anything else I can do, please let me know.
Sincerely,
John
34