Fresh sweet cherries, tiny chocolate chips, creamy ice cream. I don't really need to talk you into dark cherry and chocolate chip ice cream, right? Right.
I typically make my ice cream from a custard base, which is nice, but time consuming – custard based ice cream is typically a 3-day affair the way I do it, which is why I don't do it very often. Sometimes you just want easy, you know? This ice cream is easy, and a great way to use the seasonal fresh, dark, sweet cherries coming from backyard trees and Eastern Washington orchards at this time of year.
Let's get to it.
Dark Cherry and Chocolate Chip Ice Cream Step by Step
Please note these photos show ingredient quantities for a double batch of ice cream – ingredient quantities in the printable recipe are for a single batch, which makes about 3 finished pints of ice cream.
You will need milk, cream, sugar, fresh eggs, vanilla extract and almond extract, dark, sweet cherries, and good quality mini chocolate chips. Alternatively, use semi-sweet bar chocolate, chopped into small pieces. Full size chocolate chips aren't ideal but will work in a pinch.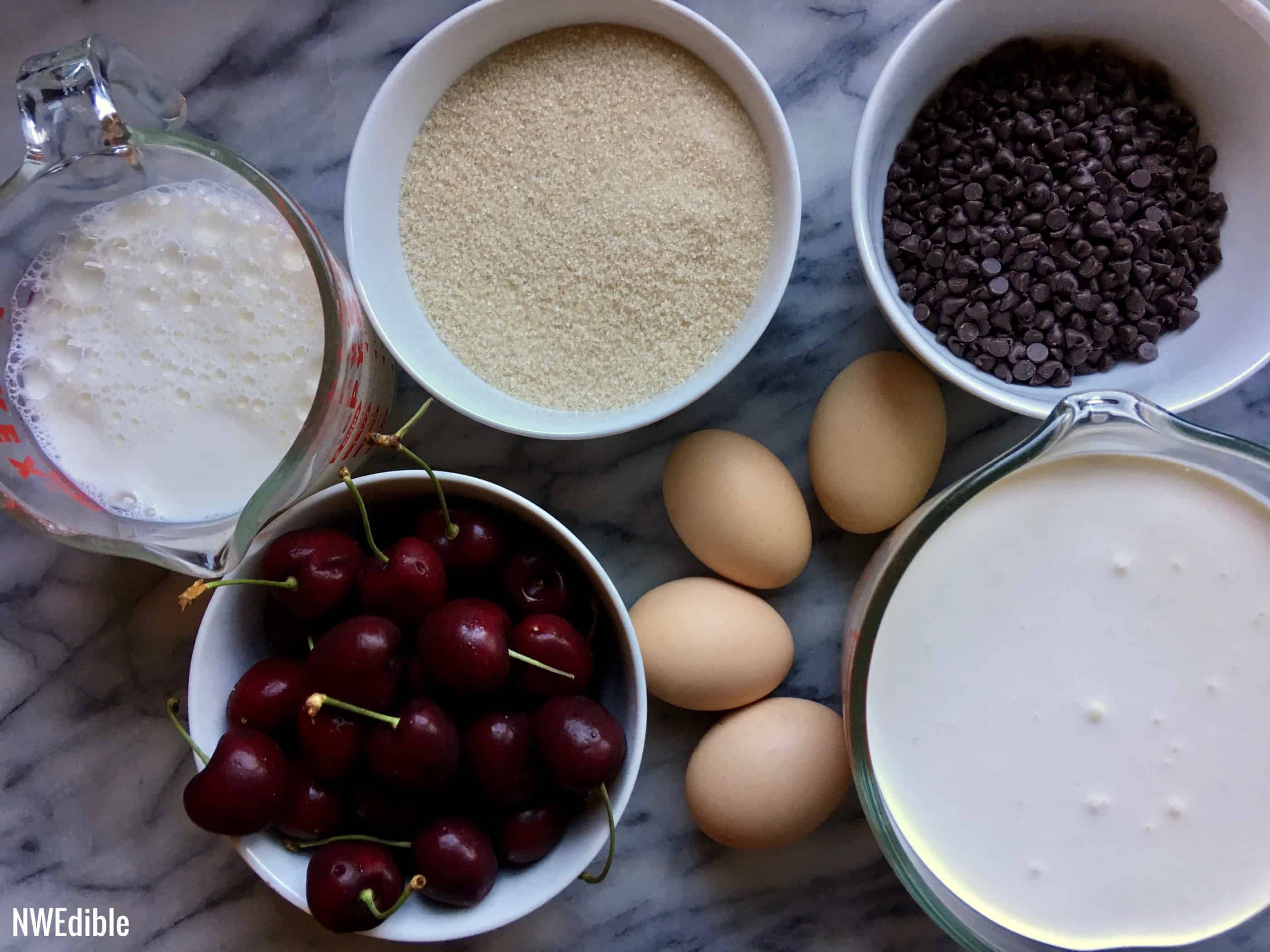 After pitting and rough chopping your cherries, place the cherries on a metal sheet pan and the chocolate chips in metal bowl and transfer both the the freezer. The metal helps the cold freezer temperature transfer to these mix-in ingredients more efficiently. The cherries and chocolate chips can be frozen several days ahead of time if needed.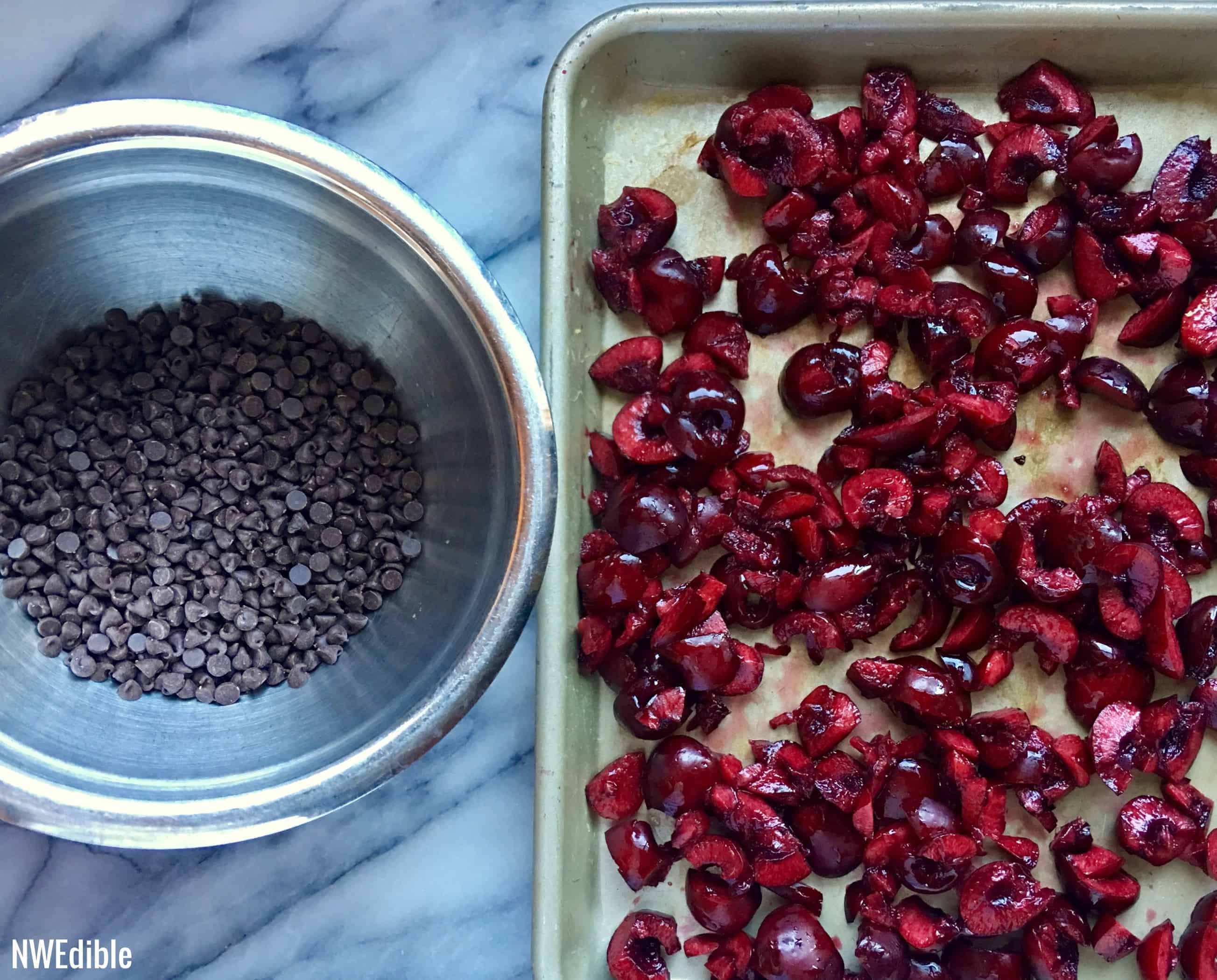 Make the ice cream base by whisking the eggs together until light and fluffy. Because this recipe calls for raw eggs, please ensure you are only using the freshest, cleanest, and highest quality eggs. I used eggs from my backyard chickens, and if that's an option for you I recommend it.
Due to the raw egg, this recipe might not be appropriate for immunocompromised individuals, pregnant women, the elderly, etc. Substitute commercial pasteurized eggs or egg product if you are concerned about consuming raw egg, or follow directions for your favorite custard-type vanilla ice cream.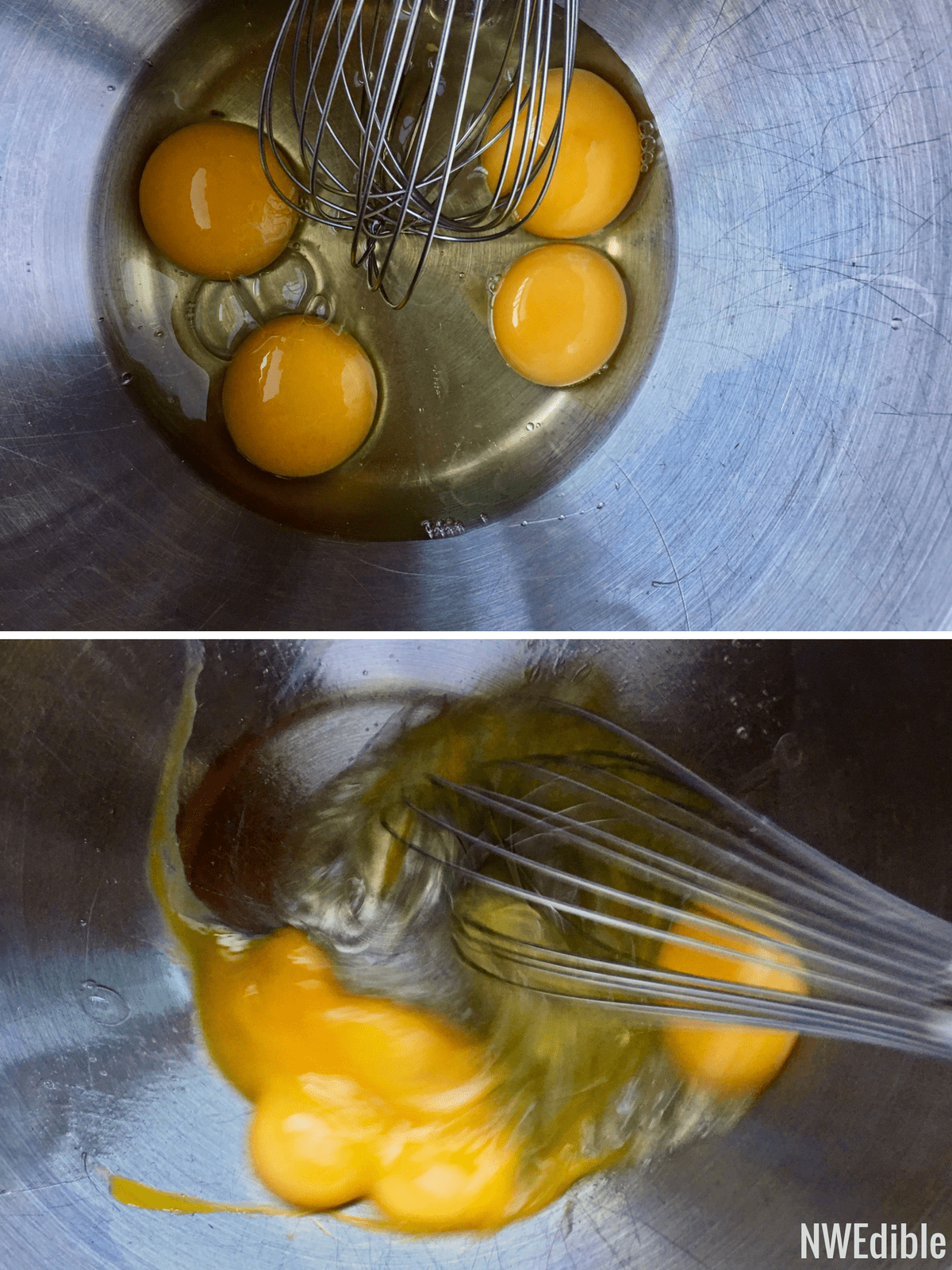 Whisk the almond and vanilla extracts and the sugar into the eggs. I use an organic sugar with a fairly coarse texture. A superfine sugar would dissolve better into the egg mix, and might result in a slightly lighter finished texture. However, the final ice cream is not gritty in any way, even with a coarser textured sugar.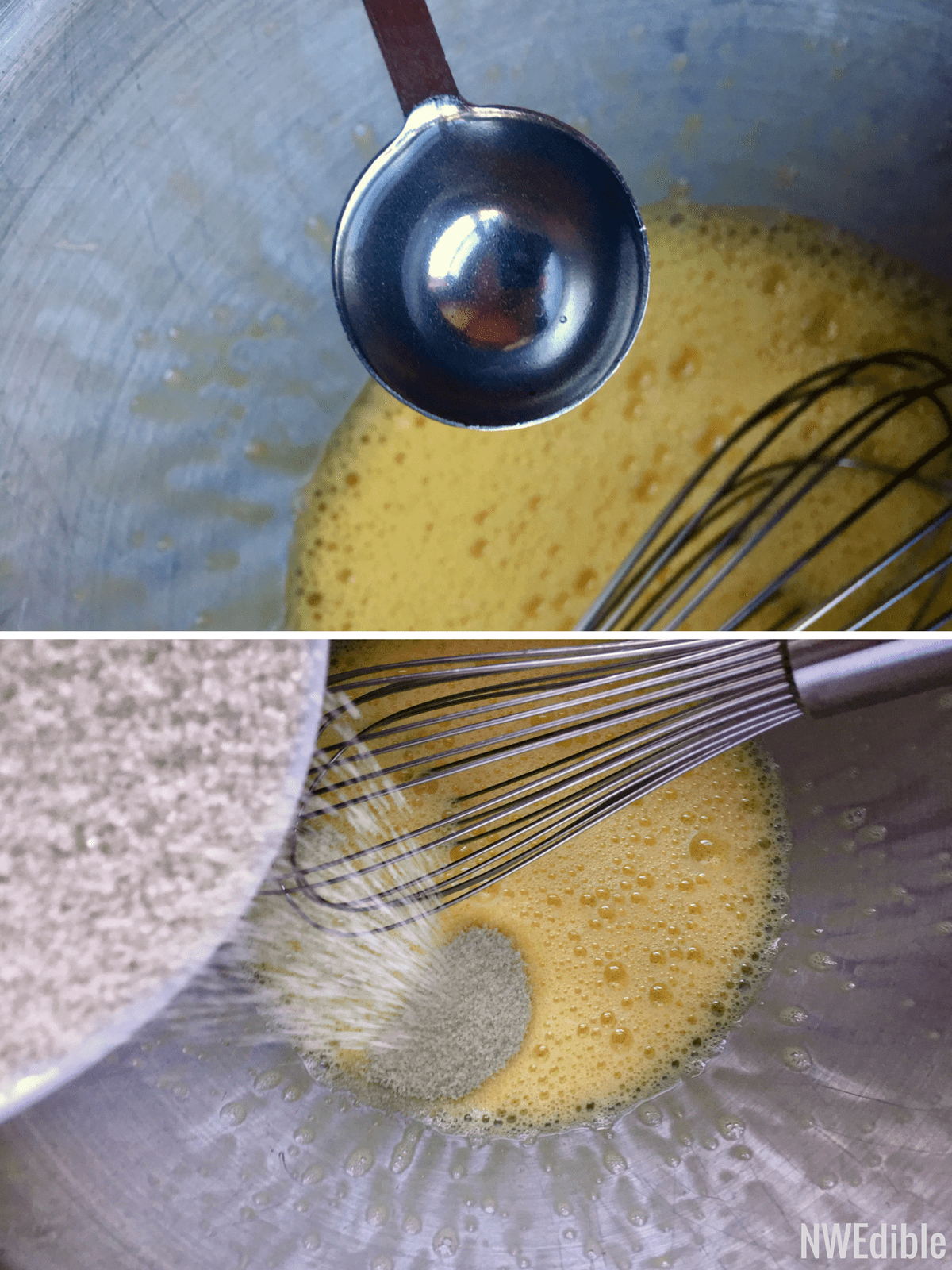 Continue whisking until the egg-sugar mix is pale yellow and slightly thickened, then pour in the milk and heavy cream.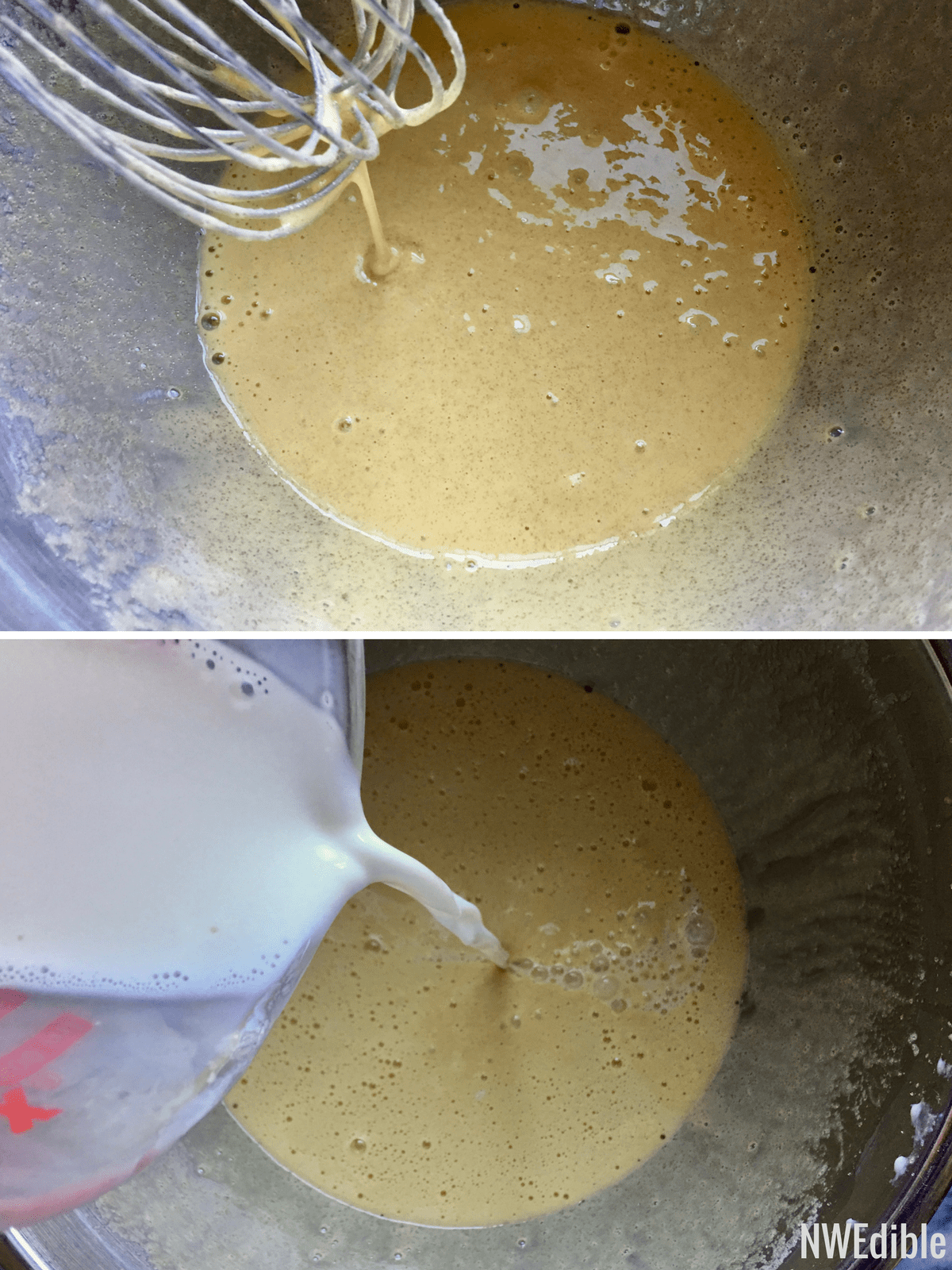 Stir the milk and heavy cream into the egg mixture until thoroughly combined.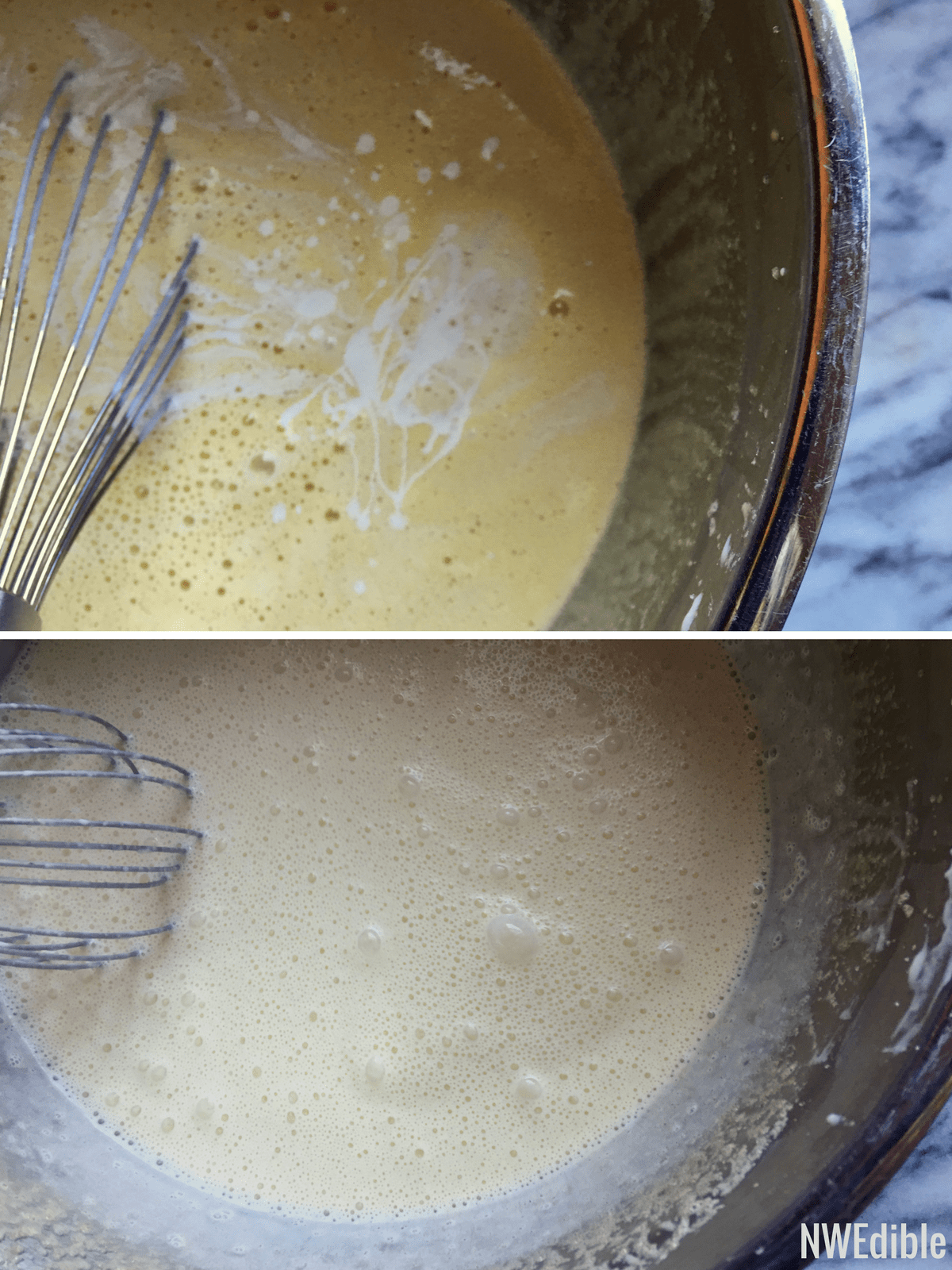 If the ice cream base has warmed above refrigerator temperature while you've whisked it together, pop it into the fridge to chill while you set up your ice cream maker according to manufacturer instructions. This is the ice cream maker I have and use. It's very reliable and does a good job for small ice cream batches. Apparently this is the updated version of the same model.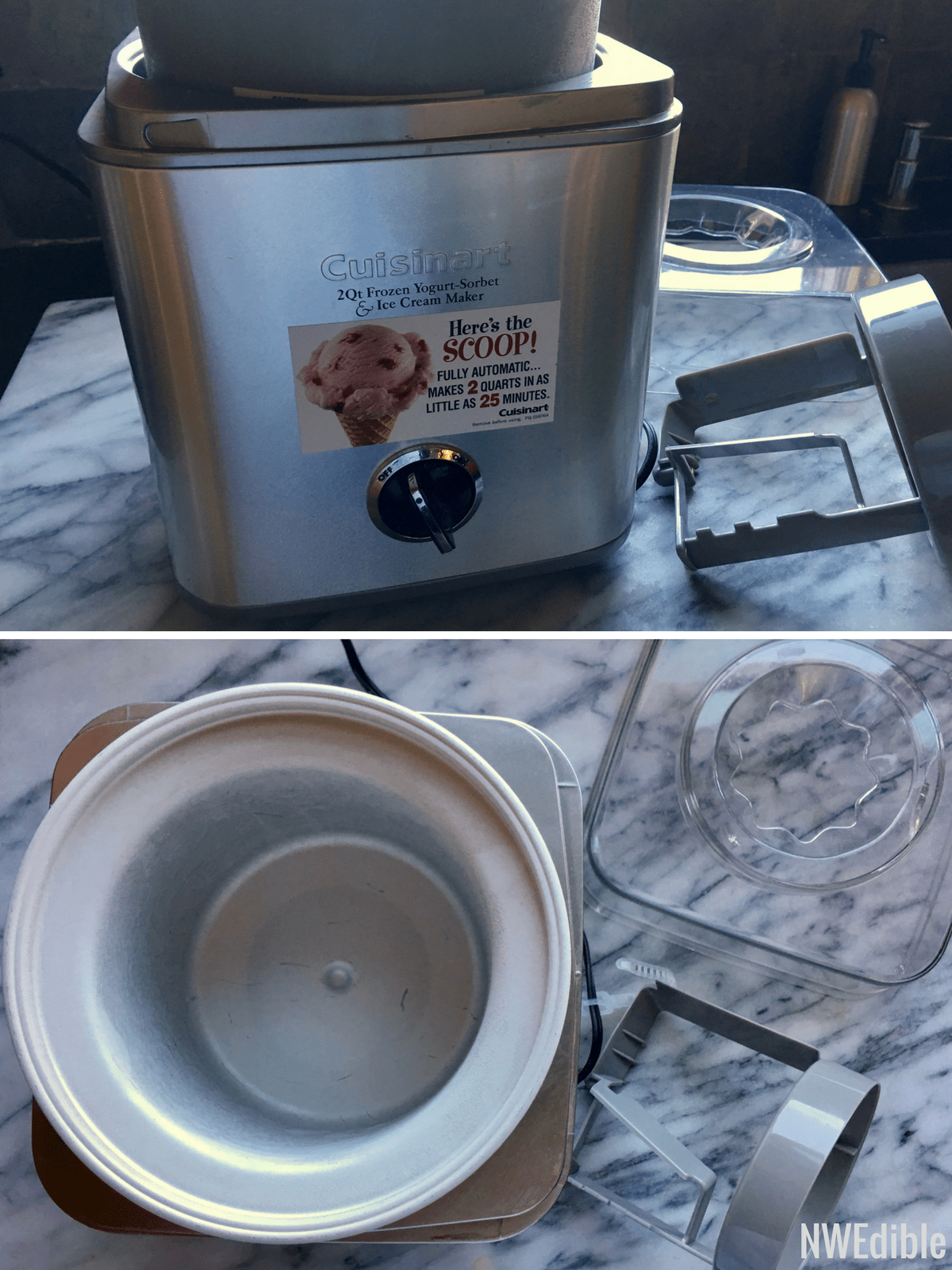 Pour the chilled ice cream base into your ice cream maker and process until soft set and about 5 minutes from completely churned.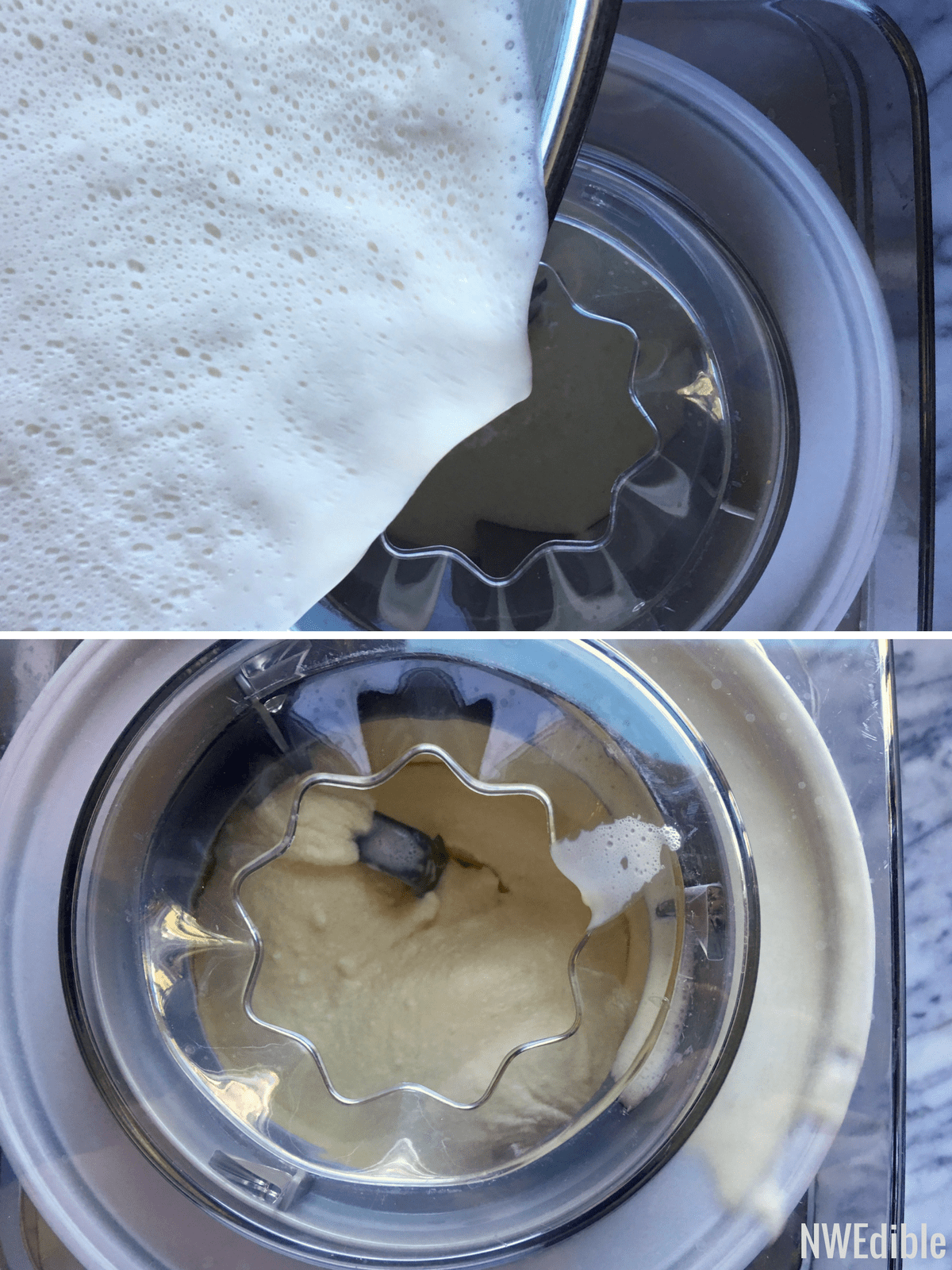 When the ice cream base is nearly done, add in the frozen chocolate chips and allow them to mix throughout the ice cream, about 20 seconds.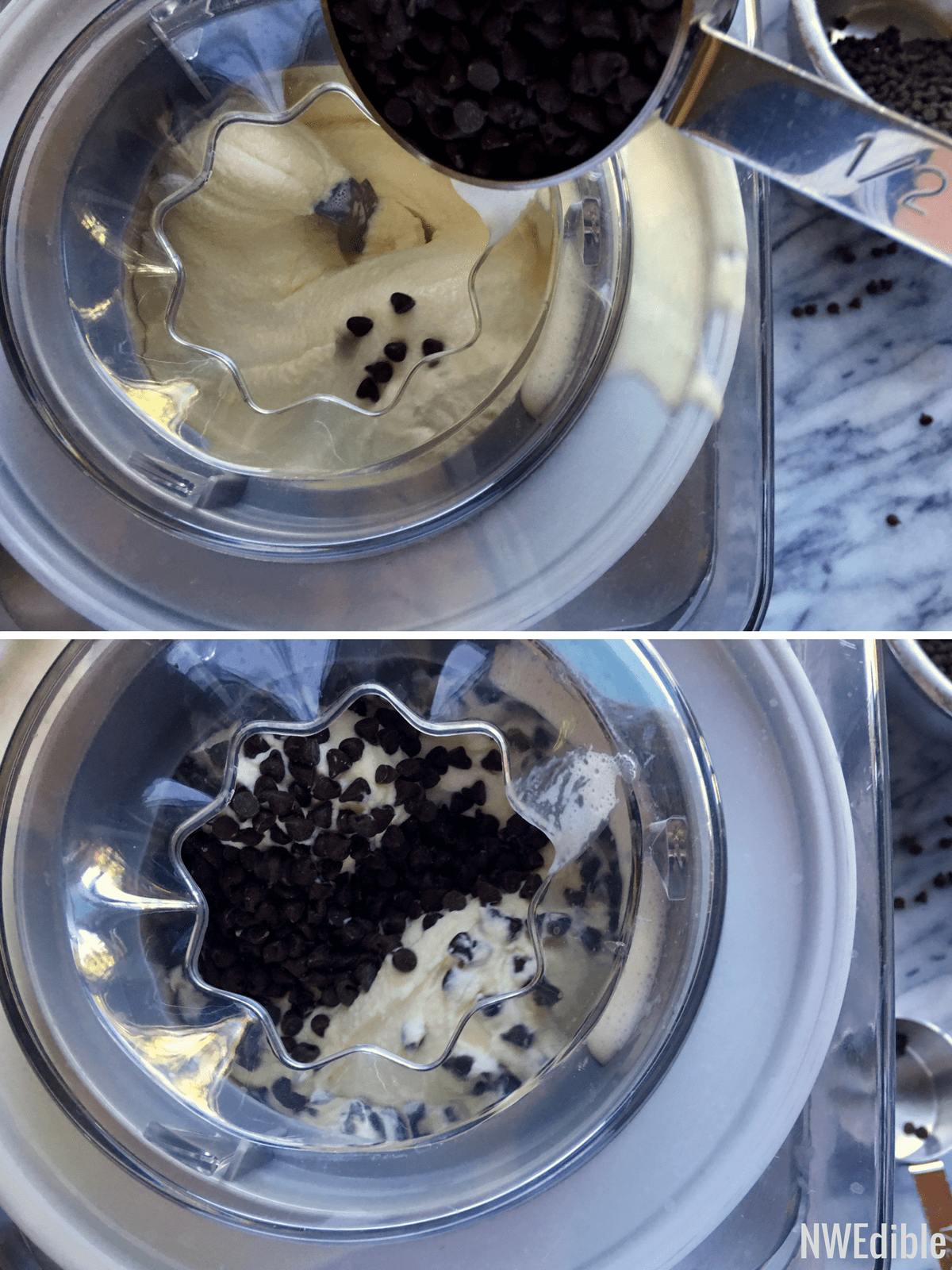 Add in the frozen chopped cherry pieces chips and gently poke them into the ice cream mix if needed to encourage an even distribution of cherries throughout the ice cream. Finish processing ice cream, 3 to 5 more minutes, until as frozen and fully churned as your ice cream maker can manage.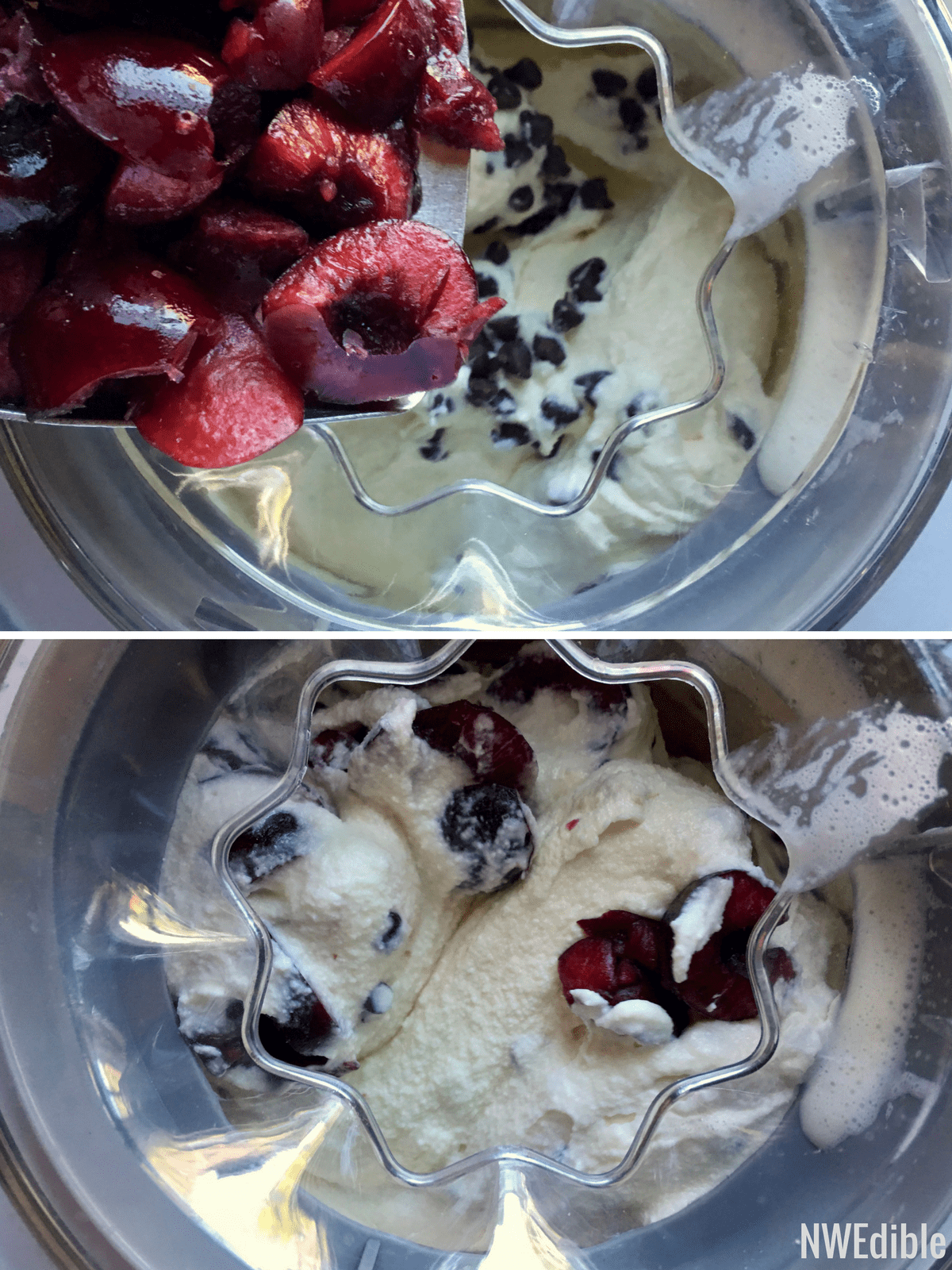 Transfer the ice cream immediately into a freezer safe container, and place in your freezer for several hours or overnight to allow the ice cream to freeze solid. If you use plastic, reused plastic deli containers like this are excellent for storing ice cream. This recipe makes about 3 pints of ice cream.
Dark Cherry and Chocolate Chip Ice Cream Printable Recipe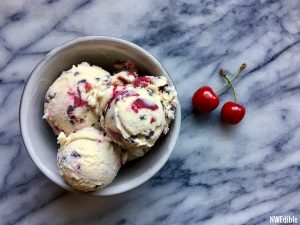 Print
Dark Cherry and Chocolate Chip Ice Cream
Yield 3 pints
Ingredients
8 ounces dark, sweet cherries, such as Bing
1/2 cup mini chocolate chips
2 large, very fresh eggs
3/4 cup sugar
1 teaspoon vanilla extract
1 teaspoon almond extract
2 cups heavy cream
1 cup whole milk
Instructions
Wash, stem and carefully pit cherries. Rough chop cherries and place on a sheetpan. Measure chocolate chips into a small metal bowl. Place both cherries and chocolate chips in the freezer until needed.
Crack the eggs into a medium bowl and whisk until thoroughly blended. Add the sugar, vanilla extract and almond extract and continue to whisk until the egg-sugar base is very light, pale, and fluffy.
Add the heavy cream and whole milk to the bowl and whisk to combine. Ensure the ice cream base is chilled. If it has warmed up, place it in the refrigerator for 10 to 20 minutes, until quite cold. Whisk to combine before proceeding.
Transfer the ice cream mixture to your ice cream maker and freeze according to manufacturer's directions.
When the ice cream reaches a soft serve stage, about 5 minutes before it's finished, add in the frozen chocolate chips and frozen cherries. Continue processing the ice cream until fully frozen.
Transfer the ice cream to a freezer-safe container and freeze for several hours or overnight, until ice cream is completely frozen.
Notes
This recipe calls for raw egg. If you or someone who may eat this ice cream is immunocompromised, pregnant, or otherwise advised to avoid raw egg, pasteurized liquid egg can be substituted.
12