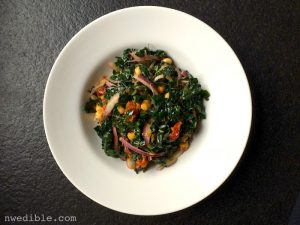 Kale & Chickpea Salad with Slow Roasted Tomatoes
Yield 4 -8 servings
Ingredients
2 bunches Cavolo Nero kale, tough stems removed and finely shredded
1 small red onion, peeled and thinly sliced
Kosher salt
2 cups cooked chickpeas, drained and rinsed
1 cup slow roasted tomatoes, sliced into bite-sized chunks (see note)
6 tablespoons (3/8 cup) olive oil
Zest plus 3 to 4 tablespoons juice from a fresh lemon, to taste
2 cloves garlic, minced
1 teaspoon dijon mustard
1 teaspoon honey
Freshly ground black pepper
Instructions
Add shredded kale, sliced red onion, and 1 tablespoon salt to a large bowl. Toss until evenly coated. Allow to rest at room temperature until kale and onion are lightly wilted, about 1 hour.
While kale and onion are wilting, make the salad dressing. In a small bowl, whisk together the olive oil, lemon zest, lemon juice, minced garlic, mustard and honey. Season to taste with salt and pepper, and set aside.
Rinse kale and onions with cool water, then spin dry in a salad spinner. Wipe out your bowl with a clean, lint-free kitchen towel and return the dry kale and onions to the bowl.
Add the garbanzo beans, slow roasted tomatoes, and reserved salad dressing to the bowl and toss everything together gently but thoroughly.
Notes
If you don't have slow roasted tomatoes in the freezer, sun dried tomatoes will stand in. The oil-packed kind can be used as-is. Plain dried tomatoes should be rehydrated in warm water with a splash of apple cider vinegar until soft and pliable. Before adding rehydrated tomatoes to the salad, cut them into small pieces, and toss in a bit of olive oil if desired before adding to salad.
Recipe by Northwest Edible Life at https://nwedible.com/kale-chickpea-salad-with-slow-roasted-tomatoes/