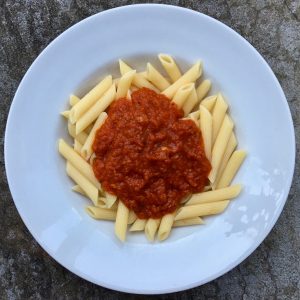 Home Canned Spaghetti Sauce For People Who Like Ragu
Yield 5 - 7 quarts
Ingredients
30 pounds Roma or paste-style tomatoes
1/4 cup olive oil
1 and 1/2 cups chopped onion
3 tablespoons minced garlic
2, 6-ounce cans tomato paste
1/4 - 1/2 cup white sugar
1 and 1/2 - 2 tablespoons kosher salt
2 tablespoons dried basil
1 tablespoon dried parsley
3/4 teaspoons black pepper
Instructions
Prepare the Sauce
Wash tomatoes, then core and blanch the tomatoes in batches in boiling water for about a minute, or until the skins split. Transfer the tomatoes to a large sheetpan until cool enough to handle, then peel the tomatoes. Here is additional information on how I peel tomatoes quickly.
Halve, quarter, or crush tomatoes by hand as you transfer all tomatoes and juice to a large, non-reactive pot.
Bring tomatoes to a boil, then simmer uncovered 30 - 40 minutes, until the tomatoes are very tender.
Run the tomatoes through a food mill, sieve, or sauce attachment for a stand mixer to capture as as much pulp as possible while leaving behind tomato seeds.
While tomatoes are simmering, heat the olive oil in a saute pan set over medium heat. Saute the onions and garlic until tender and translucent. Set the onion and garlic aside until the tomatoes are completely food milled.
In a large, stainless stockpot, combine the sautéed onions and garlic, the food milled tomatoes, tomato paste, 1/4 cup sugar, 1 and 1/2 tablespoon salt, and the basil, parsley and black pepper. Bring to a boil.
Simmer uncovered, until the sauce is thick enough for serving. This could take several hours depending on the shape of your pot, your stove, etc. Stir frequently while the sauce is simmering to prevent it from scorching on the bottom.
When the initial volume has reduced by nearly one-half and the sauce is quite thick, taste and adjust seasoning by adding additional salt, up to another 1/4 cup sugar as desired, plus additional black pepper to taste. To my taste, the sweetness is at "commercial" levels at 6 to 7 total tablespoons of sugar, so the original 1/4-cup of sugar, plus 2 to 3 additional tablespoons. However, this will vary slightly depending on the natural sugar-acid balance of your tomatoes, and how far you choose to reduce your sauce. Adjust sugar level to your preferred taste.
See note for information on reducing sauce and overall yield.
Processing
Setup for pressure canning, following established guidelines.
Fill jars, leaving 1-inch headspace.
Wipe jar rims, then set lids and rings according to manufacturer's directions.
Load canner with filled, lidded jars, then follow standard pressure canning procedure, including venting canner.
Process at 10 PSI of pressure for 25 minutes for quarts or 20 minutes for pints, adjusting pressure for altitude (see note).
Notes
Altitude Adjustment For Pressure CanningDial Gauge Pressure Canner Altitude Adjustment: 0 - 2,000 feet: 11 PSI; 2,001 - 4,000 feet: 12 PSI; 4001 - 6000 feet: 13 PSI; 6,001 - 8,000 feet: 14 PSI.Weighted Gauge Pressure Canner Altitude Adjustment: 0 - 1,000 feet: 10 PSI; 1,001 + feet: 15 PSI.Yield VariationsYield will vary depending on tomato type and how much you reduce your sauce. Starting with paste-style tomatoes is highly recommended for this recipe. Reducing by a bit more than half results in an an extremely thick sauce with a yield of about 5 quarts. Reducing by half will result in a very thick sauce yielding about 6 quarts. Reducing by slightly less than half results in a thick but pourable sauce and a yield of about 7 quarts. Reducing down to below a 6 quart yield will require a low heat, lots of patience, and near constant stirring to prevent the sauce from scorching, but will get you a sauce with a texture closer to that of Ragu. Personally, I am perfectly happy with the texture and thickness of the sauce when reduced by nearly half, for a yield of about 7 quarts.
Recipe by Northwest Edible Life at https://nwedible.com/home-canned-spaghetti-sauce-like-ragu/