Yesterday I spent the entire day in the sunshine of Spring and my cheeks are now sun-blushed. Unbelievable! Wasn't it snowing last week?
Now, my gardeners intuition and the temperature of the soil tell me it's still a bit cold to get most things to germinate quickly, but nature tells me my intuition can suck it, cause she's ready to grow!
I noticed sunflower seeds germinating in the garden yesterday. That took me by surprise but it just goes to show what winter sowing (deliberately or just by letting the chickens have their way with a mature Grey Mammoth Stripe sunflower head) is the easiest way to get the earliest germination.
At this point, I say go ahead and direct sow any non-heat lover you want. They'll thank you for a vented low tunnel for another month as long as you keep them moist enough to germinate.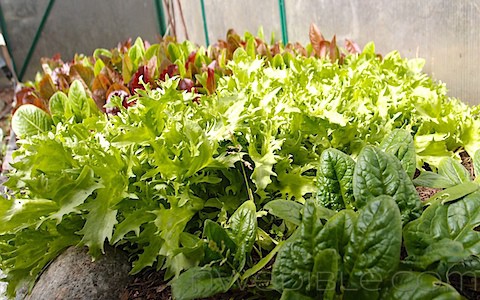 Plan & Purchase:
Nurseries are full-to-bursting now with six-packs of cabbages and little starts of peas. If you haven't been starting your own early season crops, you can still put a spring garden in with purchased starts. It's just going to cost you a bit more.
(Read about how to select a good nursery start.)
By now your garden plan should be pretty finalized and you should have a general idea of what will be planted where.
Sow Indoors:
If you are new to starting your own seeds you might want to check out my three-part Seed Starting 101 series: Key Components For Healthy Seedlings, A Step-by-Step Visual Guide To Growing Seedlings At Home, and Up-Potting.
Summer & Winter Squash – I have started squash under lights as early as late February, but early April is my target date.
Cucumbers – If I'm feeling like it, I will start cucumbers indoors in mid-April. Because cukes are more precocious than the squashes, I don't think there's as much to be gained by it. I find it's easier to wait until May and sow them out directly into soil that's been pre-warmed with plastic mulch and is covered with a row cloche.
Basil – Start your basil early this month. You'll want it so you can make jars and jars of Walnut Lemon Pesto.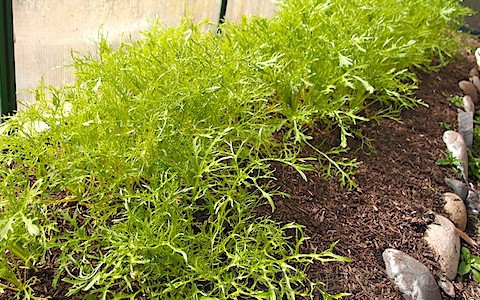 Sow & Plant Outside
Brassicas – broccoli, cauliflower, brussels sprouts, kohlrabi and kale can be sown directly in the ground now without protection. Keep an eye out for slugs! No really, watch for slugs.
Carrots, Parsnips & Root Parsley – As long as your soil is dry enough to work to a smooth tilth, these can all be planted. You will have the best results in loose open soil and I encourage you to cover your seedlings with row cover to prevent the carrot root maggot from destroying your crop. I'm going to try growing carrots in buckets this year!
Peas & Favas – You can still plant peas and favas but it's best to choose enation resistant pea varieties for planting at this time of year.
Salad Greens – Lettuce, spinach, mustards, arugula, Asian greens, cress and greens mixes can be sown directly for salad and quick sautes.  If you started greens indoors last month under lights, harden them off before you settle them into their outside bed.
Radishes – Fast maturing and great for intercropping.
Swiss Chard – I love Bright Lights for looks but Rhubarb is super tasty and Fordhook Giant is more winter-hardy.
Turnips & Rutabagas – I don't bother with rutabagas in spring. For me they are a purely fall-winter crop. Spring turnips are lovely though.
Beets – Can be sown out directly now.
Onion Sets – Get your main onion patch in asap if you are working from sets or starts. I finished putting mine in about a week ago.
Potatoes – Plant anytime from March to June, depending on variety, when you want to harvest them and what the weather is doing. We got our potatoes in last week.
Jerusalem Artichokes – Can still be planted.
Hardy Herbs: Chives, parsley, mints, marjoram, oregano, dill, fennel, borage, cilantro and the like can all be sown out.
Tender Herbs: Basil is best started inside or in a greenhouse. Sowing it directly generally doesn't allow a long enough growing season for it to get large.
Tomatoes – if you are growing in a protected area and if the weather cooperates and if you are employing season extension techniques and have pre-warmed the soil and if you really want the earliest possible tomatoes, then maybe you might think about possibly transplanting your tomatoes out around mid April. Maybe. But keep an eye on overnight lows and make sure your plants are really well hardened off before you do. Otherwise, look towards late-April through mid-May for transplanting out, depending on weather, your transplants and your season extension practices.
Harvest:
Salad Greens – overwintered lettuce and greens are putting on lots of new growth. The picture above is from the third flush of cut-and-come-again mixed greens growing in the greenhouse. Frisee and mustard greens are looking great too.
Leeks – I didn't get any in the ground last summer so I am without leeks but if I had them I'd be harvesting the last of them this month.
Rhubarb – after a rocky start, the rhubarb is coming up and looks great! I may even harvest a few stalks this year.
Sprouting Broccoli – My sprouting broccoli shoots are just starting to head-up and looks fantastic.
Overwintering Cauliflower – I picked the last of the Purple Cape in late March and am still waiting on the next variety to mature.
Heading Broccoli – harvested the last side-shoot production of the fall-planted heading broccoli today.
Green Onions – scallions from the garden are way better.
Jerusalem Artichokes – we have them and always will, whether we want them or not.
Chard – I keep waiting for the chard to send up a seed stalk, but so far it's just putting on new spring growth. As long as it goes, I'll eat it.
Turnips and Rutabagas – Both bolting now, but the unopened flowers are good to saute. If the flowers open, leave them for the bees if space allows.
Herbs – chives, rosemary, tarragon, fennel, thyme, oregano, sage…all the perennial herbs are in good shape.
0