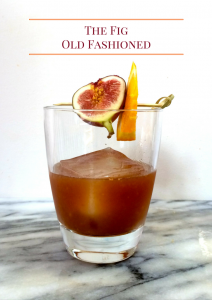 The Fig Old Fashioned
Yield 1
Fig infused bourbon, balsamic vinegar and orange come together for a sophisticated but respectful take on a classic cocktail
Ingredients
For The Cocktail
1/2 fresh fig (substitute 1 bourbon-infused dried fig if desired)
1 small wedge orange
3/4 tsp balsamic vinegar
2 oz fig infused bourbon
For The Garnish
1/2 fresh fig (optional)
1 small wedge fresh orange
Instructions
Make The Fig Old Fashioned
Add the fresh fig and the orange wedge to the bottom of a sturdy bar glass or mason jar. Muddle until the fig and orange are thoroughly broken up.
Add the balsamic vinegar and the fig infused bourbon to the bar glass.
Fill the bar glass with ice and stir the cocktail well, for 10 to 20 seconds.
Strain the drink into a chilled rocks glass.
Add ice, garnish with half a fresh fig and a small wedge of orange, and serve immediately.
Courses Cocktail
Recipe by Northwest Edible Life at https://nwedible.com/the-fig-old-fashioned/