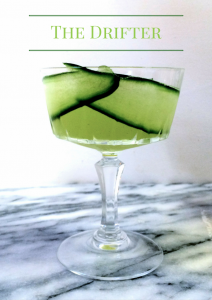 The Drifter Cocktail
Yield 1
Gin and St. Germaine is lightened up with fresh cucumber. A refreshing, dangerously easy to drink cocktail
Ingredients
1-2 long, thin slices peeled from an English cucumber, for garnish.
1, 1-inch long section of English cucumber
5 to 6 leaves fresh basil
3/4 oz St. Germain Elderflower liqueur
3/4 oz freshly-squeezed lemon juice
2 oz gin
Instructions
To garnish, wrap the long, thin slices of cucumber around the inside of a chilled cocktail glass. Set aside.
Add the 1-inch long section of English cucumber and the fresh basil to the bottom of a sturdy bar glass or shaker. Muddle until the cucumber and basil are thoroughly broken up.
Measure the St. Germain, lemon juice and gin into the shaker.
Fill the shaker with ice and and shake the cocktail hard for 15 to 30 seconds.
Strain the drink into the prepared cocktail glass.
Serve immediately.
Courses Cocktail
Recipe by Northwest Edible Life at https://nwedible.com/the-drifter-cucumber-and-basil-cocktail/