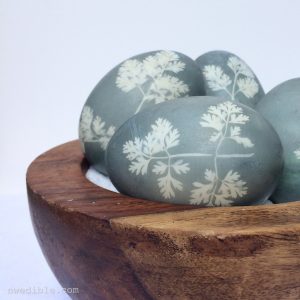 Sunprint Naturally Dyed Easter Eggs in 5 Easy Steps
Ingredients
1 head red cabbage
Water
3 tablespoons white vinegar
4 to 8 raw, large white eggs
Several intricate, soft leaves such as chervil, fern, or parsley.
Portions of old pantihose or cheesecloth
Twine
Instructions
Chop cabbage and add to a 4 quart saucepan. Cover cabbage with water and bring to a simmer over medium heat. Lid cabbage and continue to simmer until the cabbage water is deeply purple, about 1 hour.
Strain the dye bath of the cabbage pieces and return the cabbage water to the saucepan.
While the cabbage water is simmering, press soft leaves against eggs and hold in place firmly with a section of nylon pantyhose, or cheesecloth. Tie the pantyhose snuggly around the egg so the leaf is held firmly against the eggshell.
Carefully lower the eggs into the dye. Add the vinegar, then bring the eggs and dye to a simmer over medium heat. Bring the eggs and dye to a bare simmer over medium heat. Let the eggs simmer for 15 minutes, then turn off the heat and put a lid on the pot. Let the eggs sit in the cooling dye bath for an hour.
If you like the color of the eggs at this point, remove the eggs but do not not unwrap. If you prefer a darker color, refrigerate the eggs in the dye bath for several hours and up to overnight.
When the eggs have achieved your desired color, set them on a clean, lint free towel to dry for about an hour before unwrapping or handling.
Remove the pantyhose or cheesecloth and the leaves carefully, and display.
Recipe by Northwest Edible Life at https://nwedible.com/sunprint-naturally-dye-easter-eggs/