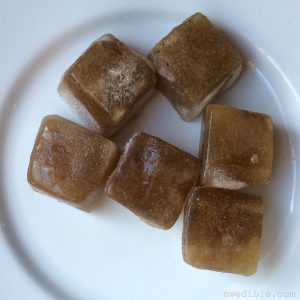 DIY Sunburn Soothing Comfrey Cubes
An allantoin-rich skin soother, these Comfrey Cubes are useful for sunburns, regular burns, rashes, abrasions, skin softening and healing. If fresh comfrey is unavailable, 1 oz. of dried comfrey root may be substituted. For external use only, do not take internally.
Ingredients
4 oz. fresh comfrey root
3 cups water
Instructions
Very thoroughly scrub the comfrey roots, then chop them finely, by hand or in a food processor. Add the chopped comfrey root and the water to a medium saucepan. Bring to the barest simmer over medium-low heat, and maintain that temperature for 30 minutes. Remove comfrey gel from the heat, cover, and let cool completely, about 2 hours.
When the comfrey gel has cooled, strain it through a very fine mesh strainer. It will be brownish and highly mucilaginous (goopy) - this is normal. Use a spatula to push as much of the comfrey mix through the strainer as possible without getting any root bits in the finished gel. You should have about 2 cups of comfrey gel when you are done.
If you have a sunburn you can smooth a small amount of the comfrey gel right on your skin. To save the gel for later use, pour the cool comfrey gel into an ice cube tray (I use silicone trays like these) and freeze.
When the comfrey cubes are frozen solid, transfer them to a freezer safe plastic bag, label the cubes so everyone knows they aren't edible, and keep frozen.
To use, rub a frozen Comfrey Cube directly onto sunburned skin.
Recipe by Northwest Edible Life at https://nwedible.com/sunburn-soothing-comfrey/